Ralph Breaks The Internet (2018)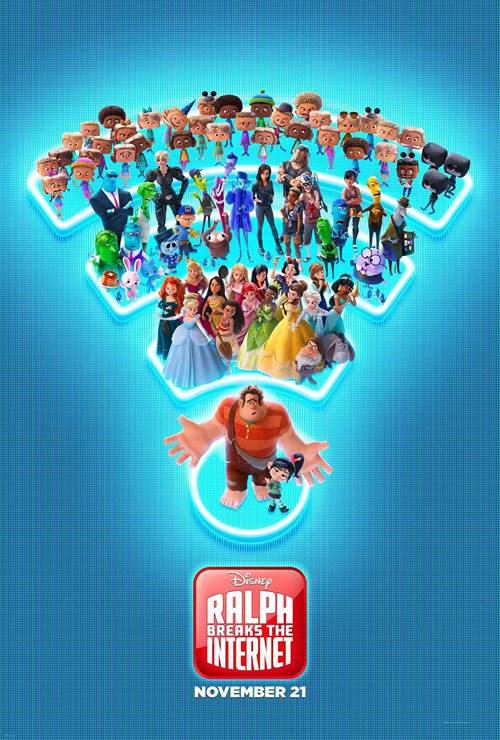 Share this:
| | |
| --- | --- |
| Director: | |
| Writers: | |
| Cast: | |
| Released: | Wednesday, November 21, 2018 |
| Length: | 112 minutes |
| Studio: | Walt Disney Pictures |
| Genre: | Family |
| Rating: | Some material may not be suitable for children. |
This film contains a scene during or after the credits.
Synopsis
"Ralph Breaks the Internet" leaves Litwak's video arcade behind, venturing into the uncharted, expansive and thrilling world of the internet—which may or may not surviveRalph's wrecking. Video game bad guy Ralph (voice of John C. Reilly) and fellow misfit Vanellope von Schweetz (voice of Sarah Silverman) must risk it all by traveling to theworld wide web in search of a replacement part to save Vanellope's video game, Sugar Rush. In way over their heads, Ralph and Vanellope rely on the citizens of the internet—the Netizens—to help navigate their way, including Yesss (voice of Taraji P. Henson), who is the head algorithm and the heart and soul of the trend-making site "BuzzzTube," and Shank (voice of Gal Gadot), a tough-as-nails driver from a gritty online auto-racing game called Slaughter Race. Directed by Rich Moore ("Zootopia," "Wreck-It Ralph") and PhilJohnston (co-writer "Wreck-It Ralph," "Zootopia," writer, "Cedar Rapids"), and produced by Clark Spencer ("Zootopia," "Wreck-It Ralph," "Bolt," "Lilo & Stitch"), "Ralph Breaks theInternet" hits theaters on Nov. 21, 2018.

Purchase DVD/Blu-ray/4K UHD physical copy of Ralph Breaks The Internet today at Amazon.com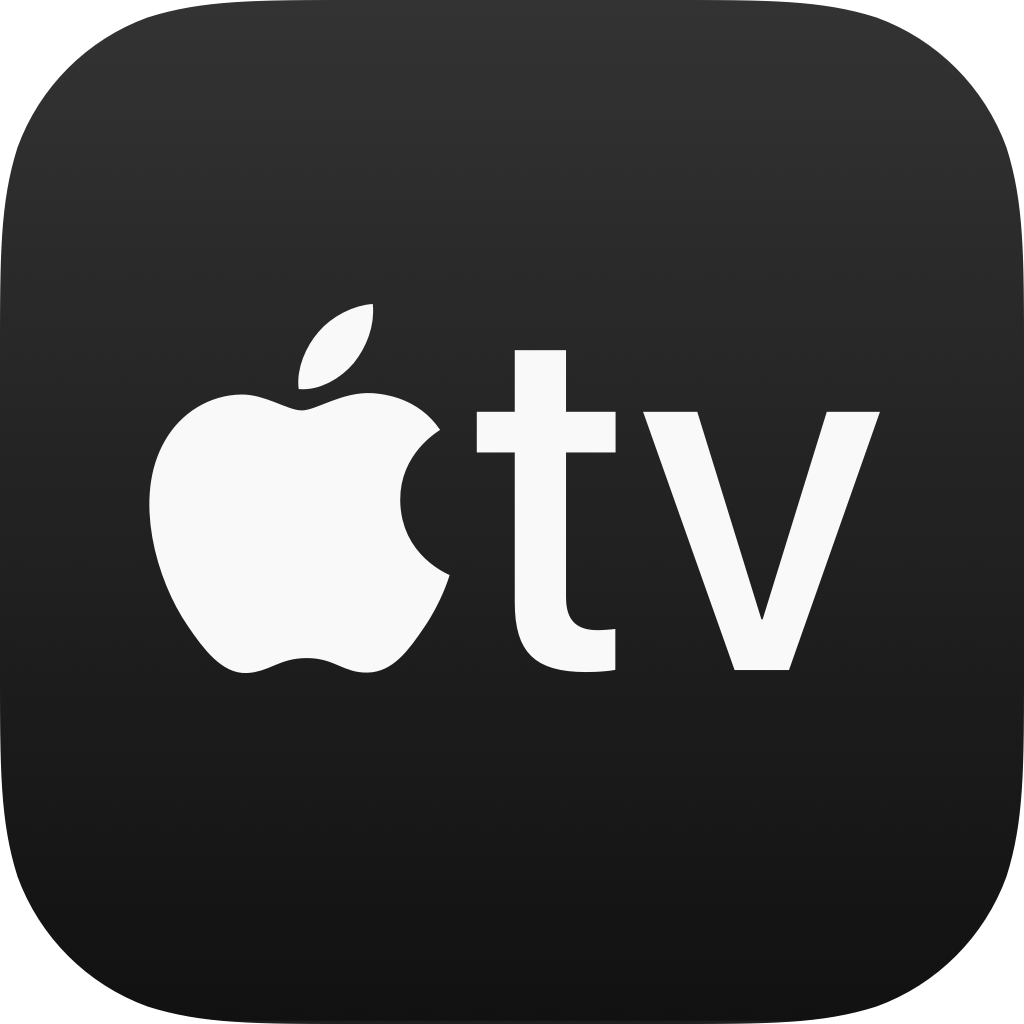 Download Ralph Breaks The Internet in Digital HD/4K from the iTunes store.
Listen to the Ralph Breaks The Internet soundtrack on Apple Music.
Ralph Breaks The Internet images are © Walt Disney Pictures. All Rights Reserved.
Bid On the Sugar Rush Steering Wheel from Ralph Breaks the Inter...
2/26/2019 10:24 AM EST
All fans of Disney's 'Ralph Breaks the Internet' will be excited about a new item that can be bid on to own! Now is your chance to race home with a signed, limited edition replica of the "Sugar Rush" steering wheel featured in the film!The steering wheel is at the very core of Walt Disney Animation Studio's 'Ralph Breaks the Internet' as Ralph and best friend Vanellope von Schweetz attempt to save...
More>>
Win a Blu-ray Copy of Walt Disney Pictures' Ralph Breaks The In...
2/17/2019 9:40 AM EST
It was 2012 when Wreck-It Ralph came to theaters and we fell in love with the overgrown brute with a heart of gold who won over a little girl turned princess.  Ralph (John C. Reilly; Walk Hard: The Dewey Cox Story) and Vanellope (Sarah Silverman; School of Rock) became life long friends and last year we got the continuation of their story when Ralph Breaks the Internet hit theaters.  As this seque...
More>>
What Is It like Being a Disney Character Animator? Jorge Ruiz-Ca...
11/26/2018 10:03 AM EST
Jorge Ernesto Ruiz-Cano grew up in Venezuela and graduated high school at the age of fifteen.  He then came to the United States with hopes to become a lawyer despite the fact that he had previously told family and friends that he would grow up to become a Disney animator.  After taking a few art classes, law school became a distant memory as he attended Art school and earned a talent development ...
More>>
Enter For A Chance To Win A Pass For Two To A Special Advance Sc...
11/8/2018 11:58 PM EST
In 2012 Walt Disney studios released its 52nd animated feature film entitled Wreck-It Ralph based on a video game character who was tired of always being the bad guy day in and day out.  Ralph goes on a quest to win a medal and in the process changes another game called Sugar Rush,  Six years later the lovable characters are back in RALPH BREAKS THE INTERNET.In anticipation of its release, Disney ...
More>>
Atom Tickets and Disney Movie Rewards Join Forces
11/5/2018 1:41 PM EST
Atom Tickets has announced that they will be teaming up with Disney Movie Rewards, giving fans even more convenience and rewards for their movie-going purchases. Now, Atom customers are now able to link their Disney Movie Rewards membership to their Atom Rewards account to automatically earn points for their eligible Disney ticket purchases. Periodically, Disney Movie Rewards will include special ...
More>>
Imagine Dragons Compose Song for Ralph Breaks the Internet
9/19/2018 2:31 PM EST
It has been announced that GRAMMY®-winning Imagine Dragons have written and recorded the end-credit song "Zero" for Walt Disney Animation Studios' "Ralph Breaks the Internet." The song will be featured on the film's soundtrack from Walt Disney Records but is also now available from KIDinaKORNER/Interscope Records. Fans can head over to Apple Music to take a listen. "It's a pretty timely movie in a...
More>>
Gal Gadot to Voice Character in Disney's Ralph Breaks the Internet
8/10/2018 11:25 AM EST
Gal Gadot has announced that she will be voicing Shank, a tough and talented driver in an intense and gritty online racing game called Slaughter Race, in Walt Disney Animation Studios' "Ralph Breaks the Internet".Gadot, who made the announcement today, said,  "Shank is amazing at driving cars and has this bad-girl vibe to her. But as the movie goes on you realize how fun, wise and warm she really ...
More>>
Wreck-It Ralph Sequel Currently in the Works
6/30/2016 1:24 PM EST
It has been announced that a sequel to Disney's 2012 hit film, Wreck-It Ralph is currently in the works.  Director Rich Moore, scribe Phil Johnston, and John C. Reilly announced the news today on Facebook."From the moment we started working on the first Wreck-It Ralph, we knew there were so many possibilities with these characters," said Moore. "This time, Ralph's wrecking wreaks havoc on the web,...
More>>
Ralph Breaks The Internet Theatrical Review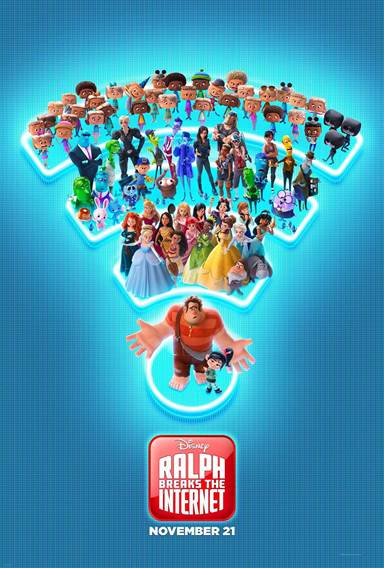 Six years ago we fell in love with video game characters Wreck-It Ralph (John C. Reilly;
Walk Hard: The Dewey Cox Story
) and Vanellope von Schweetz (Sarah Silverman;
A Million Ways to Die in the West
). These two worked their way into our hearts and stayed there. We routed for them despite their "glitches" and were so happy when things worked out in the end and these two became best friends. After a hiatus, we once again get to catch up with them in
Ralph Breaks the Internet
; in theaters just in time for Thanksgiving weekend.
Life seems to be pretty simple for Ralph and Vanellope. They work in their games during the day and hang out all night – grabbing root beer at Tappers and playing in the other games in Litwak's (Ed O'Neill; Modern Family) Arcade. When Vanellope expresses her boredom Ralph tries to help her out of her rut by creating a new track in her game but when things go awry the steering wheel gets broken and Sugar Rush is shut down. Suddenly Ralph and Vanellope only have a few days to get a new steering wheel before Litwak sells her game for scraps.
In an effort to save Vanellope and her game, she and Ralph venture out into new territory – the internet. There they find one wheel – on eBay. Unfamiliar with how eBay works they end up bidding $27,001 for the replacement part only to discover that they have 24 hours to come up with the money to buy it. At first they find a shady guy who tells them if they can steal Shank's (Gal Gadot; Wonder Woman) car from Slaughter Race they will have enough to pay for the wheel but when that fails they get hooked up with Yesss (Taraji P. Henson; Hidden Figures) who created viral videos for Ralph to raise the money. Meanwhile, Vanellope loves Slaughter race but doesn't have the heart to tell Ralph she wants to stay.
Reilly and Silverman are terrific together which is what makes this film (and its predecessor) work so well. Their vocal talents really make these two come alive for fans and it's great that they chose to reprise their roles. The additions of Gadot and Henson add another layer to the story and they are perfectly cast as the bass ass and the wheeler/dealer respectively. Alan Tudyk (Firefly) offers a fantastic cameo (but I expect no less from him) and it is a real treat that the original voices of the Disney princess agreed to reprise their characters for this film – and have some of the best scenes in the movie! There is also a bittersweet animated cameo of the late Stan Lee.
The animators really outdid themselves with this sequel. The colors are incredible and the attention to detail is amazing. They created so many truly memorable characters like Mr. KnowsMore (Tudyk) and Shank that the audience can't help but be taken with them. The story is also well done and engage if just a tad too long. The messages of endearing friendship and embracing change hit home although they do so in a melancholy way that brought a tear to my eye.
As sequels go this one hits the mark. It is enjoyable and entertaining and offers TONS of Easter eggs for the audience to dissect. The Disney team did a wonderful job visualizing what the internet might look like from the inside and gives visuals that are exciting and funny. This a certainly a film that the whole family can go to see and find something they can each relate to. With a heartwarming story and humorous moments peppered throughout, Ralph Breaks the Internet swings and hits a home run.
Grade: A-
Read More Ralph Breaks The Internet Reviews
For more reviews please visit our film/television review section.
FlickDirect correspondent, Allison Hazlett-Rose, had the opportunity to speak to Disney Character An...

Sarah Silverman wishes the Internet a happy birthday! "Ralph Breaks the Internet" leaves Litwak's vi...

Imagine Dragons, whose single "Natural" has spent eight weeks at No. 1 Alternative radio,...
Check out the new 60-second sneak peek of "Ralph Breaks the Internet," which introduces Ga...

"Ralph Breaks the Internet" leaves Litwak's video arcade behind, venturing into the uncharted, expan...

"Ralph Breaks the Internet" leaves Litwak's video arcade behind, venturing into the uncharted, expan...
"Ralph Breaks the Internet" leaves Litwak's video arcade behind, venturing into the uncharted, expan...
SPONSORED LINKS