Butter (2012)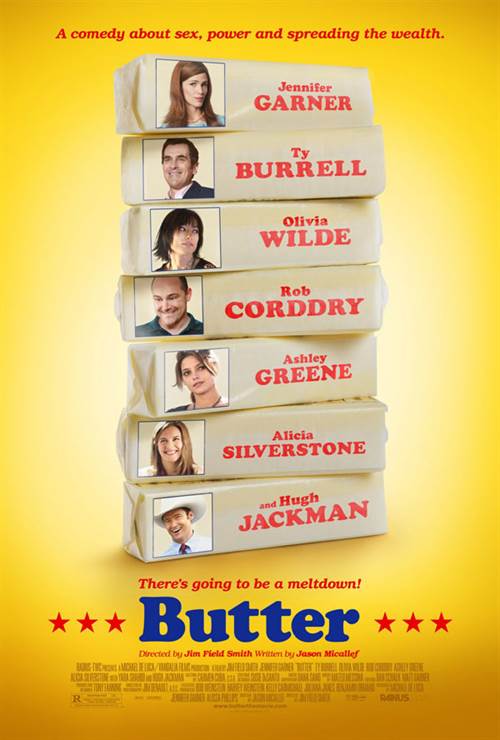 | | |
| --- | --- |
| Director: | |
| Writers: | |
| Cast: | |
| Released: | Friday, October 5, 2012 |
| Length: | 90 minutes |
| Studio: | Weinstein Company, The |
| Genre: | Comedy |
| Rating: | Under 17 requires accompanying parent or adult guardian. |
Butter Synopsis
For many years, Laura Pickler (Jennifer Garner) has relished the prestige and admiration afforded her as the wife of Iowa's longtime butter-carving champion, Bob (Ty Burrell). When Bob is pressured to retire from competition so that someone else has a chance at victory, Laura decides to enter the contest herself. But, when three formidable opponents also enter the fray, Laura vows to win at any cost, including recruiting her stupid ex-boyfriend (Hugh Jackman) for a bit of sabotage.

Purchase DVD/Blu-ray/4K UHD physical copy of Butter today at Amazon.com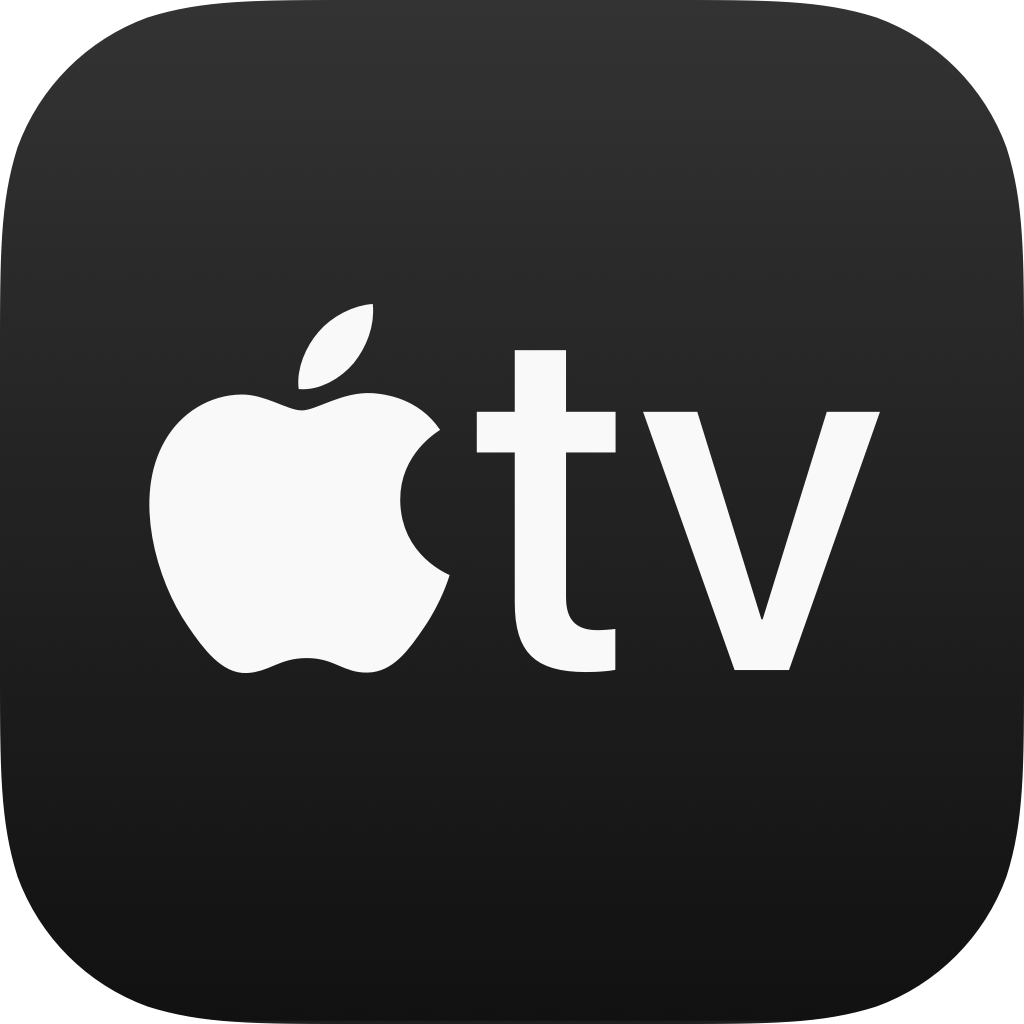 Stream Butter in Digital HD/4K from the AppleTV store.
Butter images are © Weinstein Company, The. All Rights Reserved.
Butter DVD Review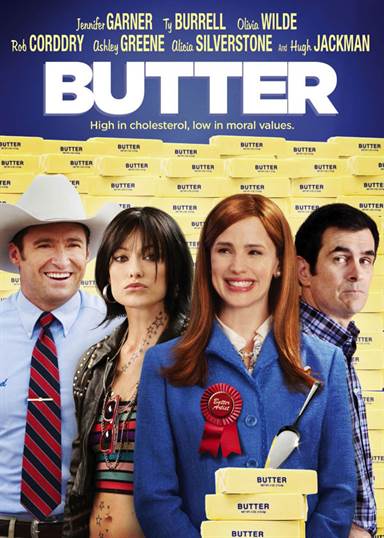 There was tremendous potential for "Butter" to throw a spotlight on the rigors of butter sculpting competitions, drinking in the varied characters that populate this odd hobby while taking note of the exceptional skill required to turn slabs of dairy into art. Instead, "Butter" goes for a swipe of irreverence, poking fun with Midwestern caricatures while bending over backward to earn a gratuitous R-rating. It's a needlessly vulgar, decidedly laugh-free picture that works up a sweat trying to come off provocative when all it needed to be was present with a sculptural medium that doesn't require much of a satiric boost to provide 80 minutes of solid entertainment and the occasional giggle.

Having dominated the last 15 Iowa State Fairs with his impressive butter sculptures (recreating "Schindler's List" and "The Last Supper"), it's time for Bob Pickler (Ty Burrell) to step aside and allow a new champion to emerge. Refusing to relinquish the spotlight is his wife, Laura (Jennifer Garner), a high-strung woman planning to ride butter glory all the way to the White House. Signing herself up for the competition, Laura is shocked to face the skills of Destiny (Yara Shahidi), a young African-American orphan trying to find her place with foster parents Ethan (Rob Corddry) and Jill (Alicia Silverstone). Also in the mix is stripper Brooke (Olivia Wilde), who's trying to reclaim money promised to her by Bob in the heat of passion, stomping her way into the contest as a way to disrupt the Picklers' lives, even seducing their teen daughter Kaitlin (Ashley Greene) for good measure. As the Fair approaches, Destiny concentrates on her upcoming masterwork, while Laura panics, using underhanded tactics to preserve her victory.

Screenwriter Jason Micallef packs an enormous amount of material into "Butter." Its writing is intended to show off a dramatic range and ease with acidity, startling readers with cutting profanity and compromising positions, while sticking true to the Disney film formula by making the characters vulnerable and lovable before the end credits arrive. The multi-character approach offers flavor and variety, yet "Butter" crumbles in the hands of director Jim Field Smith, who was also responsible for "She's Out of My League" back in 2010.

Instead of creating a feature with a subtle sense of mischief, Smith ratchets up the Midwestern stereotypes while failing to manage Micallef's feeble concepts for comedy, pushing forward with acts of casual racism, crude language, and Iowan stupidity, passing ugliness for jokes. Also unnerving is the realm of the butter sculptures themselves, with the Picklers using sacred acts of an American tragedy and religious amplification to inspire their works, culminating with Laura's graphic construction of the JFK assassination for her final piece. Micallef looks to shock value to wrangle laughs, but it's such an obvious lunge, while Smith visualizes the material with a basic cable flatness, incapable of making "Butter" feel like the big screen riot it's aching to become. There's a question of time management as well, finding supporting characters underdeveloped, while brief moments shared between Brooke and Kaitlin seem to be mere residue from a larger story that was peeled out of the picture.

To accentuate the movie's spiraling sense of randomness, Hugh Jackman pops in for a brief role as Laura's old boyfriend Boyd, easily suckered into a cheating scheme by the promise of sexual favors. The scam itself makes absolutely no sense (suggesting Boyd helped Destiny with her sculpture despite her public workstation), but questioning logic is a fool's errand with "Butter." Jackman's extended cameo is simply a waste of screen time.

Sprinting from sour to sappy in the final act, Smith, and Micallef actually believe they've created likable characters along the way, introducing sincerity to "Butter" that's unearned. This is a movie where Boyd describes the surprising elasticity of Laura's vagina, and it dares to end with hugs and orchestral swells? Um, Ok. "Butter" is a missed opportunity to have genuine fun with a State Fair sideshow, embracing food-based craftsmanship and ambition with a cast of colorful characters. Instead, it's a crass, mean-spirited feature that abandons artistry for hackneyed R-rated buffoonery.

This review only contains the standard version DVD of the film, which doesn't offer too much when it comes to special features. Check out the gag reel, deleted and extended scenes. None of these features help the viewer to understand where the team behind this movie was coming from, which possibly explains the lack of attentiveness to the finished product.
Grade: C
For more reviews please visit our film/television review section.
SPONSORED LINKS