This is The End (2013)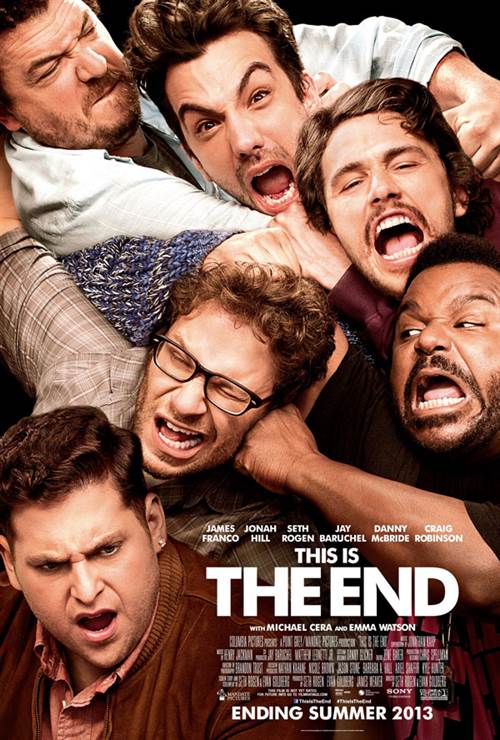 Share this:
| | |
| --- | --- |
| Director: | |
| Cast: | |
| Released: | Wednesday, June 12, 2013 |
| Length: | 106 minutes |
| Studio: | Columbia Pictures |
| Genre: | Comedy |
| Rating: | Under 17 requires accompanying parent or adult guardian. |
Synopsis
The comedy This Is The End follows six friends trapped in a house after a series of strange and catastrophic events devastate Los Angeles. As the world unravels outside, dwindling supplies and cabin fever threaten to tear apart the friendships inside. Eventually, they are forced to leave the house, facing their fate and the true meaning of friendship and redemption.

Purchase DVD/Blu-ray/4K UHD physical copy of This is The End today at Amazon.com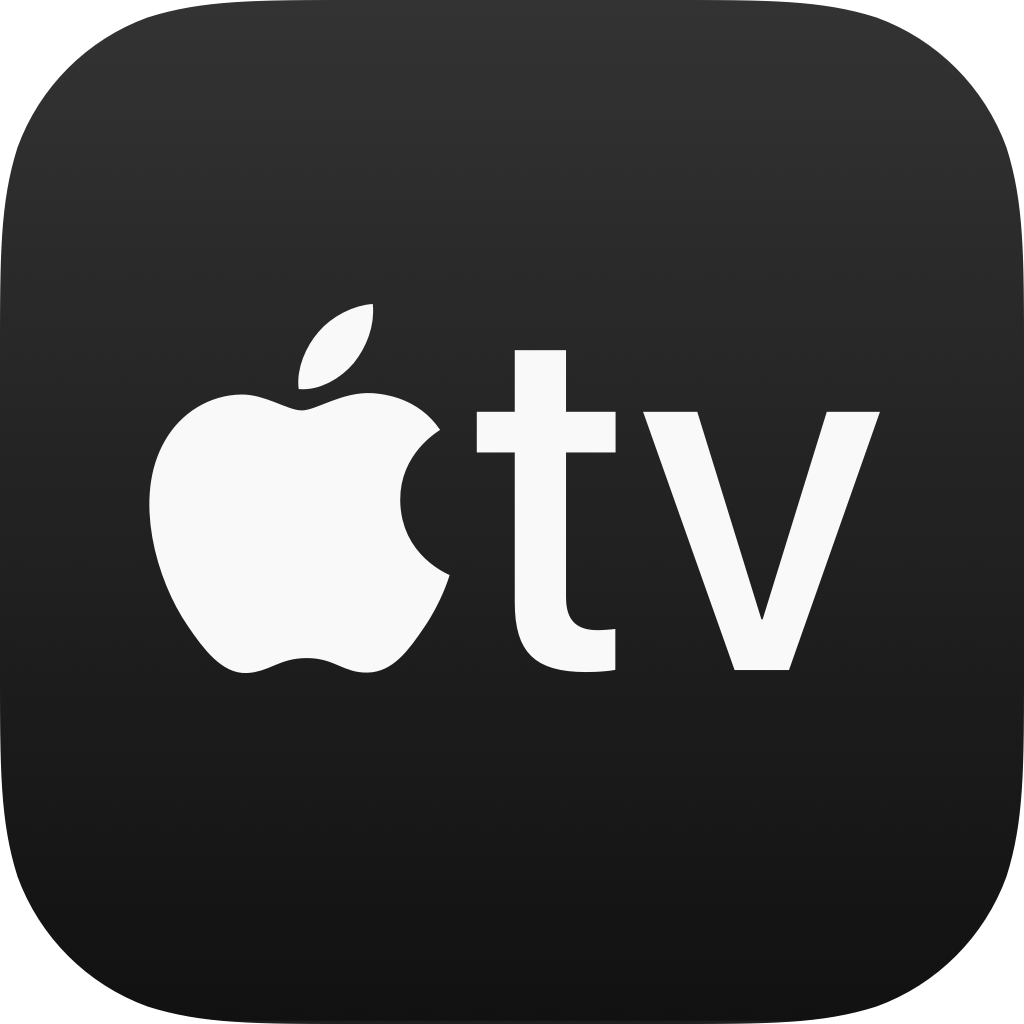 Download This is The End in Digital HD/4K from the iTunes store.
This is The End images are © Columbia Pictures. All Rights Reserved.
This is The End Theatrical Review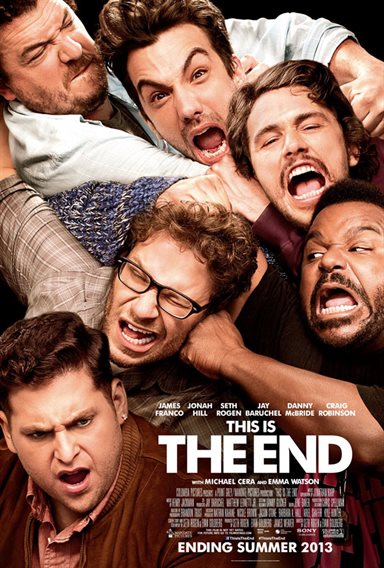 In a smart move by Seth Rogen for his fans things start getting Looney bins in his new film This Is The End, an apocalyptic film that features most all his old pals and then some. The movie isn't more than a goof on the end of the world, but it scorches when it comes to the comedy the stars bring to the screen. If you've ever wanted to see this bunch go wacky together, then grab your bible and get the Hades on down to see This Is The End.

The whole premise here centers on an invitation by James Franco to all his actor buddies and a lot of non-celebs to a housewarming party at his home. Seth Rogen has just picked up Jay Baruchel from the airport, they have settled in for some drugs and a wacky get together when Rogen says we're headed to Franco's House for a party. They arrive at the party and Jay just doesn't feel right about attending as he has bad feelings for Jonah Hill.

After some major coaxing the two go inside and we get to see many of the rising stars that have come to the party including Rihanna, Emma Watson and Michael Cera mingling with Mindy Kaling and Craig Robinson. The whole gang is there boozing, drugging and having some sexual sides. With wall to wall people, the party takes aim at being the best ever to hit Hollywood. Just when things start to get completely over-the-top, explosive rumblings and a giant sinkhole opens just outside Franco's house. When people start falling in and strange beings start to emerge from the hole, those left take shelter in Franco's house.

The film is very wacky, rude, crude and lewd, but most of the film's these actors have been in are no different. With the world outside being torn apart, the 6 that are left go over some of the bad things in their past, create havoc about not having enough food supplies to survive and Jay does an exorcism on Jonah. The group doesn't lose sight of their raunchy brand of comedy as they serve up a lot of it and that's what most of their fans are looking for here. If you are into their brand of nonsense than you will be delighted on how much they can provide in just less than two hours.

The is directed and written by Rogan and Evan Goldberg who were responsible for Pineapple Express, Superbad, The Green Hornet, Knocked Up, 40 Year Old Virgin, The Watch, etc. So if you like those films, you will enjoy seeing most of the stars that worked with the two including, Paul Rudd, Danny McBride,Christopher Mintz-Plasse, Kevin Hart, Martin Star and then some like Emma Watson, Channing Tatum, Rihanna and The Backstreet Boys.

The special effects are extremely good, especially the super sinkhole, the monsters and the burning of Hollywood. All in fun, the loosely scripted film that allows a lot of improvisation and ad-libbing actually makes the film work. Most of the goofs really help the film and with Danny McBride going over-the-top with his wacky humor the movie gets almost fanatical.

This Is The End has been rated R by the MPAA for crude and sexual content throughout, brief graphic nudity, pervasive language, drug use and some violence. Believe me when I say that all of that is in the film and more, including blasphemy, irreverence, enough gay references to fill two films and more, but it's all in fun when it's up on the big screen, right?

FINAL ANALYSIS: A wacky, irreverent film that's directed to a specific audience. (B)

-- John Delia
For more reviews please visit our film/television review section.
SPONSORED LINKS