Beauty and the Beast (2017)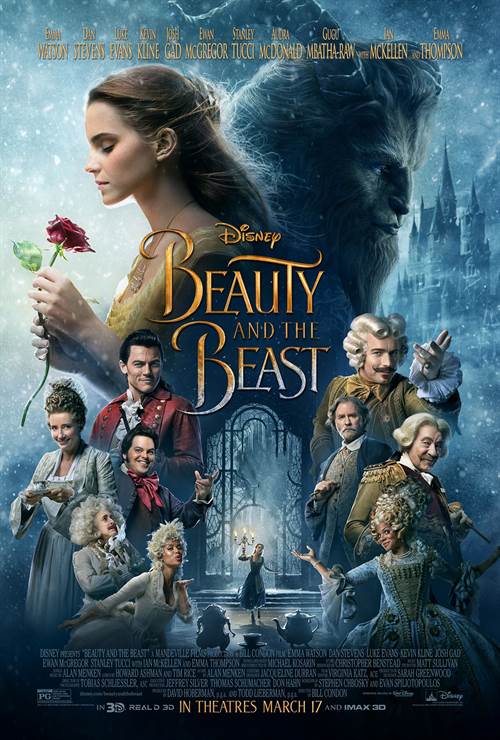 Share this:
| | |
| --- | --- |
| Director: | |
| Writers: | Stephen Chbosky |
| Cast: | |
| Released: | Friday, March 17, 2017 |
| Length: | 129 minutes |
| Studio: | Walt Disney Pictures |
| Genre: | Action/Adventure |
| Rating: | Some material may not be suitable for children. |
Synopsis
The beloved tale will be retold for the big screen with a modern live-action lens and the help of transformative CG magic. Emma Watson and Dan Stevens will star as Belle and the Beast/Prince respectively, and Luke Evans will play the role of Gaston. Emma Thompson has joined the cast as Mrs. Potts and Kevin Kline as Belle's father, Maurice.
Purchase DVD/Blu-ray/4K physical copy of Beauty and the Beast today at
Download Beauty and the Beast in Digital HD/4K from the iTunes store.
Listen to the Beauty and the Beast soundtrack on Apple Music.
Beauty and the Beast images are © Walt Disney Pictures. All Rights Reserved.


Beauty and the Beast Earnings Hit the $1 Billion Mark
4/13/2017 2:40 PM EDT
Disney's "Beauty And The Beast" has officially crossed over the $1 billion mark in worldwide earnings.The film, which was released March 16, was already 2017's top earning film, as well as being the top earning live-action movie musical of all time. The earning will keep growing, too, as the premier in Japan is slated for April 21.Surely these numbers don't surprise many people. The 1991 animated ...
More>>
Russia to Investigate Beauty and the Beast for Gay Propaganda
3/5/2017 11:07 AM EDT
Disney's Beauty and the Beast hits theaters on March 17, but not without controversy.  You may be wondering what could possibly be controversial about this animated turned live-action classic? Well, according to Russia's United Party MP, Vitaly Milonov, the film could be banned under their "anti-gay" laws. In the film, Josh Gad portrays Le Fou, one of Gaston's admirers.  It is said that this is Di...
More>>
Disney Announces Special Opening Night Events for Beauty and the...
1/31/2017 3:53 PM EDT
Walt Disney Studios will be scheduling special opening night events for their highly anticipated film Beauty and the Beast. The film is set for release on March 17, but on March 16, the special events will take place at about 590 locations nationwide before the 7:00pm showing at IMAX theaters, as well as other select premium large formats.  They will include special behind-the-scenes on-screen con...
More>>
Ariana Grande and John Legend Will Sing The Title Song for Movie...
1/12/2017 12:36 PM EDT
Disney has outdone themselves with Beauty and the Beast, not only casting Emma Watson, as Belle, but by having GRAMMY nominated and multi-platinum selling artist Ariana Grande and 10-time GRAMMY, Oscar®-winning and multi-platinum selling singer/songwriter/ musician John Legend perform the Oscar and GRAMMY-winning duet "Beauty and the Beast" as the title track for Disney's new live-action film adap...
More>>
Beauty and the Beast Theatrical Review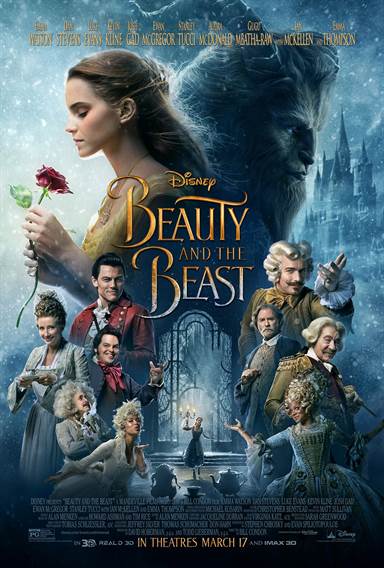 Disney's latest masterpiece, Beauty and the Beast, is a live-action adaptation based on the 1991 animated classic. Some fans of the original (including original cast members that might have been quoted in the press) have questioned the need for or purpose of "recreating" such a timeless favorite. Had the studio decided to leverage the technology available today in order produce an updated more spectacular animated version, the ire might be justified.
This is not, however, a reinterpretation or reinvention aimed at improvement. Technology now makes it possible for that animated magic and fantasy to come to life beyond our imaginations. Those die-hard original fans will not be disappointed when they see their beloved favorite unscathed, honored and elevated to an entirely new echelon. For those who (like me) did not fall to their knees in 1991, the added realism will enchant them as well. The pair that can never agree...theater or film...will share an enjoyed experience that captures the whimsy of each. This one is for the tomboy and the princess alike.
The introductions of the young Prince (Dan Stevens), and that of Belle (Emma Watson), are an homage to the Golden Age of Hollywood. The large scale, elaborate sets are breathtaking. More than 1,000 crew members worked exhaustively to build and decorate the sets with extensive hand-detailed craftsmanship and artistry. What's more, the underlying idea of female empowerment extends to all of the design team's department heads. All female and at the top their fields; many being frequent collaborators of director/co-screenwriter Bill Condon (Dreamgirls; Kinsey).
The score comes courtesy of Alan Menken. The original songs written by Alan Menken and Howard Ashman are given new breath and breadth. Some of Ashman's original lyrics not used in the animated film have been added back. The new recordings coupled with three new songs that Menken and Tim Rice co-penned help add greater depth in both emotion and backstory.
The newer elements to the story help answer those lingering questions of how both Belle and the Beast came to be who they are when we come upon them. We are given glimpses into their lives before this. We witness their shared experience, and how differently it shaped them each. The human experience of love and compassion ever present for one, and absent to the other. Condon worked with co-screenwriters Evan Spiliotopoulos (The Huntsman: Winter's War; Hercules) and Stephen Chbosky (The Perks of Being a Wallflower; Rent) to flesh out the familiar characters giving them greater dimension while honoring their legacy.
Condon established the catalyst for bringing these beloved characters to life on screen with casting of Emma Watson (Harry Potter; The Bling Ring) in the role of Belle. An activist and goodwill ambassador in her personal life, Watson embodies the strength, will, wonder and heart that empower her character. The entire cast is extraordinary in their talent and humanity, and also includes: Josh Gad (a fellow U School and Charlie Redler alum), Luke Evans, Kevin Kline, Ewan McGregor (swoon), Audra McDonald, Stanley Tucci, Gugu Mbatha-Raw, Emma Thompson, Ian McKellen, Hattie Morahan, Nathan Mack and more, I'm sure. The energy was established by Director Bill Condon with the cast and crew that infused this project at every level… every stage. That beauty truly comes from within, and shines through every facet of the film.
The technological wonder, the magic of the wardrobe, the stunning cinematographic experience, the moving score, the grand performances and the subtle nuances...the difficulty in reviewing this film is maintaining the element of suspense and surprise in lieu of expanding on every detail on screen and behind the scenes. Perhaps for the Blu-ray release...
Read More Beauty and the Beast Reviews
For more reviews please visit our film/television review section.
The beloved tale will be retold for the big screen with a modern live-action lens and the help of t...

With the live-action version of Beauty and the Beast coming to theaters, FlickDirect Correspondent J...

The beloved tale will be retold for the big screen with a modern live-action lens and the help of t...
The beloved tale will be retold for the big screen with a modern live-action lens and the help of t...
SPONSORED LINKS
Comments

Courtesy of
Movie Hype App
itzortiz11
It's an amazing movie I love it so much
7/5/2017 2:38 PM EDT
angmejia
Good movie
6/24/2017 2:44 PM EDT
eagles1020
I love this movie never gets old!😍😊🤗🙂
6/21/2017 7:48 PM EDT
sarahkaty42
Omg I love it I did a play on it and I was beuty
6/17/2017 12:21 AM EDT
ksam1
Love this movie
6/1/2017 7:20 PM EDT
presshandstand
It's the best movie ever
5/29/2017 3:02 PM EDT
scfinley_2007
Love it
5/21/2017 1:13 PM EDT
tyrell14
This is cool movies
4/26/2017 12:26 AM EDT
ayudoawag48
I love this movie it's the best THANK YOUU!!!!!!!
4/24/2017 8:48 PM EDT
samipenton
Love this film
4/7/2017 9:36 PM EDT
samira_mira
Great movie
3/29/2017 7:24 PM EDT
ali121
I heard this was good. But really... it's Disney, how bad could it be?
3/14/2017 6:16 PM EDT
latin83
So excited
3/13/2017 8:45 AM EDT
sindelstone
I grew up with this movie!! It would mean the world to me to see the movie i grew up singing ❤ #BeOurGuest #FlickDirect
3/9/2017 1:21 PM EDT
caderyn
3/8/2017 12:07 PM EDT