Godzilla vs Kong (2021)
Share this:
| | |
| --- | --- |
| Director: | |
| Writers: | |
| Cast: | |
| Released: | Wednesday, March 31, 2021 |
| Length: | 113 minutes |
| Studio: | Warner Bros. |
| Genre: | Sci-Fi/Fantasy, Action/Adventure |
| Rating: | Some material may be inappropriate for children under 13. |
Synopsis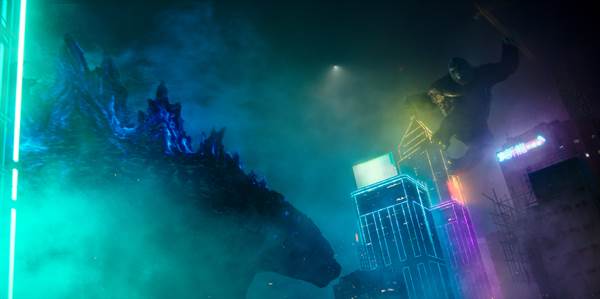 Legends collide in "Godzilla vs. Kong" as these mythic adversaries meet in a spectacular battle for the ages, with the fate of the world hanging in the balance. Kong and his protectors undertake a perilous journey to find his true home, and with them is Jia, a young orphaned girl with whom he has formed a unique and powerful bond. But they unexpectedly find themselves in the path of an enraged Godzilla, cutting a swath of destruction across the globe. The epic clash between the two titans— instigated by unseen forces—is only the beginning of the mystery that lies deep within the core of the Earth.

Purchase DVD/Blu-ray/4K UHD physical copy of Godzilla vs Kong today at Amazon.com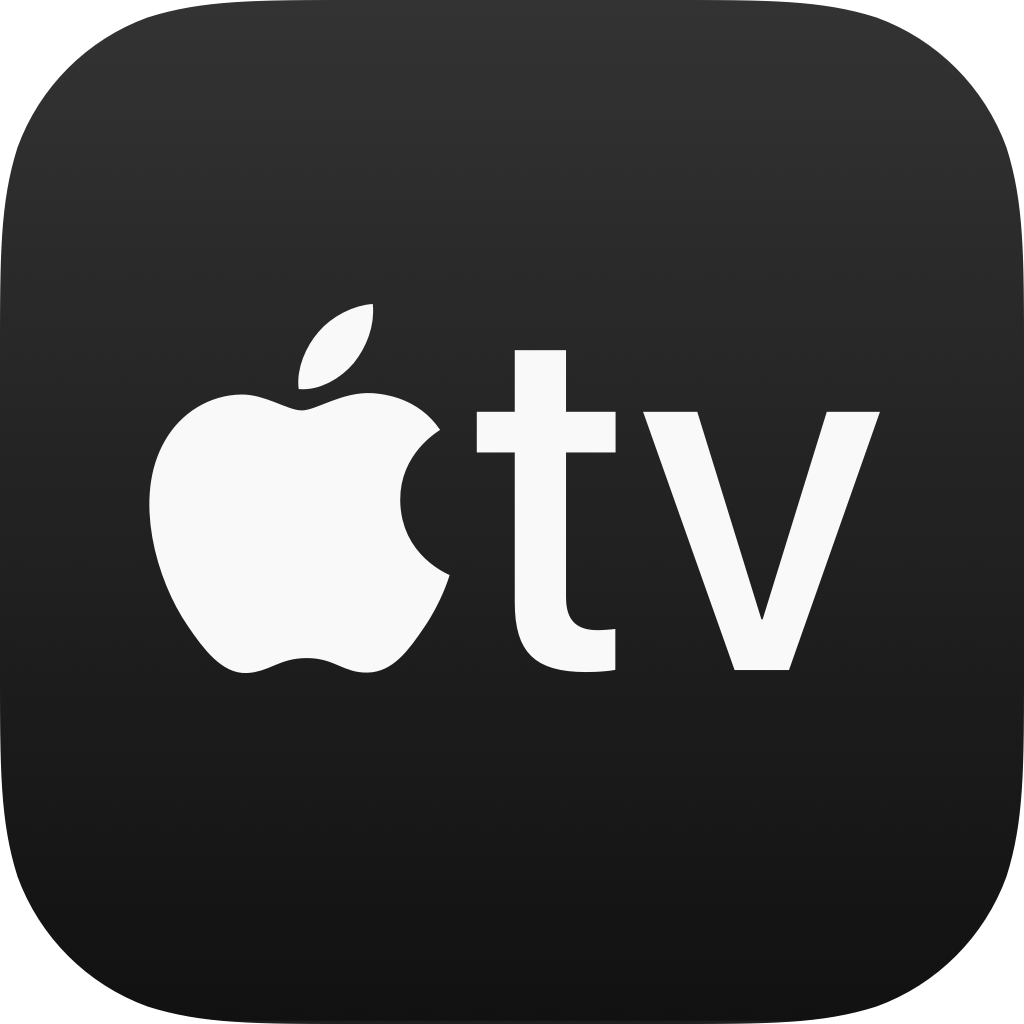 Download Godzilla vs Kong in Digital HD/4K from the iTunes store.
Listen to the Godzilla vs Kong soundtrack on Apple Music.
Godzilla vs Kong images are © Warner Bros.. All Rights Reserved.
Legendary in Early Production Talks for Godilla vs. Kong Follow Up
4/27/2021 7:19 PM EST
"Godzilla vs. Kong", a film that wasn't expected to do as well as it did at the box office, has breathed some air into a franchise that was seen to be on its way out. After the disappointment of " Godzilla: King of the Monsters" at the box office, it's said that Legendary was releasing "Godzilla vs. Kong" and then would probably be done with it; however, due to the good performance of the newest f...
More>>
Godzilla vs. Kong Sets Box Office Record
4/1/2021 2:08 PM EST
"Godzilla vs. Kong" has officially set the record for best opening day box office since the beginning of the pandemic. The film earned $9.6 million domestically.The film stars Millie Bobby Brown, Kyle Chandler, Alexander Skarsgård, Rebecca Hall, Brian Tyree Henry, Shun Oguri, Eiza González, Julian Dennison, and Demián Bichir. "Wonder Woman 1984" previously held the record, with its Christmas Day o...
More>>
Legendary Entertainment May Take Legal Action Over Warner Bros. ...
12/7/2020 2:15 PM EST
Legendary Entertainment may be pursuing legal action against Warner Bros. after the announcement of the studio releasing its films to HBO Max and theatres simultaneously.Legendary co-financed "Dune" and "Godzilla vs. Kong", both high budget films, coming at $175 million and $160 million, respectively. Apparently, they claim they were unaware of Warner Bros. plans to release the films on HBO Max. T...
More>>
Warner Bros. Announces New Release Dates for Upcoming Films
6/15/2020 3:53 PM EST
Warner Bros. has announced some updates for their upcoming releases. Below are the new release dates for their films:"Tenet" moves from 07/17/20 to 07/31/20"Wonder Woman 1984" moves from 08/14/20 to 10/02/20"Witches" moves from 10/09/20 to UNSET"Godzilla vs. Kong" moves from 11/20/20 to 05/21/21"Tom & Jerry" moves from 12/23/20 to 03/05/21The Untitled "Matrix" Movie moves from 05/21/21 to 04/01/22...
More>>
Adam Wingard to Direct Godzilla vs. Kong
6/1/2017 1:59 PM EST
Adam Wingard has been chosen to direct the upcoming film "Godzilla vs. Kong."  Wingard has previously directed "The Guest" and the "Blair Witch" reboot.The film will be written by Terry Rossio and will be one of a series of films the "MonsterVerse" franchise from Warner Bros.  They also have another film on the backburner, "Godzilla: King of the Monsters", which will star Millie Bobby Brown, Kyle ...
More>>
Godzilla vs Kong Theatrical Review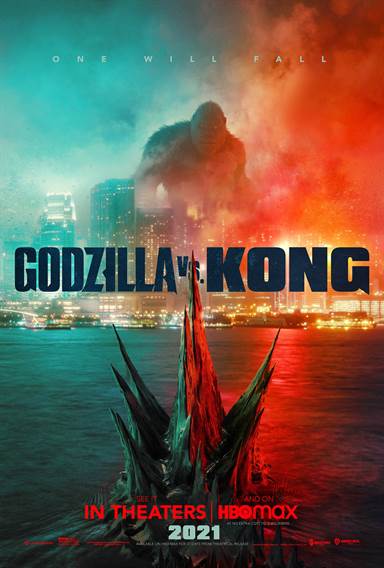 It is the age-old battle… predator vs. prey, man vs. beast, lizard vs. ape, or more precisely Godzilla vs. Kong. In the world of filmdom, the latter predates the former by twenty-one years. However, the debate as to which creature would win in a fight has raged on three times along. Of course, this month's feature film is not the first time the two titans have met on the big screen. Previously, they fought in King Kong vs. Godzilla, a 1962 Japanese film and, while on the surface, it seemed that Kong was the winner, the audience was left wondering whether or not Godzilla was really dead. Almost sixty years later, Warner Bros. Once again raises the question of which one of them would win?
After Godzilla defeated King Ghidorah, he and Kong are the only two known Titan creatures left on Earth. Since Skull Island has become destabilized, Kong now lives in a giant dome controlled by Monarch and is often visited by a deaf Iwi girl named Jia (newcomer Kaylee Hottle). Meanwhile, Godzilla heads towards Florida and attacks an Apex Cybermetrics Corporation facility. Bernie Hayes (Brian Tyree Henry; If Beale Street Could Talk), infiltrates Apex as a maintenance worker and discovers an ORCA device that was previously used to try and control the Titans.
Looking for a limitless power source strong enough to bring their experiment, Mechagodzilla, to life, Apex Officer Walter Simmons (Demián Bichir; The Nun) convinces former Monarch scientist and Hollow Earth expert, Nathan Lind (Alexander Skarsgård; True Blood) to head a team of people. This team eventually includes King Kong, his "handler", Ilene Andrews (Rebecca Hall; Iron Man 3), and Jia, who is Ilene's adopted daughter and Kong's "friend".
However, Once Kong is moved from his dome Godzilla attacks him, but he and the ship's crew narrowly escape and find the opening to hollow Earth. The team follows Kong on his journey "home" and when they find the King's/Godzilla's power source, Apex employees take to bring their creation to life. Suddenly, it isn't just Kong and Godzilla fighting but Mechagodzilla as well.
Director Adam Wingard (The Guest) assembles a solid cast, some of whom we have seen in Godzilla: King of Monsters. Skarsgård plays a nerdy scientist who is actually afraid of Kong, While Hall portrays Andrews as very confident and capable while still being a loving mother to Jia. Hottle is excellent and is not only cute but draws attention every time she is on screen. Henry is comic relief but adding Madison Russell (Millie Bobby Brown; Stranger Things) and her friend Josh Valentine (Julian Dennison; Deadpool 2) was unnecessary and while I think they are great; the movie would have been the same with or without them.
The special effect and fight scenes are well done, which will probably make any true Kong and/or Godzilla fan happy. However, while the original soundtrack is pulsating with drumbeats, the few commercial songs Wingard used during the opening scene, later when Kong is chained to the ship, etc. were stupid and cheesy and add nothing to the movie besides eliciting a possible groan from the audience.
Do you have a favorite Titan? Have you taken bets on which monster reigns as king after their epic battles are over? Are you heading to the movie theater as soon as the movie opens?

Godzilla vs. Kong has a lot of different things going on all at once and, for me, it distracted from the overall experience. Cheesy, too long, and one big, muddled mess makes for a rather unappealing and ineffective movie, so please put the debate to rest for a while and stop making King Kong/Godzilla movies.
Grade: C+
For more reviews please visit our film/television review section.
Time to watch two juggernauts duke it out in 4K! FlickDirect's Austin Putnam reviews the 4K UHD...

Legends collide in "Godzilla vs. Kong" as these mythic adversaries meet in a spectacular battle for...

For more information please visit FlickDirect's Godzilla vs Kong Page -- https://bit.ly/39dxJkn ...
SPONSORED LINKS