Kubo and the Two Strings (2016)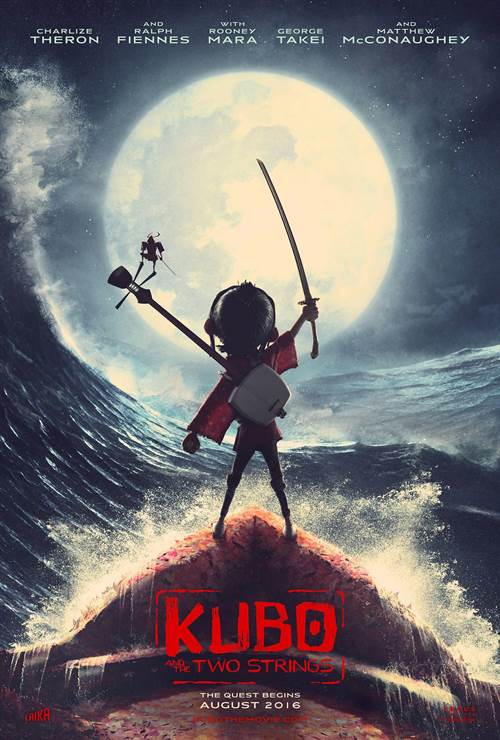 | | |
| --- | --- |
| Director: | |
| Writers: | |
| Cast: | |
| Released: | Friday, August 19, 2016 |
| Length: | 101 minutes |
| Studio: | Focus Features |
| Genre: | Family |
| Rating: | Some material may not be suitable for children. |
Synopsis
Kubo and the Two Strings
is an epic action-adventure set in a fantastical Japan from acclaimed animation studio LAIKA. Clever, kindhearted Kubo (voiced by Art Parkinson of "Game of Thrones") ekes out a humble living, telling stories to the people of his seaside town including Hosato (George Takei), Akihiro (Cary-Hiroyuki Tagawa), and Kameyo (Academy Award nominee Brenda Vaccaro). But his relatively quiet existence is shattered when he accidentally summons a spirit from his past which storms down from the heavens to enforce an age-old vendetta. Now on the run, Kubo joins forces with Monkey (Academy Award winner Charlize Theron) and Beetle (Academy Award winner Matthew McConaughey), and sets out on a thrilling quest to save his family and solve the mystery of his fallen father, the greatest samurai warrior the world has ever known. With the help of his shamisen – a magical musical instrument – Kubo must battle gods and monsters, including the vengeful Moon King (Academy Award nominee Ralph Fiennes) and the evil twin Sisters (Academy Award nominee Rooney Mara), to unlock the secret of his legacy, reunite his family, and fulfill his heroic destiny.

Purchase DVD/Blu-ray/4K UHD physical copy of Kubo and the Two Strings today at Amazon.com
Listen to the Kubo and the Two Strings soundtrack on Apple Music.
Kubo and the Two Strings images are © Focus Features. All Rights Reserved.
LAIKA Films Commemorates 15 Year Anniversary with Museum Experience
9/21/2021 3:03 PM EST
To commemorate the 15th anniversary of their studio, LAIKA will be partnering up with the Oregon Museum of Science & Industry (OMSI) for multiple screenings of all its films as well as filmmaker discussions and a display of puppets and sets this October. All five of their films, "Missing Link", "Kubo and the Two Strings", "The Boxtrolls", "ParaNorman" and "Coraline", will be featured. "Animation h...
More>>
Win a Blu-ray Copy of Kubo and the Two Strings From FlickDirect ...
11/16/2016 11:43 AM EST
From the creators of the Academy Award Nominated movies Coraline, The Boxtrolls and ParaNorman comes their latest success, the stop motion film Kubo and the Two Strings.  This fantastic film will be coming to stores on November 22, 2016 but you can win the Blu-ray combo pack for free!  In celebration of the home theater release Laika Entertainment and FlickDirect are offering one lucky winner the ...
More>>
Kubo and the Two Strings Blu-ray Review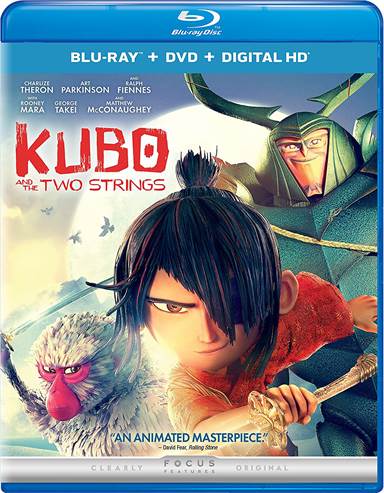 Stop motion animation seems to be a painstaking labor of love for those who attempt it. While still incredibly time consuming, today's technology has made the process a little easier and has resulted in some amazing animation. For
Kubo and the Two Strings
producers, that "labor of love" has taken five years to complete. The result is a beautiful piece of film that seems Oscar worthy.
Kubo (Art Parkinson; San Andreas) is a young boy who lives with his mother/Monkey (Charlize Theron; Mad Max: Fury Road) and goes to the village during the day to play music and tells stories. His mother warns him to be home before dark and he always complies. However, one night he stays out and suddenly he finds himself being hunted by his evil, magical Aunts (Rooney Mara; The Girl with the Dragon Tattoo), who want his other eye (they already took one) to give to Kubo's magical, Moon King, grandfather (Ralph Fiennes; The Harry Potter Series). And you thought your family was dysfunctional!?!
It turns out that years earlier the Moon king was after a great warrior (Beetle voiced by Matthew McConaughey; Dallas Buyers Club) and sent his daughters to kill said warrior. His oldest daughter arrived first and instead of killing the warrior, fell in love with him and had a child. Enraged at the betrayal, the Moon King changed the warrior into a beetle, wiped his memory and tried to take both of Kubo' s eyes. Having only succeeded in getting one eye, his other daughters spent years at night searching for the boy and only found him on that fateful evening he stayed out after dark. As Kubo runs for his life, he battles his aunts, as well as his grandfather, in search of the great armor that belonged to his father.
There are numerous pluses to Kubo and the Two Strings, beginning with the cast. While he is still young, Parkinson is a seasoned actor and does a wonderful job with his inflection as he tells stories to the villagers. Theron and McConaughey have silkiness to their voices that are soothing while portraying the right amount of emotions and Mara's voice is fittingly haunting as the magical sisters. Fiennes is terrific as the evil grandfather and it seems these sinister roles seem to suit him well.
The animation is spectacular and the stop motion seems to be the perfect choice to tell this tale. The work is so well done and paired with the script and the music, it blends beautifully to create a masterpiece. When I think of stop motion, I remember the choppy cuts and edits of many years ago but Kubo's transitions are smooth and seamless and shows how far the genre has come with technology.
The Blu-ray is presented in 1080p high definition video with a 2.39:1 aspect ratio. The colors are true and clear with deep blacks and vibrant hues of mostly red, yellow and orange. The DTS-HD Master 5.1 audio showcases the soundtrack, which is a terrific blend of traditional Asian themed music with a more contemporary flair. The mix is, unfortunately, not done well and required me to continually adjust the volume between the dialog and music.
There are 4 extras on the Blu-ray to be enjoyed. They include the audio commentary with Director/Producer Travis Knight, The Myth of Kubo (2:33), which explores the deeper meaning of the film, Corners of the Earth (3:12), which looks at the various "locations" the film goes to and Kubo's Journey, a 28-minute, six-part look at the Japanese influence, the monsters of the film, the stop motion aspect and its challenges and the music.
Kubo is a masterful, artistic view of Japanese folklore, which is so rich in storytelling and tradition. The film was an ambitious project that took years to see through to fruition but it was also well worth it. A well written script, amazing animation, terrific cast and wonderful music combined to create a fantastical world that both young and old will delight in watching. This is a Blu-ray to buy and keep and watch over and over again.
Grade: A-
For more reviews please visit our film/television review section.
Join Alaina Rose (http://www.alaina.tv) as she sits down with Director Travis Knight and Art Parkins...

Kubo and the Two Strings is an epic action-adventure set in a fantastical Japan from acclaimed anima...
SPONSORED LINKS