Underworld: Rise of the Lycans (2009)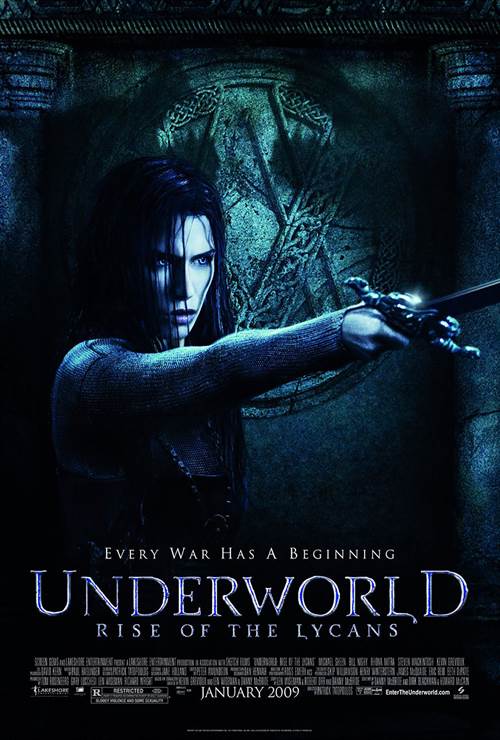 | | |
| --- | --- |
| Director: | |
| Writers: | |
| Cast: | |
| Released: | Friday, January 23, 2009 |
| Length: | 93 minutes |
| Studio: | Screen Gems |
| Genre: | Sci-Fi/Fantasy, Action/Adventure |
| Rating: | Under 17 requires accompanying parent or adult guardian. |
Underworld: Rise of the Lycans Synopsis
This prequel story traces the origins of the centuries-old blood feud between the aristocratic vampires known as Death Dealers and their one-time slaves, the Lycans. In the Dark Ages, a young Lycan named Lucian emerges as a powerful leader who rallies the werewolves to rise up against Viktor, the cruel vampire king who has enslaved them. Lucian is joined by his secret lover, Sonja, in his battle against the Death Dealer army and his struggle for Lycan freedom.

Purchase DVD/Blu-ray/4K UHD physical copy of Underworld: Rise of the Lycans today at Amazon.com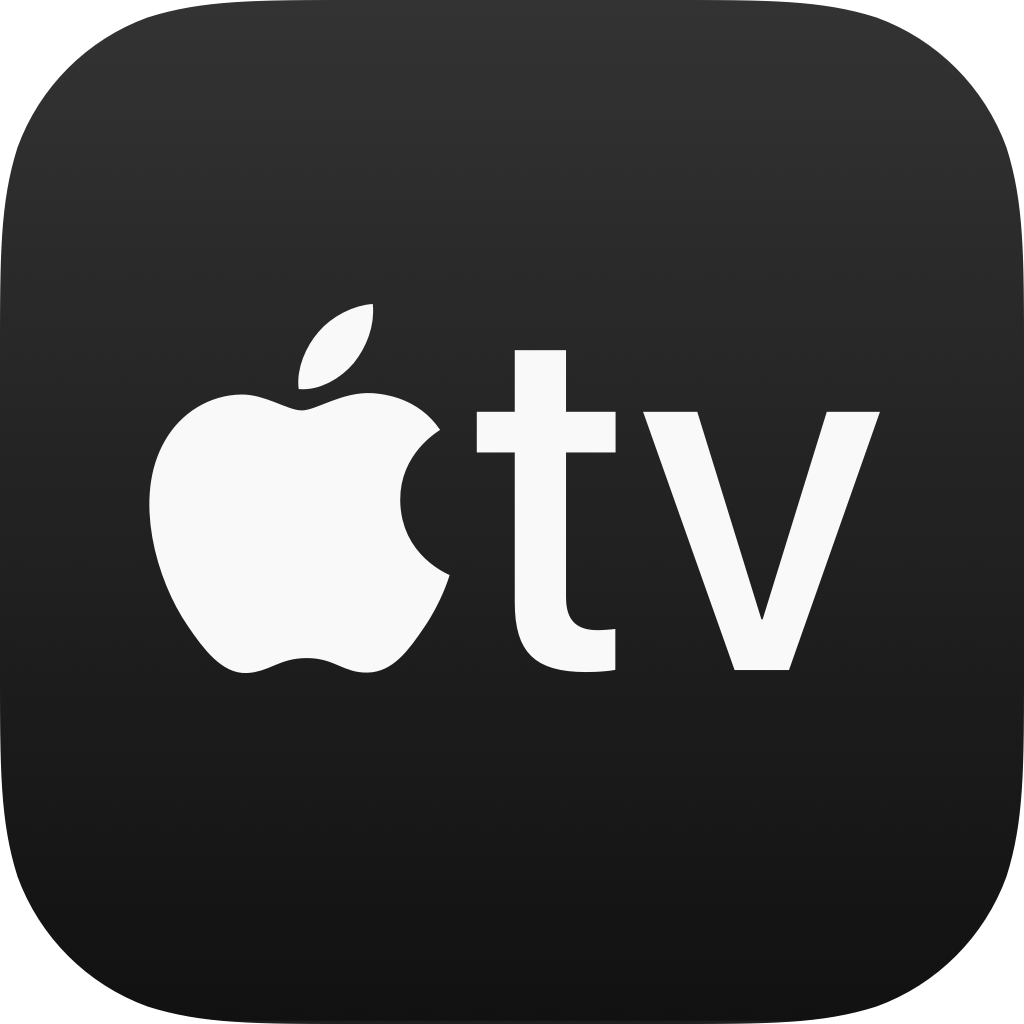 Stream Underworld: Rise of the Lycans in Digital HD/4K from the AppleTV store.
Underworld: Rise of the Lycans images are © Screen Gems. All Rights Reserved.
Underworld to Become TV Series
9/25/2017 4:17 PM EST
Underworld, the popular franchise starring Kate Beckinsale, will now be given the TV treatment.  The new series is being brought to us by Len Wiseman and his production company Sketch Films.Wiseman said, "The series will be a pretty big departure from the films. I don't want to say it's more adult, but it's definitely less comic book in its tone and character."The Underworld franchise began in 200...
More>>
Screen Gems and Snapchat Team Up for Underworld Promotional Lens
12/1/2016 3:35 PM EST
Screen Gems, in anticipation of releasing their film Underworld: Blood Wars, will be partnering up again with Snapchat to develop the first ever interactive 3D lens.The lens will become available on December 29 and will allow users to build a an immersive 360-degree Underworld-themed environment in the Snapchatter instead of the usual overlay. The lens will also allow users to transform into a vam...
More>>
Underworld: Rise of the Lycans Theatrical Review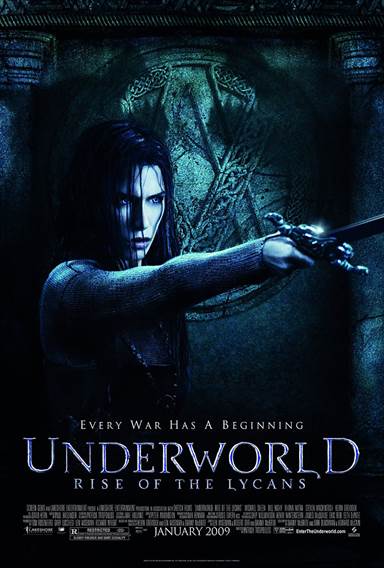 The idea of vampires vs. werewolves isn't exactly new, but the Underworld franchise does the cinematic vision of it pretty well. The vampires dress in black leather, the Lycan(thropes) wolf-out and eat people, and the first movie was all gritty urban warfare. The third takes place in the distant past where, in events referred to in the first movie, the werewolves find themselves enslaved by the vampires. Having key events in 3 referred to in the first does impress me; even if it wasn't all thought-out from the start, clearly either some was or they did a good job of making it seem that way.

The movie takes place, for the most part, in a massive castle where the vampires live and get nobles to bring them tributes of blood and silver. The Lycans are humans who can change into wolves. Their leader, Lucian, is a slave to the Vampires, but is also the "father" of the race that maintains their intelligence after being bitten. Luican is in love with a vampire -- something that is forbidden -- and he dreams of freedom while his fellow Lycans who are enslaved; and the wild werewolves attack any vampires that venture outside the walls. Anyone who has seen the other Underworld movies will know that there is a showdown coming.

Is it good? Well, for what it is, I would say "Pretty good -- yes". Rhona Mitra makes a relatively good smoldering Sonja -- the vampire girl with the forbidden love. Michael Sheen returns as Lucian and does an incredible job of her lycanthropic lover. The action is okay with good armor, and some of the stylized hyper-kinetic swordplay we expect. Sure, the Lycans all look like CGI effects, but they are decent ones.

The story is suitably gothic (people who paid attention to the first Underworld will have some idea of what will happen in this one), and it does seem to understand the whole three-part story well enough. I'll even go so far as to say that I was surprised a bit by character's lack of "obvious" betrayal (at least where I thought it would be), and found the chemistry between the leads and the elder vampire reasonably engaging.
Underworld 3 is certainly not high art, but it is a credible attempt at telling a very stylized story in an alien mythology. For part three of what we are told is a trilogy, that isn't bad.

If I have a problem with the movie, it is that it is murky. Yes, you can see what is happening on the screen, but the vampire's reliance on darkness gives you almost the whole 93 minutes of staring at various shades of gray or black. There is also some weirdness with the giant spear-throwers and multi-fire crossbows…but with Vampires? Werewolves? What are you gonna do?

In any event, while I wasn't overly impressed with what I saw as a lack of vision in the first movie (vampires and werewolves, and what we have them doing is gun-fighting in subways using special bullets that can hurt each other), by the third I'm reasonably convinced that there is a for-real backstory instead of just an excuse to have people dress like Trinity and Neo. Also, by the third movie, keeping many of the same actors over six years, it does seem to have some legitimate heart to it. If you didn't see the first two, you probably still are not in the target audience; but if you did, and liked them, this, as the third, should keep you happy.

In fact, although we were told it was a trilogy, I wouldn't be surprised -- strong as this is -- if we will see a 4th!
-- Marco Chacon
For more reviews please visit our film/television review section.
SPONSORED LINKS