Toy Story 3 (2010)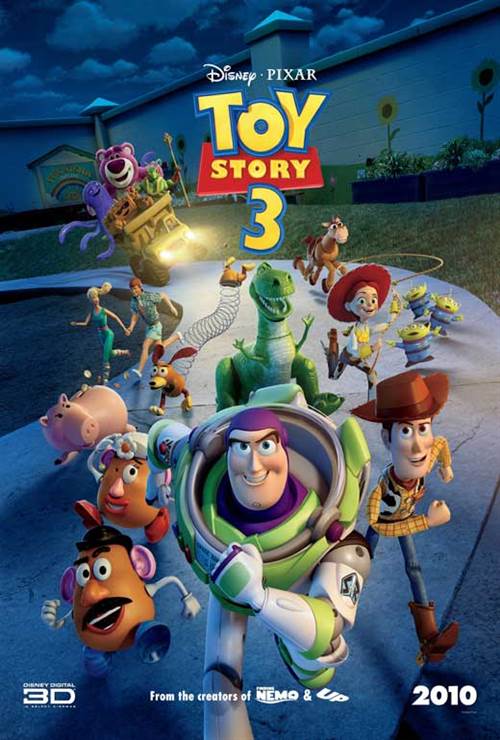 | | |
| --- | --- |
| Director: | |
| Writers: | |
| Cast: | |
| Released: | Friday, June 18, 2010 |
| Length: | 103 minutes |
| Studio: | Walt Disney Pictures |
| Genre: | Family |
| Rating: | General audiences. All ages admitted. |
Toy Story 3 Synopsis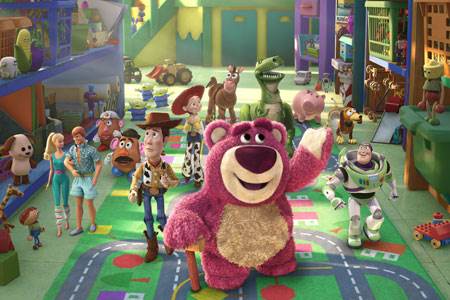 They're toys, they talk—at least when people aren't around—and they're back...celebrating the return of the "Toy Story" franchise—in Disney Digital 3-D™ this time! "Toy Story," the film that started it all, takes moviegoers back to that fantastic fun-filled journey, viewed mostly through the eyes of two rival toys— Woody (voice of Tom Hanks), the lanky, likable cowboy, and Buzz Lightyear (voice of Tim Allen), the fearless space ranger. The comically-mismatched duo eventually learn to put aside their differences when circumstances separate them from their owner Andy and they find themselves on a hilarious adventure-filled mission where the only way they can survive is to form an uneasy alliance.

Purchase DVD/Blu-ray/4K UHD physical copy of Toy Story 3 today at Amazon.com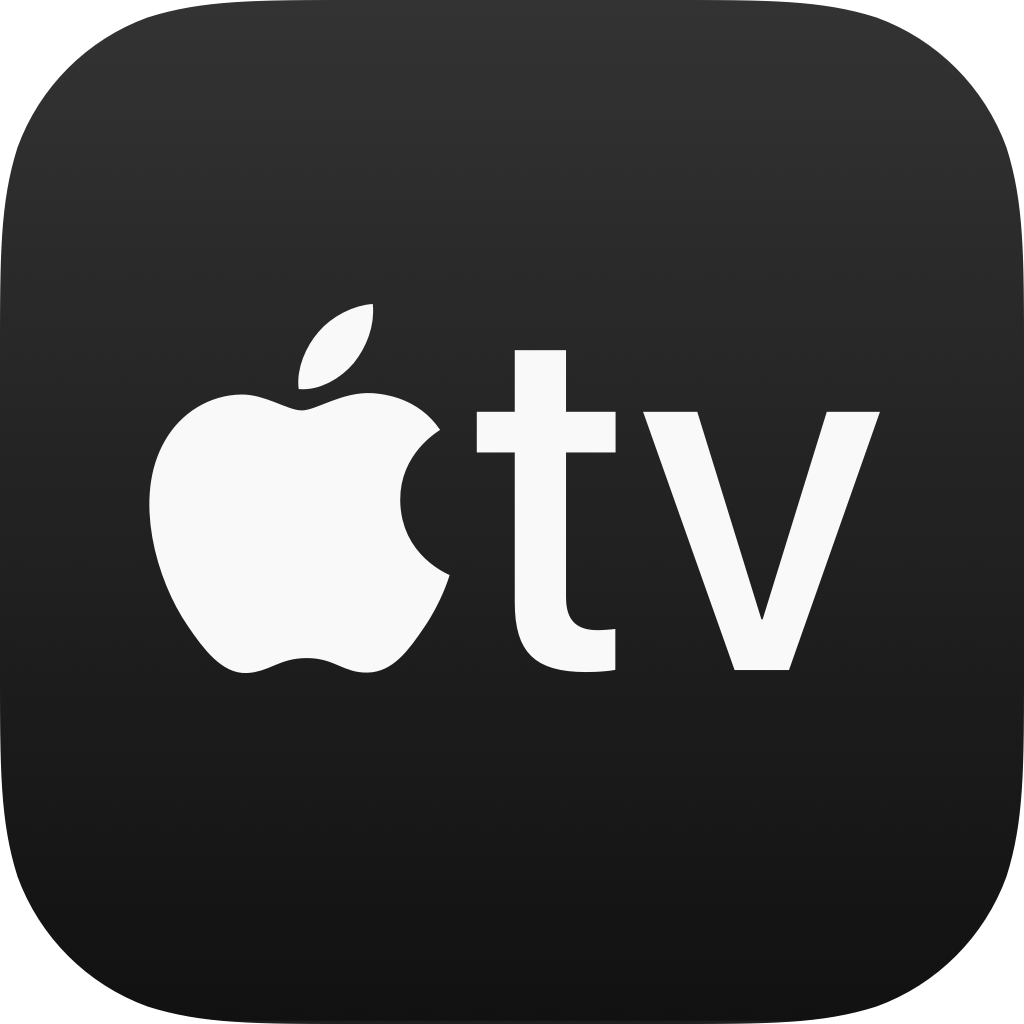 Stream Toy Story 3 in Digital HD/4K from the AppleTV store.
Toy Story 3 images are © Walt Disney Pictures. All Rights Reserved.
Disney/Pixar Toy Story 3 Tops Box Office Again
6/28/2010 12:11 PM EST
Toy Story 3 is still making headline in the box office world. The film managed to earn more than two film that debuted this weekend; "Grown Ups" and "Knight & Day". "Toy Story 3" grosses and estimated $59 million this past weekend. "Grown Ups" came in second place grossing around $41 million and "Knight & Day" grossing around $20.5 million. So far, Toy Story 3 has earned $226.6 million total.The f...
More>>
Toy Story 3 3D Blu-ray Review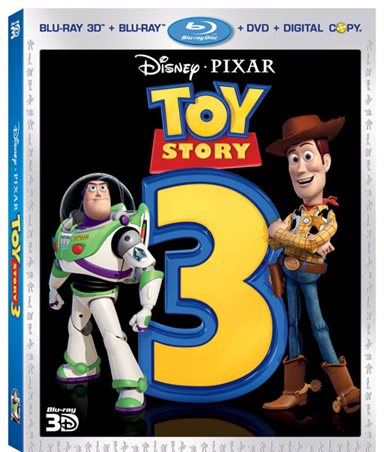 On November 1, Walt Disney and Pixar released Toy Story 3 on Blu-ray 3D, Blu-ray, bonus features Blu-ray, DVD and digital copy.

Toy Story 3 is the last chapter in the trilogy that is the story of Woody the Cowboy and Buzz Lightyear the Space Ranger. In this last chapter we find out that Andy is on his way to college, and his mom wants him to clean out his room, and either throw out his toys, sell them, or bring them with him to college. Through an unfortunate chain of events, the toys almost get thrown out but end up being donated to a local day care center that is run by a strawberry-scented bear named Lotso. Lotso leads the toys like they are in prison – no toy is allowed to even try to escape, and those toys most loyal to Lotso get promoted to the older classrooms – the ones where the kids don't try to eat or destroy the toys on a regular basis. Now Andy's toys know that they were not supposed to be thrown out, and so they plan an escape. Meanwhile, Lotso's loyalists will do anything to stop them, as allowing toys to escape would mean that Lotso doesn't have as much power as the other toys think he has. In the end the toys do escape, and Andy gets his toys back, just in time for the finale that may leave you in tears.

The 3D transfer of the Toy Story series continues to be amazing. The first Toy Story movie actually shot with the intention of being presented in 3D, the transfer is amazing with bright colors and sharp images. And the Blu-ray is just the same but in 2D: extraordinary crisp sound, bright colors and sharp images on the screen, along with the extra features that Blu-ray can bring, because it is chock full of them: The majority of the extra features are included on the second Blu-ray disc. Toy Story Trivia Dash brings the ability of the Blu-Ray format to deliver an interactive game without needing a console. It also includes numerous behind the scenes featurettes that revolve around the making of the movie. Also included is the Day & Night theatrical short.

If you don't have a 3D TV you should consider going ahead and getting this set. You won't regret it when you do get one. But if you already have the last Blu-ray release, the discs are the same except for the 3D Blu-ray.

Read More Toy Story 3 Reviews
For more reviews please visit our film/television review section.
"Hawaiian Vacation," a 3D animated short starring the TOY STORY 3 gang! "Hawaiian Vacation" will appear exclusively with the upcom...
SPONSORED LINKS