Tron Legacy (2010)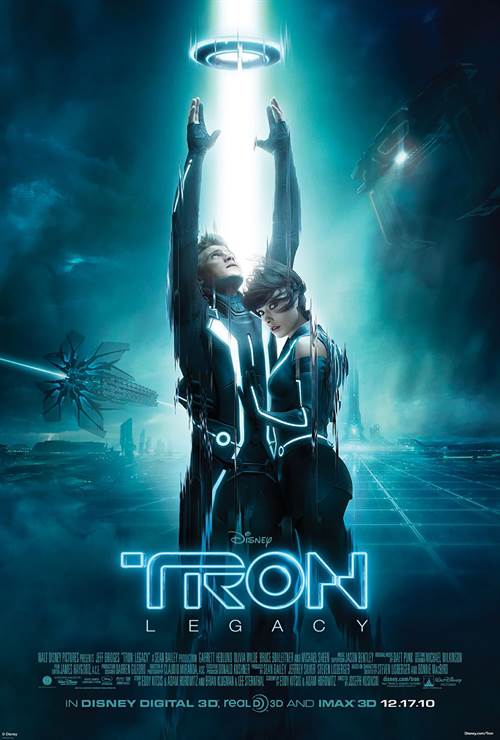 | | |
| --- | --- |
| Director: | |
| Writers: | |
| Cast: | |
| Released: | Friday, December 17, 2010 |
| Length: | 127 minutes |
| Studio: | Walt Disney Pictures |
| Genre: | Sci-Fi/Fantasy, Action/Adventure |
| Rating: | Some material may not be suitable for children. |
Tron Legacy Synopsis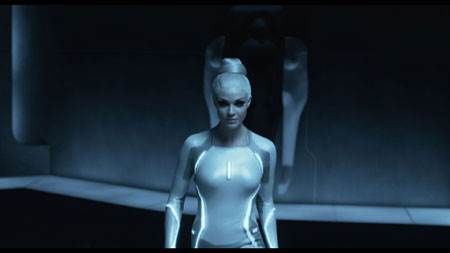 TRON is a 3D high-tech adventure set in a digital world that's unlike anything ever captured on the big screen. Sam Flynn (GARRETT HEDLUND), the tech-savvy 27-year-old son of Kevin Flynn (JEFF BRIDGES), looks into his father's disappearance and finds himself pulled into the same world of fierce programs and gladiatorial games where his father has been living for 25 years. Along with Kevin's loyal confidant (OLIVIA WILDE), father and son embark on a life-and-death journey across a visually-stunning cyber universe that has become far more advanced and exceedingly dangerous.
Tron Legacy images are © Walt Disney Pictures. All Rights Reserved.
Jared Leto to Join Popular Tron Franchise
1/19/2023 3:24 PM EST
It's being reported that Disney is going ahead with making a third "Tron" film, which will star Jared Leto.The "Tron" franchise began in 1982 and starred Jeff Bridges. He reprised his role in the 2010 sequel,  "Tron: Legacy," and starred alongside Ga...
| Full Article
Lion's Garth Davis Signs on to Direct Tron 3
8/10/2020 2:38 PM EST
Garth Davis (Lion) has signed on to direct Disney's upcoming "Tron 3" film. The third installment of the franchise is said to be a new story and not a direct sequel to 2010's "Tron: Legacy"."Tron" was released in 1982 followed and starred Jeff Bridge...
| Full Article
Tron 3 Put on Chopping Block by Disney
5/30/2015 9:35 AM EST
"Tron 3", the latest installment in the Disney-created franchise, has been put on hold indefinitely.  The company announced that they simply couldn't find room for the film in its slate to release it within the next 3 years.An executive with Disney s...
| Full Article
Disney's Tron Will Be Back With Third Installment
3/11/2015 12:17 PM EST
Disney will be releasing another Tron film, and it will begin shooting this fall in Vancouver.The third film in the franchise will once again star Garett Hedlund, but no one else in confirmed to star as of yet. Joseph Kosinski will most likely direct...
| Full Article
Garrett Hedlund to Return for Tron 3
12/14/2012 3:16 PM EST
Garrett Hedlund, star of "TRON: Legacy", has signed on to reprise his role as Sam Flynn in the third film of the franchise.Hedlund had mentioned the fact while doing publicity for his film "On the Road", saying "You know, yeah, I'm very excited, Disn...
| Full Article
Disney Moves Forward with Tron 3
12/6/2012 8:07 PM EST
Disney look set to go ahead with a third TRON movie, with The Hollywood Reporter stating that screenwriter Jesse Wigutow has signed on to the as-yet-untitled project. Wigutow will rewrite the current script that was drafted by David DiGilio, Edward K...
| Full Article
Disney's Tron 3 To Begin Production In 2014
3/9/2012 1:53 PM EST
There was 28 years between the original Tron and Tron Legacy but luckily for Tron fans there wait may not have to be that long for a further instalment in the franchise. Bruce Boxleitner who plays both Alan Bradley and Tron has been speaking to I Am ...
| Full Article
"Tron" Film In the Works?
4/11/2011 3:35 PM EST
Disney has plans on making another installment of the "Tron" series of films, according to director Joseph Kosinski."I think we will pick with where Tron: Legacy left off with Quorra [Olivia Wilde] in the real world and what does that mean and the po...
| Full Article
Disney Launches Tron For iPhone and iPod at Comic-Con Serving Fa...
7/23/2010 5:01 PM EST
SAN DIEGO, Calif. July 23, 2010 - With "ComiTRON" in full swing at the SanDiego Comic-Con International Convention, Disney Interactive Media Group's newly launched TRON app (www.itunes.com/app/tron) for the iPhone(r) andiPod(r) touch is a must-have f...
| Full Article
Disney Brings In The Big Guns To Help With Tron Legacy
7/14/2010 11:41 PM EST
=It appears that Disney has pulled out the big guns when they were looking to improve upon their characters in the upcoming "Tron Legacy" film. Brad Bird and Toy Story 3's Michael Arndt were brought in and worked with writers Edward Kitsis and Adam H...
| Full Article
Disney Tron Vs The Green Hornet
9/4/2009 10:33 AM EST
According to Variety, Disney will be releasing their upcoming film, "Tron Legacy", on December 17, 2010.  This release date will set the film up for some for some competition; "The Green Hornet" is also being released the same weekend.Sony had previo...
| Full Article
Crowds at Comic-Con go crazy for TRON: Legacy
7/26/2009 8:48 PM EST
Given the firestorm that that "TRON" test footage created at last year's Comic-Con … Well, it only made sense that the creative team behind this highly anticipated follow-up to that landmark 1982 film would then return to San Diego to reveal even mor...
| Full Article

Movie / Film Review
A good action adventure for gamers and action junkies.
Physical Media: Blu-ray Review
Those dreams have finally come true for all fans, and it was well worth the wait.
SPONSORED LINKS