Tron Legacy (2010)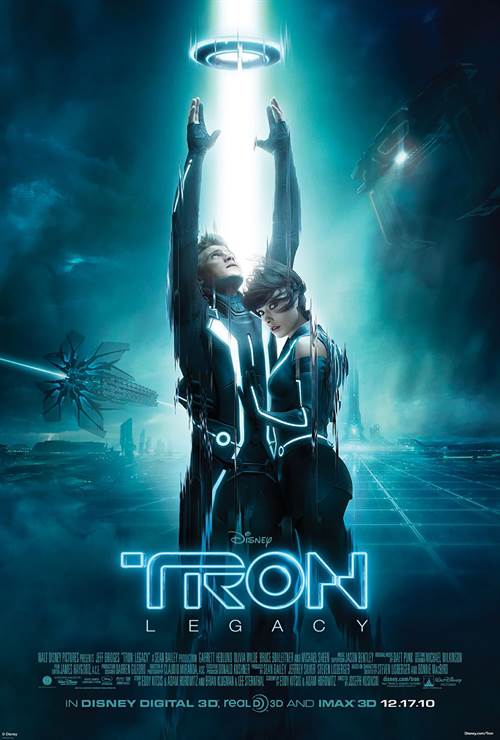 Share this:
| | |
| --- | --- |
| Director: | |
| Writers: | |
| Cast: | |
| Released: | Friday, December 17, 2010 |
| Length: | 127 minutes |
| Studio: | Walt Disney Pictures |
| Genre: | Sci-Fi/Fantasy, Action/Adventure |
| Rating: | Some material may not be suitable for children. |
Synopsis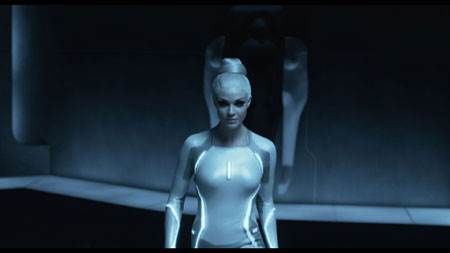 TRON is a 3D high-tech adventure set in a digital world that's unlike anything ever captured on the big screen. Sam Flynn (GARRETT HEDLUND), the tech-savvy 27-year-old son of Kevin Flynn (JEFF BRIDGES), looks into his father's disappearance and finds himself pulled into the same world of fierce programs and gladiatorial games where his father has been living for 25 years. Along with Kevin's loyal confidant (OLIVIA WILDE), father and son embark on a life-and-death journey across a visually-stunning cyber universe that has become far more advanced and exceedingly dangerous.

Purchase DVD/Blu-ray/4K UHD physical copy of Tron Legacy today at Amazon.com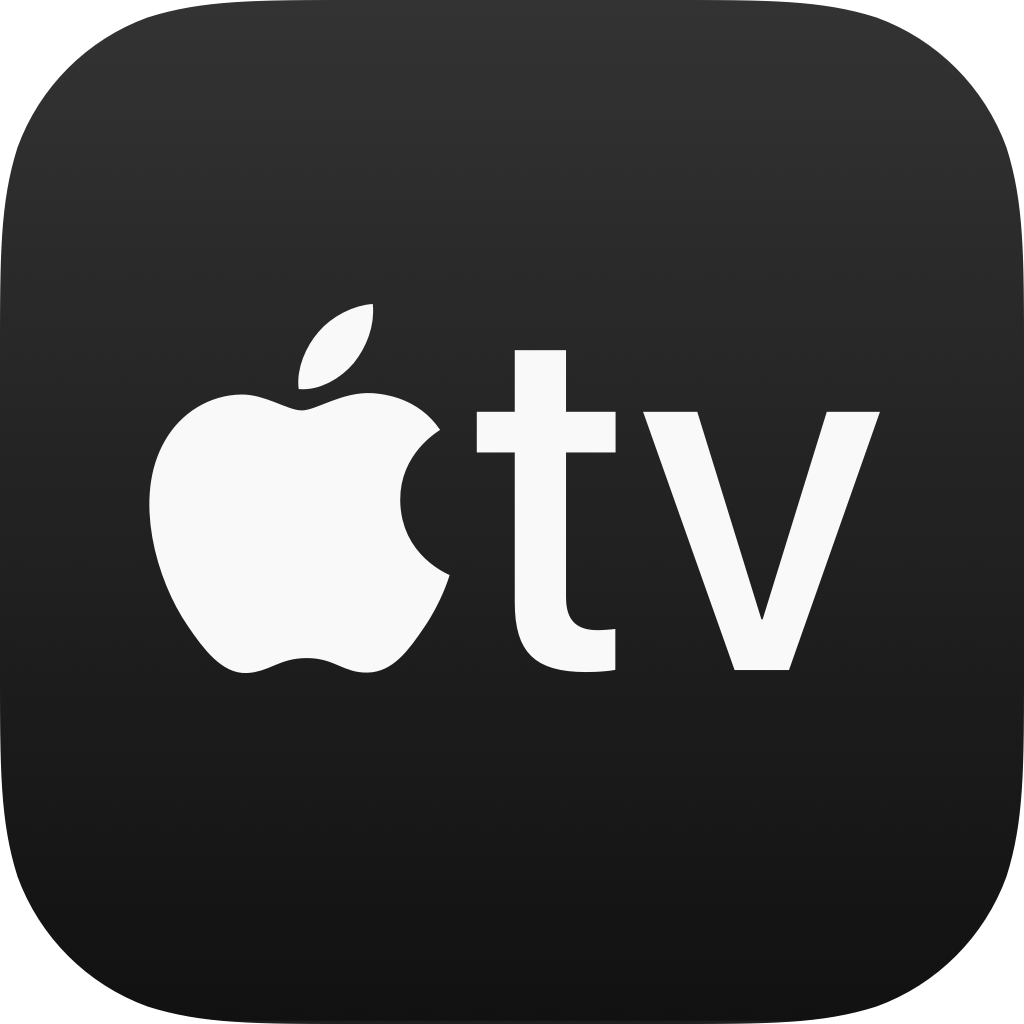 Download Tron Legacy in Digital HD/4K from the iTunes store.
Listen to the Tron Legacy soundtrack on Apple Music.
Tron Legacy images are © Walt Disney Pictures. All Rights Reserved.
Lion's Garth Davis Signs on to Direct Tron 3
8/10/2020 2:38 PM EST
Garth Davis (Lion) has signed on to direct Disney's upcoming "Tron 3" film. The third installment of the franchise is said to be a new story and not a direct sequel to 2010's "Tron: Legacy"."Tron" was released in 1982 followed and starred Jeff Bridges as a computer programmer who gets trapped inside a CPU mainframe. The follow up starred Bridges, alongside Garrett Hedlund, Olivia Wilde, and Michae...
More>>
Tron 3 Put on Chopping Block by Disney
5/30/2015 9:35 AM EST
"Tron 3", the latest installment in the Disney-created franchise, has been put on hold indefinitely.  The company announced that they simply couldn't find room for the film in its slate to release it within the next 3 years.An executive with Disney stated, "We had never greenlit the movie, but it was in development for some time. Things in the queue got ahead of it and we have such a big slate out...
More>>
Disney's Tron Will Be Back With Third Installment
3/11/2015 12:17 PM EST
Disney will be releasing another Tron film, and it will begin shooting this fall in Vancouver.The third film in the franchise will once again star Garett Hedlund, but no one else in confirmed to star as of yet. Joseph Kosinski will most likely direct the film, but nothing official has been announced as of yet.  Countdown to the release of Tron 3 with the The Movie Hype App....
More>>
Garrett Hedlund to Return for Tron 3
12/14/2012 3:16 PM EST
Garrett Hedlund, star of "TRON: Legacy", has signed on to reprise his role as Sam Flynn in the third film of the franchise.Hedlund had mentioned the fact while doing publicity for his film "On the Road", saying "You know, yeah, I'm very excited, Disney's very excited."Also brought on board was Jesse Wigutow to rewrite the script, and Joseph  Kosinski as director. Countdown to the release of Tron 3...
More>>
Disney Moves Forward with Tron 3
12/6/2012 8:07 PM EST
Disney look set to go ahead with a third TRON movie, with The Hollywood Reporter stating that screenwriter Jesse Wigutow has signed on to the as-yet-untitled project. Wigutow will rewrite the current script that was drafted by David DiGilio, Edward Kitsis and Adam Horowitz.The sequel to the 2010 movie TRON: Legacy is thought to be based around an exploration of life and death in the digital world,...
More>>
Disney's Tron 3 To Begin Production In 2014
3/9/2012 1:53 PM EST
There was 28 years between the original Tron and Tron Legacy but luckily for Tron fans there wait may not have to be that long for a further instalment in the franchise. Bruce Boxleitner who plays both Alan Bradley and Tron has been speaking to I Am Rogue stating he expected a third film to get underway sometime in 2014.Ever since Tron Legacy hit theaters there has been talk of a third movie and i...
More>>
"Tron" Film In the Works?
4/11/2011 3:35 PM EST
Disney has plans on making another installment of the "Tron" series of films, according to director Joseph Kosinski."I think we will pick with where Tron: Legacy left off with Quorra [Olivia Wilde] in the real world and what does that mean and the possibilities it opens up for the next chapter. It's that relationship between the two of them that's the next step.""Tron:Legacy" alone profited nearly...
More>>
"Tron" Clip Not a Trailer for Third Movie
3/14/2011 10:27 AM EST
Rumors were swirling around a few months ago about a trailer for a possible upcoming third "Tron" movie.The rumors have been proven to be incorrect about a third movie, but there is a small clip on the upcoming disc set for "Tron:Legacy" that is meant to be more of an ending to the film.The clip, titled "Tron: The Next Day", is said to be one of two clips featured in the set. Below is the clip....
More>>
Tron:Uprising to Air on Disney XD
3/4/2011 5:00 PM EST
"Tron" will return once again, but not as another high budget film. "Tron: Uprising" will become the newest vehicle for the franchise. It will be an animated series that is scheduled to air in the summer of 2012 on Disney XD.Voicing the series will be Elijah Wood, Emmanuelle Chriqui, Mandy Moore, Paul Reubens, Nate Corddry, Lance Henriksen and Bruce Boxleitner. A trailer for the show will be appea...
More>>
Disney Launches Tron For iPhone and iPod at Comic-Con Serving Fa...
7/23/2010 5:01 PM EST
SAN DIEGO, Calif. July 23, 2010 - With "ComiTRON" in full swing at the SanDiego Comic-Con International Convention, Disney Interactive Media Group's newly launched TRON app (www.itunes.com/app/tron) for the iPhone(r) andiPod(r) touch is a must-have for attendees. By downloading the TRON app, attendees can "Enter the Grid" by checking in at the show via the phone'sGPS system, which also updates the...
More>>
Disney Brings In The Big Guns To Help With Tron Legacy
7/14/2010 11:41 PM EST
=It appears that Disney has pulled out the big guns when they were looking to improve upon their characters in the upcoming "Tron Legacy" film. Brad Bird and Toy Story 3's Michael Arndt were brought in and worked with writers Edward Kitsis and Adam Horowitz to bring more to the the character in terms of theme and emotion. Pixar has history of making characters, such as Wall-E, endearing to audienc...
More>>
Disney Tron Vs The Green Hornet
9/4/2009 10:33 AM EST
According to Variety, Disney will be releasing their upcoming film, "Tron Legacy", on December 17, 2010.  This release date will set the film up for some for some competition; "The Green Hornet" is also being released the same weekend.Sony had previously slated the "Hornet" for a July 2010 release but announced this week that they would pushing that release date back.  They will also be changing t...
More>>
Tron Legacy Theatrical Review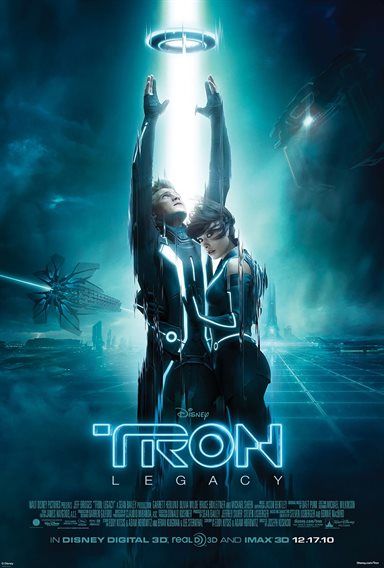 Gamers and action junkies will have a treat in store with the release of Tron: Legacy a computer game plot with spunk. The fast paced adventure may be a sequel, but plays well to first timers. If there is a downside to the film, it's that adults 35+ will probably not like or even understand the storyline. But, if your ilk is getting in front of a screen with your X-Box and driving home a winner, then Tron: Legacy should get your motor running.

The story centers on Sam Flynn (Garrett Hedlund) a young man who inherited one of the largest game manufacturing companies in the world. But, since the company brings so much pain due to the loss of his father he stays away except on one night a year when he wrecks havoc with the board of directors. On one such occasion, Sam is handed a message from one of the board members about his father contacting him. He goes to the video game center that his father built and opens the dusty store. On chance he finds the secret room where his father developed his video games. Here he accidentally gets transported into a game that starts an unexpected adventure.

The fun of Tron: Legacy comes with getting inside the game as a participant. Here the action focuses on win or be eliminated. Being a human and not a program written into the system, Sam finds the going tough but manageable. Equipped with a Frisbee killing device, Sam 'plays' the game from inside on his quest to find the maker, his dad.

It's the kind of thing that most computer game players dream about and for them the film works well. Acting and direction isn't surmountable here as most of the action is computer generated. Nicely developed by the CGI masters, even star Jeff Bridges looks like his younger self when he acted in the first Tron. I liked the looks of the speeding bikes and the flying fighters that played a big part in the film. It is cool to just sit back and take the ride.

I will say this about Joseph Kosinski, for his first time directing he did an admirable job keeping the production focused on the gaming aspect while pumping up the action. Having to direct characters that are competing against CGI created adversaries is no easy job, but Kosinski looked like he had fun putting it together. Of course being a professor of architecture and a computer graphics wizard may have helped a lot. He was awarded Best Visual Effects at the 2007 AICP show for 'Gears of War' a computer game popular with teen gamers.

Older adults will probably not like most of the action as it truly takes on teens, pre-teens and 'older kids' who know what playing a computer game does for their testosterone levels. It's more of being a winner and this film satisfies the endorphins in their brains. Sure some of you who have played games in your youth like the original Tron game may get a kick out of the film, but if you bring your loved one she may get lost in the action.

The film is rated PG for sequences of sci-fi action violence and brief mild language so all you young lads should be ready to throttle you fantasies and join the crowds to see Tron: Legacy.

FINAL ANALYSIS: A good action adventure for Gamers and action junkies. (3.5 stars of 5)

-- John Delia
Read More Tron Legacy Reviews
For more reviews please visit our film/television review section.
Get the full Tron Legacy soundtrack at Amazon.com....

TRON is a 3D high-tech adventure set in a digital world that's unlike anything ever captured on the...

TRON is a 3D high-tech adventure set in a digital world that's unlike anything ever captured on the...
TRON is a 3D high-tech adventure set in a digital world that's unlike anything ever captured on the...

TRON is a 3D high-tech adventure set in a digital world that's unlike anything ever captured on the...

TRON is a 3D high-tech adventure set in a digital world that's unlike anything ever captured on the...
TRON is a 3D high-tech adventure set in a digital world that's unlike anything ever captured on the...
SPONSORED LINKS