Halloween II (2009)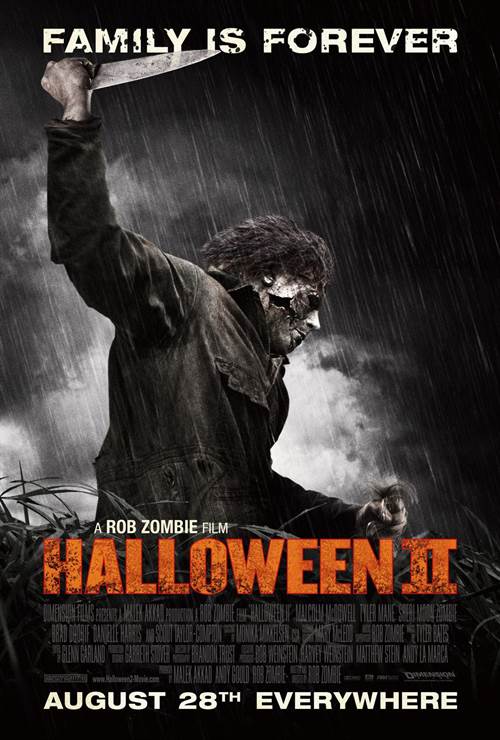 | | |
| --- | --- |
| Director: | |
| Cast: | |
| Released: | Friday, August 28, 2009 |
| Length: | 101 minutes |
| Studio: | Weinstein Company, The |
| Genre: | Horror |
| Rating: | Under 17 requires accompanying parent or adult guardian. |
Halloween II Synopsis
Michael Myers is still at large and no less dangerous than ever. After a failed reunion to reach his baby sister at their old home, Laurie Strode is immediately taken to a hospital to be treated by the wounds that had been afflicted by her brother a few hours ago. However, Michael isn't too far off and will continue his murdering 'Halloween' rampage until he gets his sister all to himself.
Halloween II images are © Weinstein Company, The. All Rights Reserved.
Win a 4K UHD Disc of Halloween Kills
12/14/2022 3:22 PM EST
Over forty years ago Michael Myers and Laurie Strode (Jamie Lee Curtis; True Lies) shared the screen in a horror movie called Halloween.  The film kicked off a franchise that has included over a dozen movies - some good, some not so good.  On October...
| Full Article
Win a Digital Copy of HALLOWEEN ENDS
11/16/2022 10:59 AM EST
Over four decades ago a horror movie called Halloween was released in theaters and since that time there are very few who don't know the name, Michael Myers.  This year and about a dozen films later, Michael's story finally comes to a close in the fi...
| Full Article
See an Advance Screening of HALLOWEEN ENDS in Florida
10/4/2022 11:34 AM EST
After 45 years, the most acclaimed, revered horror franchise in film history reaches its epic, terrifying conclusion as Laurie Strode faces off for the last time against the embodiment of evil, Michael Myers, in a final confrontation unlike any captu...
| Full Article
Halloween Ends to Have Day-and-Date Theatrical and Streaming Rel...
8/23/2022 4:07 PM EST
It has been announced that "Halloween Ends", which is slated for an October 14 theatrical release, will also have a day-and-date release on NBUniversal's Peacock streaming service.The franchise's previous installment, "Halloween Kills", was also rele...
| Full Article
Michael Myers Returns for This Year's Halloween Horror Nights
6/8/2022 12:41 PM EST
"Halloween", the classic 1978 film from John Carpenter, will be returning to Halloween Horror Nights this year. Guests will come face to face with the merciless Michael Myers, beginning September 2 at Universal Orlando Resort and September 8 at Unive...
| Full Article
Win a 4K UHD Copy of Halloween Kills
1/10/2022 9:52 AM EST
Are you a huge Michael Myers fan?  Have you loved the Halloween movies for over 40 years?  Did you go to the movie theater opening night in October to see HALLOWEEN KILLS?  Did you vow to buy the movie when it is released in stores? How would you lik...
| Full Article
Halloween Kills on Its Way to Impressive Opening Weekend
10/15/2021 1:57 PM EST
"Halloween Kills" is on its way to earning a projected $35-40 million in its first three days. So far, the film has earned $4.9 million in Thursday previews.The twelfth film in the "Halloween" franchise, "Halloween Kills" brings back Jamie Lee Curtis...
| Full Article
Win Passes To An Advanced Screening of HALLOWEEN KILLS In Tampa,...
10/6/2021 3:27 PM EST
In 1978 the world was introduced to Michael Myers and a horror franchise was born.  Forty years later, actress Jamie Lee Curtis reprised her role as Laurie Strode in 2018's Halloween.  Having left Myers trapped alive in a fire, we thought that would ...
| Full Article
Halloween Kills To Debut Day-and-Date In Theatres and on Peacock
9/9/2021 10:04 PM EST
With the scariest night of the year just around the corner, Jamie Lee Curtis is set to reprise the role of Laurie Strode in the newest Halloween film, Halloween Kills. The film will debut day-and-date in theatres and on Peacock on October 15, Univers...
| Full Article
Universal Pictures Announces Two New Halloween Films
7/19/2019 3:19 PM EST
Universal Pictures has announced that they will be adding two more films to their Halloween franchise - Halloween Kills and Halloween Ends, from Trancas International Films, Miramax and Blumhouse Productions.The most recent release of the franchise, ...
| Full Article
Atom Tickets Announces Halloween as Their Top Horror Pre-Sell
10/19/2018 2:47 PM EST
Atom Tickets has announced that Halloween, which opens today, is their top horror pre-seller so far this year.Between October 8-11, the site conducted a poll of 1,000 movie fans and discovered the following:*70% of Atom users have seen one or more of...
| Full Article
Halloween 4: The Return of Michael Myers Maze Coming to Universa...
8/14/2018 1:27 PM EST
The news coming from Universal's Halloween Horror Nights just keeps on coming! The latest addition to the event's lineup will now include a Halloween 4: The Return of Michael Myers maze that will open on Friday, September 14.Based on the fourth film ...
| Full Article
SPONSORED LINKS