A Nightmare on Elm Street (2010)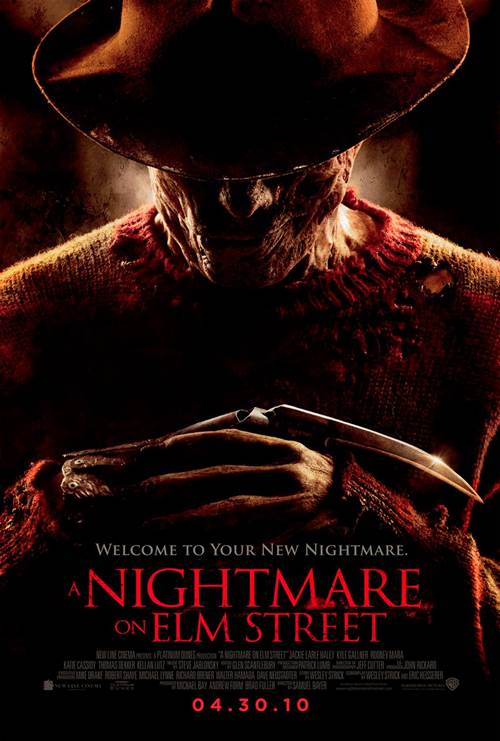 Share this:
| | |
| --- | --- |
| Director: | |
| Writers: | |
| Cast: | |
| Released: | Friday, April 30, 2010 |
| Length: | 91 minutes |
| Studio: | Warner Bros. |
| Genre: | Horror |
| Rating: | Under 17 requires accompanying parent or adult guardian. |
Synopsis
Nancy, Kris, Quentin, Jesse and Dean all live on Elm Street. At night, they're all having the same dream--of the same man, wearing a tattered red and green striped sweater, a beaten fedora half-concealing a disfigured face and a gardener's glove with knives for fingers. And they're all hearing the same frightening voice... One by one, he terrorizes them within the curved walls of their dreams, where the rules are his, and the only way out is to wake up. But when one of their number dies a violent death, they soon realize that what happens in their dreams happens for real, and the only way to stay alive is to stay awake. Functioning on little to no sleep, the four surviving friends struggle to understand why them, why now, and what their parents aren't telling them. Buried in their past is a debt that has just come due, and to save themselves, they will have to plunge themselves into the mind of the most twisted nightmare of all... Freddy Krueger.

Purchase DVD/Blu-ray/4K UHD physical copy of A Nightmare on Elm Street today at Amazon.com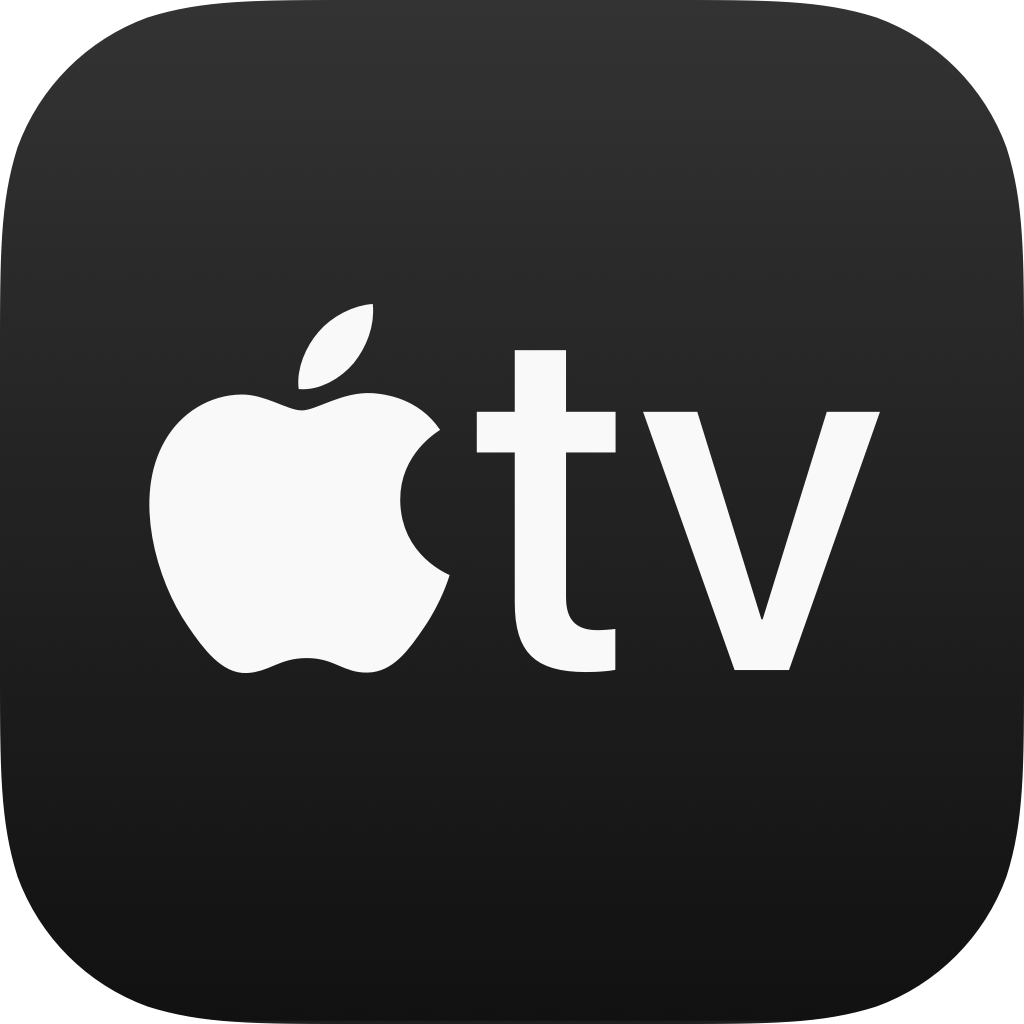 Download A Nightmare on Elm Street in Digital HD/4K from the iTunes store.
A Nightmare on Elm Street images are © Warner Bros.. All Rights Reserved.
Johnny Depp Pays Tribute to Wes Craven
9/15/2015 2:26 PM EDT
Johnny Depp, who appeared at a Q&A on Monday night at a screening for upcoming film, Black Mass, paid tribute to to Wes Craven after a fan asked him about being cast in "Nightmare on Elm Street".Depp responded, "Wes Craven was the guy who gave me my start, from my perspective, for almost no reason in particular. I read scenes with his daughter when I auditioned for the part. At the time, I was a m...
More>>
Legendary Filmmaker Wes Craven Passes Away at 76
8/31/2015 10:26 AM EDT
Wes Craven, legendary horror film creator, passed away yesterday, August 30, after a battle with brain cancer. He was 76 years old.Craven, who began his career in the 1970s, most notably created the uber successful "Nightmare on Elm Street" franchise of films. He also directed the "Scream" franchise. On top of these two very successful ventures, his resume also included "The Hills Have Eyes", "The...
More>>
Nightmare On Elm Street Coming Back to Big Screen
8/7/2015 11:20 AM EDT
Another  "A Nightmare On Elm Street" film is currently being developed by New Line Cinema, and David Leslie Johnson has been hired to write the script.The infamous Freddy Kruger will once again be hitting the big screen, but, this time, the role is said to be, most likely, going to a younger actor. 2010 saw Jackie Earle Haley fill the shoes of the character Robert Englund made famous, and while th...
More>>
Popcorn Nights & O Cinema Are Proud To Present A Special Hallowe...
10/21/2014 2:29 PM EDT
In 1984, Wes Craven unleashed Freddy Krueger and gave horror fans one awesomely terrifying madman.  Robert Englund will always be Freddy to us. After the first trip to Elm Street, Craven parted with the franchise, only to return for "New Nightmare' a decade later.  Since the original film and the final film (unless you count "Freddy vs. Jason" as the final film) are both celebrating anniversaries…...
More>>
New Line's Nightmare Slashes It's Way To The Top
5/3/2010 2:08 PM EDT
"A Nightmare On Elm Street" came away this weekend with top billing at the box office. The film grossed an estimated $32.2 million on nearly 4,700 screens. The film was also the highest grossing horror film for midnight screenings. Coming in second place was "How To Train Your Dragon" earning $10.8 million, "Date night" was in third with $7.6 million, "The Back Up Plan" was in fourth with $7.2 mil...
More>>
A Nightmare on Elm Street Remake Update
7/11/2009 3:24 PM EDT
Bloody Disgusting was recently on the set of New Line Cinema's "A Nightmare on Elm Street", and had a chance to chat with Rooney Mara. Mara told Bloody Disgusting that she will be playing Nancy Thompson in the remake as well as a possible sequel. The remake will also star Kellan Lutz, Thomas Dekker and Jackie Early Haley. Lutz, who played Emmet Cullen in "Twilight, will play a high school jock; De...
More>>
Nightmare on Elm Street Remake Cast Expands
5/4/2009 12:28 PM EDT
Three more stars have been announced for the upcoming remake of "A Nightmare on Elm Street".  The remake will star Kellan Lutz, Thomas Dekker and Rooney Mara.Lutz,who played Emmet Cullen in "Twilight, is currently in negotiations to play a high school jock;  Dekker, from the "Terminator" television show, will play a guy who is trying to get back together with his girlfriend and Mara will play a gi...
More>>
Nightmare on Elm Street Falls Victim to The "Remake" Nightmare
1/18/2009 8:40 PM EDT
"Nightmare on Elm Street" will be creeping back into theatres.  The classic horror movie franchise will begin once again, with a brand new take on things.  "It's not Freddy cracking jokes. We want to make a horrifying movie. The concept is so scary, don't fall asleep or you'll die. This guy gets you when you're most vulnerable, in your sleep. We love that. That's the basis of the movie. It'll be m...
More>>
A Nightmare on Elm Street Theatrical Review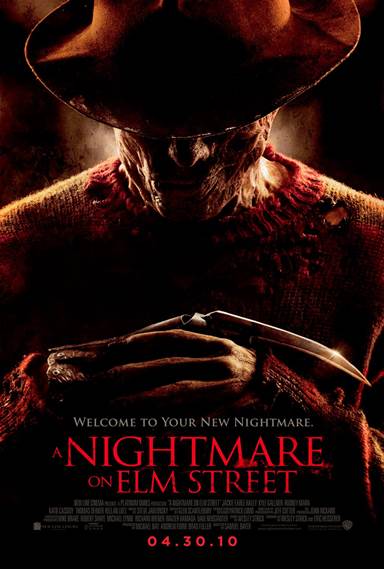 Freddy Krueger. Is a killer. Who kills people in their dreams. With knives attached to his fingers.
I apologize if I am spoiling the surprise for anyone, but I think it's important to be familiar with these facts, long embedded they may be in popular culture, should you choose to see last Friday's remake of horror classic A Nightmare on Elm Street.
For it would be surprising if you didn't know those things. This installment's authors, too, know that they could hardly remake such a film as Wes Craven's original without acknowledging its inspiration. And this it does, though neither dismissively or slavishly, to its great credit.
For me, the terror of Nightmare principally comes from the idea of sleep as the greatest enemy. That it is so simple, yet so difficult, for the would-be victims of Freddy's dreamstalker to avoid death merely by staying awake, evokes the terrors of unconsciousness, temporary and permanent, that we all have deep within our psyches. But this Nightmare loves Freddy Krueger (Jackie Earle Haley, Watchmen), and it shows.
Our new Freddy has a complex agenda, beyond the simple revenge pursued by the original. Nightmare seeks successfully to establish Freddy as the true menace of this version; he is concerned not only with visceral terror, but intellectual terror and straightforward torture. Our new Freddy is, unluckily, not happy to simply kill his victims once he catches them. In one instance this goes so far as to be gratuitous, in a brief, unnecessary scene of torment thankfully not repeated at any other point in the film.
For all of this, Freddy is lavished with screen time that could only be wished for by the original. This required great attention to be paid to his makeup, as well as whether blood ought to appear on his knives at a particular time. These were done competently, as far as I could see; the face flesh was especially believable. Occasionally this extra screen time yielded distractions like a particular menacing display repeated three times, but it served overall the increased complexity of the character.
The nightmare sequences were well constructed, but nothing that you can't expect of any Hollywood film these days. You can still laugh at a couple points, regardless of any advertised increased seriousness, if you like.
The plot, as opposed to Freddy himself, is simplified and straightforward. We don't "waste" any time learning how Freddy works again; a quick "if you die in your dreams, you die for real" serves to catch up anyone unfamiliar with his methods. Clumsy subplots wherein we are expected to briefly sympathize with Freddy, try to draw a parallel with the story of the Pied Piper, and uncover the hidden connection between the protagonists only annoy the viewer or insult her intelligence.
The greatest disappointment of the new Nightmare is its failure to relate the quandary in which the protagonists find themselves with the quandaries of real life, as good horror should. I have no great love for the original Nightmare, and it lacked even the barest subtlety in bloody-minded pursuit of a "parents just don't understand" theme, but dammit, it tried! It's not enough to remind us of our instinctive fears; we have fears and demons to vanquish in everyday life, too.
Read More A Nightmare on Elm Street Reviews
For more reviews please visit our film/television review section.
SPONSORED LINKS