Spider-Man: No Way Home (2021)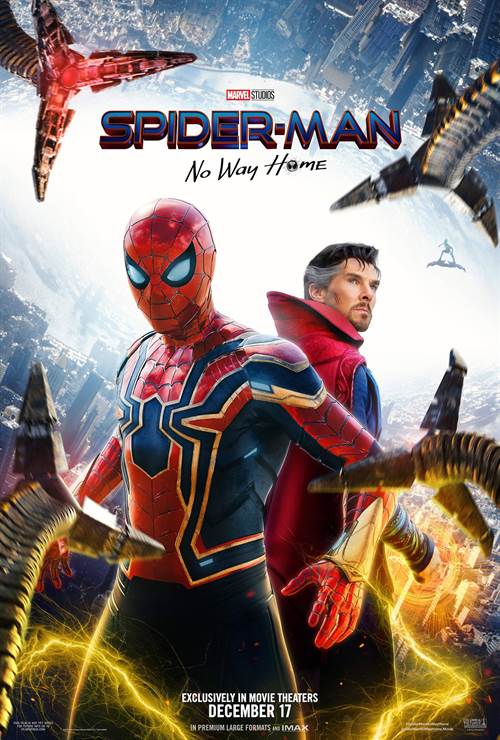 | | |
| --- | --- |
| Director: | |
| Writers: | |
| Cast: | |
| Released: | Friday, December 17, 2021 |
| Length: | 148 minutes |
| Studio: | Columbia Pictures |
| Genre: | Action/Adventure |
| Rating: | Some material may be inappropriate for children under 13. |
Spider-Man: No Way Home Synopsis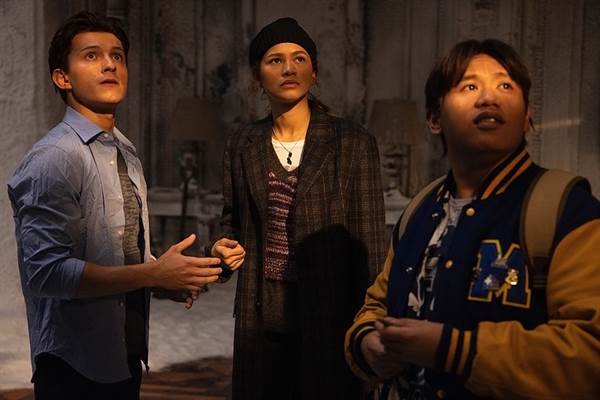 For the first time in the cinematic history of Spider-Man, our friendly neighborhood hero is unmasked and no longer able to separate his normal life from the high-stakes of being a Super Hero. When he asks for help from Doctor Strange the stakes become even more dangerous, forcing him to discover what it truly means to be Spider-Man.

Purchase DVD/Blu-ray/4K UHD physical copy of Spider-Man: No Way Home today at Amazon.com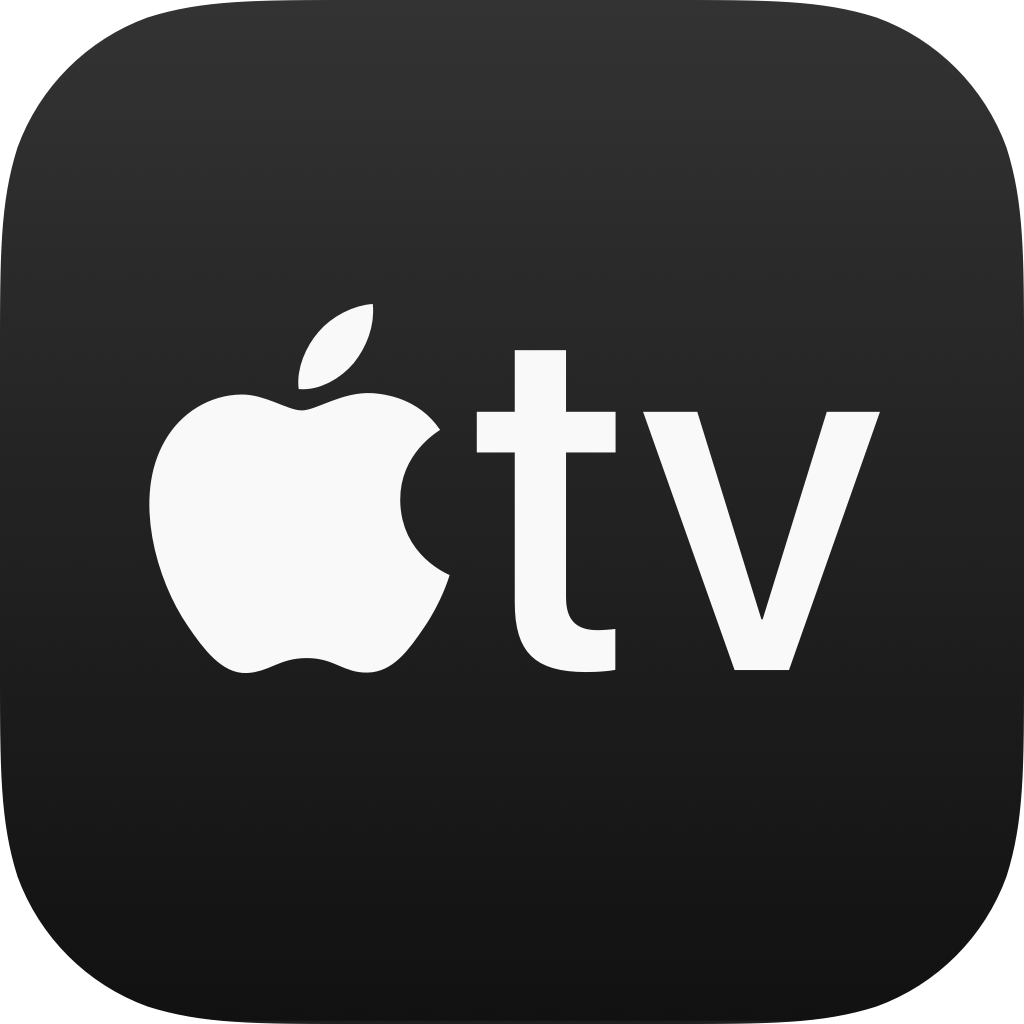 Stream Spider-Man: No Way Home in Digital HD/4K from the AppleTV store.
Listen to the Spider-Man: No Way Home soundtrack on Apple Music.
Spider-Man: No Way Home images are © Columbia Pictures. All Rights Reserved.
Tom Holland Taking Break from Social Media to Focus on Mental He...
8/15/2022 11:40 AM EST
"Spider-Man" star Tom Holland has announced that he will be taking a break from social media. The actor says that he needs to focus on his mental health.The actor posted a 3-minute video talking about his issues with social media, saying, "I have taken a break from social media for my mental health because I find Instagram and Twitter to be overstimulating, to be overwhelming." He added, "I get ca...
More>>
Russell Crowe Joins Cast of Kraven the Hunter
2/9/2022 2:00 PM EST
Russell Crowe has joined the cast of Sony Pictures' Marvel film "Kraven the Hunter". The actor will star alongside Aaron Taylor-Johnson.The film will be directed by J.C. Chandor from a script by Art Marcum, Matt Holloway, and Richard Wenk. Avi Arad and Matt Tolmach will produce.Aaron Taylor-Johnson will play Kraven, a Marvel anti-hero introduced to readers in 1964. No word yet on what role Crowe w...
More>>
Tom Holland to Continue as Spider-Man for Marvel
11/29/2021 12:56 PM EST
Spider-Man producer Amy Pascal has assured fans that Tom Holland will remain as Marvel's Spider-Man. "This is not the last movie that we are going to make with Marvel - [this is not] the last Spider-Man movie," said Pascal. "We are getting ready to make the next Spider-Man movie with Tom Holland and Marvel, it just isn't part of… we're thinking of this as three films, and now we're going to go ont...
More>>
Daredevil May be Joining Spider-Man 3 Ensemble
12/9/2020 11:18 AM EST
Rumors are swirling that Charlie Cox's Daredevil will be part of the upcoming Spider-Man 3 film. It's already been announced that Benedict Cumberbatch will appear as Doctor Strange, Alfred Molina as Doctor Octopus, and Jamie Foxx as Electro. If this new addition is true, it will prove to be an exciting addition, as the "Daredevil" series on Netflix was ended. On top of all these actors joining the...
More>>
Alfred Molina to Reprise Role as Doctor Octopus in Next Spider-M...
12/8/2020 2:48 PM EST
It's been announced that Alfred Molina will be reprising his role as Doctor Octopus in the upcoming Spider-Man film. The film will be the third installment of the Tom Holland led films.Molina won't be the only familiar face to return - Jamie Foxx will reprise his role as Electro, which he played in "The Amazing Spider-Man 2." Benedict Cumberbatch will also make an appearance in the film as Doctor ...
More>>
Doctor Strange to Make Appearance in Next Spider-Man Film
10/8/2020 4:01 PM EST
Looks like Doctor Strange will be making an appearance in the next installment of "Spider-Man". It's being reported that Benedict Cumberbatch is in talks to reprise his role for the film.Tom Holland, along with Zendaya, Marisa Tomei, Tony Revolori and Jacob Batalon will, most likely, all return to reprise their roles in the film.It's also being said that Cumberbatch will film his part in "Spider-M...
More>>
Jon Watts In Talks to Direct Next Spider-Man Film
9/27/2019 4:22 PM EST
Jon Watts is in talks to direct the upcoming third film in the "Spider-Man Homecoming" series. The news comes after the announcement about Marvel and Sony remaining partners on the project.This is all good news, but not too surprising. It appears that the deal was possibly held up due to the issues between Sony and Marvel.Watts directed the two previous films, which were box office hits. "Spider-M...
More>>
Spider-Man to Continue in the Marvel Universe
9/27/2019 2:59 PM EST
The Spider-Man fans of the world can now breath a collective sigh of relief. In case you haven't heard by now, Sony and Marvel have decided to continue their partnership with the Spider-Man franchise. The announcement was made today that Marvel Studios' Kevin Feige will be producing the upcoming third film in the "Spider-Man: Homecoming" series.The news comes after a "break-up" of sorts between th...
More>>
Sony Responds to Kevin Feige Spider-Man Drama
8/21/2019 11:34 AM EST
After a reported standoff between Sony and Disney about their Spider-Man partnership, and the departure of Kevin Feige as the films' producer, Sony has released a statement via Twitter regarding the matter. The statement is as follows:"Much of today's news about Spider-Man has mischaracterized recent discussions about Kevin Feige's involvement in the franchise. We are disappointed, but respect Dis...
More>>
Tom Holland Surprises Guests as Disneyland Park
5/9/2019 5:26 PM EST
When you go to a Disney park, you expect a certain amount of magic in your trip. Well, guests of the Disneyland Resort got just that when posing for pictures with Spider-Man. The seemingly normal fan experience turned into something quite different!As fans posed for their picture, Spider-Man: Far From Home stars Zendaya, Jake Gyllenhaal, and Jacob Batalon, unknowingly crept up behind them to pose ...
More>>
Marvel Legend Stan Lee Dies at 95
11/12/2018 2:44 PM EST
Marvel's comic book legend Stan Lee has died. He was 95.Lee was responsible for co-creating numerous Marvel characters including Spider-Man, The Hulk, X-Men Iron Man, Thor, Daredevil, Captain America, Avengers and the Fantastic Four. Even after leaving Marvel, he retained a title of chairman emeritus for the rest of his life, receiving producing credits and making cameo appearances in various Marv...
More>>
Zendaya Lands Role of Mary Jane Watson in Spider-Man:Homecoming
8/19/2016 10:17 AM EST
A few months ago, it was announced that Disney star Zendaya would be playing a lead role in the up coming Spider-Man: Homecoming, and now it has been reported by many sources that she will, in fact, be playing the role of Mary Jane Watson.This current Spider-Man reboot will star Tom Holland as Peter Parker, and the film will be focusing on his high school years.Holland made his debut as Spidey in ...
More>>
Spider-Man: No Way Home Theatrical Review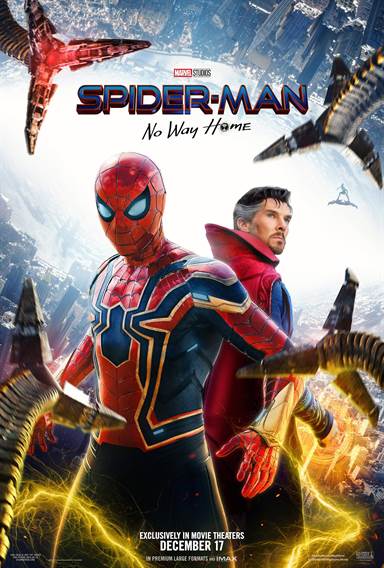 Are your Spidey senses tingling? Is there something in the air coming this way? Unless you have been living under a rock in the past year, you know Spider-Man: No Way Home is on its way to theaters this weekend. Any good Marvel fan has already bought their ticket for opening weekend, and, thanks to some surprises, which were teased in the trailers, many are excited to witness the interaction between Spidey and enemies he had no idea even existed.

What does all this mean for Peter Parker (Tom Holland; Uncharted), MJ (Zendaya; The Greatest Showman), and Ned (Jacob Batalon; Avengers: Endgame), not to mention, the Universe? It means there will be consequences (of course!). It also means an entertaining movie with action, humor, and some memorable on-screen moments. While not necessarily the best film of the year, Spider-Man: No Way Home makes up for the technical deficiencies with several surprises along the way.

If you saw the end of Spider-Man: Far from Home, you know Mysterio (Jake Gyllenhaal; Brokeback Mountain) revealed Peter was the young man behind the web-slinging. With his identity now known, Peter becomes scrutinized as fans and enemies argue whether or not he is a savior or a murderer. However, not only has the breaking news affected Peter but his family and friends as well. Looking for help, he asks Dr. Strange (Benedict Cumberbatch; The Imitation Game) to go back in time so no one (well... ALMOST no one) knows he is Spider-Man). Unfortunately, we all know messing with the fabric of time generally doesn't go according to plan and has unintended consequences.
There is an ongoing debate as to who is the best Spider-Man – McGuire, Garfield, or Holland. Some say McGuire because he was the first one of the 2000s. Some think it was Garfield because he seems older and more mature, yet others claim it is Holland because he is not only great as Spider-Man but embodies the essence of Peter Parker. Regardless of your feelings about the debate, there is no denying Holland is a strong candidate for "the best". Of course, he revises his role as the webbed crusader and is rumored to be signing on for numbers four and five. Like Holland, most of the cast returns including Marisa Tomei (My Cousin Vinny) as Aunt May, Zendaya as MJ (and since she and Holland are all but confirmed as a couple in real life, their chemistry is incredible), and Batalon as Peter's best friend while offering moments of comic relief.
While the script is merely ok and the directing is not especially strong, the gems of this movie are the people who unexpectedly pop up from other universes in the Spider-Man stories. Even in an audience full of press, the gasps and cheers were audible making the film even more exciting. This movie is best seen in a theater with lots of other people in the audience as you all share your collective experience as characters show up on the screen. Having those villains in Holland's Spider-man is a treat not to be missed.
The special effects are pretty good but not the best I have ever seen and the jokes bring a lightness to the dark and sinister premise of the film that makes it simply enjoyable. The score is decent but doesn't stand out in either a good or bad way, so it doesn't distract the viewer from the action.
Even if you aren't a fan of Holland's Spider-Man, No Way Home is just pure fun and enjoyment which I'm sure we could all use right about now. Grab your friends, grab your family, heck, grab your enemy and go see Spider-Man: No Way Home this holiday season. You won't regret it!
Grade: A
-- Allison Rose
For more reviews please visit our film/television review section.
"Spider-Man: No Way Home is an emotional ride and a must-own even for non-fans!" – Austin Putnam...

Spider-Man: No Way Home swings home on Digital March 15th and on 4K Ultra HD and Blu-ray on April 12! Get more Spidey, more villains, and...
Spider-Man - No Way Home 🕸🕷🔥 For the first time in the cinematic history of Spider-Man, our friendly neighborhood hero is unmasked and no longer ab...

For the first time in the cinematic history of Spider-Man, our friendly neighborhood hero is unmasked and no longer able to separate his normal life f...
We started getting visitors… from every universe. Watch the official trailer for #SpiderManNoWayHome, exclusively in movie theaters December 17....
SPONSORED LINKS