Mad Max (1979)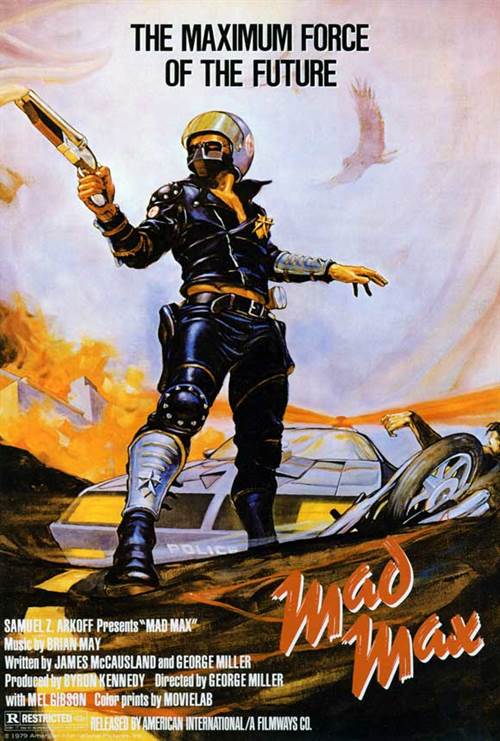 | | |
| --- | --- |
| Director: | |
| Writers: | |
| Cast: | |
| Released: | Thursday, April 12, 1979 |
| Length: | 88 minutes |
| Studio: | Kennedy-Miller Productions |
| Genre: | Sci-Fi/Fantasy, Action/Adventure |
| Rating: | Under 17 requires accompanying parent or adult guardian. |
Mad Max Synopsis
In the ravaged near future, a savage motorcycle gang rules the road. Terrorizing innocent civilians while tearing up the streets, the ruthless gang laughs in the face of a police force hell-bent on stopping them. But they underestimate one officer: Max Rockatansky (Gibson). And when the bikers brutalize Max's best friend and family, they send him into a mad frenzy that leaves him seeking revenge, which is the only thing left in the world for Max to live for.
Mad Max images are © Kennedy-Miller Productions. All Rights Reserved.
Mad Max Fury Road Prequel Won't Star Charlize Theron
5/18/2020 2:17 PM EST
Director George Miller has announced that the Mad Max film he was working on will be a Mad Max: Fury Road prequel telling the story of Charline Theron's character Imperator Furiosa. He also stated that Theron would not be reprising the role."For the ...
| Full Article
George Miller Says He Will Be Doing More Mad Max Films
1/14/2016 1:46 PM EST
It was reported that while at the Golden Globes, George Miller had said he wasn't going to do anymore Mad Max films.  Well, he has now clarified what he said, and that he is, in fact, planning on making more films.  Apparently, the reporter who quote...
| Full Article
George Miller Finished with Mad Max Films
1/12/2016 4:02 PM EST
Mad Max fans, don't hold your breath for more George Miller directed franchise films. Though Miller had said in the past that he had more films planned, he shot that hope out of the sky the other night at the Golden Globes, saying,  "I won't make mor...
| Full Article
Men's Rights Activist Calls for Boycott on Mad Max
5/14/2015 4:38 PM EST
Aaron Clarey, an author of a men's rights blog, has called for a boycott of the Mad Max film that is about to be released.  Clarey calls the film a "feminist piece of propaganda posing as a guy flick."Clarey, who admittedly hasn't even seen the film,...
| Full Article
Tom Hardy Up for Another Superhero Film
5/6/2015 12:22 PM EST
Tom Hardy, who stars in the upcoming film, "Mad Max: Fury Road", recently commented about the possibility of being in another superhero film. He said that he would absolutely do another film in the genre. "I want The Punisher.I want The Punisher, or ...
| Full Article
Mad Max Reboot Not To Be Shot In 3D
7/3/2012 9:48 AM EST
"Mad Max:Fury Road", the fourth film in the "Mad Max" franchise, has been in the works for quite some time now. Now, George Miller will be speeding up production of the 3D film by doing so in a post-production process.The many delays with the film pr...
| Full Article
For today's home video review, FlickDirect's Austin Putnam talks about the MAD MAX ANTHOLOGY COLLECTION in 4K UHD!PURCHASE THE MAX MAX ANTHOLOGY FROM AMAZON.COM -- https://amzn.to/3xzKhwYABOUT MAX MAX ANTHOLOGYFeaturing 1979's acclaimed post-apocalyptic action film Mad Max, 1981's Mad Max The Road Warrior, 1985's Mad Max Beyond Thunderdome and 2015's Mad Max Fury Road will be released together on 4K Ultra HD Blu-ray Combo Pack and Digital HD on November 2. Created by George Miller and Byron Kennedy, Miller directed or co-directed all four films. Mel Gibson starred as Max Rockatansky in the first three films and Tom Hardy took over the lead role in the fourth film. Additionally, Mad Max The Road Warrior and Mad Max Beyond Thunderdome will also be available individually in 4K, joining Mad Max and Mad Max Fury Road which are already available in 4K.The Mad Max Anthology 4K UHD release, along with the 4K UHD releases of Mad Max The Road Warrior and Mad Max Beyond Thunderdome, are from scans of the original camera negatives. The 4K UHD remasters were supervised by the mastering team at Motion Picture Imaging (MPI).4K Ultra HD** showcases 4K resolution with High Dynamic Range (HDR) and a wider color spectrum, offering consumers brighter, deeper, and more lifelike colors for a home entertainment viewing experience like never before. The 4K Ultra HD Blu-ray disc of the Mad Max The Road Warrior, Mad Max Beyond Thunderdome, and Mad Max Fury Road will feature a Dolby Atmos® soundtrack remixed specifically for the home theater environment to place and move audio anywhere in the room, including overhead. To experience Dolby Atmos at home, a Dolby Atmos enabled AV receiver and additional speakers are required, or a Dolby Atmos-enabled soundbar. Dolby Atmos soundtracks are also fully backward compatible with traditional audio configurations and legacy home entertainment equipment.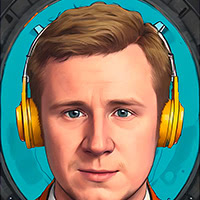 Physical Media: Blu-ray Review
You could suppose, if you so desired, that the grand construction of humanity's unique accomplishment, the abstract model of the universe, is nothing more than the same small set of ideas remixed and rearranged over and over. Let us say there are seven original ideas, or perhaps 94, as it is w...
SPONSORED LINKS