Conan The Barbarian (2011)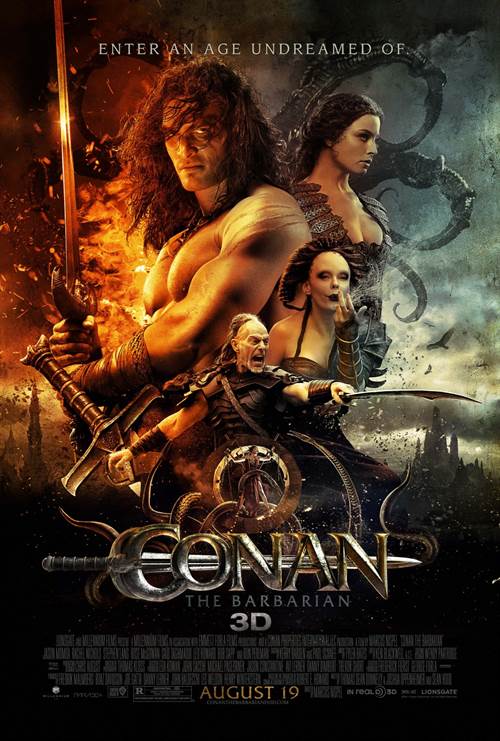 | | |
| --- | --- |
| Director: | |
| Writers: | |
| Cast: | |
| Released: | Friday, August 19, 2011 |
| Length: | 112 minutes |
| Studio: | Lionsgate |
| Genre: | Sci-Fi/Fantasy, Action/Adventure |
| Rating: | Under 17 requires accompanying parent or adult guardian. |
Conan The Barbarian Synopsis
A powerful Cimmerian warrior, Conan (Jason Momoa) carves a bloody path across the land of Hyboria on a personal vendetta. That soon turns into a an epic battle against evil, for Conan's mortal enemy, Khalar Zym (Stephen Lang), seeks the legendary Mask of Acheron. The artifact will enable Khalar Zym to raise his wife from the dead and achieve immortality for himself, but it will also unleash a malevolent force upon the land, and only Conan and his companions can stop it.
Conan The Barbarian images are © Lionsgate. All Rights Reserved.
Conan the Barbarian Series Coming to Netflix
9/30/2020 2:53 PM EST
It has been reported that Netflix will be bringing us a new live-action "Conan the Barbarian" series. The series will be based on the character created by Robert E. Howard back in the 1930s. Arnold Schwarzenegger famously portrayed the character in 1...
| Full Article
The Legend Of Conan To Become Trilogy?
7/30/2013 9:54 AM EST
It appears that "Conan" fans may be getting a trilogy out of the upcoming "Legend of Conan".     Paradox's CEO Fredrik Malmberg spoke of the film, saying, "We have a great story. This is a role that's perfect for [Arnold] and he's very involved with ...
| Full Article
Schwarzenegger Reprising Famous Role in The Legend of Conan
10/26/2012 4:14 PM EST
Arnold Schwarzenegger will be starring in "The Legend Of Conan", an action film where he will reprise his role as Conan the Barbarian. The film will be released by Universal Pictures.   Producing the film will be  Fredrik Malmberg and Chris Morgan.  ...
| Full Article
Arnold Schwarzenegger Discusses The Future of Conan
10/15/2012 3:03 PM EST
Arnold Schwarzenegger has confirmed that a reboot of "Conan the Barbarian" will be going ahead.   Schwarzenegger, who is in Europe to promote his new autobiography "Total Recall", told the French MovieMad website, ''We've already had discussion about...
| Full Article
Jason Momoa Discusses Conan The Barbarian and Game of Thrones at...
7/27/2011 9:15 PM EST
FlickDirect had a chance to catch up with Jason Momoa, upcoming star of Conan The Barbarian and the Horse-Lord Khal Drogo, in HBO's Game of Thrones, at this year's San Deigo Comic Con at the Movies on Demand Lounge. Standing an imposing 6'3" and spor...
| Full Article

Movie / Film Review
Hollywood has a way of reinventing things by rejuvenating characters and bringing them up to date with all the bells and whistles necessary to make it 'fresh and new.' This is the case of the film Conan the Barbarian where they have remade a classic adding all the CGI bells and whistles ...
SPONSORED LINKS