Harry Potter and the Sorcerer's Stone (2001)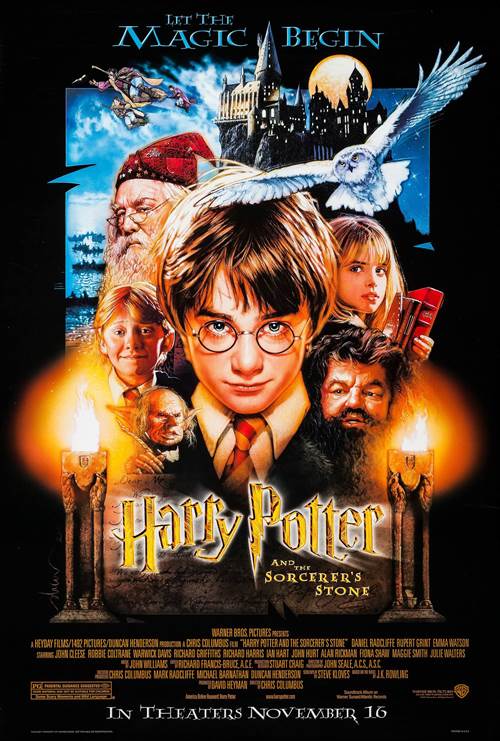 | | |
| --- | --- |
| Director: | |
| Writers: | |
| Cast: | |
| Released: | Friday, November 16, 2001 |
| Length: | 152 minutes |
| Studio: | Warner Bros. |
| Genre: | Sci-Fi/Fantasy |
| Rating: | Some material may not be suitable for children. |
Synopsis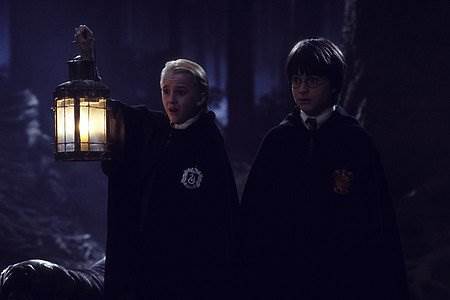 Young Harry Potter has to lead a hard life: His parents have died in a car crash when he was still a baby, and he is being brought up by his Uncle Vernon and Aunt Petunia. For some reason unbeknownst to the bespectacled ten-year-old, the Dursleys let him live in the small chamber under the stairs, and treat him more like vermin than like a family member. His fat cousin Dudley, the Dursley's real son, keeps bothering Harry all the time. On his eleventh birthday, Harry Potter finally receives a mysterious letter from a certain Hogwarts School of Witchcraft and Wizardry, telling him that he is chosen as one of the future students of that supposedly renowned school. Hagrid, the gigantic man who brought the letter, finally introduces Harry into the real circumstances of his life: His parents were a wizard and a witch, they were killed by the evil wizard Voldemort protecting him. Harry still has a lightning-shaped scar on his forehead from that event. Since he survived the attack as a baby, and also somehow deprived Voldemort from his powers, he has been famous in the wizarding world ever since. The Dursleys, strong disbelievers in that magical crap, never told Harry anything about his true self. So, Harry is strongly surprised, yet absolutely happy to start his training. At Hogwarts, Harry meets his teachers, and becomes friends with Ron Weasley and Hermione Granger. The three of them accidentally find out that the potions master, Severus Snape, seems to plot on stealing something that is guarded by a three-headed dog. Since nobody would believe some first years to have found out such important things that even would incriminate a Hogwarts teacher, they take it on themselves to find out what Snape is up to. Their quest for the truth leads across many obstacles, from keeping up the everyday school life, a bewitched Quidditch match (Quidditch is a popular wizard sport), Fluffy, the three-headed monster dog and quite some tasks one has to overcome to get to the guarded object.

Purchase DVD/Blu-ray/4K UHD physical copy of Harry Potter and the Sorcerer's Stone today at Amazon.com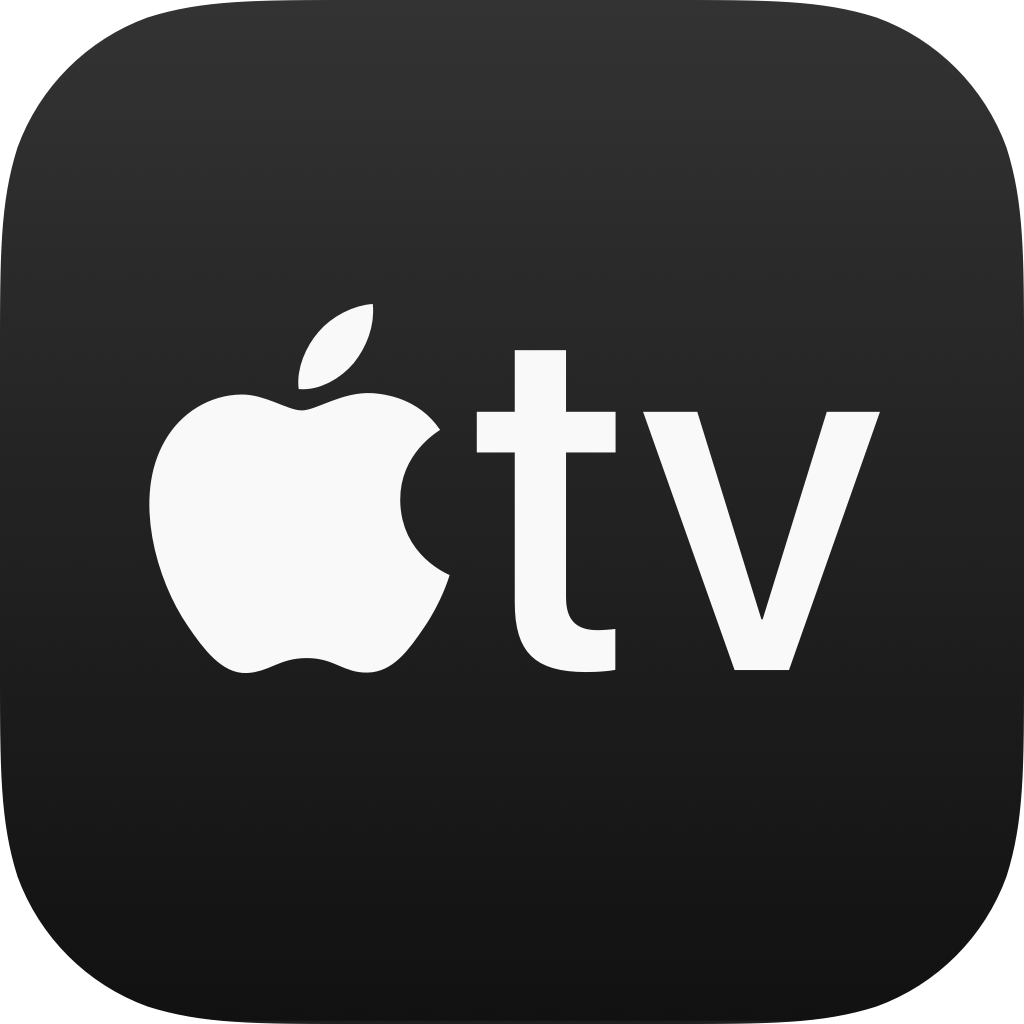 Download Harry Potter and the Sorcerer's Stone in Digital HD/4K from the iTunes store.
Listen to the Harry Potter and the Sorcerer's Stone soundtrack on Apple Music.
Harry Potter and the Sorcerer's Stone images are © Warner Bros.. All Rights Reserved.
Return to Hogwarts Reunion Special Coming to HBO Max
11/16/2021 1:34 PM EST
HBO Max is planning a magical reunion. The streamer will be bringing Daniel Radcliffe, Rupert Grint, Emma Watson, and others together for the first time since the end of the original film franchise.On New Year's Day 2022, the actors, along with filmmaker Chris Columbus and other cast members will sit for a retrospective to commemorate the release of  "Harry Potter and the Sorcerer's Stone" which w...
More>>
Harry Potter Limited Series and Special in the Works to Commemor...
5/19/2021 12:13 PM EST
WarnerMedia has partnered with Wizarding World to commemorate the 20th anniversary of the first film of the Harry Potter franchise by creating two commemorative unscripted specials."To celebrate the dedicated fans old and new who have passionately kept the Wizarding World magic alive in so many forms for decades, these exciting specials will celebrate their Harry Potter fandom in a must-see multip...
More>>
Peacock and Harry Potter's Tom Felton Host Harry Potter Watch Party
3/3/2021 10:07 PM EST
Last night, Tom Felton, aka Draco Malfoy from the Harry Potter film franchise, teamed up with Peacock for a special watch party on Peacock's Tiktok. The party featured Felton watching  "Harry Potter and the Sorcerer's Stone" in its entirety with fans across the United States.During the event, fans asked Felton questions and he answered! Someone asked him what he did for fun on the set and he told ...
More>>
Fantastic Beasts 3 Halts Production After Coronavirus Case
2/4/2021 2:23 PM EST
Production for "Fantastic Beasts 3" has been put on hold after a "team member" has tested positive for coronavirus.Deadline was sent the following statement from Warner Bros.:"A team member from Fantastic Beasts 3 has tested positive for COVID-19. The diagnosis was confirmed as a result of required and ongoing testing that all production employees receive, and the team member is currently in isola...
More>>
Harry Potter Series in the Works at HBO Max
1/25/2021 3:01 PM EST
It's being reported that a "Harry Potter" series is currently in the early stages of development at HBO Max. According to Variety, the story was confirmed via multiple sources; however, Warner Bros. and HBO Max told the publication that "There are no Harry Potter series in development at the studio or on the streaming platform."It's said that writers have been approached about the project, but the...
More>>
Warner Bros. Tom Ascheim in Charge of Harry Potter Properties
1/21/2021 4:13 PM EST
It has been announced that Warner Bros. executive Tom Ascheim will now be in charge of overseeing the "Harry Potter" and "Wizarding World" properties. Ascheim, who is also the president of kids, young adults, and classics at Warners, will now be the chief representative of WarnerMedia when dealing with J.K. Rowling, her agent Neil Blair, and Blair Partnership Chief Creative Officer James McKnight....
More>>
Take a Behind the Scenes Look at the Creation of Hagrid's Magica...
9/4/2019 2:19 PM EST
 Hagrid's Magical Creatures Motorbike Adventure debuted this summer at The Wizarding World of Harry Potter at Universal Orlando and, now, Harry Potter fans and fans of the ride can take a behind-the-scenes look on the creation of the world's first "story coaster" during the NBC primetime broadcast of "Harry Potter and the Deathly Hallows - Part 2" on Saturday, September 7 at 8 p.m. EDT.viewers wil...
More>>
Win a Dream Vacation to The Wizarding World of Harry Potter!
8/29/2019 3:35 PM EST
Universal Orlando Resort has launched an exciting sweepstakes for Harry Potter fans! The social media sweepstakes will reward two lucky participants with an unforgettable trip to The Wizarding World of Harry Potter.To enter the contest, fans must take to one of their social media channels to showcase their passion for the Wizarding World showing what they'd wear on their visit to the incredibly-im...
More>>
New Experience in The Wizarding World of Harry Potter
2/21/2019 3:51 PM EST
Today, Universal Orlando Resort announced the new attraction coming to The Wizarding World of Harry Potter this summer.The new ride will be called Hagrid's Magical Creatures Motorbike Adventure and will open on June 13, 2019. It will be their most highly themed coaster to date.  For the first time ever, guests will fly with Hagrid on a thrilling roller coaster ride that plunges into the path of so...
More>>
Fantastic Beasts 3 Production Pushed Until Fall
1/21/2019 1:06 PM EST
Warner Bros. has decided to push back the production start date for the upcoming third Fantastic Beasts film. The film was supposed to begin production this July but will be put off until the fall.A spinoff of Harry Potter, the Fantastic Beasts franchise has earned over $1.4 billion dollars so far. It is comprised of Fantastic Beasts and Where to Find Them and Fantastic Beasts: The Crimes of Grind...
More>>
Harry Potter Gets The Jelly Belly Treatment
10/12/2018 11:24 PM EST
Jelly Belly sets the standard for jellybeans worldwide.  With a multitude of flavors (some delicious, some disgusting) they offer the unique alongside the tried and true to the delight of fans of the gummy confections.  To complement their distinctive brand, Jelly Belly once again commissioned artist Kristen Cumings to create works of art using their signature candy.  FlickDirect caught up with he...
More>>
Wizards, Witches and Muggles Alike Gathered Once Again at Univer...
1/29/2018 2:41 PM EST
If you are a huge Harry Potter fan and have never been to Universal Orlando Resort A Celebration of Harry Potter, you must make it a point to go. If you have been before, you need to go again as every year offers something new and exciting. Regardless, the annual event is a unique experience that should be on the top of any Harry Potter fan's list.Now in its fifth year, A Celebration of Harry Pott...
More>>
Harry Potter and the Sorcerer's Stone 4K Review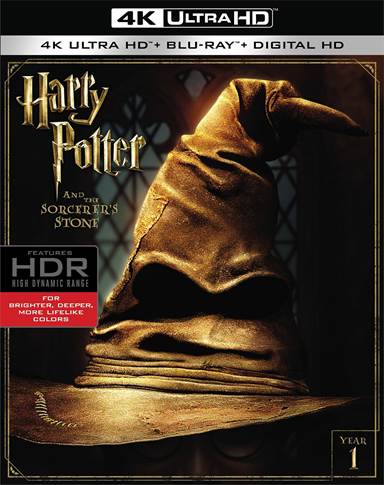 It has been twenty years since we were introduced to "The boy who lived" when J.K. Rowling's first book in the Harry Potter series debuted in the United Kingdom. Originally titled Harry Potter and the Philosopher's Stone the name was later changed to Harry Potter and the Sorcerer's Stone in the United States for the first movie and, as expected, it was a box office triumph. It made stars out of the three young actors playing the main characters in the series and the world then watched them grow up on screen. Previously released on Blu-ray and DVD, it is now available on the latest technology 4K Blu-ray.
As we meet the famous, young wizard, he has no idea he is either famous or a wizard. He lives under the stairs at his Aunt and Uncle's house who took him in after Harry's (Daniel Radcliffe; The Woman in Black) parents died in a "car accident". On his eleventh birthday, Harry is visited by Hagrid (Robbie Coltrane; GoldenEye) who informs him of his lineage and takes him to become a student at Hogwart's School of Witchcraft and Wizardry where Harry begins his formal training. It's also where he meets his two best friends, Ron Weasley (Rupert Grint; Snatch) and Hermione Granger (Emma Watson; Beauty and the Beast).
Of course, there are dark forces at work conspiring against Harry including "He who must not be named"/ "The Dark Lord", Lord Voldemort (Richard Bremmer; Control) who was the one who actually killed Harry's parents. The rest of the movie is spent determining who the threat is and how to stop it (while including a cool but deadly game of chess). In the end, Harry survives and the perpetrator is not who you would expect (unless you had read the books before seeing the film). However, if you are a fan of the books you already know there are more threats to come.
I must admit, Harry Potter and the Sorcerer's Stone isn't one of my favorites out of the eight films but it does lay a solid foundation from which the other movies build upon. The first installment in the film series isn't as dark as the later ones and is a bit more "kid-like", which is to be expected since the films' stars were in middle school when this one was made. We do get a terrific introduction to Radcliffe, Grint, and Watson and Director Chris Columbus (Mrs. Doubtfire) gave us a sense of wonder and magic which set a certain tone for the remained of the series.
The 4k quality with the 2160p high definition video and a 2.39:1 aspect ratio is truly an upgrade and the fullness of the colors and details are noticeable. The blacks are deep, which is a good thing because much of this film is shadowed in the darkness. The flesh tones and bright colors are also a bit warmer, making them inviting to the viewer's eye and there is little to no noise to speak of. The DTS: X audio bumps up the quality quite a bit and the effects are spread evenly and fully across all speakers.
The extras include an extended version of the movie and in-movie experience. Disc two houses Behind the Story with an introduction by Daniel Radcliffe, Creating the World of Harry Potter: The Magic Begins and A glimpse into the world of Harry Potter, Deleted Scenes, Trailers and TV spots with an introduction by Daniel Radcliffe, Creating the World of Harry Potter: The Magic Begins and A glimpse into the world of Harry Potter, Deleted Scenes, Trailers and TV spots.
If you are a Harry Potter fan and own a 4K Blu-ray player it is time to upgrade your collection to the latest technology. You won't regret it as you experience the movie anew in a whole new way.
Grade: A-
For more reviews please visit our film/television review section.
The invitation you've been waiting for has arrived. Harry Potter 20th Anniversary: Return to Hogwart...

Announced last month, Harry Potter 20th Anniversary: Return to Hogwarts invites fans on a magical fi...
SPONSORED LINKS