Harry Potter and the Prisoner of Azkaban (2004)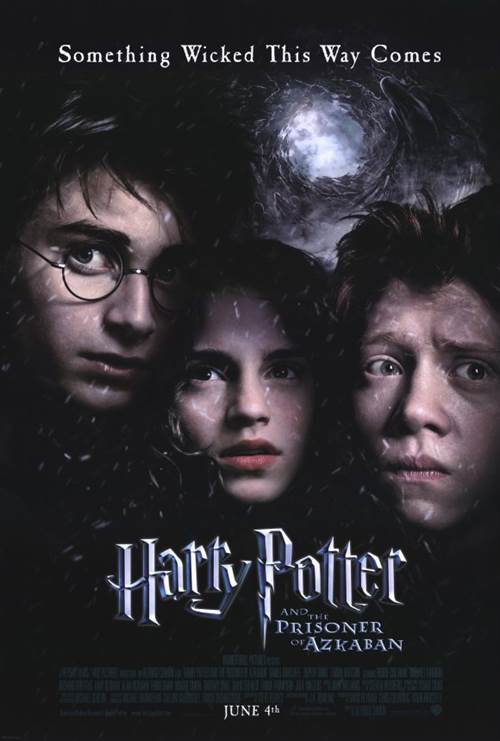 Share this:
| | |
| --- | --- |
| Director: | |
| Cast: | |
| Released: | Friday, June 4, 2004 |
| Length: | 142 minutes |
| Studio: | Warner Bros. |
| Genre: | Sci-Fi/Fantasy |
| Rating: | Some material may not be suitable for children. |
Synopsis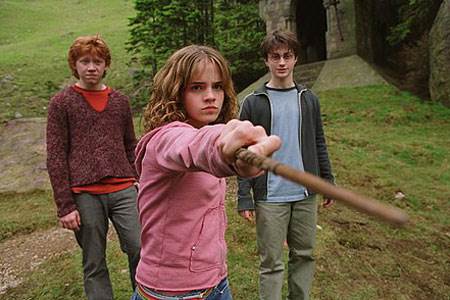 In Harry Potter and the Prisoner of Azkaban, Harry, Ron and Hermione, now teenagers, return for their third year at Hogwarts, where they are forced to face escaped prisoner, Sirius Black, who poses a great threat to Harry. Harry and his friends spend their third year learning how to handle a half-horse half-eagle Hippogriff, repel shape-shifting Boggarts and master the art of Divination. They also visit the wizarding village of Hogsmeade and the Shrieking Shack, which is considered the most haunted building in Britain. In addition to these new experiences, Harry must overcome the threats of the soul-sucking Dementors, outsmart a dangerous werewolf and finally deal with the truth about Sirius Black and his relationship to Harry and his parents. With his best friends, Harry masters advanced magic, crosses the barriers of time and changes the course of more than one life. Directed by Alfonso Cuaron and based on J.K. Rowling 's third book, this wondrous spellbinder soars with laughs, and the kind of breathless surprise only found in a Harry Potter adventure.

Purchase DVD/Blu-ray/4K UHD physical copy of Harry Potter and the Prisoner of Azkaban today at Amazon.com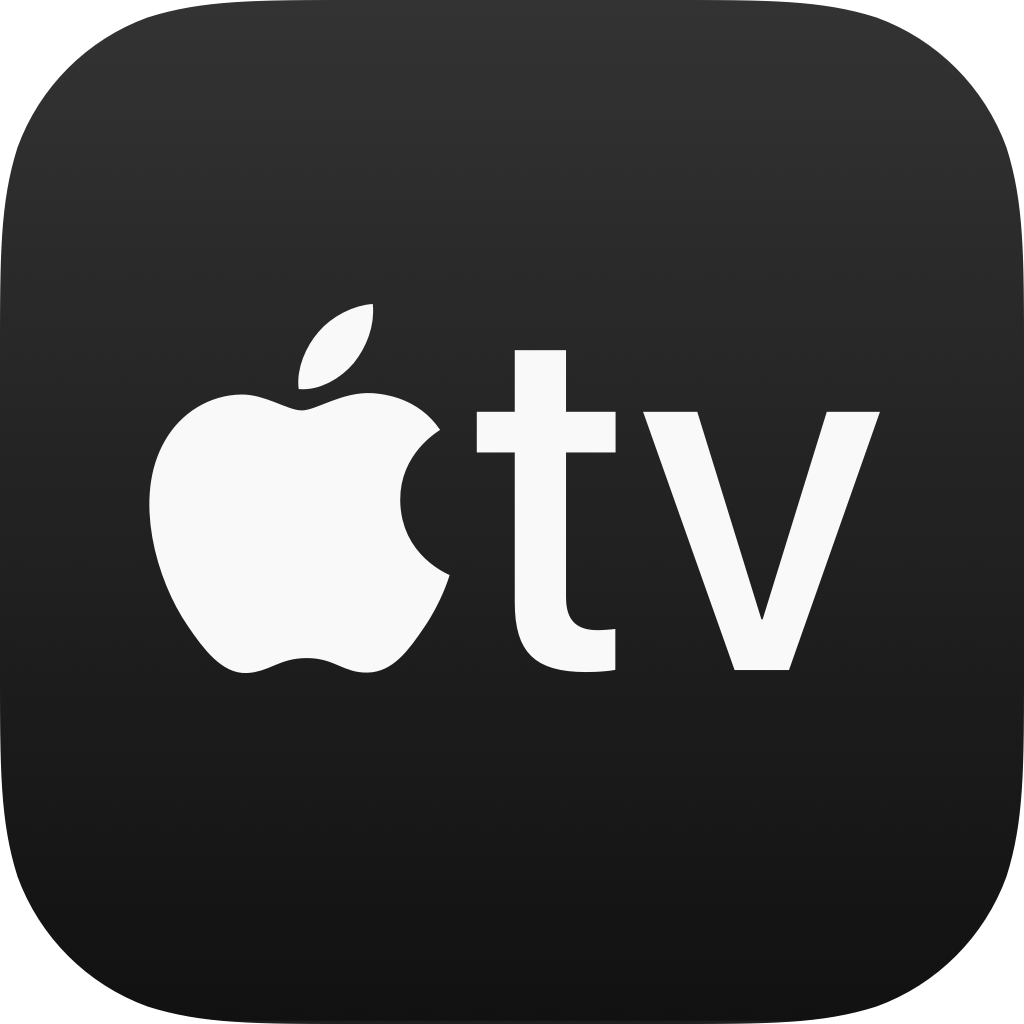 Download Harry Potter and the Prisoner of Azkaban in Digital HD/4K from the iTunes store.
Harry Potter and the Prisoner of Azkaban images are © Warner Bros.. All Rights Reserved.
Harry Potter Limited Series and Special in the Works to Commemor...
5/19/2021 12:13 PM EST
WarnerMedia has partnered with Wizarding World to commemorate the 20th anniversary of the first film of the Harry Potter franchise by creating two commemorative unscripted specials."To celebrate the dedicated fans old and new who have passionately kept the Wizarding World magic alive in so many forms for decades, these exciting specials will celebrate their Harry Potter fandom in a must-see multip...
More>>
Peacock and Harry Potter's Tom Felton Host Harry Potter Watch Party
3/3/2021 10:07 PM EST
Last night, Tom Felton, aka Draco Malfoy from the Harry Potter film franchise, teamed up with Peacock for a special watch party on Peacock's Tiktok. The party featured Felton watching  "Harry Potter and the Sorcerer's Stone" in its entirety with fans across the United States.During the event, fans asked Felton questions and he answered! Someone asked him what he did for fun on the set and he told ...
More>>
Fantastic Beasts 3 Halts Production After Coronavirus Case
2/4/2021 2:23 PM EST
Production for "Fantastic Beasts 3" has been put on hold after a "team member" has tested positive for coronavirus.Deadline was sent the following statement from Warner Bros.:"A team member from Fantastic Beasts 3 has tested positive for COVID-19. The diagnosis was confirmed as a result of required and ongoing testing that all production employees receive, and the team member is currently in isola...
More>>
Harry Potter Series in the Works at HBO Max
1/25/2021 3:01 PM EST
It's being reported that a "Harry Potter" series is currently in the early stages of development at HBO Max. According to Variety, the story was confirmed via multiple sources; however, Warner Bros. and HBO Max told the publication that "There are no Harry Potter series in development at the studio or on the streaming platform."It's said that writers have been approached about the project, but the...
More>>
Warner Bros. Tom Ascheim in Charge of Harry Potter Properties
1/21/2021 4:13 PM EST
It has been announced that Warner Bros. executive Tom Ascheim will now be in charge of overseeing the "Harry Potter" and "Wizarding World" properties. Ascheim, who is also the president of kids, young adults, and classics at Warners, will now be the chief representative of WarnerMedia when dealing with J.K. Rowling, her agent Neil Blair, and Blair Partnership Chief Creative Officer James McKnight....
More>>
Take a Behind the Scenes Look at the Creation of Hagrid's Magica...
9/4/2019 2:19 PM EST
 Hagrid's Magical Creatures Motorbike Adventure debuted this summer at The Wizarding World of Harry Potter at Universal Orlando and, now, Harry Potter fans and fans of the ride can take a behind-the-scenes look on the creation of the world's first "story coaster" during the NBC primetime broadcast of "Harry Potter and the Deathly Hallows - Part 2" on Saturday, September 7 at 8 p.m. EDT.viewers wil...
More>>
Win a Dream Vacation to The Wizarding World of Harry Potter!
8/29/2019 3:35 PM EST
Universal Orlando Resort has launched an exciting sweepstakes for Harry Potter fans! The social media sweepstakes will reward two lucky participants with an unforgettable trip to The Wizarding World of Harry Potter.To enter the contest, fans must take to one of their social media channels to showcase their passion for the Wizarding World showing what they'd wear on their visit to the incredibly-im...
More>>
New Experience in The Wizarding World of Harry Potter
2/21/2019 3:51 PM EST
Today, Universal Orlando Resort announced the new attraction coming to The Wizarding World of Harry Potter this summer.The new ride will be called Hagrid's Magical Creatures Motorbike Adventure and will open on June 13, 2019. It will be their most highly themed coaster to date.  For the first time ever, guests will fly with Hagrid on a thrilling roller coaster ride that plunges into the path of so...
More>>
Fantastic Beasts 3 Production Pushed Until Fall
1/21/2019 1:06 PM EST
Warner Bros. has decided to push back the production start date for the upcoming third Fantastic Beasts film. The film was supposed to begin production this July but will be put off until the fall.A spinoff of Harry Potter, the Fantastic Beasts franchise has earned over $1.4 billion dollars so far. It is comprised of Fantastic Beasts and Where to Find Them and Fantastic Beasts: The Crimes of Grind...
More>>
Harry Potter Gets The Jelly Belly Treatment
10/12/2018 11:24 PM EST
Jelly Belly sets the standard for jellybeans worldwide.  With a multitude of flavors (some delicious, some disgusting) they offer the unique alongside the tried and true to the delight of fans of the gummy confections.  To complement their distinctive brand, Jelly Belly once again commissioned artist Kristen Cumings to create works of art using their signature candy.  FlickDirect caught up with he...
More>>
Wizards, Witches and Muggles Alike Gathered Once Again at Univer...
1/29/2018 2:41 PM EST
If you are a huge Harry Potter fan and have never been to Universal Orlando Resort A Celebration of Harry Potter, you must make it a point to go. If you have been before, you need to go again as every year offers something new and exciting. Regardless, the annual event is a unique experience that should be on the top of any Harry Potter fan's list.Now in its fifth year, A Celebration of Harry Pott...
More>>
Fantastic Beasts Films Will Travel the Globe
1/27/2018 10:39 AM EST
Director David Yates has revealed that the five upcoming Fantastic Beast films will all take place in different cities.The first film took place in New York, and the second will be taking place in Paris. We don't yet know where the next three film will take place but Yates said, "This is a global story, ultimately. And given that there's a global audience for this, it's all the more delightful to ...
More>>
Harry Potter and the Prisoner of Azkaban 4K Ultra HD Review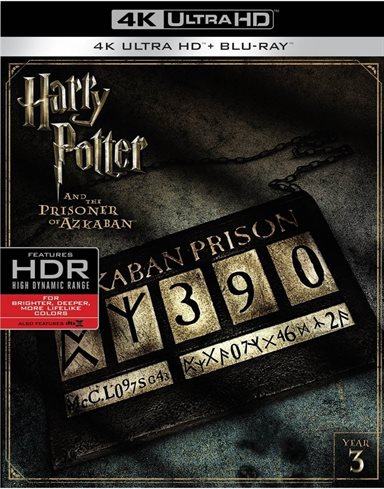 As Harry Potter returns to Hogwarts School of Witchcraft and Wizardry for his third year, he once again faces an unknown foe in
Harry Potter and the Prisoner of Azkaban
. Eagerly awaited by fans back in 2004, this third installment of the popular series also saw a changing of the guard with Director Alfonso Cuaron (
Gravity
) replacing Chris Columbus (
Home Alone
) at the helm. This meant that while the series had a good, solid foundation, this third film was a little darker as well as more artistic than the previous two movies. No longer was the audience a casual observer peeking into this magical world but suddenly we were completely enveloped in the drama and action.
As Harry gets ready for another year at school he, along with everyone else, is aware that Sirius Black (Gary Oldman; The Dark Knight) has escaped from Azkaban prison and is coming for Harry. What we don't know is why. There is also a new Professor at Hogwarts, Professor Lupin (David Thewlis; The Theory of Everything) who holds his own dark secrets. As these two men converge at the famed school we find out more personal details about Harry, his parents and the details leading to their untimely deaths. Not to be missed is also Hermione Granger (Emma Watson; The Perks of Being a Wallflower) time traveling through the semester.
While not my number one favorite film in the series, Harry Potter and the Prisoner of Azkaban certainly ranks up there in my top three. As previously mentioned, Cuaron gives us a much more stylized film with sweeping angles and great shots. He also delivers a more mature and complete picture of Harry and his friends Hermione and Ron Weasley (Rubert Grint; Snatch). Though not easy to take over from another, successful Director Cuaron did a great job and paved the way for David Yates (The Legend of Tarzan) to build upon in the fourth installment as he helped move the series from childlike wonder into deeper, darker places than previously explored.
The 2160p high definition video is certainly a treat for fans of the film who already own the Blu-ray version. While there is a coldness that permeates the movie the Blacks have a warmth and depth to them that helps engross the viewer completely. The colors are full and rich with little noise found anywhere. The DTS: X audio is outstanding and once again accentuates another one of legendary John Williams' (Star Wars: Episode IV – A New Hope) soundtracks. The mix is nice with music and effects not overpowering the dialogue that sits comfortably in the center channel.
The set comes with the 4K Blu-ray Disc, Blu-ray disc, and the Ultraviolet Digital Copy. The extras sit on the traditional Blu-ray and is previously released material including Behind The Story broken into the following segments: Creating The World of Harry Potter Part 3: Creatures, Inside The Creature Shop, The Magic Touch Of Harry Potter, Harry Potter And The Prisoner of Azkaban: Something Wicked This Way Comes, The Making of Harry Potter and the Prisoner of Azkaban, An Interview in Spanish With Alfonso Cuaran, plus Trelawney's Crystal Ball Deleted Scenes, and Trailers.
With the upgrade in technology, it is no wonder the Harry Potter series has been given the updated release. These films are ripe for the newest and best and the transfers are very well done. Among the best is Harry Potter and the Prisoner of Azkaban with its excellent audio and video quality. The 4K version enhances the story and the viewing pleasure and is well worth the price. Honestly, any Harry Potter fan with a 4K Blu-ray player should invest in the whole series but if you want to pick one film to "test it out" before buying them all, you can't go wrong with this one.
Grade: A-
For more reviews please visit our film/television review section.
SPONSORED LINKS