Marvel's Agents of S.H.I.E.L.D (2013)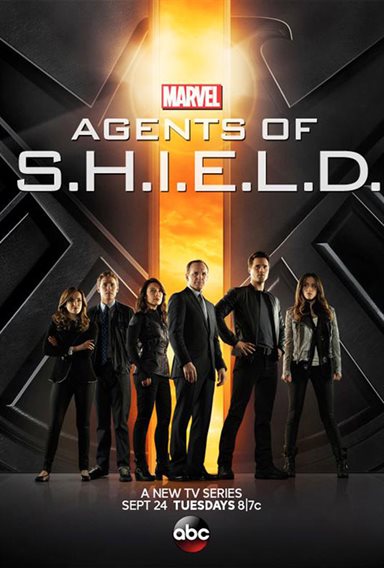 | | |
| --- | --- |
| Created By: | |
| Cast: | |
| Air Date: | Tuesday, September 24, 2013 |
| Studio: | ABC Studios |
| Genre: | Television |
| Rating: | This Television Show Is Not Yet Rated |
Synopsis
The saga that began in The Avengers continues on TV in Marvel's Agents of Shield on television.

From Executive Producers Joss Whedon (Marvel's The Avengers, Buffy the Vampire Slayer) who also co-writes and directs the pilot, Jed Whedon & Maurissa Tancharoen (Dollhouse, Dr.Horrible's Sing-Along Blog), Jeffrey Bell (Angel, Alias) and Jeph Loeb (Smallville, LOST, Heroes) comes Marvel's newest TV series.
Download Marvel's Agents of S.H.I.E.L.D in Digital HD from the iTunes store.
Marvel's Agents of S.H.I.E.L.D images are © ABC Studios. All Rights Reserved.


Avengers: Endgame Fans Prepare for Film with Massive Binging
4/18/2019 4:48 PM EDT
In anticipation of next week's release of Avengers: Endgame, fans are devouring Marvel content. Fandango has conducted a survey that says 89% of Endgame moviegoers will be preparing for the film event by bingeing previous films in the Marvel Cinematic Universe. In that same survey, it was also determined that 49% of the Millennials surveyed said they will be doing their binging this weekend. On to...
More>>
Gwyneth Paltrow Leaving Marvel Universe After Avengers: Endgame
2/19/2019 1:28 PM EDT
Gwyneth Paltrow, who plays the character of Pepper Potts in the Iron Man/Avengers films, will be leaving the Marvel Cinematic Universe after the release of  Avengers: Endgame. The actress says that while she would be open to a cameo appearance in the future, she won't be playing the character in a larger role.While there haven't been any other actors confirming the same news, it is expected that a...
More>>
Chris Evans Says Goodbye to Captain America
10/4/2018 2:25 PM EDT
Goodbye, Cap.Chris Evans tweeted today about his parting from his longtime character, Captain America. In the tweet, Evans said, "Officially wrapped on Avengers 4. It was an emotional day to say the least. Playing this role over the last 8 years has been an honor. To everyone in front of the camera, behind the camera, and in the audience, thank you for the memories! Eternally grateful."Evans began...
More>>
Scarlet Witch and Loki to Get Their Own Series
9/19/2018 10:22 AM EDT
Looks like Marvel's Scarlet Witch and Loki will be getting their own series through Disney's upcoming streaming service. The service, which will be released in later 2019, will stream original content as well as existing TV series and films.There is no official comment or confirmation from Disney or Marvel just yet, but they are said to be in the early stages of planning some limited series on pop...
More>>
Cate Shortland Tapped to Direct Black Widow
7/13/2018 10:03 AM EDT
Cate Shortland has been tapped to direct Marvel's upcoming Black Widow film. Scarlett Johansson will be reprising her role.The search for a director has taken over 6 months and included meeting with over 70 candidates. Shortland directed the 2012 film Lore, about a young woman who leads her family through Nazi Germany as the Allies come to liberate them. She also worked on 2017's Berlin Syndrome.T...
More>>
Avengers: Infinity War Breaks Box Office Records
4/30/2018 10:33 AM EDT
Avengers: Infinity War shattered box office records this past weekend.  The Disney/Marvel film directed by the Russo brothers broke not one but SIX records as follows: Biggest Domestic Opening of All Time, earning between $250-$275 million and surpassing Star Wars: The Force Awakens with their $248 million earned; Biggest Worldwide Opening of All Time, earning $630 million globally; Biggest Saturd...
More>>
Avenger's Winston Duke Discusses The Movie's Sense of Community
4/28/2018 7:50 PM EDT
It's been ten years in the making. The most highly anticipated superhero film ever.  Twenty four stars, eighteen separate movies, One really evil bad guy all rolled into two hours and thirty minutes.  There are funny moments, bizarre encounters - like when the Guardians of the Galaxy rescue Thor ( Chris Hemsworth; Snow White and the Huntsman) - and lots of action to go around.  But there is heart ...
More>>
Avengers: Infinity War Breaking Presale Records
4/11/2018 1:46 PM EDT
Proving to already be a hit at the box office, Marvel's "Avengers: Infinity War" is currently selling pre-sale tickets faster than the last seven Marvel films combined. It is selling more than double the number of tickets Fandango as "Black Panther" at the same point in the sales cycle.Fandango reports that  "Avengers: Infinity War" is The company's top preseller among April releases, already surp...
More>>
Chris Evans to Exit Captain America Role After Next Avengers Film
3/22/2018 10:52 PM EDT
Looks like time is running out for Ol' Cap. It has been known that Chris Evans will be leaving the Marvel Universe but some it was never quite clear exactly when. Now, there are reports that it will occur after 2019's Infinity Wars 2 film.  According to new reports, Chris Evans wants to get out while he's on top. And, since there have other Captain America's, namely Bucky Barnes and Sam Wilson, we...
More>>
Avengers: Age of Ultron Set for Big U.S. Opening Weekend Earnings
4/24/2015 4:49 PM EDT
The highly anticipated film, Avengers: Age of Ultron, was released this week in the international markets and is already breaking records with its box office earnings.The film opened on Wednesday as #1 in 11 foreign markets, including France and Italy, earning $9.5 million on its first day.  On Thursday, it opened in United Kingdom, Germany and South Korea. So far, it has earned approximately $44....
More>>
Chris Evans and Jeremy Renner Apologize for Offensive Comments
4/23/2015 4:17 PM EDT
Chris Evans and Jeremy Renner caused some controversy during a recent press interview for Avengers when they referred to the character Black Widow as a whore and a slut.The duo were doing an interview with a UK website when they were asked about Black Widow's multiple romances throughout the Marvel Universe, and Renner answered, sarcastically,  "She's a slut."  Evans chimed in, with laughter, sayi...
More>>
Russo Brothers to Direct Upcoming Avengers Film
3/24/2015 1:41 PM EDT
Director Joss Whedon will be stepping down from his Avengers duty, according to reports. It has now been finalized that the Captain America: The Winter Soldier duo Joe and Anthony Russo will now be taking over. The new directors will be taking over Avengers: Infinity War parts 1 and 2. Part 1 is slated for a May 4, 2018 release and Part 2 is slated for a May 3, 2019 release. Along with Avengers, t...
More>>

Agents of S.H.I.E.L.D. In Space? Get the Inside Track!
S.H.I.E.L.D In Space? Ghost Rider? Get the inside track on all things, Marvel, when FlickDirect talks to the cast of Marvel's Agent's of S.H.I.E.L.D. during New York Comic Con 2017.Talent Incl...
8:31
SPONSORED LINKS
Comments

Courtesy of
Movie Hype App
movieman24
You gotta watch both seasons of this tv series if you are following Marvels Avengers
12/22/2014 10:12 PM EDT
movieguynathan
Give this show another shot.
11/29/2014 11:50 PM EDT
daryam
Marvel
4/18/2014 3:52 AM EDT
backlight
This started out a bit slow but it's getting real good
2/8/2014 2:57 AM EDT
movieguynathan
Such a disappointment
11/7/2013 10:53 PM EDT
eric
Good show
10/4/2013 3:28 PM EDT
paul
Loved it!
9/28/2013 5:27 AM EDT
ampayne71
I can't wait to see it
8/20/2013 3:00 AM EDT