Marvel's The Avengers (2012)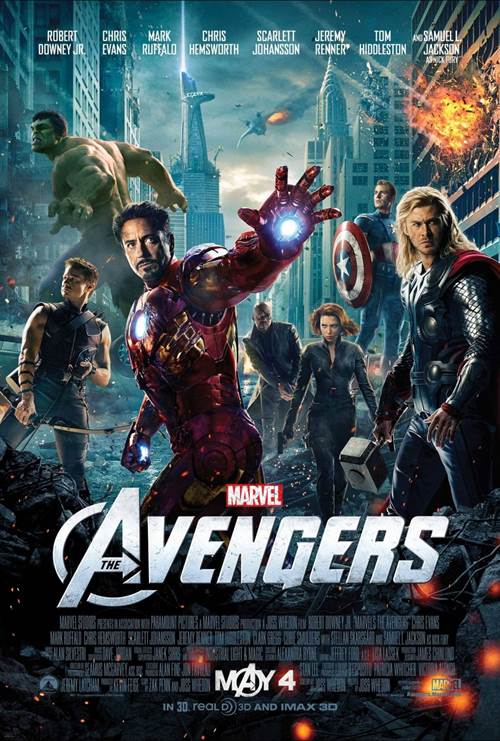 | | |
| --- | --- |
| Director: | |
| Writers: | |
| Cast: | |
| Released: | Friday, May 4, 2012 |
| Length: | 143 minutes |
| Studio: | Walt Disney Pictures |
| Genre: | Sci-Fi/Fantasy, Action/Adventure |
| Rating: | Some material may be inappropriate for children under 13. |
This film contains a scene during or after the credits.
Marvel's The Avengers Synopsis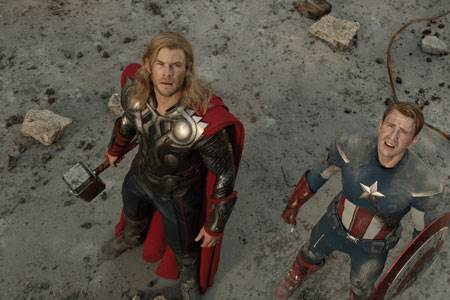 The Super Hero team-up of a lifetime, featuring iconic Marvel Super Heroes Iron Man, The Incredible Hulk, Thor, Captain America, Hawkeye and Black Widow. When an unexpected enemy emerges that threatens global safety and security, Nick Fury, Director of the international peacekeeping agency known as S.H.I.E.L.D., finds himself in need of a team to pull the world back from the brink of disaster. Spanning the globe, a daring recruitment effort begins.

Purchase DVD/Blu-ray/4K UHD physical copy of Marvel's The Avengers today at Amazon.com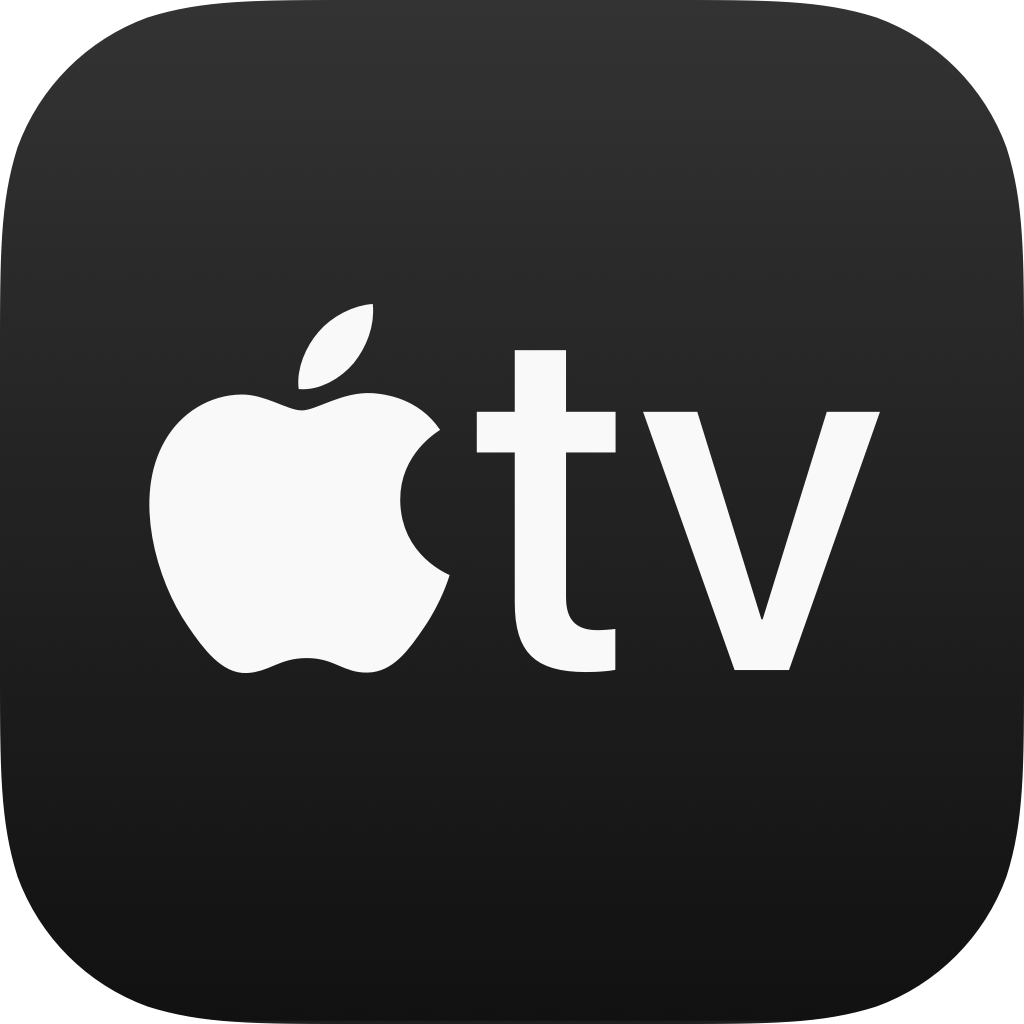 Stream Marvel's The Avengers in Digital HD/4K from the AppleTV store.
Listen to the Marvel's The Avengers soundtrack on Apple Music.
Marvel's The Avengers images are © Walt Disney Pictures. All Rights Reserved.
Michael Waldron Attached to Write Avengers: Secret Wars
10/3/2022 3:46 PM EST
It's being reported that Micahel Waldron (Loki, Doctor Strange in the Multiverse of Madness) has been tapped to pen the script for the upcoming Marvel film "Avengers: Secret Wars".Waldron is said to have been a frontrunner for the position since they began looking within recent months, given his success with Marvel in the past. "Doctor Strange in the Multiverse of Madness" earned over $950 million...
More>>
Avengers: Endgame Highest Grossing Film of All Time
7/21/2019 4:31 PM EST
It's official. Marvel's Avengers: Endgame is now the highest-grossing film of all time. The film has now reached $2.79 billion, just beating out "Avatar"'s $2.789 billion. This amount, however, doesn't take inflation into account. Kevin Feige spoke about the imminent breaking of the record last night at Comic-Con, saying, "You have to shout-out to Mr. James Cameron, who held that title for a long ...
More>>
We Love You 3000 Tour Announced to Commemorate Avengers:Endgame ...
7/15/2019 4:45 PM EST
Marvel Studios is celebrating the in-home release of "Avengers: Endgame" with the "We Love You 3000" Tour. This tour will serve as a thank-you to fans who have made this franchise so successful over the years. This event will take place in nine different cities - beginning in San Diego at Comic-Con International on July 20. Special guests from the Marvel Studios and Universe will be greeting guest...
More>>
Marvel Studios To Return to Comic-Con's Hall H
6/19/2019 12:36 PM EST
After a notable absence last year at Comic-Con, Marvel will once again be appearing at Hall H. There's no word on exactly what Marvel will be promoting but there are some projects that they have in the works that are likely to be spoken about.Upcoming Marvel films include "Black Widow" (2020), "The Eternals" (2020), "Shang-Chi" (2021), "Black Panther 2" (2021), and "Doctor Strange 2" (2021). Any o...
More>>
Avengers: Endgame Now Second Highest Grossing Film of All Time
5/6/2019 11:50 AM EST
"Avengers: Endgame" has continued to make history, as it is now the second highest grossing film of all time. "Avatar" remains in the top spot - for now."Endgame" has earned over $2.1 billion in just 11 days, a record in itself. No other film has ever reached that amount in such a short time. Even "Avatar" took 47 days to do so. While no one can say for sure whether or not "endgame" will surpass "...
More>>
Avengers: Endgame Moviegoer Hospitalized After Crying Too Much a...
4/30/2019 3:53 PM EST
The "Avengers: Endgame" film has proved too much for one fan to handle.A 21-year-old moviegoer in China cried so much at the end of the film that she began to hyperventilate. After having breathing issues, the girl was rushed to a hospital and given oxygen.A doctor that treated her said, "I saw that the patient had been breathing heavily, and according to the description from her peers, we thought...
More>>
Avengers: Endgame Breaks Records with $1.2 Billion Debut
4/28/2019 12:23 PM EST
Marvel Studios' "Avengers: Endgame" made history this weekend. the film has earned a record-shattering $1.2 billion dollars during its opening weekend. It took just 5 days for the film to reach the $1 billion mark.The film broke the record for its predecessor, "Avengers: Infinity War", which took a then record-breaking 11 days to reach the $1 billion mark. "Kevin Feige and the Marvel Studios team ...
More>>
Avengers: Endgame Fan Fever Takes Hold Ahead of Premiere
4/24/2019 2:18 PM EST
Avengers: Endgame will be released Friday, and fans are beyond excited to finally see the final installment of what is over 20 films in the Marvel Cinematic Universe.Fan fever is quantifiable. According to a survey done of over 1,000 moviegoers that are planning on seeing the film, 63% feel that the release of the film marks an historic moment in cinema. Over 81% are trying to avoid spoilers for t...
More>>
Avengers: Endgame Red Carpet Live Stream Tonight!
4/22/2019 2:21 PM EST
The time has come. The premiere for Avengers: Endgame will take place tonight in Los Angeles and fans can tune in to the red carpet festivities via marvel.com. The live-stream event will begin at 4:30 p.m. PT / 7:30 p.m. ET.Fans tuning in will see stars from the film including Robert Downey Jr., Chris Evans, Mark Ruffalo, Chris Hemsworth, Scarlett Johansson, Jeremy Renner, Brie Larson, Paul Rudd, ...
More>>
Avengers: Endgame Fans Prepare for Film with Massive Binging
4/18/2019 4:48 PM EST
In anticipation of next week's release of Avengers: Endgame, fans are devouring Marvel content. Fandango has conducted a survey that says 89% of Endgame moviegoers will be preparing for the film event by bingeing previous films in the Marvel Cinematic Universe. In that same survey, it was also determined that 49% of the Millennials surveyed said they will be doing their binging this weekend. On to...
More>>
Gwyneth Paltrow Leaving Marvel Universe After Avengers: Endgame
2/19/2019 1:28 PM EST
Gwyneth Paltrow, who plays the character of Pepper Potts in the Iron Man/Avengers films, will be leaving the Marvel Cinematic Universe after the release of  Avengers: Endgame. The actress says that while she would be open to a cameo appearance in the future, she won't be playing the character in a larger role.While there haven't been any other actors confirming the same news, it is expected that a...
More>>
Chris Evans Says Goodbye to Captain America
10/4/2018 2:25 PM EST
Goodbye, Cap.Chris Evans tweeted today about his parting from his longtime character, Captain America. In the tweet, Evans said, "Officially wrapped on Avengers 4. It was an emotional day to say the least. Playing this role over the last 8 years has been an honor. To everyone in front of the camera, behind the camera, and in the audience, thank you for the memories! Eternally grateful."Evans began...
More>>
Marvel's The Avengers Blu-ray Review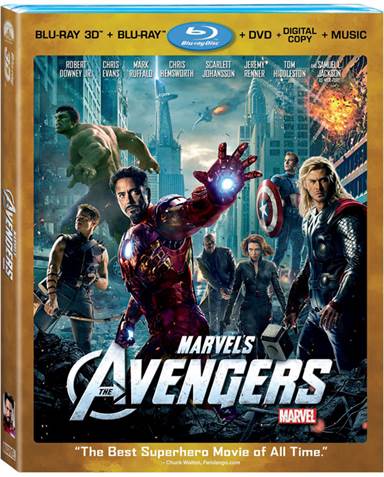 If there is one genre that Hollywood has tried over and over again, with some success and countless failures, it is the comic-book hero. But unlike others, The Avengers is not just about one comic-book hero, but several. Because of this, the movie is also unlike the others. This probably explains its' wild success, leading it to be the most popular movie of 2012 and the third highest-grossing film in United States history, behind Avatar and Titanic. The premise of the movie is simple: A supervillain, Loki, wants to rule Earth and to do so, he must bring an army from another part of the universe. The only ones who can save the world belong to S.H.I.E.L.D. (Strategic Homeland Intervention, Enforcement and Logistics Division) who happen to have a beta plan to bring together Earth's mightiest heroes. In this case, they are Thor, The Hulk, Ironman, Captain America, Hawkeye, and Black Widow. These heroes, who are normally used to working independently, must find a way to work together to vanquish the enemy.

Now usually when you have many leading characters in a story, it is hard to keep track of each one, and either some of them get lost in the shuffle or the entire movie suffers as a result. Marvel found the solution for that. The Avengers, while not being a sequel per se, really is one. The main characters have been introduced to the audience before. Thor (played by Chris Hemsworth, The Cabin in the Woods / Snow White and the Huntsman/Red Dawn), Hawkeye (played by Jeremy Renner, The Hurt Locker/The Bourne Legacy), and Loki (played by Tom Hiddleston) were introduced in Thor. Captain America (played by Chris Evans, Fantastic Four) was introduced in his own movie, Captain America: The First Avenger. Ironman (played by Robert Downey Jr., Tropic Thunder/Sherlock Holmes), Nick Fury (played by Samuel L. Jackson, Die Hard with a Vengeance/Pulp Fiction), and Black Widow (played by Scarlet Johannson, Lost in Translation/The Prestige) were introduced in Ironman and Ironman 2. The Hulk was introduced in the 2008 reboot of The Incredible Hulk, but unlike the other characters, this movie introduces a new actor playing him. While Edward Norton (Fight Club), did a wonderful job of portraying the always-vigilant-about-getting-angry Bruce Banner in the 2008 film, he was replaced by Mark Ruffalo (Shutter Island). Being new to his character compared to his counterparts it would have been easy to gloss over any differences in the way Bruce Banner was portrayed, but in fact, Mark Ruffalo's performance easily overshadows the others. While Bruce Banner/The Hulk is not really one of the leaders of this group of superheroes, Mark is able to deliver not only the Bruce Banner that gets angry and wants to remain calm but also the Bruce Banner that is compassionate and intelligent. His best line is delivered at the beginning of the finale battle though, as he is turning into The Hulk. Watch the movie and you'll agree.

Even with all these leading characters, The Avengers is able to completely pull it off with the perfect blend of action, comedy, and some additional character development. While you may be used to hearing cheesy dialogue during light-hearted "popcorn" movies, The Avengers keeps those down to a bare minimum, and in the context of the character who delivers them, it actually makes sense and keeps a smile on your face even when our heroes are at the lowest point. Now, if you have seen all of the previous movies related to the characters, there are some subtle references made back to them, but even if you haven't seen them all – don't worry. You will still enjoy the movie without knowing the entire backstory. The important stuff will be brought up during the movie. Couple that with amazing special effects – some of the backgrounds you see in the movie are completely CG but look like they really filmed the scenes on location. The Avengers is an amazingly entertaining movie that will keep you in your seat the entire time and will leave you wondering if the heroes will be able to win in the end.
The Blu-Ray transfer is exceptional with proper surround sound encoding and crisp visual details – you can see every scratch on Ironman's armor as one example. The 3D is also very good, considering that the movie is a post-production conversion to 3D rather than being filmed in 3D. The CGI portions were obviously rendered for 3D, while the post-production conversion becomes evident in some of the scenes involving the actors, and while it is noticeable, it's not overly distracting and isn't a huge enough negative to reduce my rating for this release. The 2D Blu-Ray also includes many extras, from a gag reel (A scene with Chris Hemsworth trying to catch Mjolnir is really funny), to deleted scenes and featurettes. It also includes the outstanding short film "Marvel One-Shot: Item 47" which follows the story of a piece of alien technology that wasn't recovered after the film's final battle and stars Lizzy Caplan (Party Down, Bachelorette). While it only runs about ten minutes, it is still worth watching.

The set also includes a DVD copy of the film, and a digital copy (which is only the SD version of the film. In the past I used to downgrade releases that didn't include digital copies, it may become necessary to downgrade digital copies that are not both SD and HD versions, and a digital copy download of The Avengers Assemble Soundtrack: Music inspired by the film. It contains the end credits song and the rest are songs inspired by the film. That extra addition, similar to the download included with The Muppets, makes the full combo pack an extremely cost-effective set to purchase.

Read More Marvel's The Avengers Reviews
For more reviews please visit our film/television review section.
Join FlickDirect's Penny McLean as she interviews Tom Hiddleston about his involvement in the upcoming film, Marvel's The Avengers....

The Super Hero team-up of a lifetime, featuring iconic Marvel Super Heroes Iron Man, The Incredible Hulk, Thor, Captain America, Hawkeye and Black Wid...
SPONSORED LINKS