Marvel's The Avengers (2012)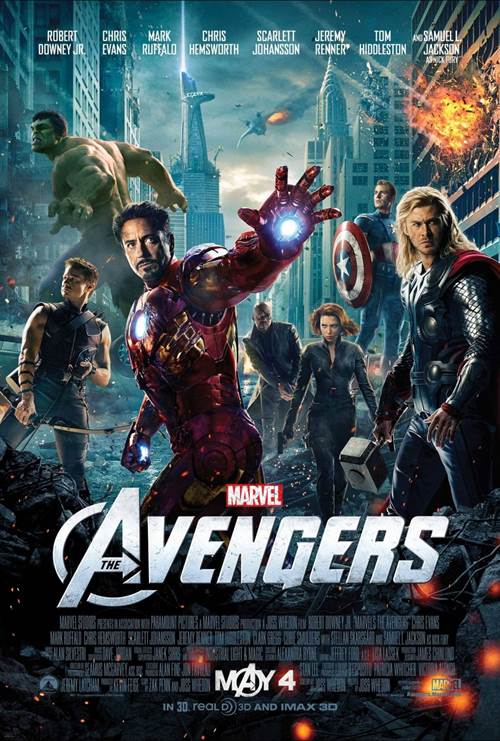 Share this:
| | |
| --- | --- |
| Director: | |
| Writers: | |
| Cast: | |
| Released: | Friday, May 4, 2012 |
| Length: | 143 minutes |
| Studio: | Walt Disney Pictures |
| Genre: | Sci-Fi/Fantasy, Action/Adventure |
| Rating: | Some material may be inappropriate for children under 13. |
This film contains a scene during or after the credits.
Synopsis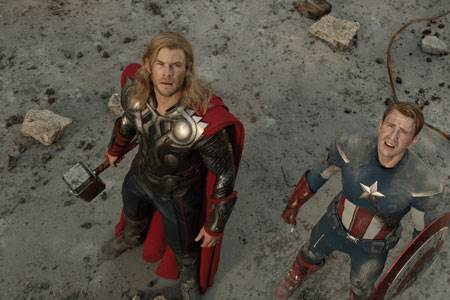 The Super Hero team-up of a lifetime, featuring iconic Marvel Super Heroes Iron Man, The Incredible Hulk, Thor, Captain America, Hawkeye and Black Widow. When an unexpected enemy emerges that threatens global safety and security, Nick Fury, Director of the international peacekeeping agency known as S.H.I.E.L.D., finds himself in need of a team to pull the world back from the brink of disaster. Spanning the globe, a daring recruitment effort begins.

Purchase DVD/Blu-ray/4K UHD physical copy of Marvel's The Avengers today at Amazon.com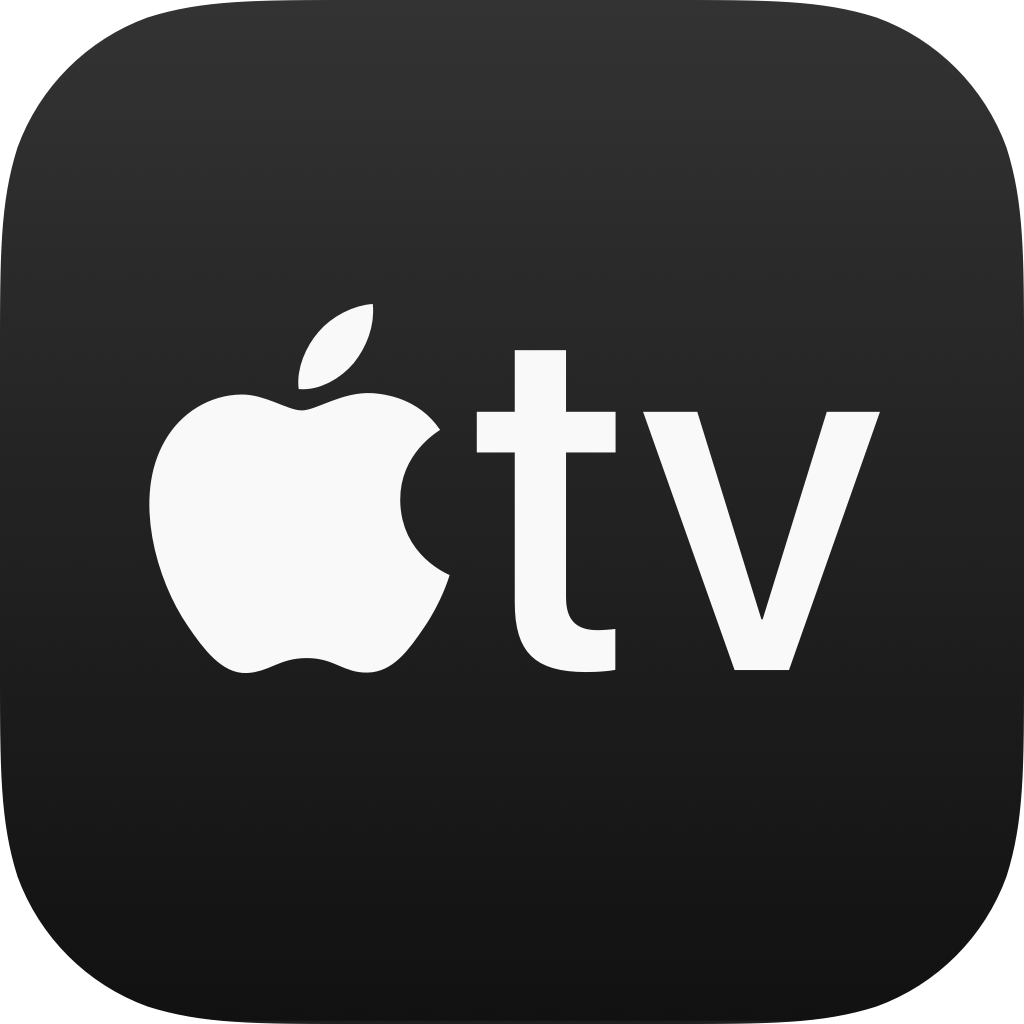 Download Marvel's The Avengers in Digital HD/4K from the iTunes store.
Listen to the Marvel's The Avengers soundtrack on Apple Music.
Marvel's The Avengers images are © Walt Disney Pictures. All Rights Reserved.
Avengers: Endgame Highest Grossing Film of All Time
7/21/2019 4:31 PM EDT
It's official. Marvel's Avengers: Endgame is now the highest-grossing film of all time. The film has now reached $2.79 billion, just beating out "Avatar"'s $2.789 billion. This amount, however, doesn't take inflation into account. Kevin Feige spoke about the imminent breaking of the record last night at Comic-Con, saying, "You have to shout-out to Mr. James Cameron, who held that title for a long ...
More>>
We Love You 3000 Tour Announced to Commemorate Avengers:Endgame ...
7/15/2019 4:45 PM EDT
Marvel Studios is celebrating the in-home release of "Avengers: Endgame" with the "We Love You 3000" Tour. This tour will serve as a thank-you to fans who have made this franchise so successful over the years. This event will take place in nine different cities - beginning in San Diego at Comic-Con International on July 20. Special guests from the Marvel Studios and Universe will be greeting guest...
More>>
Marvel Studios To Return to Comic-Con's Hall H
6/19/2019 12:36 PM EDT
After a notable absence last year at Comic-Con, Marvel will once again be appearing at Hall H. There's no word on exactly what Marvel will be promoting but there are some projects that they have in the works that are likely to be spoken about.Upcoming Marvel films include "Black Widow" (2020), "The Eternals" (2020), "Shang-Chi" (2021), "Black Panther 2" (2021), and "Doctor Strange 2" (2021). Any o...
More>>
Avengers: Endgame Now Second Highest Grossing Film of All Time
5/6/2019 11:50 AM EDT
"Avengers: Endgame" has continued to make history, as it is now the second highest grossing film of all time. "Avatar" remains in the top spot - for now."Endgame" has earned over $2.1 billion in just 11 days, a record in itself. No other film has ever reached that amount in such a short time. Even "Avatar" took 47 days to do so. While no one can say for sure whether or not "endgame" will surpass "...
More>>
Avengers: Endgame Moviegoer Hospitalized After Crying Too Much a...
4/30/2019 3:53 PM EDT
The "Avengers: Endgame" film has proved too much for one fan to handle.A 21-year-old moviegoer in China cried so much at the end of the film that she began to hyperventilate. After having breathing issues, the girl was rushed to a hospital and given oxygen.A doctor that treated her said, "I saw that the patient had been breathing heavily, and according to the description from her peers, we thought...
More>>
Avengers: Endgame Breaks Records with $1.2 Billion Debut
4/28/2019 12:23 PM EDT
Marvel Studios' "Avengers: Endgame" made history this weekend. the film has earned a record-shattering $1.2 billion dollars during its opening weekend. It took just 5 days for the film to reach the $1 billion mark.The film broke the record for its predecessor, "Avengers: Infinity War", which took a then record-breaking 11 days to reach the $1 billion mark. "Kevin Feige and the Marvel Studios team ...
More>>
Avengers: Endgame Fan Fever Takes Hold Ahead of Premiere
4/24/2019 2:18 PM EDT
Avengers: Endgame will be released Friday, and fans are beyond excited to finally see the final installment of what is over 20 films in the Marvel Cinematic Universe.Fan fever is quantifiable. According to a survey done of over 1,000 moviegoers that are planning on seeing the film, 63% feel that the release of the film marks an historic moment in cinema. Over 81% are trying to avoid spoilers for t...
More>>
Avengers: Endgame Red Carpet Live Stream Tonight!
4/22/2019 2:21 PM EDT
The time has come. The premiere for Avengers: Endgame will take place tonight in Los Angeles and fans can tune in to the red carpet festivities via marvel.com. The live-stream event will begin at 4:30 p.m. PT / 7:30 p.m. ET.Fans tuning in will see stars from the film including Robert Downey Jr., Chris Evans, Mark Ruffalo, Chris Hemsworth, Scarlett Johansson, Jeremy Renner, Brie Larson, Paul Rudd, ...
More>>
Avengers: Endgame Fans Prepare for Film with Massive Binging
4/18/2019 4:48 PM EDT
In anticipation of next week's release of Avengers: Endgame, fans are devouring Marvel content. Fandango has conducted a survey that says 89% of Endgame moviegoers will be preparing for the film event by bingeing previous films in the Marvel Cinematic Universe. In that same survey, it was also determined that 49% of the Millennials surveyed said they will be doing their binging this weekend. On to...
More>>
Gwyneth Paltrow Leaving Marvel Universe After Avengers: Endgame
2/19/2019 1:28 PM EDT
Gwyneth Paltrow, who plays the character of Pepper Potts in the Iron Man/Avengers films, will be leaving the Marvel Cinematic Universe after the release of  Avengers: Endgame. The actress says that while she would be open to a cameo appearance in the future, she won't be playing the character in a larger role.While there haven't been any other actors confirming the same news, it is expected that a...
More>>
Chris Evans Says Goodbye to Captain America
10/4/2018 2:25 PM EDT
Goodbye, Cap.Chris Evans tweeted today about his parting from his longtime character, Captain America. In the tweet, Evans said, "Officially wrapped on Avengers 4. It was an emotional day to say the least. Playing this role over the last 8 years has been an honor. To everyone in front of the camera, behind the camera, and in the audience, thank you for the memories! Eternally grateful."Evans began...
More>>
Scarlet Witch and Loki to Get Their Own Series
9/19/2018 10:22 AM EDT
Looks like Marvel's Scarlet Witch and Loki will be getting their own series through Disney's upcoming streaming service. The service, which will be released in later 2019, will stream original content as well as existing TV series and films.There is no official comment or confirmation from Disney or Marvel just yet, but they are said to be in the early stages of planning some limited series on pop...
More>>
Marvel's The Avengers Theatrical Review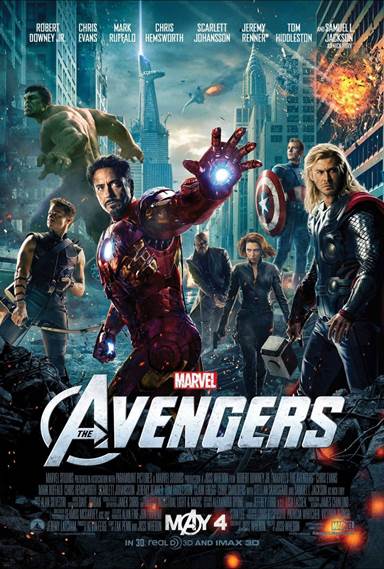 Ever since the original Iron Man film came out in the summer of 2008, Marvel has been teasing the ultimate superhero film, The Avengers. Now in 2012, Marvel along with Walt Disney Pictures brings this story to life.

If names such as Tony Stark, Loki, or Black Widow seem foreign to you, then you have to get ready to do some homework before you hit the theaters as the Avengers is actually the sixth film in the Marvel series.

The plot itself is pretty simple. After being defeated in Thor, Loki is dead set on revenge and finds himself in a position to help an alien race arrive and take over the Earth. With humanity hanging in the balance, the covert agency S.H.I.E.LD. activates the "Avenger Initiative" as earth's final hope.

With each Marvel film becoming more and more successful, the core fan base of the series has grown from just the die-hard fans to the casual movie goer who has not even read a single Marvel comic book. In the past, each film in the series has kept this in mind and pleased both camps which have ultimately led to their success.

However, this time around, Director Joss Whedon (
Buffy The Vampire Slayer, Firefly
), being a comic book fan himself, seems to have let himself "geek" out possibly a bit too much on the set. While movie-fans who have seen all five films or comic book fans will be able to sit back and welcome back old friends, the casual movie goer might have a hard time jumping right into this film.
Gone are the three-dimensional, fleshed-out characters such as alcoholic Tony Stark or the ever-thoughtful Steve Rogers -- they are replaced with cardboard cutouts that are cartoonish and one dimensional -- while the other films in the series tried to stay grounded and a reality. The Avengers hold nothing back and expect you to come fully into another world. That being said, Whedon's original cut of the film was over 30 minutes longer and contain more of the back story that seemed to be lacking from this film.

However, if you are not looking for character development and just non-stop action with your favorite superhero, then this is your ticket as it is non-stop-eye candy. The action starts up within the first few minutes of the film and only lets up so they can set the stage for the action piece.
If you are a fan of Joss Whedon's smart comedic wit, then you will not be disappointed. The script, penned by Zack Penn (X-Men 3, The Incredible Hulk) and Joss Whedon, is full of one-liners that will have even the most jaded person laughing in their seats.

Like most productions these days, The Avengers was converted to 3D in the post processing of the film, and just like other films of this era that are "up-converted to 3D", it diminishes the value of true 3D films. Other than a few scenes, the third dimension is lack luster; and if you eyes get tired of wearing the glasses then you have no worries -- the film looks the same without them on -- even in IMAX. Hopefully, for the next couple of Marvel outings, we will see the movies actually being filmed with 3D camera, which will show just how wonderful the technology is when used properly.

When all is said and done and the lights come up in the theater, The Avengers, while on the shallow side, is definitely entertaining and not one to miss for anyone who has already vested so much time in this amazing world. If Avengers is the first time you are watching these characters, you might want to rethink what film you are going to see this weekend.
Read More Marvel's The Avengers Reviews
For more reviews please visit our film/television review section.
Join FlickDirect's Penny McLean as she interviews Tom Hiddleston about his involvement in the up...

The Super Hero team-up of a lifetime, featuring iconic Marvel Super Heroes Iron Man, The Incredible...
SPONSORED LINKS