Marvel's The Avengers (2012)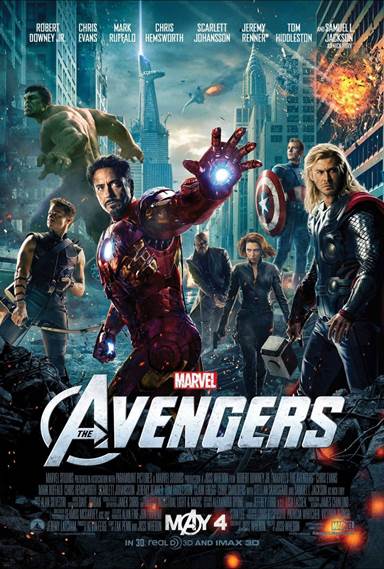 | | |
| --- | --- |
| Director: | |
| Writers: | Zak Penn,Joss Whedon |
| Cast: | |
| Released: | Friday, May 4, 2012 |
| Length: | 143 minutes |
| Studio: | Walt Disney Pictures |
| Genre: | Sci-Fi/Fantasy, Action/Adventure |
| Rating: | Some material may be inappropriate for children under 13. |
This film contains a scene during or after the credits.
Synopsis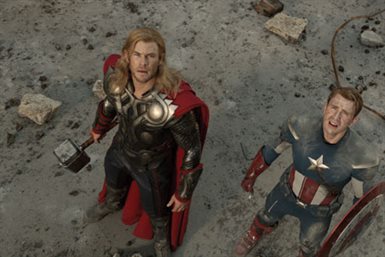 Marvel Studios presents 'Marvel's The Avengers'—the Super Hero team up of a lifetime, featuring iconic Marvel Super Heroes Iron Man, The Incredible Hulk, Thor, Captain America, Hawkeye and Black Widow. When an unexpected enemy emerges that threatens global safety and security, Nick Fury, Director of the international peacekeeping agency known as S.H.I.E.L.D., finds himself in need of a team to pull the world back from the brink of disaster. Spanning the globe, a daring recruitment effort begins.
Purchase your copy of Marvel's The Avengers today at
Download Marvel's The Avengers in Digital HD from the iTunes store.
Marvel's The Avengers images are © Walt Disney Pictures. All Rights Reserved.


Chris Evans Says Goodbye to Captain America
10/04/2018 2:25 PM EST
Goodbye, Cap.Chris Evans tweeted today about his parting from his longtime character, Captain America. In the tweet, Evans said, "Officially wrapped on Avengers 4. It was an emotional day to say the least. Playing this role over the last 8 years has been an honor. To everyone in front of the camera, behind the camera, and in the audience, thank you for the memories! Eternally grateful."Evans began...
More>>
Scarlet Witch and Loki to Get Their Own Series
09/19/2018 10:22 AM EST
Looks like Marvel's Scarlet Witch and Loki will be getting their own series through Disney's upcoming streaming service. The service, which will be released in later 2019, will stream original content as well as existing TV series and films.There is no official comment or confirmation from Disney or Marvel just yet, but they are said to be in the early stages of planning some limited series on pop...
More>>
Cate Shortland Tapped to Direct Black Widow
07/13/2018 10:03 AM EST
Cate Shortland has been tapped to direct Marvel's upcoming Black Widow film. Scarlett Johansson will be reprising her role.The search for a director has taken over 6 months and included meeting with over 70 candidates. Shortland directed the 2012 film Lore, about a young woman who leads her family through Nazi Germany as the Allies come to liberate them. She also worked on 2017's Berlin Syndrome.T...
More>>
Avengers: Infinity War Breaks Box Office Records
04/30/2018 10:33 AM EST
Avengers: Infinity War shattered box office records this past weekend.  The Disney/Marvel film directed by the Russo brothers broke not one but SIX records as follows: Biggest Domestic Opening of All Time, earning between $250-$275 million and surpassing Star Wars: The Force Awakens with their $248 million earned; Biggest Worldwide Opening of All Time, earning $630 million globally; Biggest Saturd...
More>>
Avenger's Winston Duke Discusses The Movie's Sense of Community
04/28/2018 7:50 PM EST
It's been ten years in the making. The most highly anticipated superhero film ever.  Twenty four stars, eighteen separate movies, One really evil bad guy all rolled into two hours and thirty minutes.  There are funny moments, bizarre encounters - like when the Guardians of the Galaxy rescue Thor ( Chris Hemsworth; Snow White and the Huntsman) - and lots of action to go around.  But there is heart ...
More>>
Avengers: Infinity War Breaking Presale Records
04/11/2018 1:46 PM EST
Proving to already be a hit at the box office, Marvel's "Avengers: Infinity War" is currently selling pre-sale tickets faster than the last seven Marvel films combined. It is selling more than double the number of tickets Fandango as "Black Panther" at the same point in the sales cycle.Fandango reports that  "Avengers: Infinity War" is The company's top preseller among April releases, already surp...
More>>
Chris Evans to Exit Captain America Role After Next Avengers Film
03/22/2018 10:52 PM EST
Looks like time is running out for Ol' Cap. It has been known that Chris Evans will be leaving the Marvel Universe but some it was never quite clear exactly when. Now, there are reports that it will occur after 2019's Infinity Wars 2 film.  According to new reports, Chris Evans wants to get out while he's on top. And, since there have other Captain America's, namely Bucky Barnes and Sam Wilson, we...
More>>
Avengers: Age of Ultron Set for Big U.S. Opening Weekend Earnings
04/24/2015 4:49 PM EST
The highly anticipated film, Avengers: Age of Ultron, was released this week in the international markets and is already breaking records with its box office earnings.The film opened on Wednesday as #1 in 11 foreign markets, including France and Italy, earning $9.5 million on its first day.  On Thursday, it opened in United Kingdom, Germany and South Korea. So far, it has earned approximately $44....
More>>
Chris Evans and Jeremy Renner Apologize for Offensive Comments
04/23/2015 4:17 PM EST
Chris Evans and Jeremy Renner caused some controversy during a recent press interview for Avengers when they referred to the character Black Widow as a whore and a slut.The duo were doing an interview with a UK website when they were asked about Black Widow's multiple romances throughout the Marvel Universe, and Renner answered, sarcastically,  "She's a slut."  Evans chimed in, with laughter, sayi...
More>>
Russo Brothers to Direct Upcoming Avengers Film
03/24/2015 1:41 PM EST
Director Joss Whedon will be stepping down from his Avengers duty, according to reports. It has now been finalized that the Captain America: The Winter Soldier duo Joe and Anthony Russo will now be taking over. The new directors will be taking over Avengers: Infinity War parts 1 and 2. Part 1 is slated for a May 4, 2018 release and Part 2 is slated for a May 3, 2019 release. Along with Avengers, t...
More>>
Could the Face of the Avengers Team Be Changing?
08/29/2014 4:57 PM EST
There are now reports that the upcoming "Avengers" Film, "The Avengers: Age Of Ultron", will be the last time we see the current ensemble of characters. Apparently, after this film, Captain America will be assembling a brand new team.  But, there is much speculation on exactly who. Some say one possibility id Black Panther, who is the source of the Vibranium sought after by Ultron.  Other names be...
More>>
Joss Whedon Discusses Ultron in Upcoming Avengers Film
08/22/2013 2:57 PM EST
Joss Whedon recently discussed the character Ultron, who will be making an appearance in the upcoming "Avengers" sequel.  He said that in the film, the character will be more grounded , and have less power."As a character, I love him because he's so pissed off. I knew right away what I wanted to do with him. He's always trying to destroy the Avengers, goddamn it, he's got a bee in his bonnet. He's...
More>>
Marvel's The Avengers Theatrical Review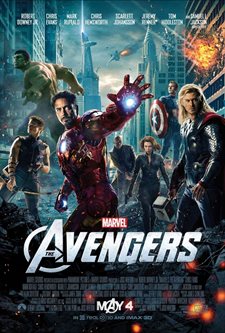 Ever since the original Iron Man film came out in the summer of 2008, Marvel has been teasing the ultimate superhero film, The Avengers. Now in 2012, Marvel along with Walt Disney Pictures brings this story to life.

If names such as Tony Stark, Loki, or Black Widow seem foreign to you, then you have to get ready to do some homework before you hit the theaters as the Avengers is actually the sixth film in the Marvel series.

The plot itself is pretty simple. After being defeated in Thor, Loki is dead set on revenge and finds himself in a position to help an alien race arrive and take over the Earth. With humanity hanging in the balance, the covert agency S.H.I.E.LD. activates the "Avenger Initiative" as earth's final hope.

With each Marvel film becoming more and more successful, the core fan base of the series has grown from just the die-hard fans to the casual movie goer who has not even read a single Marvel comic book. In the past, each film in the series has kept this in mind and pleased both camps which have ultimately led to their success.

However, this time around, Director Joss Whedon (
Buffy The Vampire Slayer, Firefly
), being a comic book fan himself, seems to have let himself "geek" out possibly a bit too much on the set. While movie-fans who have seen all five films or comic book fans will be able to sit back and welcome back old friends, the casual movie goer might have a hard time jumping right into this film.
Gone are the three-dimensional, fleshed-out characters such as alcoholic Tony Stark or the ever-thoughtful Steve Rogers -- they are replaced with cardboard cutouts that are cartoonish and one dimensional -- while the other films in the series tried to stay grounded and a reality. The Avengers hold nothing back and expect you to come fully into another world. That being said, Whedon's original cut of the film was over 30 minutes longer and contain more of the back story that seemed to be lacking from this film.

However, if you are not looking for character development and just non-stop action with your favorite superhero, then this is your ticket as it is non-stop-eye candy. The action starts up within the first few minutes of the film and only lets up so they can set the stage for the action piece.
If you are a fan of Joss Whedon's smart comedic wit, then you will not be disappointed. The script, penned by Zack Penn (X-Men 3, The Incredible Hulk) and Joss Whedon, is full of one-liners that will have even the most jaded person laughing in their seats.

Like most productions these days, The Avengers was converted to 3D in the post processing of the film, and just like other films of this era that are "up-converted to 3D", it diminishes the value of true 3D films. Other than a few scenes, the third dimension is lack luster; and if you eyes get tired of wearing the glasses then you have no worries -- the film looks the same without them on -- even in IMAX. Hopefully, for the next couple of Marvel outings, we will see the movies actually being filmed with 3D camera, which will show just how wonderful the technology is when used properly.

When all is said and done and the lights come up in the theater, The Avengers, while on the shallow side, is definitely entertaining and not one to miss for anyone who has already vested so much time in this amazing world. If Avengers is the first time you are watching these characters, you might want to rethink what film you are going to see this weekend.
Read More Marvel's The Avengers Reviews
For more reviews please visit our film/television review section.
Marvel's The Avengers images © Walt Disney Pictures. All Rights Reserved.
SPONSORED STORIES
Comments

Courtesy of
Movie Hype App
wolfsrain666
Team Up!
11/26/2015 2:28 AM EST
deepsatwal
nice one
05/18/2015 3:25 AM EST
hilllevon
The avengers so cool
12/24/2014 2:11 PM EST
movieman24
Time to Assemble your team to protect New York City
12/22/2014 10:10 PM EST
movieman24
Now you got your Marvels team together and they are arriving to New York City to keep saving the world
12/22/2014 10:09 PM EST
mav3310
Love the movie it's just a sad sad night all around
03/22/2014 10:14 PM EST
movieguynathan
2nd time watching over break. Seems can't get enough of this film.
12/31/2013 3:04 PM EST
ampayne71
Well Mike if didn't Like 42 then Avengers to the rescue
08/02/2013 11:36 PM EST
ampayne71
Love this Movie perfect to see before IronMan 3
05/02/2013 12:32 PM EST
movieguynathan
Getting ready for Iron Man 3
04/09/2013 11:36 PM EST
rosiemullins99
I love this movie!!!
02/16/2013 2:07 AM EST
sports18
Love this movie!!!!!
02/15/2013 4:46 PM EST