Guardians of the Galaxy (2014)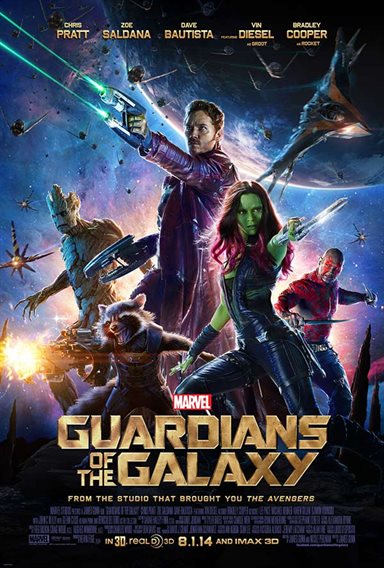 | | |
| --- | --- |
| Director: | |
| Cast: | |
| Released: | Friday, August 1, 2014 |
| Length: | 122 minutes |
| Studio: | Walt Disney Pictures |
| Genre: | Sci-Fi/Fantasy, Action/Adventure |
| Rating: | Some material may be inappropriate for children under 13. |
Synopsis
From Marvel, the studio that brought you the global blockbuster franchises of Iron Man, Thor, Captain America and The Avengers, comes a new team—the Guardians of the Galaxy. An action-packed, epic space adventure, Marvel's "Guardians of the Galaxy" expands the Marvel Cinematic Universe into the cosmos, where brash adventurer Peter Quill finds himself the object of an unrelenting bounty hunt after stealing a mysterious orb coveted by Ronan, a powerful villain with ambitions that threaten the entire universe. To evade the ever-persistent Ronan, Quill is forced into an uneasy truce with a quartet of disparate misfits—Rocket, a gun-toting raccoon, Groot, a tree-like humanoid, the deadly and enigmatic Gamora and the revenge-driven Drax the Destroyer. But when Quill discovers the true power of the orb and the menace it poses to the cosmos, he must do his best to rally his ragtag rivals for a last, desperate stand—with the galaxy's fate in the balance.
Purchase your copy of Guardians of the Galaxy today at
Download Guardians of the Galaxy in Digital HD from the iTunes store.
Guardians of the Galaxy images are © Walt Disney Pictures. All Rights Reserved.


Chris Evans Says Goodbye to Captain America
10/04/2018 2:25 PM EST
Goodbye, Cap.Chris Evans tweeted today about his parting from his longtime character, Captain America. In the tweet, Evans said, "Officially wrapped on Avengers 4. It was an emotional day to say the least. Playing this role over the last 8 years has been an honor. To everyone in front of the camera, behind the camera, and in the audience, thank you for the memories! Eternally grateful."Evans began...
More>>
Scarlet Witch and Loki to Get Their Own Series
09/19/2018 10:22 AM EST
Looks like Marvel's Scarlet Witch and Loki will be getting their own series through Disney's upcoming streaming service. The service, which will be released in later 2019, will stream original content as well as existing TV series and films.There is no official comment or confirmation from Disney or Marvel just yet, but they are said to be in the early stages of planning some limited series on pop...
More>>
Cate Shortland Tapped to Direct Black Widow
07/13/2018 10:03 AM EST
Cate Shortland has been tapped to direct Marvel's upcoming Black Widow film. Scarlett Johansson will be reprising her role.The search for a director has taken over 6 months and included meeting with over 70 candidates. Shortland directed the 2012 film Lore, about a young woman who leads her family through Nazi Germany as the Allies come to liberate them. She also worked on 2017's Berlin Syndrome.T...
More>>
Avengers: Infinity War Breaks Box Office Records
04/30/2018 10:33 AM EST
Avengers: Infinity War shattered box office records this past weekend.  The Disney/Marvel film directed by the Russo brothers broke not one but SIX records as follows: Biggest Domestic Opening of All Time, earning between $250-$275 million and surpassing Star Wars: The Force Awakens with their $248 million earned; Biggest Worldwide Opening of All Time, earning $630 million globally; Biggest Saturd...
More>>
Avenger's Winston Duke Discusses The Movie's Sense of Community
04/28/2018 7:50 PM EST
It's been ten years in the making. The most highly anticipated superhero film ever.  Twenty four stars, eighteen separate movies, One really evil bad guy all rolled into two hours and thirty minutes.  There are funny moments, bizarre encounters - like when the Guardians of the Galaxy rescue Thor ( Chris Hemsworth; Snow White and the Huntsman) - and lots of action to go around.  But there is heart ...
More>>
Avengers: Infinity War Breaking Presale Records
04/11/2018 1:46 PM EST
Proving to already be a hit at the box office, Marvel's "Avengers: Infinity War" is currently selling pre-sale tickets faster than the last seven Marvel films combined. It is selling more than double the number of tickets Fandango as "Black Panther" at the same point in the sales cycle.Fandango reports that  "Avengers: Infinity War" is The company's top preseller among April releases, already surp...
More>>
Chris Evans to Exit Captain America Role After Next Avengers Film
03/22/2018 10:52 PM EST
Looks like time is running out for Ol' Cap. It has been known that Chris Evans will be leaving the Marvel Universe but some it was never quite clear exactly when. Now, there are reports that it will occur after 2019's Infinity Wars 2 film.  According to new reports, Chris Evans wants to get out while he's on top. And, since there have other Captain America's, namely Bucky Barnes and Sam Wilson, we...
More>>
Avengers: Age of Ultron Set for Big U.S. Opening Weekend Earnings
04/24/2015 4:49 PM EST
The highly anticipated film, Avengers: Age of Ultron, was released this week in the international markets and is already breaking records with its box office earnings.The film opened on Wednesday as #1 in 11 foreign markets, including France and Italy, earning $9.5 million on its first day.  On Thursday, it opened in United Kingdom, Germany and South Korea. So far, it has earned approximately $44....
More>>
Chris Evans and Jeremy Renner Apologize for Offensive Comments
04/23/2015 4:17 PM EST
Chris Evans and Jeremy Renner caused some controversy during a recent press interview for Avengers when they referred to the character Black Widow as a whore and a slut.The duo were doing an interview with a UK website when they were asked about Black Widow's multiple romances throughout the Marvel Universe, and Renner answered, sarcastically,  "She's a slut."  Evans chimed in, with laughter, sayi...
More>>
Russo Brothers to Direct Upcoming Avengers Film
03/24/2015 1:41 PM EST
Director Joss Whedon will be stepping down from his Avengers duty, according to reports. It has now been finalized that the Captain America: The Winter Soldier duo Joe and Anthony Russo will now be taking over. The new directors will be taking over Avengers: Infinity War parts 1 and 2. Part 1 is slated for a May 4, 2018 release and Part 2 is slated for a May 3, 2019 release. Along with Avengers, t...
More>>
Could the Face of the Avengers Team Be Changing?
08/29/2014 4:57 PM EST
There are now reports that the upcoming "Avengers" Film, "The Avengers: Age Of Ultron", will be the last time we see the current ensemble of characters. Apparently, after this film, Captain America will be assembling a brand new team.  But, there is much speculation on exactly who. Some say one possibility id Black Panther, who is the source of the Vibranium sought after by Ultron.  Other names be...
More>>
Win a Complimentary Pass to See an Advance Screening of Marvel's...
07/21/2014 3:41 PM EST
Marvel will release the highly anticipated film, GUARDIANS OF THE GALAXY, Chris Pratt, Zoe Saldana, Dave Bautista, featuring Vin Diesel, Bradley Cooper, Lee Pace, Michael Rooker, Karen Gillan, Djimon Hounsou, with John C. Reilly, Glenn Close and Benicio Del Toro, on August 1, 2014; and for all you fans that are living in South Florida, we have a way for you to catch a complimentary screening of it...
More>>
Guardians of the Galaxy Theatrical Review
Marvel Studios does it again! Cliche? Yes, and yes. About that...

We begin by meeting Peter Quill/Star-Lord (Chris Pratt) as a young boy (not) coping with his mother's death, and abducted by an alien ship. Rather than deliver him (to whom, we have yet to discover…his extraterrestrial father, Jason, or one of his foes, perhaps), his captors, The Ravagers, become his surrogate family at the behest of their leader, the blue-skinned Yondu (Michael Rooker) who assumes, in a twisted turn, a paternal role. From this, adventurer Peter Quill/Star-Lord, the poor man's "Tony Stark," is nee.

Star-Lord transverses the universe in his beloved vessel, The Milano (much like one of Tony Stark's many high-priced, high performance pieces of machinery), collecting a string of intergalactic, interspecies notches on his bedpost (again, reminiscent of Stark's romantic escapades), looking out only for himself on his way to betraying "father-figure" Yondu. Pratt is phenomenal as Peter Quill/Star-Lord. Endowing him with a tenderness full of bravado, and loads of humor. His wry, sardonic delivery of pithy remarks will keep you laughing throughout even the most intense fight scenes. (Did I mention the opportunity to show that all the hard work with trainers and nutritionists to prepare for the film paid off?)

In a scene that feels a lot like a cosmic Indiana Jones opener, Star-Lord retrieves (steals) a mysterious orb that makes him the target of an unrelenting, action packed, high speed chase through the galaxies. Narrowly escaping certain death at the hands of Korath (Djimon Hounsou), one of evil Ronan's (Lee Pace) villainous hunter henchmen.

Once again, the Marvel Cinematic Universe presents us with a seemingly unlikeable rag-tag bunch of misfits, and transforms them into a tender, respectable team of heroes so…badass, we all want to be one. First, we meet Gamora (Zoe Saldana taking on a new hue without the benefits of post-production application). Thanos' favored daughter, adopted after annihilating her family and people, she is his personal assassin, a trained warrior. In spite of the full body make-up which took a reported five hours each day of shooting, Saldana as well as her stunt double (Chloe Bruce) manage to pull off some kick-ass fight scenes. One well coordinated and engaging chase/fight scene has Gamora and Star-lord alternately wrangling a mysterious, powerful, and coveted orb from one another repeatedly one-upping each other culminating in their arrest and detention alongside Rocket Raccoon (Bradley Cooper) and Groot (Vin Diesel).

Bradley Cooper calls upon his alter ego…a narcissistic misfit with strokes of inferiority complex, a dash of Tourette's, and a tender blanket within which to wrap it all. He is Boy to Groot's Velveteen Rabbit. It is his loving though reluctant commitment to his team and their common cause that endears us to Rocket Raccoon. His playful charm is delightfully entertaining while occasionally bordering on obnoxious. It depends what side of the pun you're standing on. Vin Diesel really has to stretch here…his dialogue, at it's greatest extent, consists of three words. Still, Diesel manages to infuse life, emotion and…yes, range to those few words. Who knew?

In prison, we meet the final misfit 'Guardian', Drax the Destroyer (Dave Batista), a gruff, seemingly one-dimensional character. His literal interpretation of all dialogue provides for hilarious banter between Drax and Star-Lord. Here the chemistry between Batista and Pratt is evident; it was in an impromptu screen test with Pratt that led to Batista being cast in the role of Drax. Batista drifts in and out of simpleton-dom giving us morsels of pain, remorse, and tenderness. He embodies the persona of Drax, humanizing him, and providing the ability to connect with Gamora through their shared tragedies at the hands of Ronan and Thanos, respectively.

The group breaks out of prison sending the Guardians of the Galaxy on a wild intergalactic, shoot-out, chase extraordinaire throughout the galaxy. Worthy of mention are performances by Lee Pace as Ronan (who knew he could be so evil!), and Karen Gillan as Nebula (chillingly sadistic). Also, the classic 70s tunes that compile Volume 1 will surely find their way on the playlist of an entirely new generation. The songs connect Peter Quill with his mother, and the audience with the film. Following suit with just about all of the Marvel franchises to date, Guardians of the Galaxy will delight fans.

Watch FlickDirect's Interview with Dave Batista on our YouTube channel.
For more reviews please visit our film/television review section.
SPONSORED STORIES
Comments

Courtesy of
Movie Hype App
rieckaverocks
Love this Movie!❤️❤️❤️❤️
06/13/2018 9:17 PM EST
jengi123
Getting my guardian on before number two comes out!!
02/21/2017 9:13 PM EST
movieguynathan
Has to rewatch after the amazing trailer debut tonight!
12/03/2016 8:56 PM EST
kiyeme21
My first MovieHype check-in. Awesome!
01/25/2015 9:14 AM EST
zachman9100
awesome movie
01/16/2015 5:03 PM EST
brittanysman32
Great Cast, awesome soundtrack, punchlines and Howard The Duck after the credits.
01/12/2015 12:38 PM EST
ljc
Just as good as the first time.
01/09/2015 9:44 PM EST
kwinam
How can I watch it
01/08/2015 6:47 PM EST
sylvanatje
Awesome movie love it
01/08/2015 1:33 PM EST
zoeplotkin
I love this movie
01/05/2015 10:27 AM EST
spidermanarms
Some funny parts. Overall average movie.
01/03/2015 7:14 PM EST
swag??????
This movie is so Awesome like sausage
12/27/2014 4:38 PM EST
calvinpr
I love this movie.
12/22/2014 7:49 PM EST
pistol
Good movie
12/10/2014 6:08 PM EST
calvinpr
Al fin...
12/05/2014 8:25 PM EST