The Hateful Eight (2015)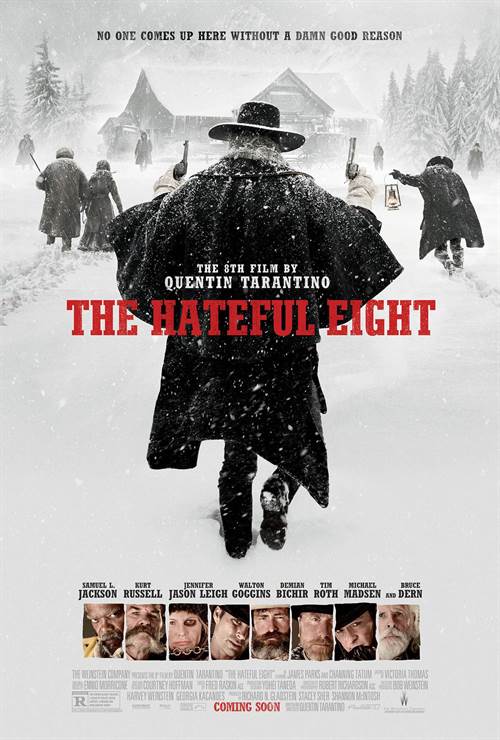 | | |
| --- | --- |
| Director: | |
| Writers: | |
| Cast: | |
| Released: | Thursday, December 31, 2015 |
| Length: | 182 minutes |
| Studio: | Weinstein Company, The |
| Genre: | Western, Action/Adventure |
| Rating: | Under 17 requires accompanying parent or adult guardian. |
The Hateful Eight Synopsis
Set after the end of the Civil War, a stagecoach hurtles through the wintry Wyoming landscape. Bounty hunter John Ruth and his fugitive Daisy Domergue race towards the town of Red Rock, where Ruth will bring Domergue to justice. Along the road, they encounter Major Marquis Warren, a former Union soldier turned infamous bounty hunter, and Chris Mannix, a renegade who claims to be the town's new Sheriff. Losing their lead on the blizzard, Ruth, Domergue, Warren and Mannix seek refuge at Minnie's Haberdashery, a stagecoach stopover. When they arrive, they are greeted by four unfamiliar faces: Bob, who takes care of Minnie's in the owner's absence; Oswaldo Mobray, the hangman of Red Rock; cow-puncher Joe Gage; and Confederate General Sanford Smithers. As the storm overtakes the mountainside, our eight travelers come to learn they may not make it to Red Rock after all...

Purchase DVD/Blu-ray/4K UHD physical copy of The Hateful Eight today at Amazon.com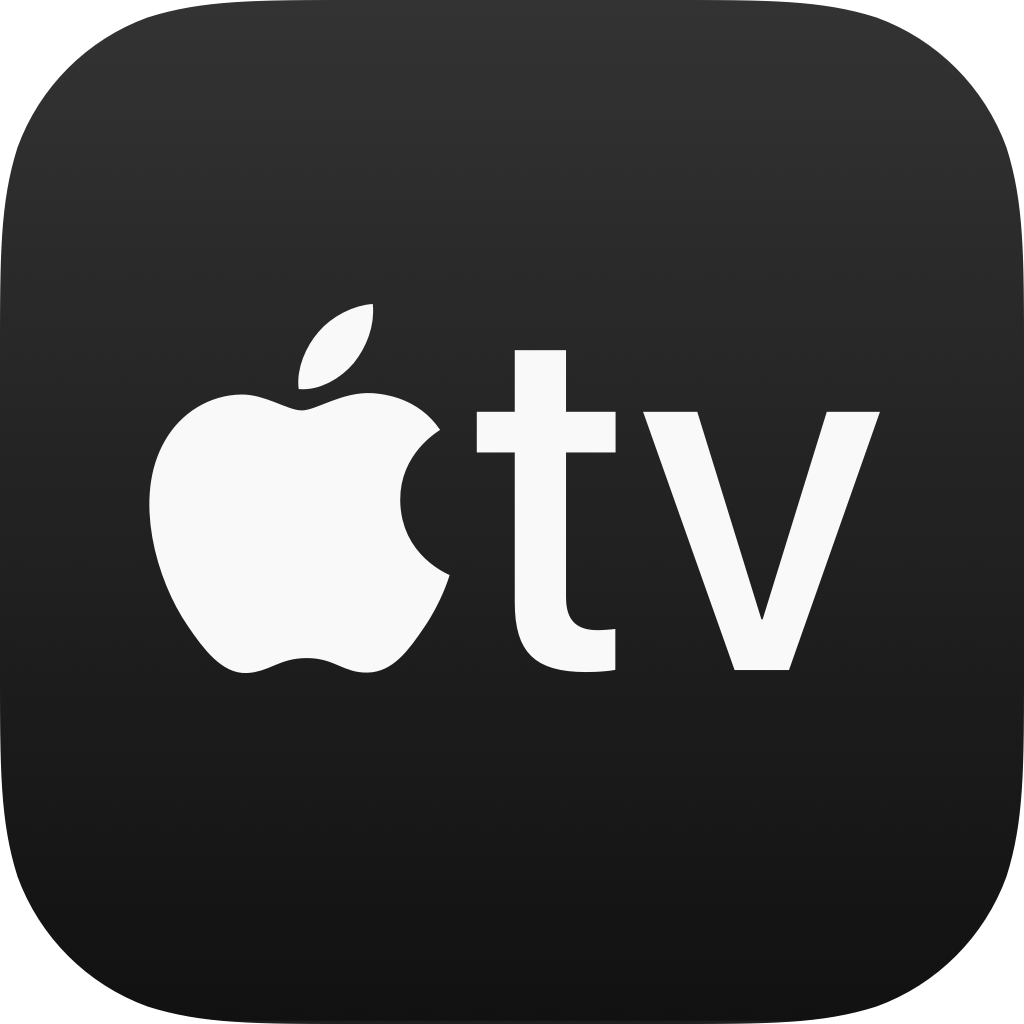 Stream The Hateful Eight in Digital HD/4K from the AppleTV store.
Listen to the The Hateful Eight soundtrack on Apple Music.
The Hateful Eight images are © Weinstein Company, The. All Rights Reserved.
Tarantino Puts Disney on Blast Over Star Wars Release
12/16/2015 2:20 PM EST
Quentin Tarantino was on the Howard Stern show this morning to promote his upcoming film, The Hateful Eight, commented on some issues he is currently having with Disney and their upcoming release of Star Wars: The Force Awakens.According to Tarantino, Disney is forcing ArcLight Cinemas to push his 70mm presentation of the film in order to show The Force Awakens.  He said that he was to begin the s...
More>>
Michael Madsen Talks The Hateful Eight and Latest Roles
5/8/2014 10:38 AM EST
FlickDirect: I'm a big fan-I didn't realize you were in WarGames. That's one of my favorites!Michael Madsen: Yeah-that was a long time ago-I don't even remember what year that was. I met someone recently who even remembered my dialogue and that was like wow.FlickDirect: What role were you?Michael Madsen: I was the guy in the missile silo. The other person wouldn't launch the missile because he's a...
More>>
The Hateful Eight Blu-ray Review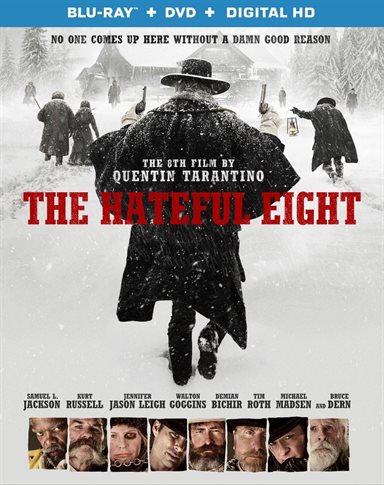 "What would make a man brave a blizzard, and kill in cold blood, I'm sure I don't know. You'd be surprised what a man would do."
But with Tarantino at the helm, you know people are gonna die!
The Hateful Eight, ironically Quentin Tarantino's eighth major motion picture, is out now on Blu-ray and DVD. If you missed your chance to see this cinematic masterpiece in the theaters at Christmas, I send my condolences, because as Tarantino himself would admit… there's nothing like seeing his work in an actual theater!
While, admittedly, I am not Tarantino's biggest fan, I have deep respect for his love of film and the theater going experience and when I sat inside Hall H at San Diego Comic Con and he announced that The Hateful Eight would be released in Super 70mm in theaters on Christmas Day, I actually got truly excited. It was like a getting a Christmas present early. Months passed by and one night, at my local theater, I was talking to one of the managers and they informed me that our local theater would be one of the 100 theaters across the country to be retro fitted with an actual 70mm projector to show Tarantino's Hateful Eight!
Christmas came to pass and after all the gifts and whoopla was over… my final gift was waiting for me at the theater! Ticket in hand, the usher gave me a book on my way in, like in days before my youth, and I sat in my seat as Ennio Morricone's (now Oscar winning) Overture started to play. I sat in my seat staring at the flickering screen. It's been, well, maybe a decade, since I've seen that flickering light. Funny how something so small, can set a mood.
Well this week, with the release of The Hateful Eight on Blu-ray, that flicker is missing. So is the overture and the intermission. Something is lost when you see a film this big, on a small screen. Even if that screen is 60in. What is left behind, all glossy and perfectly crisp on my led screen, is what I would say is my favorite Tarantino film. Go ahead and roll your eyes at me. Argue your point if you must, but I loved everything about this throw back to the old fashioned westerns.
From the moment "The Bounty Hunter", Major Marquis Warren (played by Samuel L. Jackson) hitches a ride from John Ruth "The Hangman" (Kurt Russell) and his prisoner Daisy (Jennifer Jason Leigh), I was hooked. If you don't know the story, let me fill you in a little. Major Marquis Warren is trying to transport 3 dead bounties to Red Rock. Needing a lift thru the snowy landscape, he convinces John Ruth to take him and his cargo into town, making him fully aware that his prisoner was worth more and he would kill anyone in his path that tries to stop him from delivering her to a hanging rope.
Along the journey, the threesome pick up Chris Mannix (Walton Goggins), who claims to be the next sheriff of Red Rock. With a blizzard quickly approaching from behind, the group decides to take shelter at Minnie's Haberdashery, a little stagecoach lodge. Inside is "The Mexican" Bob (Demián Bichir), who claims Minnie is visiting her mother. "The Hangman" Oswaldo Mobray (Tim Roth), "The Cow Puncher" Joe Gage (Michael Madsen) and "The Confederate" General Sanford Smithers (Bruce Dern) are all hanging out inside, which round out our " Hateful Eight"!
Now, I don't want to give away too much of the story or spoil the surprises, but lets just say that not all of them may survive the night. Remember this is a Tarantino film. People are gonna die!
I will, however, say that in the second half, one of my least favorite actors shows up in a cameo and well…. I loved how that ended!
What I loved about "The Hateful Eight" is how much Tarantino held back on his chapter cards and strange music selections within the film. He kept it so old-fashioned western style to a point it almost felt as if we were back in the 60's again watching a double feature after "A Fistful of Dollars". The cinematography was just outright amazing. The score… well, what more can be said than "Oscar for Best Original Score"! And, in all honestly, I'm disappointed that the Academy didn't include "The Hateful Eight" in the Best Picture category along with Cinematography and Director. Also, the performances by Kurt Russell, Jennifer Jason Leigh and, more importantly, Samuel L. Jackson, were just amazingly entertaining.
When it comes to the Blu-ray edition, I'm a little disappointed as well. I'm still hoping for a Roadshow Special Edition with more special features. This edition basically has the original cut, along with a couple of featurettes: Beyond the Eight: A Behind-the-Scenes Look & Sam Jackson's Guide to Glorious 70mm. For me, The Blu-ray will just be token reminder of that Christmas Day event. But, for those who missed it…. don't miss out on your opportunity to see this great film. I found nothing Hateful about "The Hateful Eight", beyond not having my own Super 70 Projector in my living room so I can see it as Tarantino wanted everyone to see it.
I give "The Hateful Eight" Blu-ray edition 4 stars out of 5. The Fifth Star was strung up by the Hangman, when they left out the Roadshow content.
Read More The Hateful Eight Reviews
For more reviews please visit our film/television review section.
SPONSORED LINKS