F9 (2021)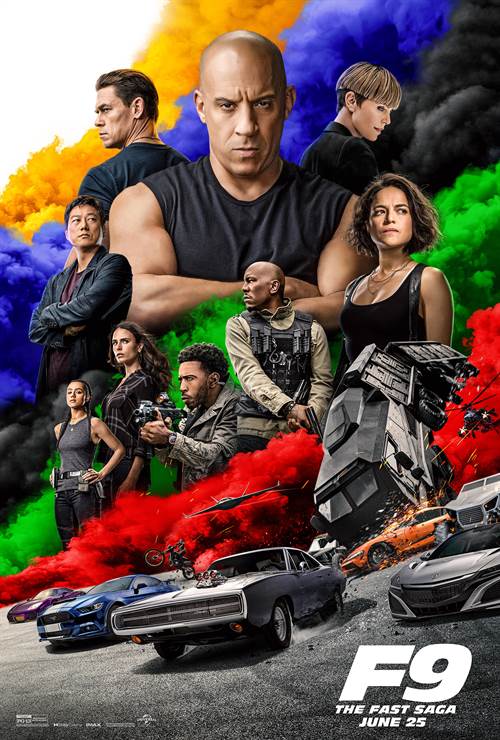 | | |
| --- | --- |
| Director: | |
| Writers: | |
| Cast: | |
| Released: | Friday, June 25, 2021 |
| Length: | 145 minutes |
| Studio: | Universal Pictures |
| Genre: | Action/Adventure |
| Rating: | Some material may be inappropriate for children under 13. |
Synopsis
Vin Diesel's Dom Toretto is leading a quiet life off the grid with Letty and his son, little Brian, but they know that danger always lurks just over their peaceful horizon. This time, that threat will force Dom to confront the sins of his past if he's going to save those he loves most. His crew joins together to stop a world-shattering plot led by the most skilled assassin and high-performance driver they've ever encountered: a man who also happens to be Dom's forsaken brother, Jakob (John Cena, next year's The Suicide Squad).
F9 sees the return of Justin Lin as director, who helmed the third, fourth, fifth and sixth chapters of the series when it transformed into a global blockbuster. The action hurtles around the globe—from London to Tokyo, from Central America to Edinburgh, and from a secret bunker in Azerbaijan to the teeming streets of Tblisi. Along the way, old friends will be resurrected, old foes will return, history will be rewritten, and the true meaning of family will be tested like never before.
The film stars returning cast members Michelle Rodriguez, Tyrese Gibson, Chris "Ludacris" Bridges, Jordana Brewster, Nathalie Emmanuel and Sung Kang, with Oscar® winner Helen Mirren and Oscar® winner Charlize Theron. F9 also features Grammy-winning superstar Cardi B as new franchise character Leysa, a woman with a connection to Dom's past, and a cameo by Reggaeton sensation Ozuna.

Purchase DVD/Blu-ray/4K UHD physical copy of F9 today at Amazon.com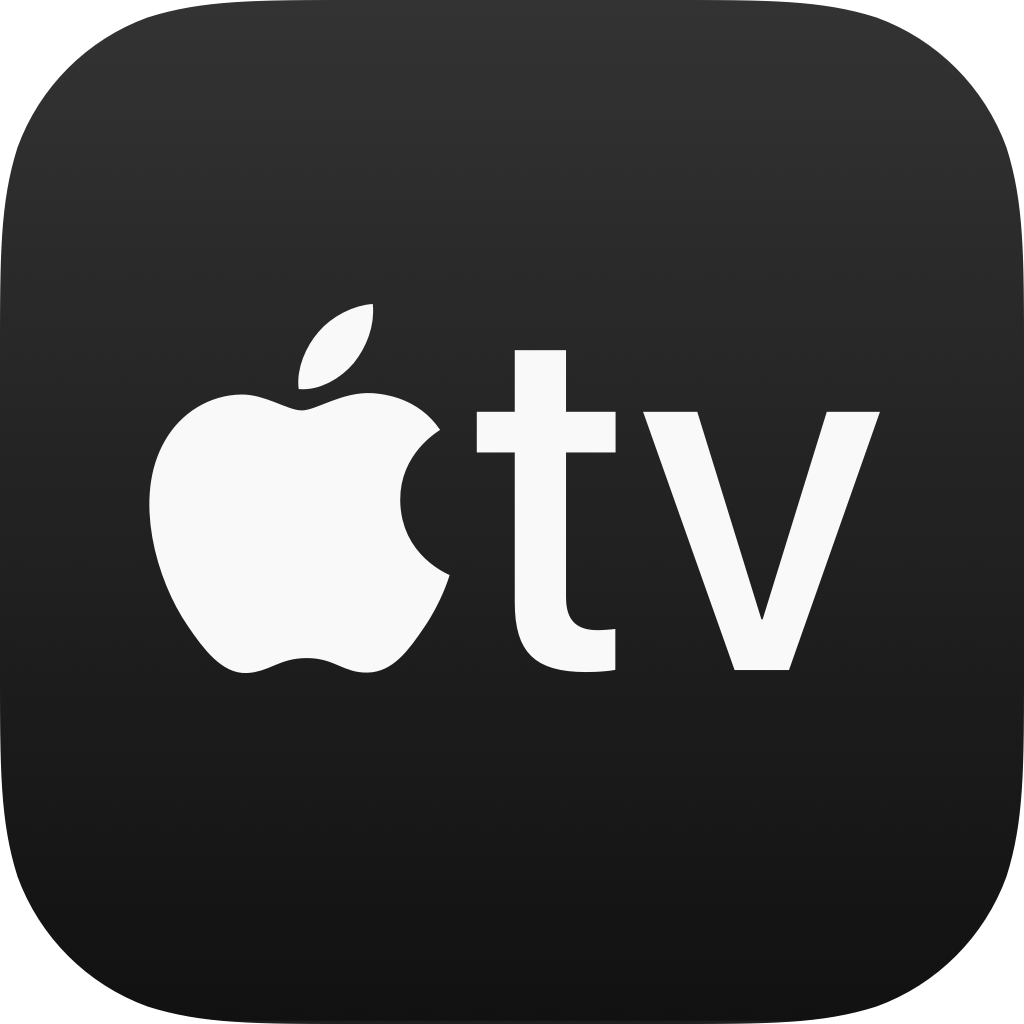 Download F9 in Digital HD/4K from the iTunes store.
Listen to the F9 soundtrack on Apple Music.
F9 images are © Universal Pictures. All Rights Reserved.
Win a Digital Copy of F9: The Fast Saga
9/14/2021 10:14 AM EST
It was difficult to imagine twenty years ago when the world was introduced to Dominic Toretto (Vin Diesel; The Chronicles of Riddick) that we would still be watching him drive fast cars and pull off incredible stunts.  However, here we are, in 2021 and the ninth film (with more to come) was released in theaters this past June.  While not necessarily the most successful movie of the franchise, it h...
More>>
Win Passes To An Advanced Screening of F9 In Florida
6/15/2021 4:54 PM EST
It has been twenty years since audiences were introduced to Dominic Toretto (Vin Diesel; Pitch Black) and his "family".  We have been along for the ride through eight films plus a spin-off, Fast and Furious presents: Hobbs and Shaw.  As we prepare for the debut of the ninth movie in this franchise, Universal Pictures, in conjunction with FlickDirect, would like to offer some lucky winners two admi...
More>>
Universal Pictures Announces "Fast Fridays" Free Screenings
4/23/2021 3:59 PM EST
To commemorate the release of "F9", Universal Pictures announced today that they will be launching a free nationwide screening series of all eight previous Fast films, beginning April 30, 2021.The eight-week program will invite fans to watch all eight previous Fast films in participating theaters, free of charge, with one film screening each Friday. The films will be screened in chronological orde...
More>>
Fast and Furious 9 Release Date Pushed Back
3/12/2020 2:14 PM EST
Universal Pictures has announced that the release for Fast & Furious 9 (a.k.a. F9) will be delayed until April 2021. The film was originally slated for a May 22 release.The statement from the franchise reads as follows:To our family of Fast fans everywhere,We feel all the love and the anticipation you have for the next chapter in our saga.That's why it's especially tough to let you know that we ha...
More>>
Universal Pictures Announces Road to F9 Fan Event to Celebrate R...
1/16/2020 1:49 PM EST
The Fast & Furious franchise will be releasing their 9th film on May 22, and Universal Pictures has decided to commemorate the occasion with a fan event called "The Road to F9." On January 31, in Miami, Florida, the studio will release the all-new trailer for the ninth chapter in the Fast & Furious franchise, as well as host a once-in-a-lifetime concert-complete with global superstars performing t...
More>>
Get a Free Copy of Fast & Furious Presents: Hobbs & Shaw on Blu-...
10/28/2019 11:46 AM EST
One of this summer's hot movies wasThe Fast & the Furious franchise spin-off movie entitled FAST & FURIOUS PRESENTS: HOBBS AND SHAW. It grossed almost 760 million dollars worldwide making it a bonafide hit at the box office.  Before it makes it way to stores on Blu-ray nationwide, Universal Pictures, in conjunction with FlickDirect, want to give one lucky winner the chance to win a Blu-ray Combo P...
More>>
Production Resumes on Fast and Furious After On Set Accident
7/23/2019 3:03 PM EST
"Fast & Furious 9" has resumed production after an accident that occurred on the set. The accident took place at Warner Bros. Studios Leavesden, which is near London.Joe Watts, a stuntman, sustained head injuries after a fall and has been placed in a medically induced coma in a London hospital. Watts was working on a second unit when the injury occurred and production in that unit remains closed, ...
More>>
John Cena to Star in Fast and Furious 9
4/30/2019 2:35 PM EST
John Cena and Vin Diesel have announced that Cena will be starring in the upcoming "Fast and Furious 9". The announcement was made via Vin Diesel's Instagram.Diesel added to his video announcement words about Paul Walker, saying he felt like Paul sends him these people to be included in the franchise.A Fast and Furious spinoff, "Hobbs & Shaw", will be released on August 2 and will star Dwayne John...
More>>
Vin Diesel Announces All-Female Fast and Furious Film
1/25/2019 4:18 PM EST
The Fast and Furious franchise is a juggernaut in the entertainment world, and now the franchise is set for a reinvention - an all-female cast.Vin Diesel announced via Instagram that he and his producing partner Samantha Vincent are currently in development of a spinoff film that would feature female cast members from the franchise. The film was pitched to Diesel by writers Nicole Perlman, Lindsey...
More>>
Idris Elba to Star in Fast and Furious Spin-off
7/5/2018 2:38 PM EST
Idris Elba is currently in talks to join the cast of "Hobbs and Shaw", a spin-off to the mega-franchise "Fast and Furious". The spin-off will also feature Dwayne Johnson and Jason Statham. Elba will be playing the main villain in the film.The film will feature Dwayne Johnson and Jason Statham's characters teaming up against Elba's.Neal H. Moritz will produce with Johnson and his Seven Bucks Produc...
More>>
Fast & Furious: Supercharged Races Into Universal Orlando
5/3/2018 9:12 PM EST
The Universal Orlando Resort unveiled their lasted attraction; the Fast and Furious - Supercharged ride on May 2, 2018, with a star-studded event.  The highly anticipated feature based on the film series took over a year to be built and had fans anxiously awaiting its arrival.The two-day extravaganza started the previous day with the grand opening of City Walk's latest eatery, VooDoo Doughnuts.  O...
More>>
Netflix to Release Animated Fast & Furious Series
4/23/2018 4:48 PM EST
Netflix will be releasing an animated version of Universal's hugely successful Fast & Furious franchise. The series is part of a deal between DreamWorks Animation Television and Netflix.The series will feature the story of teenager Tony Toretto, who, just like his cousin Dom, is recruited along with his friends into a government agency to help take down a crime organization who fronts as an elite ...
More>>
F9 4K Review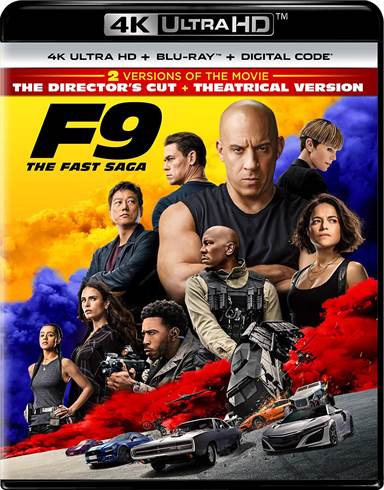 Back in 2001, a little movie based on a magazine article (and Point Break) took the summer by storm. The film was The Fast and The Furious and cinema has not been the same since.
The film starred an up-and-coming star, Vin Diesel (Pitch Black), as well as the teen heartthrob from late 90s films, Paul Walker (Varsity Blues). The movie was so powerful at the box office, a sequel for it called 2 Fast 2 Furious was then written. After a moderate box office success with this second film most people wrote off the series, but starting with Fast & Furious (Part 4) the series found its legs and went in a brand new direction that focused less on car races and more on heists and action.
The series has gained a very large following spanning generations and races (and a spin-off). After being pushed back a year because of COVID-19, The latest film, F9: The Fast Saga, roared into theaters in May of 2021, claiming one of this year's largest box office draws.
The story continues where Fate of The Furious (2017) left off. The family is reunited together, however, the protagonist, Cipher (Charlize Theron; Atomic Blonde) avoided capture and is still around to torment the Toretto family. Dom and Letty (Michelle Rodriguez; Resident Evil) have slipped away from society to be in seclusion as Dom is in fear for his son, and longs for peace and quiet. However, this would make quite a boring film, so as usual, the team is out on another mission. The mission starts with the team leaving Dom behind to help Mr. Nobody (Kurt Russell; Escape From New York) save the world from total destruction. However, once Dom learns that his brother, Jakob (John Cena; Suicide Squad) is involved he immediately gets back on the team.
Staying true to their formula the team goes through some death-defying stunts, saves the day, and, in the end, the family is brought back together around the dinner table. If you put your head in check and think of the cast of the Fast Saga as superheroes then the movie is the perfect eye-candy and the kind of fun you want to see in the theater. However, if you have been with the series since the beginning a trend that started in Fast 6 has finally come to realization with F9 — the laws of gravity, physics, and human mortality are no longer on the table. In fact, the film actually acknowledges this a few times throughout the movie in a tongue-in-cheek way.
We no longer just have zombie cars, or stunts where they jump through three buildings with a car, this time we actually have a car launch into space (no I am not kidding), a car using a rope as a swinging tool to get back onto land, and, to top it off, bullets literally bouncing off our heroes as if they were the Man of Steel.
When I initially saw this in theater, I had had enough. The series had gotten too outlandish for me, and I couldn't put my mind in check that far. However, once the 4K UHD release, with the theatrical and director's cut came out on disc, I decided to try once more, knowing what I was getting into, and also knowing that I am home and can even take a break if need be from the maddening death-defying stunts. With that being said, I can appreciate what F9 is trying to do more than I did in the theater.
While the film definitely falls in the ridiculous category, it does have charm, and films like this do have a history of success pleasing audiences the world around. Just look at the 1985 Arnold Schwarzenegger vehicle, Commando, or any Roger Moore James Bond film. If you compare F9 to these films it would fit like a glove. Before superhero films became all the rage, this is what you got. Superhumans that weren't necessarily called that.
Shown in its original aspect ratio of 2.39:1 the film looks very good on the 4K UHD with Dolby Vision. The UHD and Dolby Vision add some upgrades to the textures and colors of the Blu-ray which is also included in the release but really does not add much to the overall aesthetic. One possible reason could be because the movie was upscaled from 1080p to 2160p. Why they choose not to shoot F9 natively in 4 or 8k is lost on me. The audio however is another story, the Dolby Atmos soundtrack envelopes the room, making you feel as if the story is all around you. In fact, the sound was almost as accurate as it was in the theatrical version. Gunshots, tires squealing, explosions, etc. will rock your house literally to the ground with this mix.
Aside from the usual Digital HD copy of the film, F9: The Fast Saga also boasts a director's cut of the film (adding nine minutes to its runtime), F9: All In (a nine-part making of), gag reel, audio commentary from director/writer/producer Justin Lin, Practically Fast, Shifting Priorities, Justice for Han, A Day on the Set with Justin Lin, and John Cena: Supercar Superfan.

As a critic, I can appreciate this film more now that it fits into a "type" of genre, but just as a member of the general public, I still have a hard time wrapping my head around it. I do love the aforementioned films and do see how they relate to F9, but, possibly because the series did not start out this way, my mind can't get into the mindset of what they have become.
Grade C
Read More F9 Reviews
For more reviews please visit our film/television review section.
SPONSORED LINKS