2 Fast 2 Furious (2003)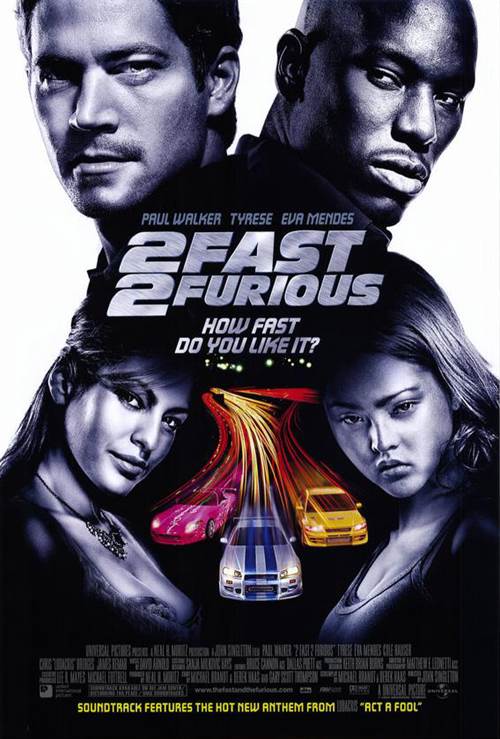 | | |
| --- | --- |
| Director: | |
| Cast: | |
| Released: | Friday, June 6, 2003 |
| Length: | 108 minutes |
| Studio: | Universal Pictures |
| Genre: | Action/Adventure |
| Rating: | Some material may be inappropriate for children under 13. |
2 Fast 2 Furious Synopsis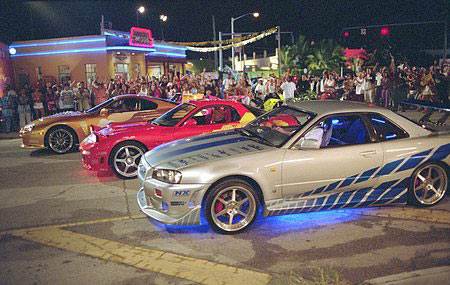 The adrenaline-fueled thrill ride that began with The Fast and the Furious takes an explosive new turn in 2 Fast 2 Furious! It's the nitro-fueled answer to the question: how fast do you like it?

Now an ex-cop on the run, Brian O'Connor (Paul Walker) hooks into outlaw street-racing. When the Feds strong-arm him back, O'Connor's no rules, win-or-die skills are unleashed against an international drug lord. With his velocity-addicted buddy (Tyrese) riding shotgun, and a drop-dead- gorgeous undercover agent (Eva Mendes) dialing up the heat, 2 Fast 2 Furious accelerates the action into a desperate race for survival, justice... and mind-blowing, jaw-dropping speed!
2 Fast 2 Furious images are © Universal Pictures. All Rights Reserved.
Alan Ritchson Set to Star in Fast X
5/13/2022 3:17 PM EST
Alan Ritchson, who recently starred in the "Jack Reacher" series for Amazon, has been cast in the next installment of the "Fast and Furious" franchise, "Fast X".The film will also star Vin Diesel, Jason Momoa, and John Cena, among others. The casting...
| Full Article
Jason Momoa Joins Popular Film Franchise
1/28/2022 2:14 PM EST
Jason Momoa has joined the cast of "F10", the latest in the Fast & Furious franchise.Momoa will join the cast that includes Vin Diesel, Tyrese Gibson, Ludacris, Michelle Rodriguez, and Sung Kang. Diesel will also produce the film alongside director J...
| Full Article
Universal Pictures Announces "Fast Fridays" Free Screenings
4/23/2021 3:59 PM EST
To commemorate the release of "F9", Universal Pictures announced today that they will be launching a free nationwide screening series of all eight previous Fast films, beginning April 30, 2021.The eight-week program will invite fans to watch all eigh...
| Full Article
Fast and Furious 9 Release Date Pushed Back
3/12/2020 2:14 PM EST
Universal Pictures has announced that the release for Fast & Furious 9 (a.k.a. F9) will be delayed until April 2021. The film was originally slated for a May 22 release.The statement from the franchise reads as follows:To our family of Fast fans ever...
| Full Article
Universal Pictures Announces Road to F9 Fan Event to Celebrate R...
1/16/2020 1:49 PM EST
The Fast & Furious franchise will be releasing their 9th film on May 22, and Universal Pictures has decided to commemorate the occasion with a fan event called "The Road to F9." On January 31, in Miami, Florida, the studio will release the all-new tr...
| Full Article
Get a Free Copy of Fast & Furious Presents: Hobbs & Shaw on Blu-...
10/28/2019 11:46 AM EST
One of this summer's hot movies wasThe Fast & the Furious franchise spin-off movie entitled FAST & FURIOUS PRESENTS: HOBBS AND SHAW. It grossed almost 760 million dollars worldwide making it a bonafide hit at the box office.  Before it makes it way t...
| Full Article
Production Resumes on Fast and Furious After On Set Accident
7/23/2019 3:03 PM EST
"Fast & Furious 9" has resumed production after an accident that occurred on the set. The accident took place at Warner Bros. Studios Leavesden, which is near London.Joe Watts, a stuntman, sustained head injuries after a fall and has been placed in a...
| Full Article
John Cena to Star in Fast and Furious 9
4/30/2019 2:35 PM EST
John Cena and Vin Diesel have announced that Cena will be starring in the upcoming "Fast and Furious 9". The announcement was made via Vin Diesel's Instagram.Diesel added to his video announcement words about Paul Walker, saying he felt like Paul sen...
| Full Article
Vin Diesel Announces All-Female Fast and Furious Film
1/25/2019 4:18 PM EST
The Fast and Furious franchise is a juggernaut in the entertainment world, and now the franchise is set for a reinvention - an all-female cast.Vin Diesel announced via Instagram that he and his producing partner Samantha Vincent are currently in deve...
| Full Article
Idris Elba to Star in Fast and Furious Spin-off
7/5/2018 2:38 PM EST
Idris Elba is currently in talks to join the cast of "Hobbs and Shaw", a spin-off to the mega-franchise "Fast and Furious". The spin-off will also feature Dwayne Johnson and Jason Statham. Elba will be playing the main villain in the film.The film wi...
| Full Article
Fast & Furious: Supercharged Races Into Universal Orlando
5/3/2018 9:12 PM EST
The Universal Orlando Resort unveiled their lasted attraction; the Fast and Furious - Supercharged ride on May 2, 2018, with a star-studded event.  The highly anticipated feature based on the film series took over a year to be built and had fans anxi...
| Full Article
Netflix to Release Animated Fast & Furious Series
4/23/2018 4:48 PM EST
Netflix will be releasing an animated version of Universal's hugely successful Fast & Furious franchise. The series is part of a deal between DreamWorks Animation Television and Netflix.The series will feature the story of teenager Tony Toretto, who,...
| Full Article
SPONSORED LINKS