The Hangover (2009)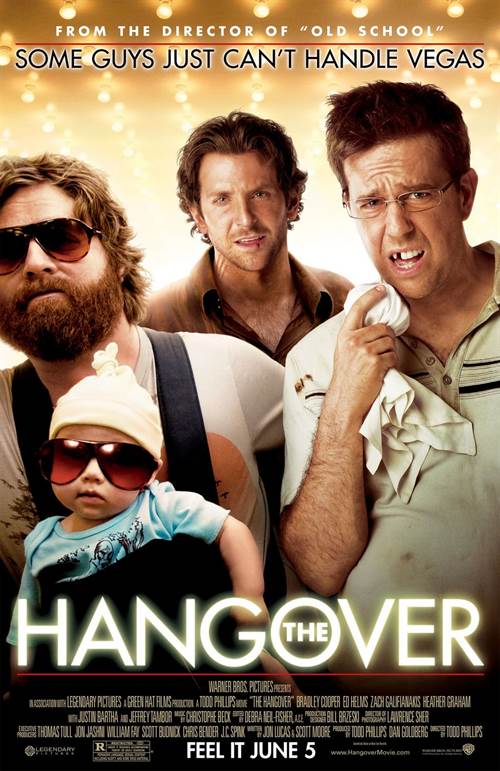 Share this:
| | |
| --- | --- |
| Director: | |
| Writers: | |
| Cast: | |
| Released: | Friday, June 5, 2009 |
| Length: | 100 minutes |
| Studio: | Warner Bros. |
| Genre: | Comedy |
| Rating: | Under 17 requires accompanying parent or adult guardian. |
Synopsis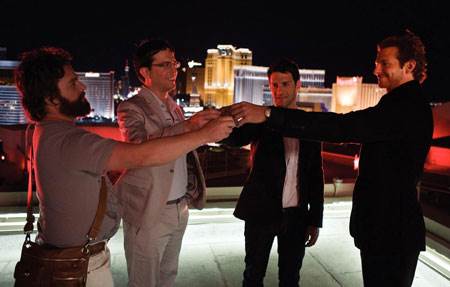 Two days before his wedding, Doug (JUSTIN BARTHA) and his three friends (BRADLEY COOPER, ED HELMS and ZACH GALIFIANAKIS) drive to Las Vegas for a blow-out bachelor party they'll never forget. But, in fact, when the three groomsmen wake up the next morning, they can't remember a thing.

For some reason, they find a tiger in the bathroom and a six-month-old baby in the closet of their suite at Caesars Palace. The one thing they can't find is Doug.

With no clue as to what transpired and little time to spare, the trio must retrace their hazy steps and all their bad decisions in order to figure out where things went wrong and hopefully get Doug back to L.A. in time to walk down the aisle.

Purchase DVD/Blu-ray/4K UHD physical copy of The Hangover today at Amazon.com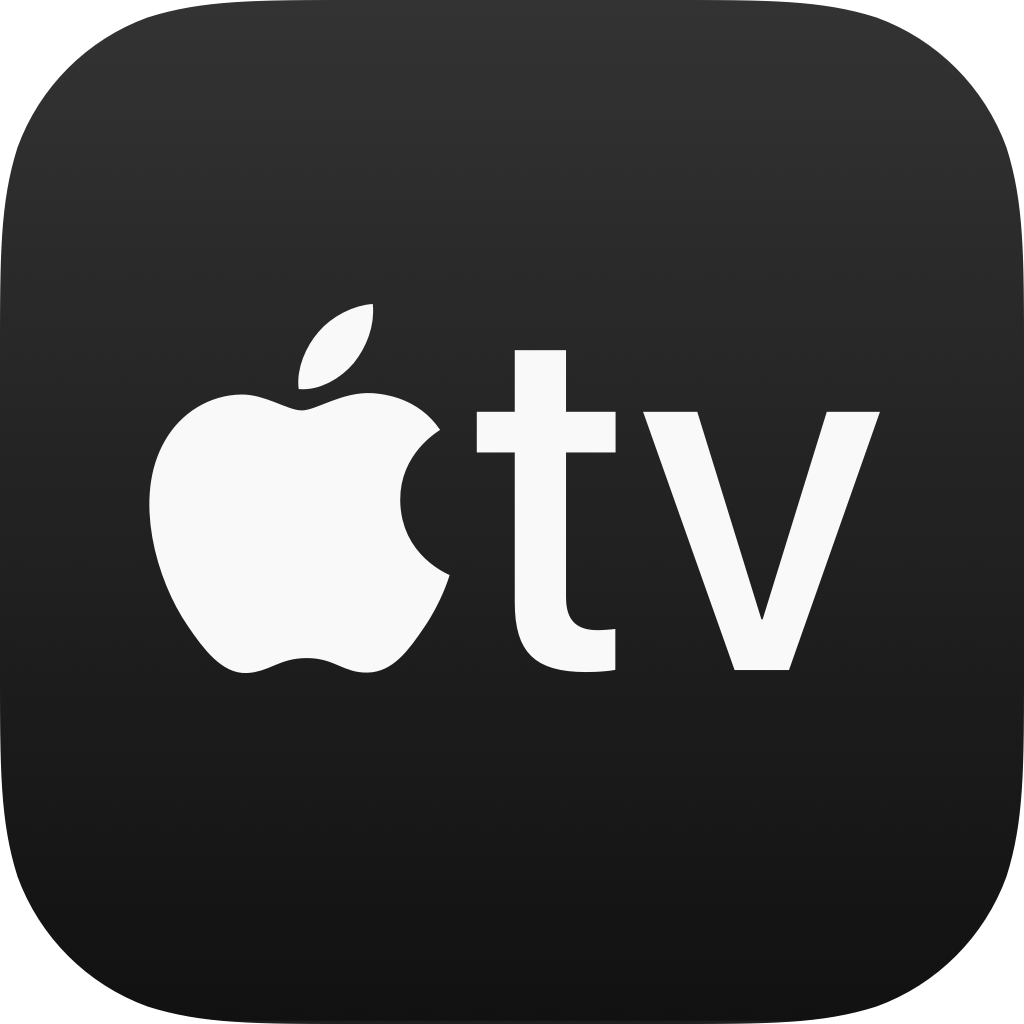 Download The Hangover in Digital HD/4K from the iTunes store.
Listen to the The Hangover soundtrack on Apple Music.
The Hangover images are © Warner Bros.. All Rights Reserved.
Hangover Part III Release Date Moved Up
5/8/2013 3:43 PM EST
"The Hangover Part III" release date has been moved up to Thursday, May 23 by Warner Bros. in order to beat the Memorial Day rush.  The film will now be released one day before Universal's "Fast and Furious 6".Both franchises had success with releasing films around the holiday in the past.  On Memorial Day weekend 2011,   "The Hangover Part II" was released and "Fast Five" was released in April of...
More>>
Another Hangover II Lawsuit Filed
10/18/2011 4:25 PM EST
"Hangover II" never seems to get out of the news. While that may sound good on some level, the reason for being in the news isn't. The film has attracted yet another lawsuit. After being involved in a lawsuit over the Mike Tyson tattoo that was copied for the film, now Warner Bros. is facing a suit from screenwriter Michael Alan Rubin.  He is suing for copyright infringement, defamation, fraud, a...
More>>
"Hangover" 3 In the Works
6/2/2011 4:23 PM EST
The popularity of the two "Hangover" films has prompted a third to be written.Craig Mazin will be writing the next installment, just as he did with the first two (Scot Armstong co-wrote part II). "Hangover II", released by Warner Bros., grossed over $205 million since opening last Thursday. It was their best comedy premiere to date.Mazin also penned "Scary Movie 3" and Scary Movie 4"....
More>>
Judge Allows Hangover II To Be Shown Memorial Day Weekend 2011
5/25/2011 11:46 AM EST
It has been announced that "Hangover II", starring Bradley Copper, Ed Helms and Zach Galifianakis, will be released as scheduled, despite a lawsuit that the film was involved in.The lawsuit was brought up because of the tattoo that was featured on the face of Ed Helms character. The tattoo artist who did the infamous face tattoo for Mike Tyson claimed copyright infringement against Warner Bros. at...
More>>
The Hangover Becomes The #1 Comedy of All Time on DVD
1/11/2010 9:57 PM EST
Burbank, CA, January, 2010 - Warner Bros. Pictures and Legendary Pictures' smash hit The Hangover has added another milestone to its record-breaking 2009 run. Since its release on Blu-ray and DVD on December 15th 2009 the film has become the #1 comedy of all time on the DVD charts with combined consumer and rental sales topping 8.6 million units with 1.5 million units coming from Blu-ray purchases...
More>>
The Hangover Theatrical Review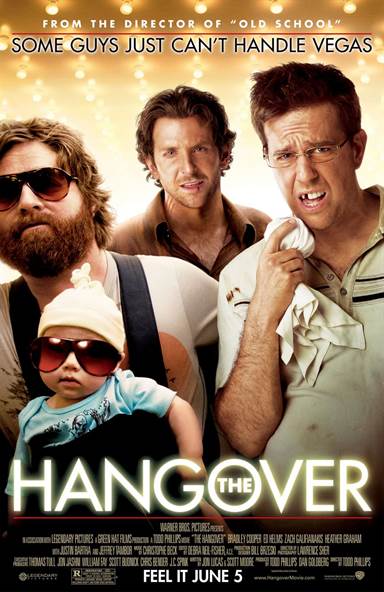 The Hangover fits into a category that is somewhat fuzzy and defined as "guy movies". That is, there are few women, there is a lot of male-bonding, and there are wacky, usually R-rated hijinks (well, X-Rated, but what you see in the movie will be R). Also, usually in these movies, the main characters behave stupidly -- or at least hormonally. We are expected to be forgiving of men in pursuit of women.
In this case, the specific "pursuit" is the time honored bachelor party; and also in this case, wisely limited to the groom, his two closest friends, and a wild-card to-be-brother-in-law who comes along for the ride. The party, rather than taking place "at a strip club" or even "at various famous places in Vegas" happens instead off camera. The story picks up in an epically trashed hotel suite.
The groom is missing. There is a live tiger in the bathroom; a never-explained chicken wanders aimlessly; there is a baby in the closet. What happened? Where is the groom, and can the three friends get him back? What will they learn about themselves when they do? There is a guy (Ed Helms, who used his natural loss of a tooth do an utterly unnerving "I-lost-a-tooth" effect) who is in a bad relationship. Will he figure out he deserves better? There is the absolutely goofy guy (Zach Galifianakis) who has problems relating to people -- will he make it as one-of-the-gang? There is the cool-friend (Bradley Cooper) who feels he sort of made a mistake when he got married -- will he learn to appreciate what he has got?
And will they ever find the groom (Justin Bartha, who appears only at the beginning and end of the movie) alive?
It is a comedy and not an especially dark one, so you can figure out those answers yourself. However, and most meaningfully, on the way to those answers -- is it funny? Yes. It is hilarious. The Hangover does not rely on being especially clever as it is not. The humor is not sophisticated, but rarely stoops to slapstick. The surreal nature of the situation, the boys-night-out-turned-up-to-11, gives it enough of an engine that it keeps on moving without having to resort to humiliating its principals for laughs or to the lowest-common-denominator humor. I was waiting for the gross-out jokes, and there, thankfully, weren't many.
For its genre, The Hangover is a good spirited, comparatively intelligent, well orchestrated piece of work. It doesn't reach anything like a lofty height, or even a height itself, but certainly avoids the bottom of the barrel. For a movie category that usually lives down there? I give it a B.
You will want to stay through the credits to see the photos showing what happened during the guy's black-out. It's worth watching, and yes, Zach Galifianakis' scene in the elevator is prosthesis -- at least according to
Wikipedia
.
-- Marco Chacon
Read More The Hangover Reviews
For more reviews please visit our film/television review section.
SPONSORED LINKS