Rocky (1976)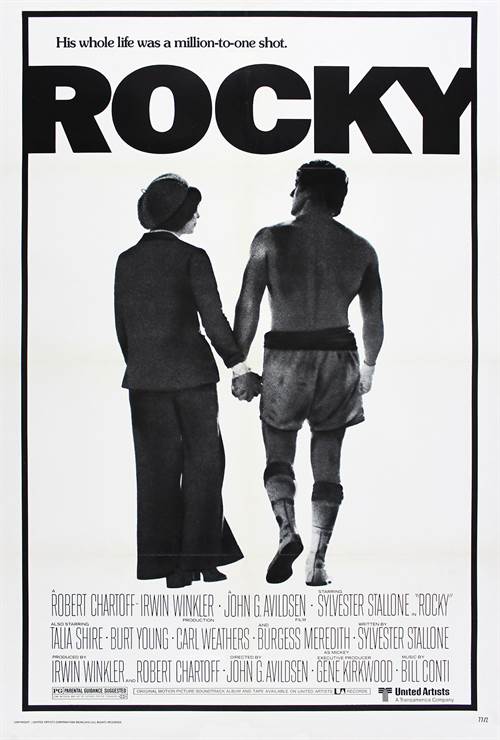 | | |
| --- | --- |
| Director: | |
| Writers: | |
| Cast: | |
| Released: | Friday, December 3, 1976 |
| Length: | 120 minutes |
| Studio: | United Artists |
| Genre: | Drama |
| Rating: | Some material may not be suitable for children. |
Rocky Synopsis
Nominated for 10 Academy Awards and winner for Best Picture, it's the film that inspired a nation! Audiences and critics alike cheered this American success story of an "everyman" triumphing over all odds. Featuring a dynamic musical score, a thrilling fight sequence and four Oscar - nominated performances, this rousing crowd-pleaser will send spirits soaring. Fighting for love, glory and self-respect, Rocky scores an exultant knockout! Rocky Balboa (Sylvester Stallone) is a Philadelphia club fighter who seems to be going nowhere. But whena stroke of fate puts him in the ring with a world heavyweight champion, Rocky knows that it's his one shot at the big time - a once-in-a-lifetime opportunity to go the distance and come out a winner! 1976: Actor (Stallone), Actress (Talia Shire), Supporting Actor (Burgess Meredith, Burt Young), Director (won), Original Screenplay, Original Song, Editing (won), Sound.

Purchase DVD/Blu-ray/4K UHD physical copy of Rocky today at Amazon.com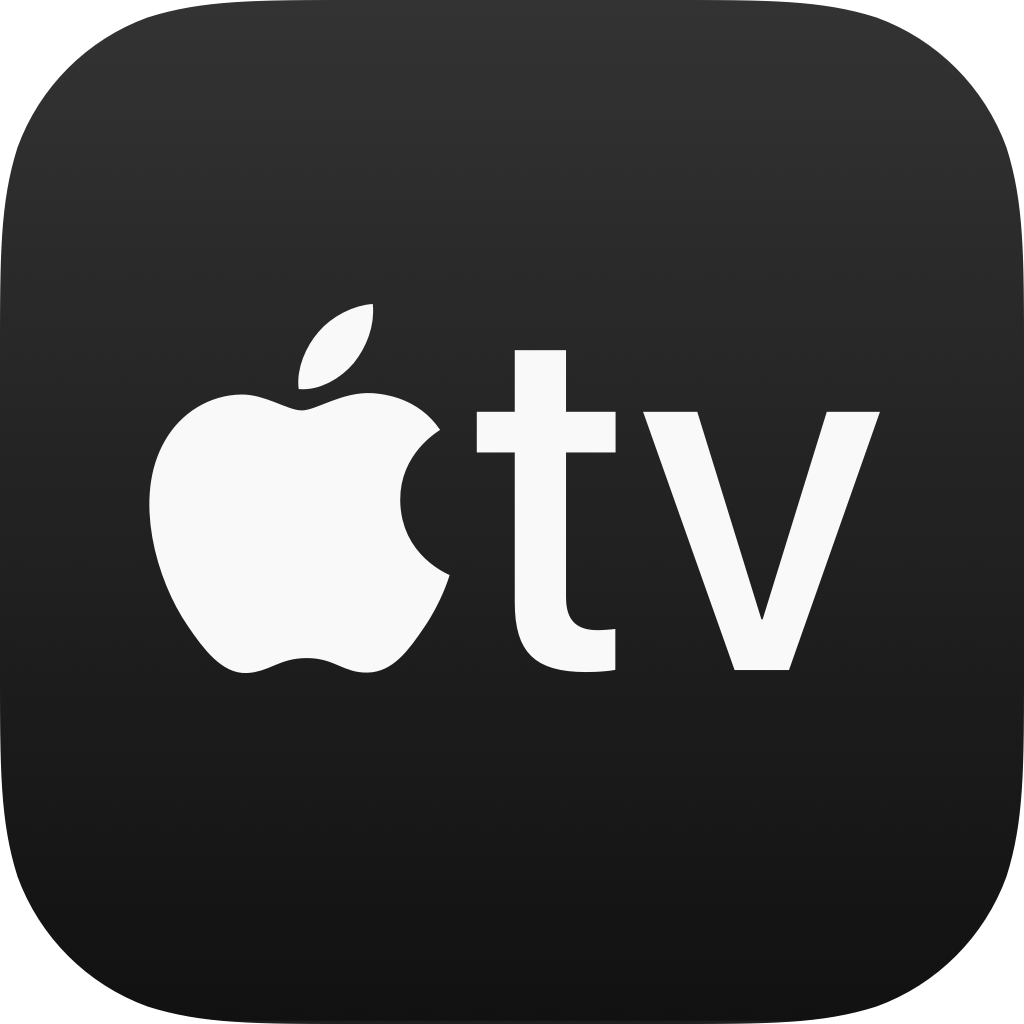 Stream Rocky in Digital HD/4K from the AppleTV store.
Rocky images are © United Artists. All Rights Reserved.
Creed II Begins Production in Philadelphia
4/2/2018 3:46 PM EST
MGM and Warner Bros. Pictures' Creed II began production today in Philadelphia. The film is the sequel to 2015's Creed and continuation to the Rocky Franchise. "When I wrote and directed Creed, I wanted to tell a human story about a family from a new perspective, while also paying homage to the Rocky characters we've all grown up knowing and loving. I've known Steven was an amazing filmmaker since...
More>>
Creed Sequel Set with Possible Late 2017 Release
1/11/2016 5:05 PM EST
It has been reported that the sequel to "Creed" will most likely be released by MGM in November 2017."Creed" has grossed more than $105 million domestically and even earned Sylvester Stallone an award at the Golden Globes for best supporting actor. Stallone gave some hints as to what we could possibly be seeing in the sequel, saying, "Ryan (Creed director) has some ideas of going forward and backw...
More>>
Rocky: The Musical?
11/23/2011 2:27 PM EST
Sylvester Stallone, eternal tough guy. has announced plans for his next Rocky project. A musical. Yes, a musical.Stallone announced recently, while in Hamburg, Germany, that the show will on the stage by November 2012. "I've always thought Rocky had the right stuff for a musical and have wanted to do it for a long time", said Stallone. He said the show will focus around the love story of Rocky and...
More>>
Rocky Digibook Blu-ray Review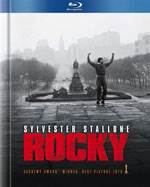 "His whole life a million-to-one shot". That was the original tagline for the 1976 film Rocky starring Sylvester Stallone as Rocky Balboa, a Philadelphia native who took part in boxing matches bot very often and wound up going 15 rounds with the Heavy Weight Champion.

This is the story of the ultimate underdog. The story of Rocky is really the story of all of us. Rocky (Sylvester Stallone) was the guy everyone knew, in every corner of America someone knew a guy like Rocky. Always willing to dish out some child-like joke, even if it was at his expense. And yet while he was obviously a good natured sort of fellow, there was an air of sadness that surrounded him, for he was also the guy who never amounted to anything. In the film Rocky is a numbers runner for a local loan shark. It is the only sort of work someone like him can get, especially when he is also someone who spends his time in boxing rings getting his head knocked around.

Fate intervenes in the form of Apollo Creed (Carl Weathers), he is the current Heavy Weight Champion of boxing and in the recent years his popularity with the fans has dwindled. Many think the fame and money have gone to his head, regardless his team comes up with the idea if having him go against an underdog in an exhibition match. It would be great press for Creed as well as whomever they pick and it would get him back in the good graces with his fans as well as the media. Sure enough they find young Rocky Balboa and after some convincing he agrees to take on Creed.

Of course Rocky has no idea what he is getting himself into and has no real training regimen of his own. In steps the weathered and wizened Mickey Goldmill (Burgess Meredith) a boxing trainer who offers his services to Rocky. As Rocky begins his training with Mickey he also begins a romance with the sister of his best friend Paulie, Adrian. She is a shy and timid girl who has spent the majority of her life taking care of her older brother who works in a meat packing plant. As Rocky trains more and more each day he begins to wonder, "What if I went the full 15 rounds with Apollo?" Rocky knows he is the underdog here and even by going the full 15 rounds he also knows there won't be any reward coming his way, at least not in the form of money.

But what Rocky starts to realize, with the help of his new love Adrian, is that he wants to be able to prove to the world and more importantly to himself that he is not just another pug from off the street, but someone who can go the distance. And so he trains as hard as he can until the day arrives when he steps into the ring with Apollo Creed. What made Rocky unique was not only the story of the underdog but also the extended fight scene at the end of the film. Instead of stepping into the ring with the two main actors, the camera stayed outside of the ring for the full fight, forcing the audience to feel as though they were truly one of the spectators in that arena.
It was only after the fight was over and Rocky had shown the world that he was more than what they made him that we were finally brought into the ring and caught up in the joy of that moment, as a battered Rocky screamed out "Adrian!"

After 35 years this film still holds water with audiences everywhere. There isn't a person alive who hasn't seen this film and experienced the passion it evokes. Now on a special edition Blu-ray disc it comes with an insightful retrospective on the film. Containing a heartwarming narrative by Richard Tanne, it looks into the early start of not only the film, but of Stallone himself and how he came to create one of America's most beloved movies. There are also interesting mini bios on each of the main actors detailing how they got started and what films they have been in. Lastly there is a full breakdown of the final fight between Rocky and Apollo.

What makes so wonderful to watch is that it shows us that it doesn't matter where you come from and who you are, what matters is how you feel about yourself. At the end of the movie Rocky has not only found the love of his life, and won the adoration of people all over the nation, but he finally achieved something he wasn't even aware he was after: self-respect.
For more reviews please visit our film/television review section.
SPONSORED LINKS