True Blood (2008)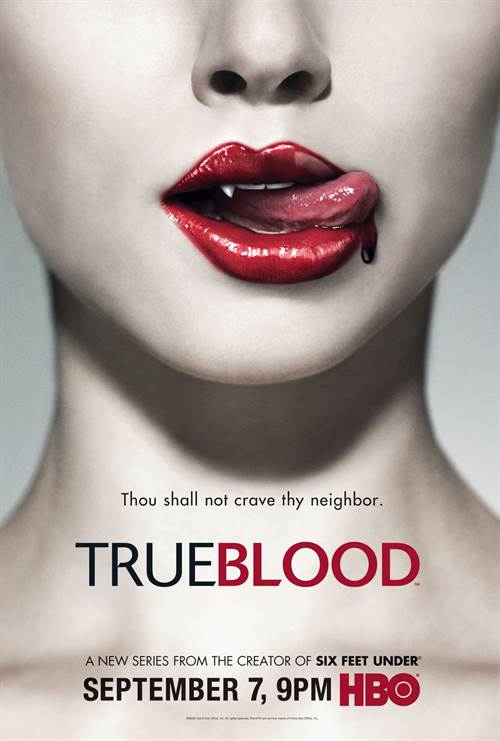 | | |
| --- | --- |
| Created By: | |
| Cast: | |
| Air Date: | Sunday, September 7, 2008 |
| Studio: | HBO |
| Genre: | Television |
| Rating: | This program is specifically designed to be viewed by adults and therefore may be unsuitable for children under 17. |
True Blood Synopsis
Following the creation of synthetic blood, vampires have progressed from legendary monsters to fellow citizens overnight. Sookie Stackhouse (Anna Paquin) is a telepath and waitress at Merlotte's in the small Louisiana town of Bon Temps, owned by Sam Merlotte (Sam Trammell), a shapeshifter—though this secret is kept hidden. One night, Sookie meets Bill Compton (Stephen Moyer), a handsome 173-year-old vampire who has returned to Bon Temps following the death of his last remaining relative. As she cannot hear his thoughts, she finds it easy to be in his company and over the first season, the two become romantically involved.
True Blood images are © HBO. All Rights Reserved.
True Blood Star Nelsan Ellis Dead at 39
7/9/2017 11:04 AM EST
Nelsan Ellis, star of "True Blood", has died. The actor was only 39 years old. Reports are that Ellis died from heart failure.Lafayette, the character that Ellis portrayed in "True Blood", was a fan favorite. In the books, the character dies very ear...
| Full Article
True Blood Renewed for Seventh Season
7/15/2013 2:05 PM EST
It was announced today that "True Blood" will be back for a seventh season.   The hit HBO series remains one of the station's most popular. HBO programming president Michael Lombardo said, "'True Blood' remains a signature show for HBO, and a true ph...
| Full Article
True Blood Season 6 Debuts with 4.5 Million Viewers
6/17/2013 4:54 PM EST
"True Blood", HBO's hit vampire series, debuted its sixth season last night to 4.5 million viewers.  While those numbers are impressive for the channel, it is actually down from the 5.2 million viewers that watched the season five debut.The premier e...
| Full Article
HBO GO Releases Bonus Clip from True Blood Season Finale
8/27/2012 1:54 PM EST
The season finale for "True Blood" aired last night, leaving many questions unanswered.  The main question being "Where is Warlow?"HBO GO released a bonus clip which hints as to where the direction of the 6th season will be going. The scene shows Jas...
| Full Article
HBO Renews True Blood and Newsroom
7/2/2012 4:26 PM EST
HBO has announced that they have renewed "True Blood" for a sixth season and "The Newsroom" for a second. "The Newsroom" premiered on June 24 to an audience of 2.1 million viewers, 7 million more viewers than when "True Blood" debuted in 2008."True B...
| Full Article
Alan Ball Comments About His True Blood Job Change
2/28/2012 9:37 AM EST
For the upcoming sixth season of HBO's uber successful show, "True Blood", Alan Ball will be sitting in a different seat. The producer will now have less control over the show, a move that was made back in July. Ball will still produce "True Blood", ...
| Full Article
Don't Be Afraid... Skarsgard Doesn't Bite
9/1/2011 2:48 PM EST
Alexander Skarsgard, who stars in "True Blood" and the upcoming films, "Melancholia" and "Straw Dogs", isn't one to ignore his fans. But there are some things that even he won't oblige a fan.Not surprisingly, he has been asked, on more than one occas...
| Full Article
Alexander Skarsgård Discusses True Blood's Amnesia Eric
8/16/2011 3:23 PM EST
In HBO's weekly newsletter, Alexander Skarsgård gave an interview and discussed this season and the new direction his character has taken.Skarsgård was asked how it was to be playing a whole new type of Eric and his relationship with Sookie. When ask...
| Full Article
Season 5 Confirmed for HBO's "True Blood"
8/11/2011 3:26 PM EST
In a not so surprising announcement, HBO formally released a statement saying that there will be a fifth season for their hit series "True Blood".Season 5 will contain 12 episodes, and will debut in Summer 2012.  Michael Lombardo, president of HBO pr...
| Full Article
Alexander Skarsgård to Star in "The Vanguard"
7/13/2011 4:15 PM EST
Alexander Skarsgård, who is currently front and center in this season of "True Blood", will be starring and producing a Viking film for Warner Bros."The Vanguard" will tell the story of two Viking warrior brothers who, after being banished to North A...
| Full Article
Alexander Skarsgård and Anna Paquin are Gothic on Cover of "Ente...
6/23/2011 1:12 PM EST
"True Blood" Season 4 will be premiering this Sunday, June 26, at 9 p.m. Those of us that are die hard fans of the show, as well as the books, are super excited and feel as if we have been waiting an eternity for the show to start back up.  Thank goo...
| Full Article
SPONSORED LINKS