Toy Story 2 (1999)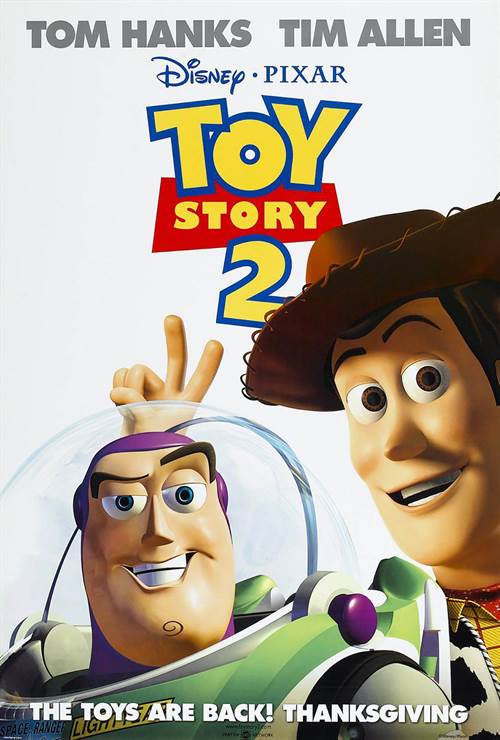 | | |
| --- | --- |
| Director: | |
| Writers: | |
| Cast: | |
| Released: | Wednesday, November 24, 1999 |
| Length: | 92 minutes |
| Studio: | Walt Disney Pictures |
| Genre: | Family, Comedy |
| Rating: | General audiences. All ages admitted. |
Toy Story 2 Synopsis
Toys will be toys - except when their owners aren't around - and now the gang from Andy's room is all wound up and ready to play once again in Toy Story 2, the exciting all-new sequel to the landmark 1995 blockbuster from Disney and Pixar. Buzz Lightyear, Woody and a colorful cast of toys are joined by a delightful group of new characters for an incredible action-filled comedy-adventure that is loaded with laughs, emotion and surprises. Tom Hanks, Tim Allen and all the terrific voice talents from the first film reprise their original roles. Taking the art of computer animation to the next plateau, the film utilizes state of the art technology to work its storytelling magic and create a world of infinite possibilities.

Purchase DVD/Blu-ray/4K UHD physical copy of Toy Story 2 today at Amazon.com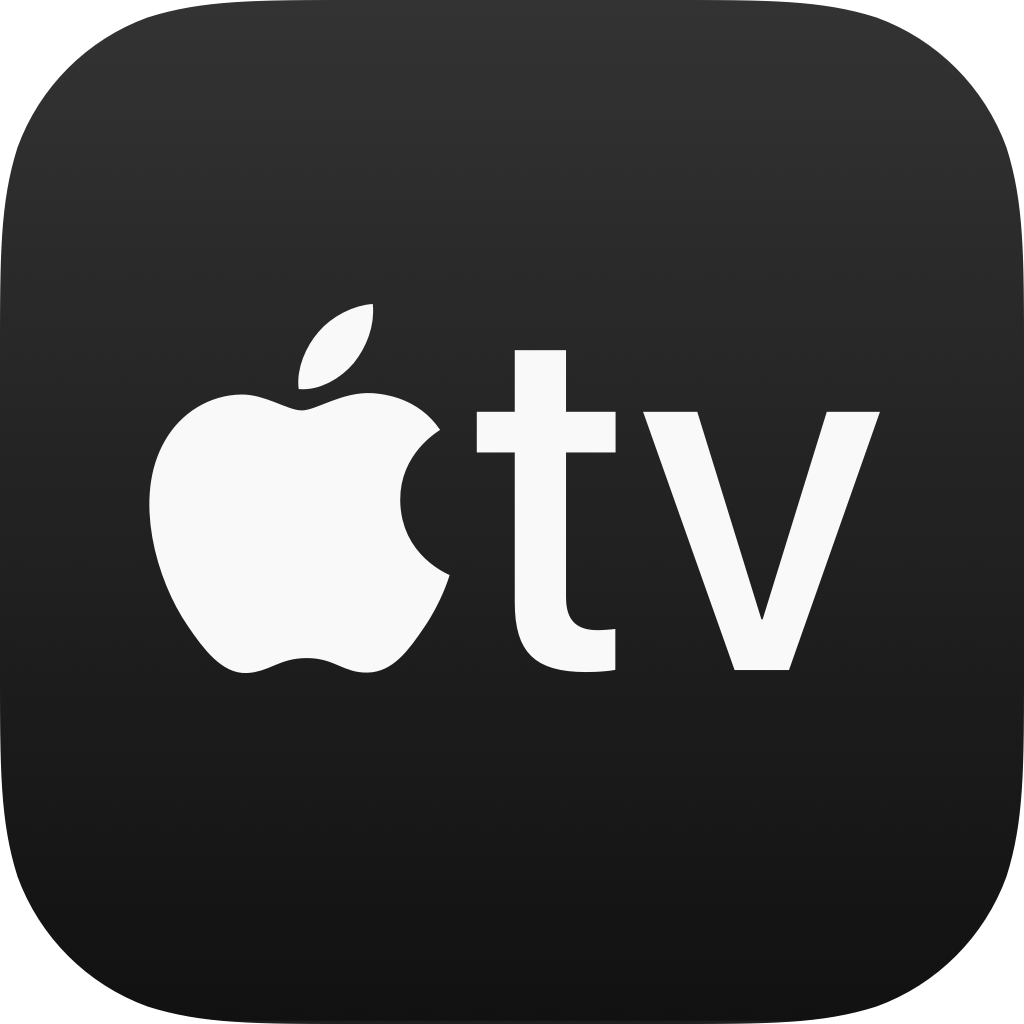 Stream Toy Story 2 in Digital HD/4K from the AppleTV store.
Toy Story 2 images are © Walt Disney Pictures. All Rights Reserved.
See an Advance Screening of LIGHTYEAR in Florida
6/10/2022 2:04 PM EST
Before there was Andy and Toy Story, there was a movie about a star ranger named Buzz Lightyear.  It was so popular it spawned a toy fashioned after the hero; one who ended up in Andy's Toybox along with the usual cast of characters. LIGHTYEAR is that movie and it is coming to theaters next week.Disney/Pixar, in conjunction with FlickDirect, would like to offer some lucky winners one electronic ad...
More>>
Disney and Pixar Bring Toy Story that Time Forgot to Blu-ray
11/3/2015 2:01 PM EST
Toy Story has been a huge animated success.  It has had 2 sequels with a third, allegedly, on the way, mountains of merchandising, and a couple of half hour television specials.   In 2014, the latest of these shows aired in December in order to take advantage of the Holiday season.  Now, almost a year later, you can own Toy Story That Time Forgot on Blu-ray.Toy Story That Time Forgot includes all ...
More>>
Disney/Pixar's Toy Story Coming Digital 3D
1/25/2008 3:43 PM EST
Disney has announced that they will be releasing a 3-D version (Disney Digital 3-D) of it's smash hits Toy Story and Toy Story 2 on October 2, 2009 and February 12, 2010 respectively. The announcement was made by Dick Cook, chairman of The Walt Disney Studios. The re-release of the two films will lead up to the release of Toy Story 3, which will also be in a state of the art 3-D film. John Lassite...
More>>
Toy Story 2 3D Blu-ray Review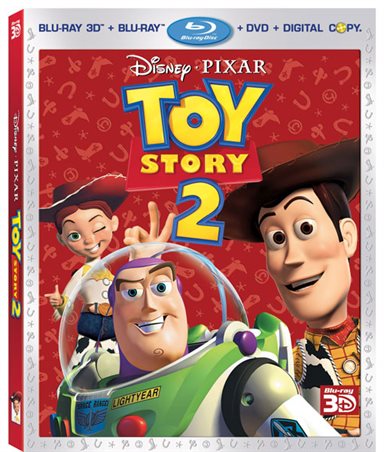 Following the success of the first Toy Story movie, Toy Story 2 continues the story of Woody, Buzz Lightyear and the other toys. It's been a few years since we last saw the toys – Molly, Andy's sister, is older now, and the puppy we first noticed at the end of the first movie is older. Andy is going away to summer cowboy camp, and right before he leaves, Woody almost loses an arm – causing Andy to leave for camp without his favorite deputy. While Andy is gone at camp, his mom holds a garage sale, and she grabs several forgotten toys to be sold. Woody organizes a rescue mission to the garage sale as he doesn't leave a single toy behind – broken arm and all. During the mission Woody has to feign not being alive, and is noticed by an odd man who is extremely happy to have found him. When Andy's mom refuses to sell Woody to him, the man steals Woody and leaves. Buzz and the other toys noticed it, and begin to plan their own rescue mission.

Kind of like a reverse Great Escape, Buzz and the other toys discover that the man was really Al of Al's Toy Barn. The toys head off to the toy store to rescue Woody, who is actually in Al's apartment. In Al's apartment, Woody comes face to face with the rest of his own brand of toys – the Woody's Roundup Gang. Woody was the star of a children's show called Woody's Roundup (which was referenced in the original movie if you look for it on the wall), which had its' own cast of characters. Until it was cancelled after the Space Race began. The last episode never aired so Woody's story was never completed. In a way the saga of Woody's Roundup follows this movie, as Woody has to make the choice he never got to make on the television show. Throughout the movie we see Woody grow from being a child's toy to a collectible figure, and he has to make the choice of which one he prefers to be.

The 3D rendering is superb, although this movie has darker scenes than the original, so in some scenes the 3D isn't as breathtaking as the first one. But it is still one of the best 3D conversions done to date. They are very sharp, and that continues with the regular Blu-Ray release. Both include excellent audio that really does surround you when it needs to with no distortion. The regular Blu-ray contains the bonus features, including Pixar's Zoetrope, deleted scenes, outtakes (which became a Pixar regular occurrence around this time, watch for a cameo from some other Pixar characters!), and more. But that's not all – the combo pack includes the DVD copy of the film and a digital copy. An excellent value for someone who does not currently own this film on Blu-ray. If you don't have it yet, get this combo pack, even if you don't have a 3D TV. Someday you probably will.

For more reviews please visit our film/television review section.
SPONSORED LINKS