G.I. Joe: The Retaliation (2013)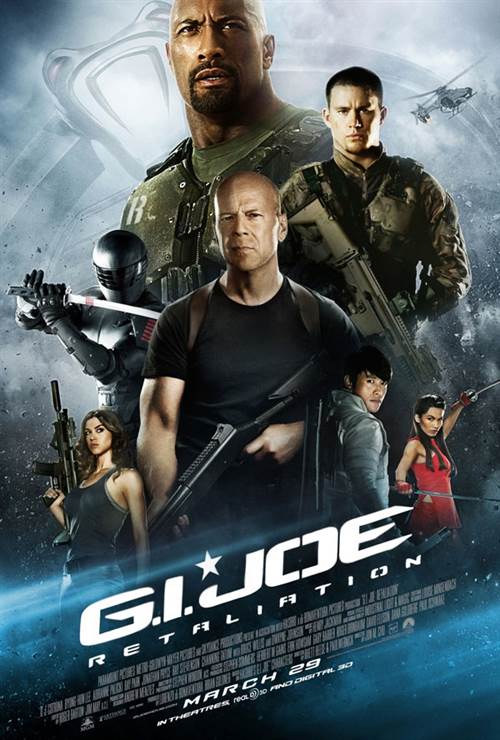 Share this:
| | |
| --- | --- |
| Director: | |
| Writers: | Rhett Reese, Paul Wernick |
| Cast: | |
| Released: | Thursday, March 28, 2013 |
| Length: | 110 minutes |
| Studio: | 20th Century Studios |
| Genre: | Action/Adventure, Sci-Fi/Fantasy |
| Rating: | Some material may be inappropriate for children under 13. |
Synopsis
In the continuing adventures of the G.I. Joe team, Duke (Channing Tatum), second-in-command Roadblock (Dwayne Johnson), and the rest of the Joes (D.J. Cotrona, Byung-hun Lee) face a two-fold threat. Not only is their mortal enemy COBRA rearing its ugly head again, but there is also a threat from within the U.S. government: There might be an impostor in the White House. Meanwhile, Snake Eyes (Ray Park) is on a search for inner peace but learns that his nemesis, Storm Shadow, is still alive.
Purchase DVD/Blu-ray/4K physical copy of G.I. Joe: The Retaliation today at
Download G.I. Joe: The Retaliation in Digital HD/4K from the iTunes store.
G.I. Joe: The Retaliation images are © 20th Century Studios. All Rights Reserved.


G.I. Joe Franchise to Become a Trilogy
4/1/2013 4:02 PM EST
After an impressive global box office opening of $132 million, Paramount is looking to develop a third "G.I. Joe" film.The film, which was released this past weekend, had been delayed for 9 months; however, that didn't seem to dull any interest from fans.  Even amidst so-so critical reviews, it still managed to earn $51.7m domestic and $80.3m foreign.  Some are even projecting that it could earn u...
More>>
Preview of GI Joe Retaliation to be Shown Before Hansel and Gretel
1/24/2013 12:45 PM EST
Paramount Pictures, along with MGM and  Skydance Productions, in association with Hasbro, has announced that a 4 minute preview of the upcoming film, "G.I. Joe: Retaliation", will be released IMAX 3D, RealD 3D and digital 3D theaters before Paramount's Hansel & Gretel: Witch Hunters.The sequel will show that "the G.I. Joes are not only fighting their mortal enemy Cobra, they are forced to contend ...
More>>
Channing Tatum Is The Real Reason Behind The G.I. Joe Delay
5/31/2012 1:23 PM EST
Are fans really so gullible to believe that the delayed release of GI Joe was due to some technical shortcomings of the film? Or has the studio done a quick back peddle after its test audiences balked at the lack of Tatum time in the film? The reason given last week for the delay of "G.I. Joe: Retaliation" was that it gave Paramount Studios an extra 9 months to give the film a proper 3D conversio...
More>>
Bruce Willis to Join "G.I. Joe"
8/11/2011 3:39 PM EST
According to Heat Vision, Bruce Willis could be on the cast roster for the "G.I. Joe 2: Retaliation".He is currently in talks to play the part of General Joseph Colton. He is the man who created and commands the special forces unit that carries his namesake, G.I. Joe.The film will be directed by Jon M. Chu and produced by Lorenzo di Bonaventura. It will star Channing Tatum, Dwayne Johnson, Adriann...
More>>
Ray Stevenson Cast In "G.I. Joe"
7/11/2011 1:27 PM EST
Heat Vision has reported that Ray Stevenson has been cast as a villain in the upcoming "G.I. Joe" film.The Rome," "Punisher: War Zone" and "Thor" actor will be playing Firefly, a member of the Cobra Organization. He is an expert with explosives as well as being a ninja and saboteur.Joining Stevenson will be Channing Tatum, Dwayne Johnson, Adrianne Palicki, Elodie Yung, RZA and D.J. Cotrona. The fi...
More>>
G.I. Joe Casting News
6/13/2011 2:31 PM EST
The G.I. Joe sequel is moving along, and some casting news has been released. Elodie Yung is now being considered for the role of Jinx, a ninja, for the upcoming film.Jinx, who is recruited by Snake Eyes to join the team, is a red-suited ninja who is a kung fu and sword expert.Other stars will include Channing Tatum and possibly Dwayne Johnson, who will play Roadblock....
More>>
G.I. Joe: The Retaliation Theatrical Review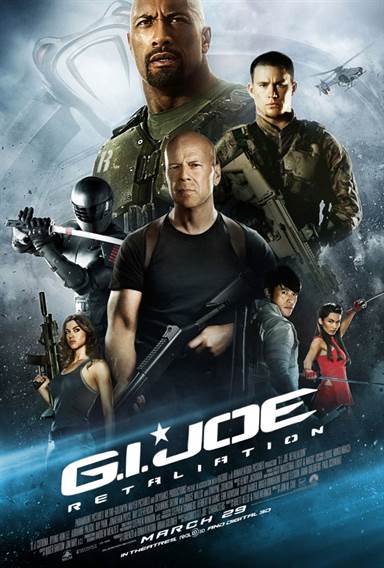 Originally slated for release last summer, this movie was pulled from the schedule in order to convert to 3D – at least that was the official reason why. At the same time additional scenes were shot in order to give Channing Tatum (who reprises his role as Duke from the first movie) more screen time. While the reason for this is clear, it doesn't completely work in the movie as a whole.

G.I. Joe Retaliation starts shortly after the first movie, G.I. Joe: The Rise of COBRA. While this means it's not technically a reboot, it really is. If you didn't see the first movie, don't worry – you won't be missing anything important – the movie will quickly get you up to speed. Now the first movie was homage to the classic cartoon series, with many of the one-liners that came from that show, including "Knowing is half the battle". Retaliation, however, is a homage to the comic books – which is more gritty and realistic. The weapons are mostly current-issue with almost none of the video game technology that was showcased in the first one, like invisibility cloaks. It transforms the series from being about the toys to being a straight up action movie that just happens to occur in the G.I. Joe universe. The general plot is about COBRA's plan for world domination after the events in The Rise of COBRA. While COBRA seemed down and out at that point, it was almost as if the events from the first movie were planned out, like Loki being captured in The Avengers – it was part of the plan. The President of the United States is really a COBRA operative, Zartan (The Master of Disguise, played by Arnold Vorloo), who looks and talks like the real President (played by Jonathan Pryce). Using the power of the Presidency, Zartan frames the G.I. Joes for a crime they didn't commit, and kills off most of the existing G.I. Joe team. The surviving members – Roadblock (played by Dwayne Johnson), Flint (played by D.J. Controna), and Lady Jaye (played by Adrianne Palicki) have to disappear, reconnect with other surviving G.I. Joes and get help from those they can trust.

A major subplot is also the secondary story in this film – which is lifted almost 100% from the comics. Snake-Eyes (played by Ray Park) returns to his comic book roots by not using only ninja weapons but guns as well. The subplot revolves around the story of how Storm Shadow killed the Hard Master (which was shown/discussed in the first movie) and the family wanting him to be returned for justice. The Blind Master (played by Rza) introduces Snake-Eyes to Jinx (played by Elodie Yung) and the two of them go out to capture Storm Shadow completely separate from the rest of the G.I. Joe team. The truth of the events that occur in this subplot are completely lifted from the comics, with the exception of how exactly the Hard Master was killed (in the comics he was killed by an arrow while imitating the sounds of Snake-Eyes). Eventually the two story lines merge in time for the grand finale.

The 3D version is not spectacular – the major 3D components are from the CGI sequences involving slow-motion and don't happen enough to make this a must-see film in 3D. The post-production of the 2D footage was acceptable, with no noticeable problems involving depth that was missed (no cardboard cutout looking scenes). Now if you're looking at this movie for character development, it occasionally tries to head in that direction but doesn't get there. It appears that some of the new footage involves the relationship between Duke and Roadblock, but Roadblock doesn't really do any growing as a character in this movie. This is the same between the implied relationship between Duke and Lady Jaye (which happens in the comics) – it is teased but never goes anywhere in the film. Ignore these story flaws and you still have a solid action film – a great popcorn film. It's a wonderful homage to the comics and the action genre.

For more reviews please visit our film/television review section.
In the continuing adventures of the G.I. Joe team, Duke (Channing Tatum), second-in-command Roadbloc...
SPONSORED LINKS
Comments

Courtesy of
Movie Hype App
dayverampas
Tinguk balik ni movie siok~
5/2/2014 10:02 AM EST
andreah
Like the 1st one better
8/8/2013 12:11 PM EST
osmar
It's cool
8/4/2013 7:40 PM EST
tman
Better than the last
8/3/2013 11:41 PM EST
jonathan
How can u watch it here?
7/31/2013 6:30 PM EST
sandeep
G8t
7/30/2013 2:36 PM EST
moviefan13
Amazing Film!!
7/27/2013 5:19 AM EST
djricky
Ola
7/24/2013 12:19 AM EST
michaelpotter
Great movie and I can't wait to add it to the pile!
7/23/2013 10:34 AM EST
alfred1998
Best action movie ever!!
7/22/2013 7:22 PM EST
youngdel
Great movie should've been longer.
5/8/2013 6:38 AM EST
ngocle68
I was shocked when all those Joes were killed off early in the movie. Movie was still good though.
5/4/2013 10:37 PM EST
crazinho
Da vedere
5/1/2013 2:23 PM EST
ride4life
Really good! But y did Tatum have to die! ??
4/30/2013 11:00 PM EST
mariomareno
gooo jooeee!!!
4/29/2013 4:53 PM EST