G.I. Joe: The Retaliation (2013)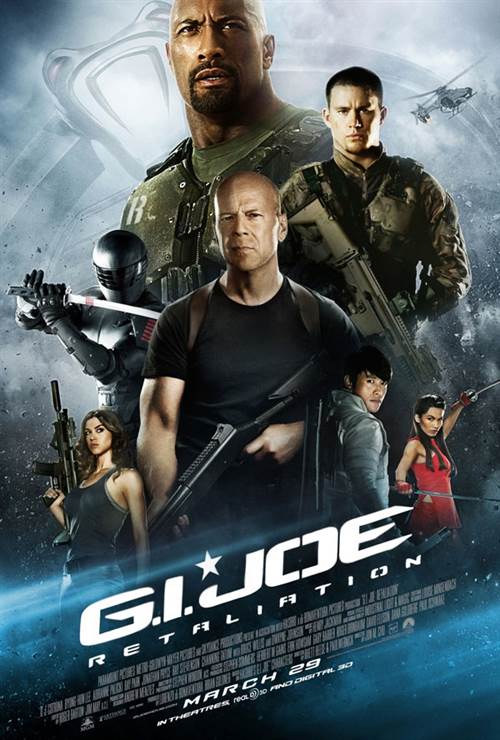 | | |
| --- | --- |
| Director: | |
| Writers: | |
| Cast: | |
| Released: | Thursday, March 28, 2013 |
| Length: | 110 minutes |
| Studio: | Paramount Pictures |
| Genre: | Action/Adventure, Sci-Fi/Fantasy |
| Rating: | Some material may be inappropriate for children under 13. |
G.I. Joe: The Retaliation Synopsis
In the continuing adventures of the G.I. Joe team, Duke (Channing Tatum), second-in-command Roadblock (Dwayne Johnson), and the rest of the Joes (D.J. Cotrona, Byung-hun Lee) face a two-fold threat. Not only is their mortal enemy COBRA rearing its ugly head again, but there is also a threat from within the U.S. government: There might be an impostor in the White House. Meanwhile, Snake Eyes (Ray Park) is on a search for inner peace but learns that his nemesis, Storm Shadow, is still alive.

Purchase DVD/Blu-ray/4K UHD physical copy of G.I. Joe: The Retaliation today at Amazon.com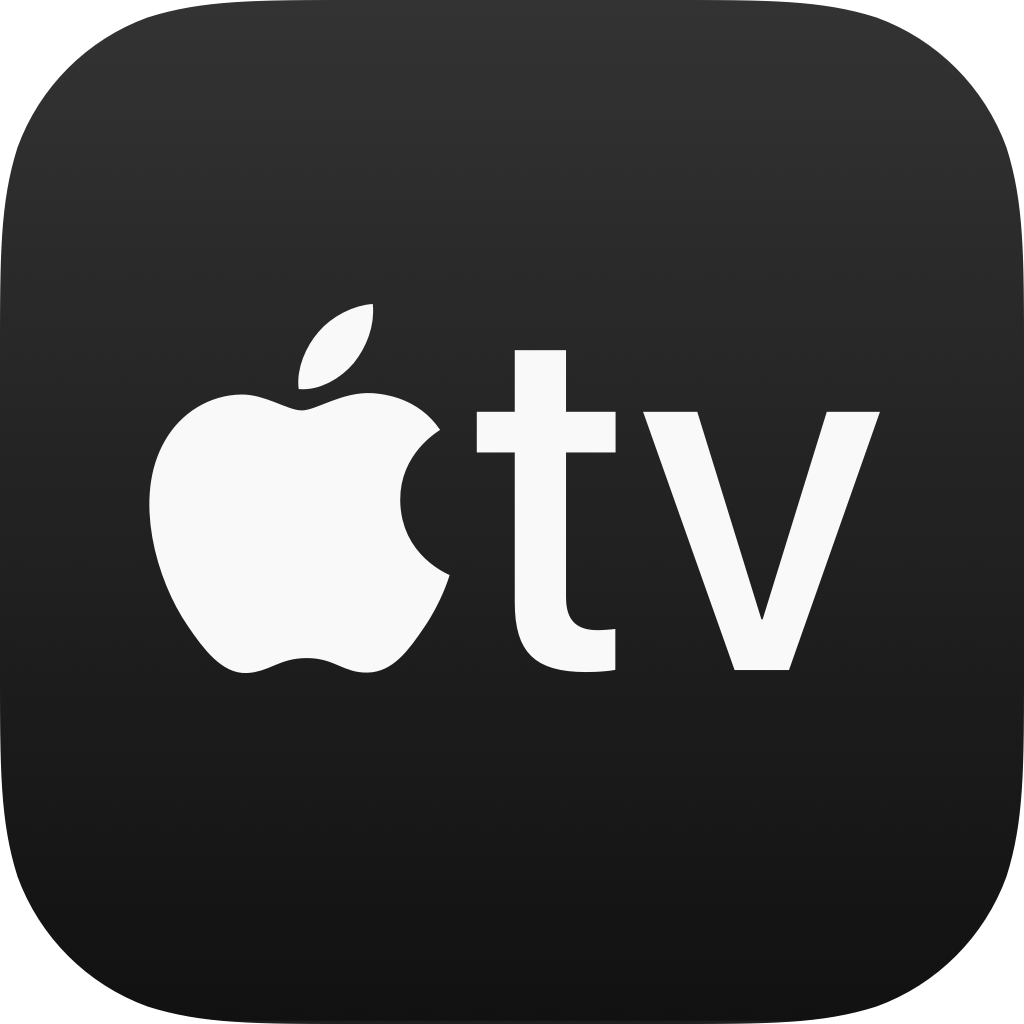 Stream G.I. Joe: The Retaliation in Digital HD/4K from the AppleTV store.
Listen to the G.I. Joe: The Retaliation soundtrack on Apple Music.
G.I. Joe: The Retaliation images are © Paramount Pictures. All Rights Reserved.
G.I. Joe Franchise to Become a Trilogy
4/1/2013 4:02 PM EST
After an impressive global box office opening of $132 million, Paramount is looking to develop a third "G.I. Joe" film.The film, which was released this past weekend, had been delayed for 9 months; however, that didn't seem to dull any interest from fans.  Even amidst so-so critical reviews, it still managed to earn $51.7m domestic and $80.3m foreign.  Some are even projecting that it could earn u...
More>>
Preview of GI Joe Retaliation to be Shown Before Hansel and Gretel
1/24/2013 12:45 PM EST
Paramount Pictures, along with MGM and  Skydance Productions, in association with Hasbro, has announced that a 4 minute preview of the upcoming film, "G.I. Joe: Retaliation", will be released IMAX 3D, RealD 3D and digital 3D theaters before Paramount's Hansel & Gretel: Witch Hunters.The sequel will show that "the G.I. Joes are not only fighting their mortal enemy Cobra, they are forced to contend ...
More>>
Channing Tatum Is The Real Reason Behind The G.I. Joe Delay
5/31/2012 1:23 PM EST
Are fans really so gullible to believe that the delayed release of GI Joe was due to some technical shortcomings of the film? Or has the studio done a quick back peddle after its test audiences balked at the lack of Tatum time in the film? The reason given last week for the delay of "G.I. Joe: Retaliation" was that it gave Paramount Studios an extra 9 months to give the film a proper 3D conversio...
More>>
Bruce Willis to Join "G.I. Joe"
8/11/2011 3:39 PM EST
According to Heat Vision, Bruce Willis could be on the cast roster for the "G.I. Joe 2: Retaliation".He is currently in talks to play the part of General Joseph Colton. He is the man who created and commands the special forces unit that carries his namesake, G.I. Joe.The film will be directed by Jon M. Chu and produced by Lorenzo di Bonaventura. It will star Channing Tatum, Dwayne Johnson, Adriann...
More>>
Ray Stevenson Cast In "G.I. Joe"
7/11/2011 1:27 PM EST
Heat Vision has reported that Ray Stevenson has been cast as a villain in the upcoming "G.I. Joe" film.The Rome," "Punisher: War Zone" and "Thor" actor will be playing Firefly, a member of the Cobra Organization. He is an expert with explosives as well as being a ninja and saboteur.Joining Stevenson will be Channing Tatum, Dwayne Johnson, Adrianne Palicki, Elodie Yung, RZA and D.J. Cotrona. The fi...
More>>
G.I. Joe Casting News
6/13/2011 2:31 PM EST
The G.I. Joe sequel is moving along, and some casting news has been released. Elodie Yung is now being considered for the role of Jinx, a ninja, for the upcoming film.Jinx, who is recruited by Snake Eyes to join the team, is a red-suited ninja who is a kung fu and sword expert.Other stars will include Channing Tatum and possibly Dwayne Johnson, who will play Roadblock....
More>>
G.I. Joe: The Retaliation 4K Review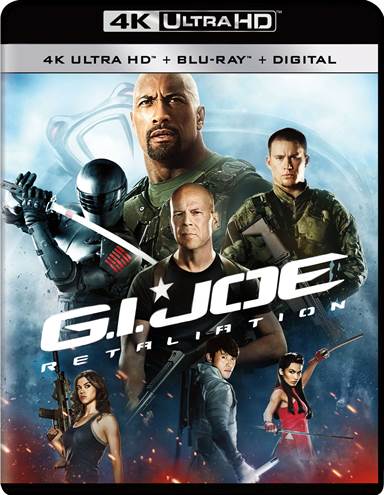 As Snake Eyes: G.I. Joe Origins makes its way to theaters this month, Paramount Pictures has decided to release remastered 4K Blu-rays of G.I. Joe: The Rise of Cobra and G.I. Joe: Retaliation. Originally released in theaters in 2009 and 2013 respectively, the films were critically panned but made a profit at box offices worldwide. While The Rise of Cobra was directed by Stephen Sommers (The Mummy), Retaliation was helmed by Jon M. Chu (In the Heights) and the difference in styles is apparent. Regardless of the different directors, Paramount Pictures has released both movies on 4K UHD for the first time ever.
The "Joes", led by Conrad "Duke" Hauser (Channing Tatum; Magic Mike), are in North Korea on a mission to locate a defector. At the same time, Zartan (Arnold Vosloo; The Mummy), who is impersonating the President of the United States (Jonathan Pryce; Pirates of the Caribbean: The Curse of the Black Pearl) frames the Joes, accusing them of stealing nuclear warheads from Pakistan. This allows Zartan to order an airstrike, killing almost all the Joes besides Marvin "Roadblock" Hinton (Dwayne Johnson; Jungle Cruise), Jaye "Lady Jaye" Burnett (Adrienne Palicki; Supernatural), and Dashiell "Flint" Faireborn (D.J. Cotrona; Shazam!).
Determined to discover why the unit was attacked and who was behind it, the three remaining soldiers team up with retired General Joseph Colton (Bruce Willis; Die Hard). He supplies them with guns and eventually joins them on their quest to avenge their fallen brothers and sisters. Finding out Zartan is behind the attack and is blackmailing world leaders to give up their nuclear weapons. Since the World Leaders are meeting at Fort Sumner The G.I.Joes, enlist some help to break in and capture Zartan in order to free the "real" President.
In this sequel, Tatum is replaced by Johnson as the lead, resulting in much of the same mediocre acting. Neither actor is especially good, and their characters are more brawn than brains, which is really what you want when making a military/action movie. Pryce is always excellent and his portrayal of two different characters displays his range and ability. Palicki does a terrific job as a kick-butt soldier who is also a counterintelligence specialist. Willis' turn as retired general Colton doesn't seem to be much of a stretch for him, which reminded me of some of his better-known roles, like John McClane.
The 4K disc with its 2160p high-resolution video quality is definitely better than the 1080p Blu-ray but it doesn't offer the viewer a significantly upgraded picture. Colors pop, details are sharp, and hues are deep, but they aren't enough to make this upgrade something to brag about. The Dolby TrueHD 7.1 Audio offers more depth than previously released tracks. The lower frequencies – gunshots, explosions, etc. come through the subwoofer beautifully. Dialogue is clear and crisp while the surround sound presentation is hit or miss. Sometimes, the sound is frontloaded while at other points it offers a full and robust aural experience.
Like its predecessor, G.I.Joe: Retaliation offers little in the way of extras. The offerings include Audio Commentary by Director Jon M. Chu and producer Lorenzo di Bonaventura, GI Joe: Declassified and Deleted Scenes. While the Declassified is over an hour long, the deleted scenes are merely four minutes long and neither add nor detract from the overall package.
G.I.Joe: Retaliation is a whole lot of action with dialogue sprinkled throughout the movie. There is also a subplot surrounding Storm Shadow (Byung-hun Lee; I Saw the Devil) and Snake Eyes (Ray Park; Star Wars: Episode 1 - The Phantom Menace) that comes across as cheesy.
The story, action, special effects, and directing are not exceptional so, unless you love G.I. Joe, or are an action movie junky, then you should buy the 4K Blu-ray that is out in stores now. Otherwise…skip it.
Grade: C-
-- Allison Rose
Read More G.I. Joe: The Retaliation Reviews
For more reviews please visit our film/television review section.
SPONSORED LINKS