Blade (1998)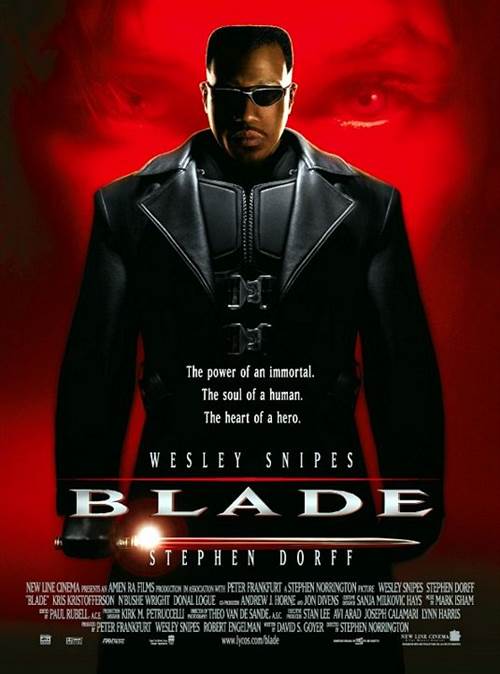 | | |
| --- | --- |
| Director: | |
| Writers: | |
| Cast: | |
| Released: | Friday, August 21, 1998 |
| Length: | 120 minutes |
| Studio: | New Line Cinema |
| Genre: | Action/Adventure, Horror |
| Rating: | Under 17 requires accompanying parent or adult guardian. |
Blade Synopsis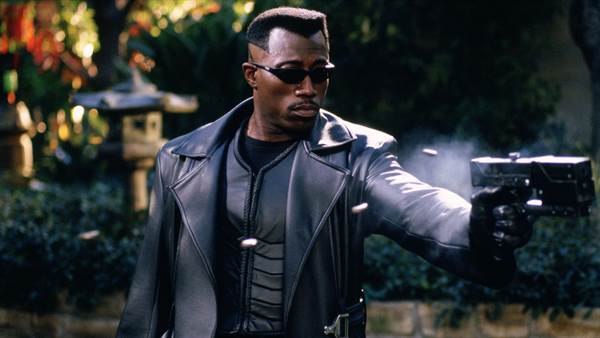 When Blade's mother was bitten by a vampire during pregnancy, she did not know that she gave her son a special gift while dying: All the good vampire attributes in combination with the best human skills. Blade grew up to be a vampire hunter for revenge on his mother's death. The vampires, who managed to infiltrate nearly every major organization, need Blade's very special blood to summon La Magra, the blood god, in order to reign over the human cattle, as they call us.

Purchase DVD/Blu-ray/4K UHD physical copy of Blade today at Amazon.com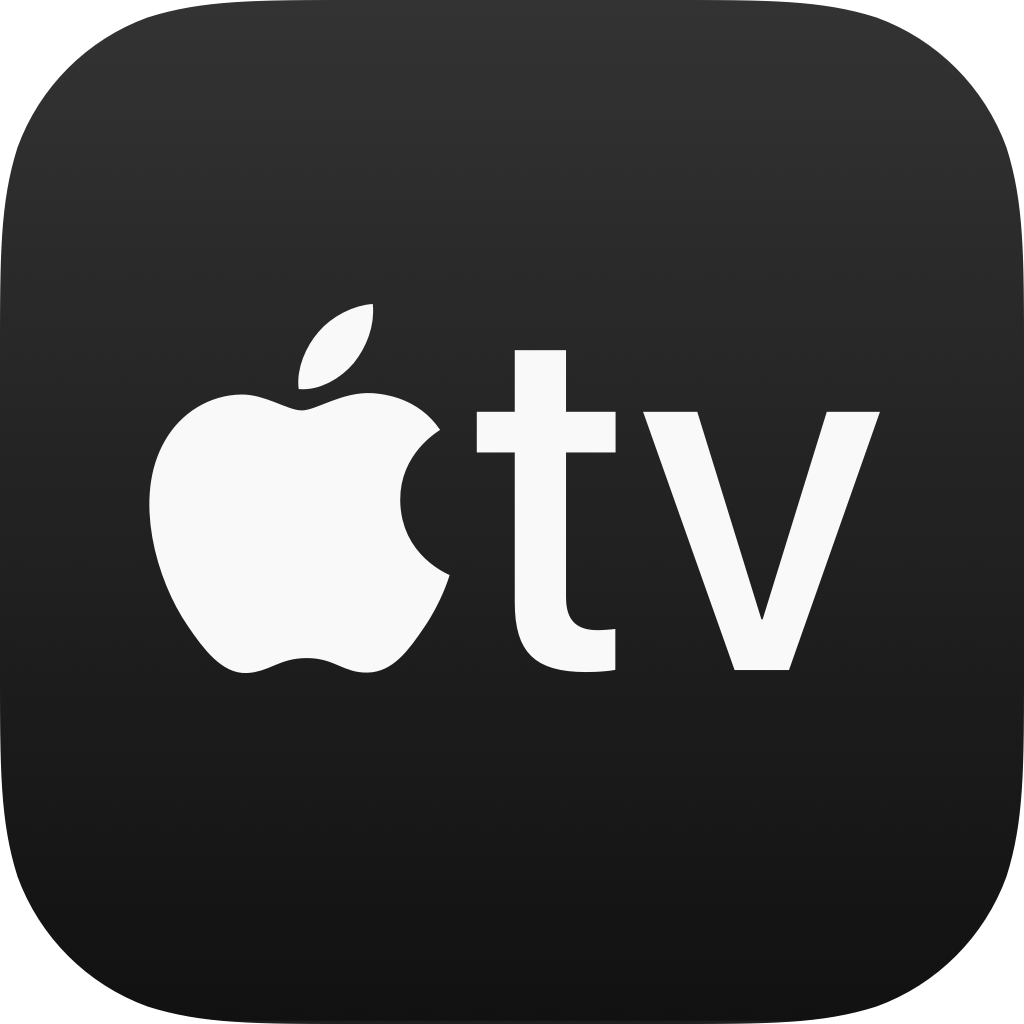 Stream Blade in Digital HD/4K from the AppleTV store.
Listen to the Blade soundtrack on Apple Music.
Blade images are © New Line Cinema. All Rights Reserved.
Snipes Returning for Another Blade Film?
3/5/2019 1:43 PM EST
Looks like there could be another Blade film on the horizon. It is being reported that Marvel is planning on bringing the vampire slayer films back to life, complete with Wesley Snipes reprising his role.It is said that the film would focus on Snipes' character training his daughter how to become a vampire hunter. It will be 15 years since the last Blade film was released, starring Snipes and Ryan...
More>>
Wesley Snipes to Reprise Role of Blade?
9/22/2015 9:56 PM EST
Wesley Snipes recently spoke to The Huffington Post about the possibility of reprising his role as the vampire hunter character, Blade."There's always a possibility, you know. "It's in Marvel's hands. They're controlling the pace and the flow with that. Conversations have been good. They see the value in it. We see the value in it", said Snipes.  According to the actor, he is still " in shape enou...
More>>
Blade Prequel In The Works
7/10/2009 6:47 PM EST
According to "Comics2Film", there is currently a "Blade" prequel in the works. The film will follow the story of villain Deacon Frost, played by Stephen Dorff. Last year, Dorff commented on the prequel, stating, "Deacon's story. It's a new trilogy the director has created. It will [be] cool". The film will be directed by Stephen Norrington, who directed the "Blade" trilogy. He says that the film h...
More>>
Interview With Neil Jackson, Blade The Series
10/12/2006 10:53 AM EST
In October of 2006, Neil Jackson who played Marcus Van Sciver on Blade The Series talked with us about his experiences working on Blade and his upcoming projects. Your original profession was an amateur boxing champion. What made you change directions and go into acting? Boxing was more of a hobby for me, though I reached an alright level in the British amateur ranks. I reached a point in my life ...
More>>
Spike TV Cancels Blade The Series
10/4/2006 11:20 AM EST
Spike TV has revealed that due to low ratings Blade: The Series will not be picked up for another season. However, the 13 episode series will be released on DVD to the delight of many fans, but no release date has been announced.For more behind the scenes information on Blade: The Series stayed tuned to FlickDirect.com for exclusive interviews with Jill Wagner and Neil Jackson....
More>>
Interview With Jill Wagner, Blade The Series
9/20/2006 11:05 AM EST
Jill Wagner from Blade The Series was kind enough to answer some questions about her past, her current history on the Blade Television Series, and what the future holds for this up and coming actress, and without further ado here is that interview... You received a bachelor's degree in management from North Carolina State University. What made you move to Los Angeles and go after an acting career?...
More>>
Apple iTunes Features New Line Television/Spike Series Blade
7/2/2006 12:19 PM EST
Apple iTunes will feature the two-hour pilot of the New Line Television series Blade the day after its premiere on the national cable network Spike, Wednesday, June 28 at 10 p.m. ET/PT.  "Now viewers can watch Blade any time," says Jim Rosenthal, president of New Line Television.  "We are excited to bring this action-adventure series to the iTunes audience and are confident they will come back f...
More>>
Blade 4K Review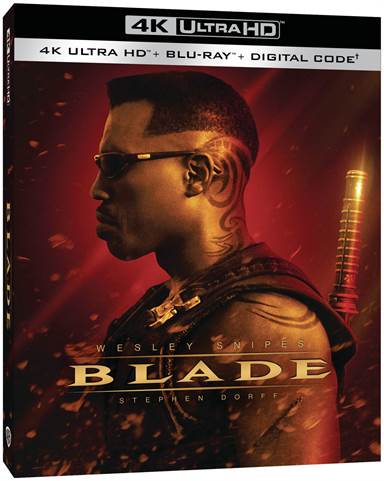 In 1998, comic book films were still a niche genre (excluding the Superman and Batman series of films). However, all that changed when New Line Cinema brought the film Blade to the silver screen. It was hailed as the beginning of the comic book era, as well as, Wesley Snipes' solidification of being an action star.
When the project was first brought to the attention of Snipes, he initially turned it down since he was campaigning to get a movie made and star himself in the role of Black Panther (which eventually went to the late Chadwick Boseman). After he investigated the Blade character, he decided the role was for him because, as he puts it, "I just approached him as this really cool character where I'd get to do martial arts and wear a leather suit".
Being a relativity unknown comic book from Marvel in the 1970s, Blade follows the story of the title character, played by Snipes (Demolition Man), as he goes about his mission of eradicating vampires from the earth. However, Blade is not the normal vampire hunter that people are used to as he is a half-vampire/half-human breed (nicknamed: Daywalker). In this film, his intentions are drawn to an overreaching vampire named Deacon Frost (Stephen Dorff; Judgement Night) who wants to rid the world of humans by bringing forth the "blood god". Helping Deacon is a slew of minions featuring Donal Logue (Gotham), Traci Lords (Virtuosity), and Arly Jover (The Girl With The Dragon Tattoo). Blade is also not alone in his mission; he is helped by his adopted father Whistler (Kris Kristofferson; Payback), and Karen (N'Bushe Wright; Dead Presidents), a hematologist who, by a series of unfortunate incidents, is brought into the fold.
Once the script was completed (David S Goyer; Batman Begins), the director was chosen (Stephen Norrington; The League of Extraordinary Gentlemen), and the cast was solidified, production was set to role. Throughout the production, there were some clashes on set between Snipes and Dorff, a dislocated jaw, and an ending that wouldn't work so it was changed almost daily (as did the budget for the final scene).
With the internet just starting to be used for marketing, Blade was one of the first movies to take advantage of it. Aside from a website, an online trailer, and photos Blade also used the very rare movie news websites to get people excited for the film. One site, Dark Horizons, stated that the sword battles in this film compared to those in the 1986 movie entitled Highlander. After all the marketing (broadcast, in theater, and online), the film was presented to audiences in the summer of August 1998. The effort paid off as audiences were riveted by the film's style, action pieces, and cast. It spawned two sequels and a tv series. Marvel regained control of the rights to Blade back in 2011 and now has plans for an updated Blade to come into theaters during phase five of the Marvel Cinematic Universe. This new Blade might not be one that people are expecting, however. Blade is full of violence, horror, and explicit language. This even carried over into the tv series where Spike TV went against the grain in 2006 and had cursing on broadcast television (a rarity then, a commonality now). It's almost certain that this is not the direction Marvel/Disney will take with the character.
Blade has never looked better on home video. From DVD to Blu-ray and now to 4K, each new release does not disappoint. Shown in its original aspect ratio: 2.39:1 objects are sharper and finer details are seen throughout the film. The only time it has ever looked better was when it was in the theaters. The brand new Dolby Atmos soundtrack is simply amazing. Action scenes are separated to channels correctly and you feel like you are in the action (or at the rave in the film's beginning). The dialog is mostly clear, but at times does drop a few decibels so you have to make sure you have your system cranked when viewing this (This also intensifies the action sequences by making it louder).
Unfortunately, the special features found on this release are just a rehash of the Blu-ray's which is also a rehash of the DVD extras. Standard definition/4:3 is the name of the game for these featurettes and if you have seen them before there is honestly no reason to watch them again. These included features are La Magra, Designing Blade, Origins of Blade: A Look at Dark Comic, The Blood Tide, and the theatrical trailer.
While each Blade film went down in quality, the original is one of the stand-out films of the 1990s and is still getting new fans every day. The action is top-notch (even by today's standard), the style is unique and different, and the acting is right up there with any other action/horror film of today. The release of this new 4K UHD Blade, with its amazing quality and Dolby Atmos, will be enough for the younger generation to pick it up today and see what a truly amazing comic book film really is. While I give the quality of this release very high marks, it is disappointing that we are still looking at the same features from the 1999 DVD release.
Grade: A-
For more reviews please visit our film/television review section.
SPONSORED LINKS