Transformers: The Last Knight (2017)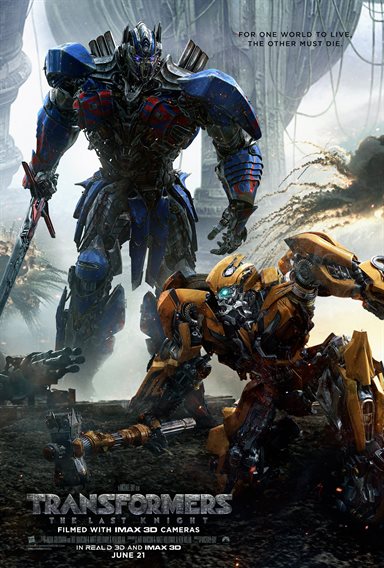 | | |
| --- | --- |
| Director: | |
| Writers: | Akiva Goldsman, Art Marcum, Matt Holloway, Ken Nolan |
| Cast: | |
| Released: | Wednesday, June 21, 2017 |
| Length: | 148 minutes |
| Studio: | Paramount Pictures |
| Genre: | Sci-Fi/Fantasy, Action/Adventure |
| Rating: | Some material may be inappropriate for children under 13. |
Synopsis
The Last Knight shatters the core myths of the Transformers franchise, and redefines what it means to be a hero. Humans and Transformers are at war, Optimus Prime is gone. The key to saving our future lies buried in the secrets of the past, in the hidden history of Transformers on Earth. Saving our world falls upon the shoulders of an unlikely alliance: Cade Yeager (Mark Wahlberg); Bumblebee; an English Lord (Sir Anthony Hopkins); and an Oxford Professor (Laura Haddock).
There comes a moment in everyone's life when we are called upon to make a difference. In Transformers: The Last Knight, the hunted will become heroes. Heroes will become villains. Only one world will survive: theirs, or ours.
Purchase your copy of Transformers: The Last Knight today at
Download Transformers: The Last Knight in Digital HD from the iTunes store.
Transformers: The Last Knight images are © Paramount Pictures. All Rights Reserved.


Michael Bay Discusses Tranformers: The Last Knight on His Website
02/03/2017 10:32 AM EDT
Michael Bay has taken to his official site to discuss the upcoming film, Transformers: The Last Knight, and what the franchise has meant to him.  He spoke about the mythology of this film, and how this release is "bittersweet". The Last Knight trailer was released back in December, and now, with the plot synopsis released by Paramount, we see that this could very well the last film of the franchis...
More>>
Josh Duhamel Confirms Return to Transformers
05/18/2016 1:03 PM EDT
Josh Duhamel, who starred in the first three Transformer films, will be returning to the franchise.  The actor tweeted out the following:"Lieutenant Colonel Lennox reporting for duty. Let's do this. #transformers"Duhamel, who portrayed Lt. Col. Lennox, skipped the last film, Age of Extinction, but will be back for the upcoming "Transformers: The Last Knight".The franchise will be releasing their f...
More>>
Michael Bay Confirms His Return for Transformers 5
01/05/2016 9:50 AM EDT
It has been confirmed by Michael Bay, himself, that he will be returning to direct Transformers 5.  Bay made the announcement while doing promotion for his upcoming film, "13 Hours".It is also expected that Mark Wahlberg will be returning to franchise, as well as Lorenzo di Bonaventura, who will be producing. While plot details for the newest installment aren't released yet, it is said that Wahlbe...
More>>
Michael Bay Will Stay On for Fifth Transformer Film
07/01/2014 3:49 PM EDT
It has been reported that Michael Bay will be directing the next installment of the Transformers franchise, "Transformers 5".Bay has agreed to come back on board, but under one condition - he wants to make a "smaller" film first.  These means that the film will most likely not be released in 2016.  Ben Kendrick, producer for the film, said in a statement, "I think it's one of those classic things ...
More>>
SPONSORED LINKS
Comments

Courtesy of
Movie Hype App
yordybarrios
I love it
10/09/2017 9:00 PM EDT
joshuacobb
Love it
09/27/2017 7:57 PM EDT
lesliesanchez0305
It's an ok movie but it wasn't good cuality
09/27/2017 3:22 PM EDT
coreyanthony26
Great Movie and The Next One it is Gonna Be The The Of The Transformers as We Know Thanks For A Great Series Run
06/29/2017 9:06 PM EDT
karson_money
one hour
06/20/2017 8:17 PM EDT
ali121
Love me some bubblebee!
06/20/2017 6:14 PM EDT
movieguynathan
Autobots roll out!
06/20/2017 6:11 PM EDT
agentlocke117
Omfg can't wait to see this TFTLK
06/16/2017 1:07 AM EDT
ethanpeyon
I love them
03/25/2017 6:53 PM EDT
robbie
can't wait
01/29/2017 6:03 PM EDT
aidan031xd
Now with Michael bay as the fx supervisor (I'm joking)
04/11/2016 4:27 PM EDT
moonxwolfx
I hope that one huge deception rises up! 😂
03/19/2016 8:08 PM EDT
coreyanthony26
Mark Wahlberg better be back in this Action Pack Movie
03/10/2016 8:39 PM EDT
kinglen9
all these f***ing transformers movies
08/06/2015 1:14 AM EDT
starlord44thefar
Michael bays just killing the franchise, he just makes explosions look BORING thx to him
08/01/2015 8:32 AM EDT