Shazam! (2019)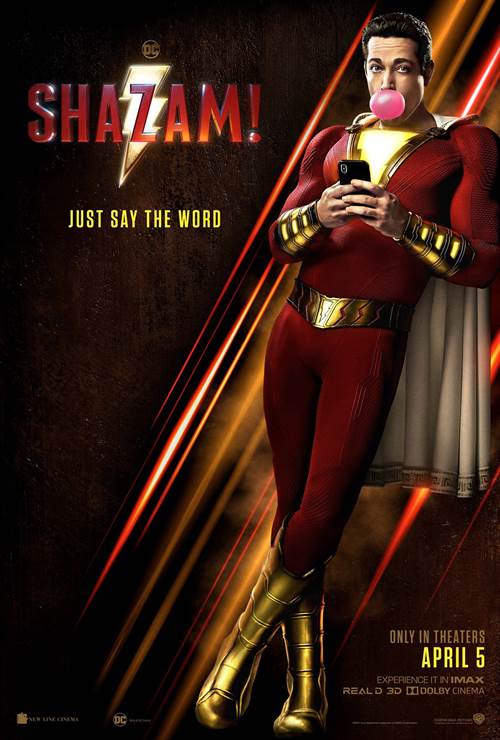 Share this:
| | |
| --- | --- |
| Director: | |
| Writers: | |
| Cast: | |
| Released: | Friday, April 5, 2019 |
| Length: | 132 minutes |
| Studio: | Warner Bros. |
| Genre: | Sci-Fi/Fantasy, Action/Adventure |
| Rating: | Some material may be inappropriate for children under 13. |
Synopsis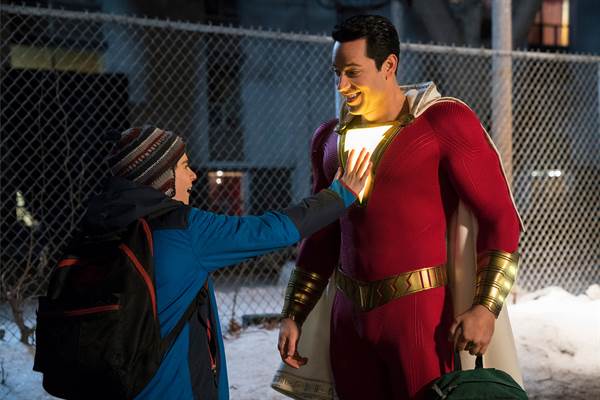 We all have a superhero inside us, it just takes a bit of magic to bring it out. In Billy Batson's (Angel) case, by shouting out one word—SHAZAM!—this streetwise 14-year-old foster kid can turn into the adult Super Hero Shazam (Levi), courtesy of an ancient wizard. Still a kid at heart—inside a ripped, godlike body—Shazam revels in this adult version of himself by doing what any teen would do with superpowers: have fun with them! Can he fly? Does he have X-ray vision? Can he shoot lightning out of his hands? Can he skip his social studies test? Shazam sets out to test the limits of his abilities with the joyful recklessness of a child. But he'll need to master these powers quickly in order to fight the deadly forces of evil controlled by Dr. Thaddeus Sivana (Strong).

Purchase DVD/Blu-ray/4K UHD physical copy of Shazam! today at Amazon.com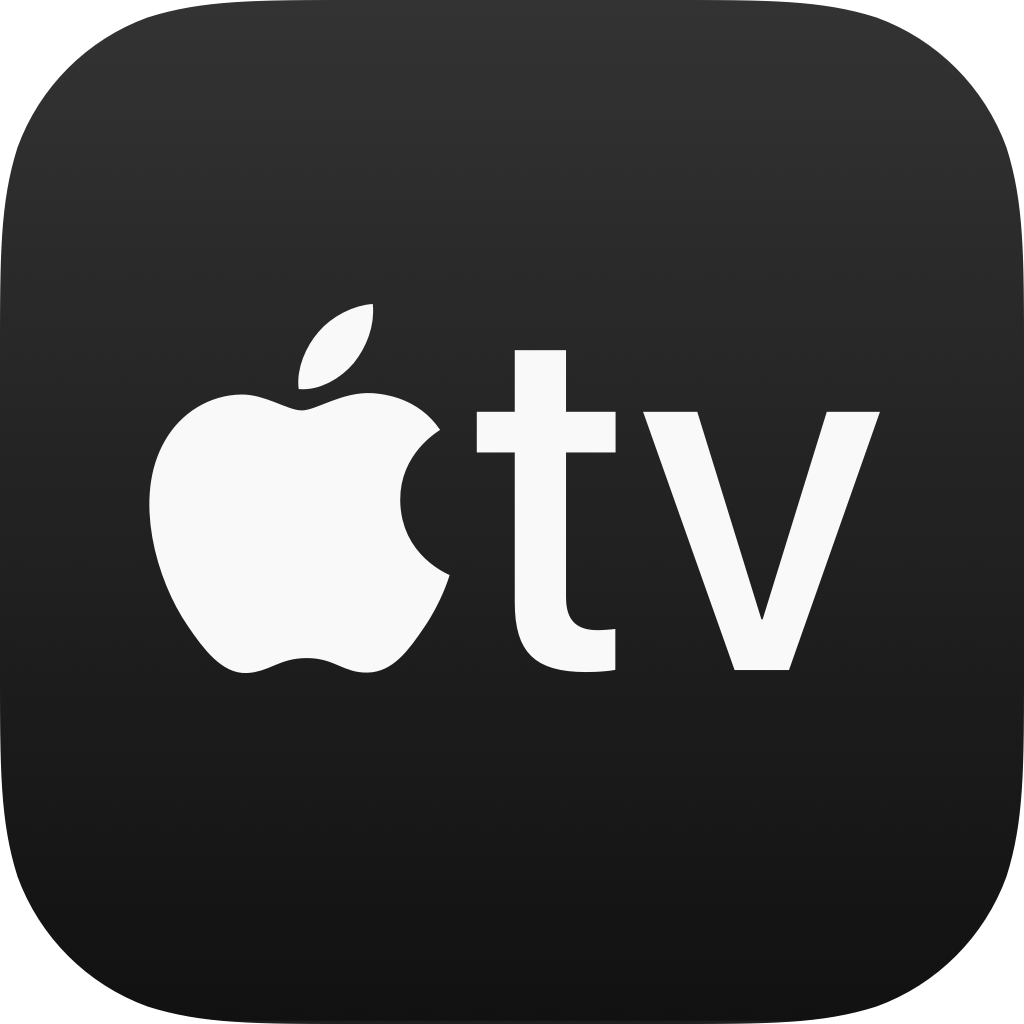 Download Shazam! in Digital HD/4K from the iTunes store.
Listen to the Shazam! soundtrack on Apple Music.
Shazam! images are © Warner Bros.. All Rights Reserved.
The Batman and Others Make Changes to Release Date
10/6/2020 12:23 PM EST
After the announcement that "Dune" was being delayed until October 1, 2021, we are finding out that more films are doing the same."The Batman", which was also scheduled to be released on October 1, 2021, is now slated for March 4, 2022. March 4, 2022 was originally the release date for the "Minecraft" movie, so now that's changed and a new date hasn't been announced."Matrix 4" will now be released...
More>>
Zach Levi Cast as Shazam! Title Role in Upcoming DC Film
10/30/2017 12:52 PM EST
Zachary Levi, best known for his role on NBC's Chuck, has been cast as Shazam! in the upcoming DC film of the same name.Shazam! will follow the story of Billy Boston, a teenaged boy who has the power to transform into a superhero when he yells "Shazam!" Levi posted his statement about the news on Instagram, saying, "Honored and greatly humbled to be a part of the #dcuniverse by bringing the origin...
More>>
Dwayne Johnson to Star in Black Adam Standalone Film
1/20/2017 3:43 PM EST
The DC property Shazam will be getting the big screen treatment, but now, we will also see a second Shazam universe film which will feature Black Adam, the villain, played by Dwayne Johnson.Shazam is still in the development stages,  but the people in charge must have felt that the story of Black Adam was so strong, he should get his own film.  There are also rumors of a possible third film which ...
More>>
The Rock to Play Black Adam in Upcoming Shazam Movie
9/3/2014 12:51 PM EST
Dwayne "The Rock" Johnson confirmed this morning, via Twitter, that he will indeed be playing the role of anti-hero Black Adam in the upcoming Shazam movie.  The actor posted a comic book pic of the character with his nemesis, Shazam."I am putting my heart and soul and my bones into this role," said Johnson during a press tour for "Hercules".The film will be written by Darren Lake, who wrote "Jack...
More>>
Shazam! Theatrical Review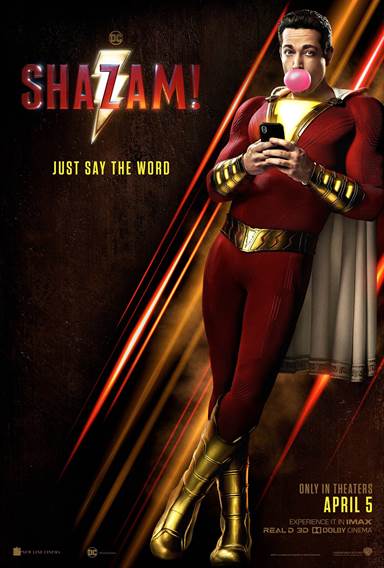 What if one day you were a fourteen-year-old kid and the next you were a male superhero in his thirties? How would you handle it? Would you be freaking out? What if you obtained those powers from an ancient wizard? Imagine you could switch back and forth between adult and teenager by just uttering one simple word – Shazam! In the ever-growing genre of superhero films, DC Comics brings us their latest entry…that one little word – Shazam! Coming to theaters this month, this is one unconventional and, at times, a somewhat reluctant superhero.
Billy Batson (Asher Angel; Andi Mack) is an orphan who has run away from countless foster care homes. He only has one dream…finding his mom. After his latest attempt, he is sent to live with a very nice foster couple who run a group home of sorts. There he meets Freddy Freeman (Jack Dylan Grazer; It), who walks with a crutch and is a superhero fanatic. When some older boys pick on Freddy at school, Billy defends him and suddenly finds himself on the run. A few days later he ends up in a cave where he meets the magical Wizard. The wizard explained that Thaddeus Sivana (Mark Strong; Kingsman: Secret Service) has unleashed the seven deadly sins and that he needs Billy to take his powers to stop them.
With one little word, Billy suddenly is transformed into Shazam (Zachary Levi; Chuck). Not knowing what to do he enlists the help of Freddy as the two test Shazam's powers. Shazam then spends the next few days being a "do-gooder". Things suddenly change when Sivana shows up with the sins and starts wreaking havoc on the town. Billy once again wants to run away but steps up to the plate so to speak when Sivana threatens Billy's "family" – the other foster kids. With their help, he defeats the sins and restores order.
Even though he is young, Grazer is already a fairly accomplished actor and this role is no exception. He is great as Billy's geeky friend, having the appropriate reaction to finding out Billy is suddenly a superhero. Asher is also well cast and the two young actors have good chemistry. Levi is obviously the star of the film and was a great choice to play the man/child. His portrayal of a boy trapped in a man's body is spot on and believable. Strong is such a versatile actor and he masterfully plays the bad guy. The rest of the supporting cast is great as well adding some of the most humorous moments in the film.
Director David F. Sandberg (Annabelle: Creation) does a wonderful job with this story. The film flows well and doesn't drag at any point. He nicely highlights the life of a foster kid without being preachy.
The effects in the film don't look especially fake or cheesy. The seven sins are distinct and detailed and Shazam's suit looks authentic even though it probably was supposed to be a little tongue in cheek considering the nature of the film.
Shazam! Is humorous, heartwarming, and lighthearted with a very good cast and a fairly decent script. It also shows a more positive light on the foster system and celebrates these young people dealing with a situation that was not of their own making. It is family friendly fare and is a good choice to take the kids to during spring break this year.
Unless you are coldhearted, you will most likely walk out of the theater with a smile on your face after enjoying a few laughs.
Grade: B+
For more reviews please visit our film/television review section.
Exploring his inner teenager? MCU vs. DCU? A Chuck movie? Zachary Levi and the cast of t...

We all have a superhero inside us, it just takes a bit of magic to bring it out. In Billy Batson's (...

We all have a superhero inside us, it just takes a bit of magic to bring it out. In Billy Batson's (...
For today's home video reviews, FlickDirect's Austin Putnam reviews SHAZAM! on 4K!...
SPONSORED LINKS