Harold & Kumar Go to White Castle (2004)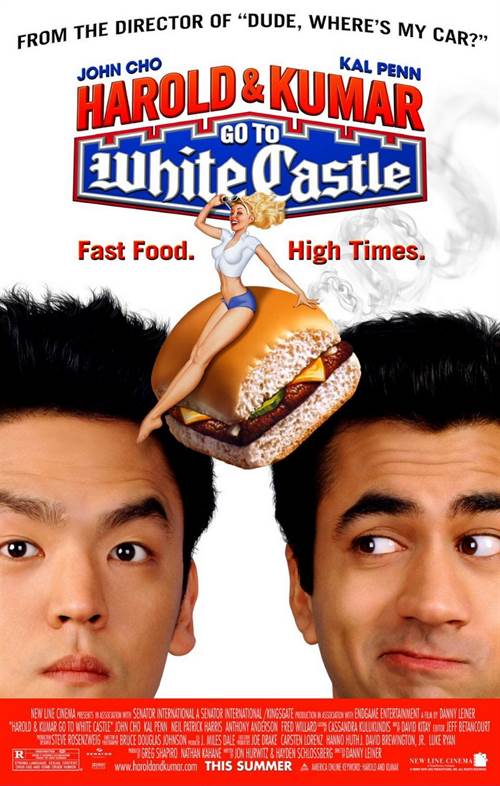 | | |
| --- | --- |
| Director: | |
| Writers: | |
| Cast: | |
| Released: | Friday, July 30, 2004 |
| Length: | 87 minutes |
| Studio: | New Line Cinema |
| Genre: | Comedy |
| Rating: | Under 17 requires accompanying parent or adult guardian. |
Harold & Kumar Go to White Castle Synopsis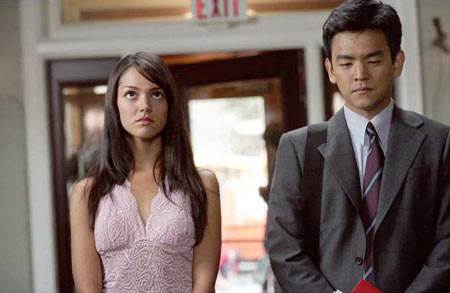 Harold & Kumar Go To White Castle takes the buddy comedy genre to mind-altering new "&;highs"&;. Straitlaced, by-the-book Harold (Cho) and his roommate, the rebellious Kumar (Penn), have only one thing in common - a serious case of the munchies. As they set out on a quest to satisfy their craving for White Castle hamburgers, their simple road trip turns into a hilarious, all-night epic journey of deep thoughts, deeper inhaling and a wild trip through New Jersey - as "un-PC" as it gets. Along the way, Harold and Kumar meet an array of crazy characters and one screwy obstacle after another (not to mention one rabid raccoon and an escaped cheetah on the run), but with every step of the journey, they somehow manage to keep their eye on the tasty prize, learning more than they bargained for about themselves and each other in the process.

Purchase DVD/Blu-ray/4K UHD physical copy of Harold & Kumar Go to White Castle today at Amazon.com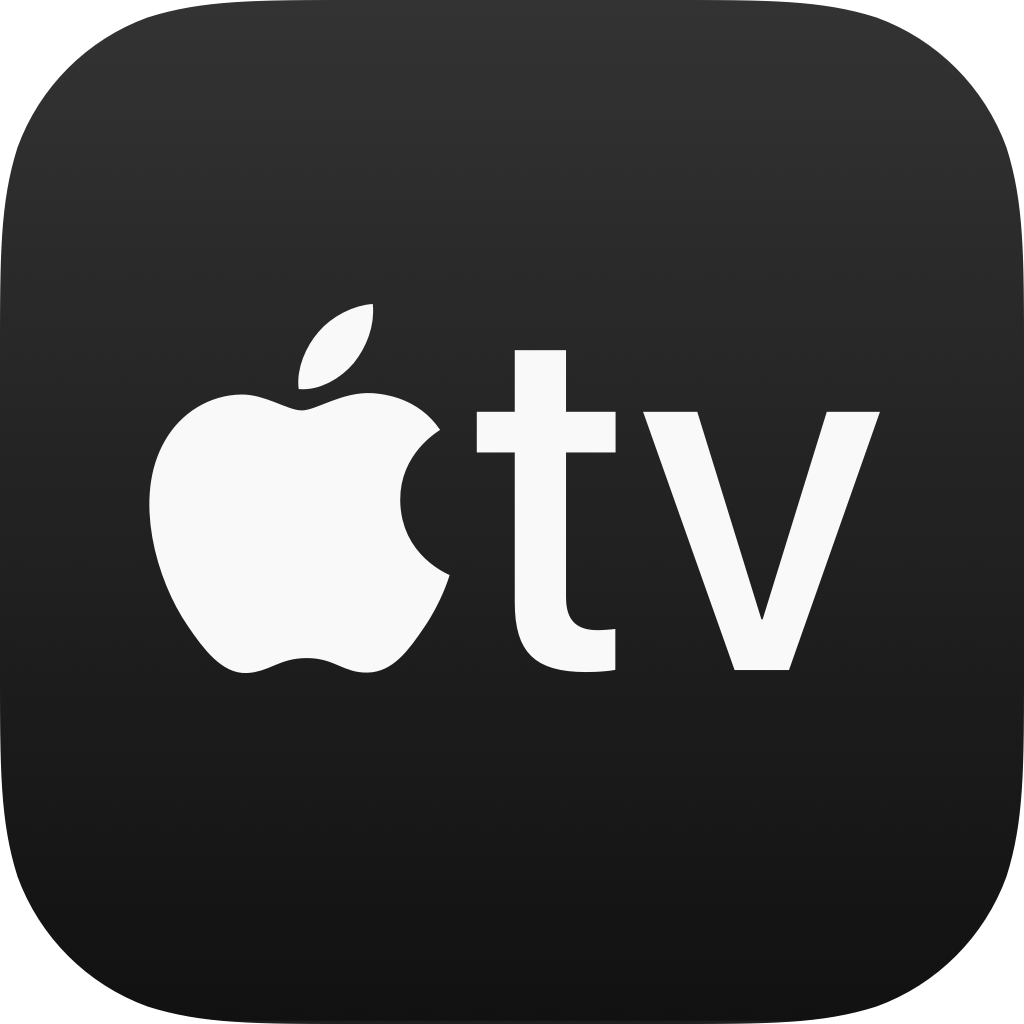 Stream Harold & Kumar Go to White Castle in Digital HD/4K from the AppleTV store.
Harold & Kumar Go to White Castle images are © New Line Cinema. All Rights Reserved.
Harold and Kumar Director Danny Leiner Dies at 57
10/22/2018 10:00 AM EST
Danny Leiner, director of Harold and Kumar Go To White Castle, has died from lung cancer. He was 57. Leiner's credits also included Dude, Where's My Car? and several stints in TV including Felicity, Freaks and Geeks, Party of Five, Gilmore Girls, Arrested Development, The Sopranos, and The Office.Ross Putnam, who worked with Leiner on several projects, confirmed the news on Facebook and spoke abou...
More>>
Production on Harold and Kumar Get Droned Delayed
9/24/2013 10:45 AM EST
"Harold and Kumar get Droned", the next film in the "Harold and Kumar" franchise to be released, will now be delayed. Kal Penn, who took a break from the entertainment world to become the Associate Director in the White House Office of Public Engagement, said that due to rising tensions in the Middle East, production has halted.  He blames President Obama and the handling of the recent Syrian cris...
More>>
Harold and Kumar The Third
7/13/2010 8:43 PM EST
A third "Harold and Kumar" will be hitting theaters next year, and a press release from Mandate Pictures and New Line Cinema gave some details about the film. Among the details was a synopsis for the film: "The story picks up six years after the duo's last adventure. After years of growing apart, Harold Lee (John Cho) and Kumar Patel (Kal Penn) have replaced each other with new best friends and ar...
More>>
Harold & Kumar Go to White Castle Theatrical Review
If you have ever been to a White Castle restaurant you know the aroma of the small square burger patties, topped with grilled onions and a warm chewy pickle sold by the sackful. Its the ultimate late night craving which you either can not get enough of or will find barely edible. In an idea that must have been born sometime after 2am, hunched over a 10 sack, the film "Harold and Kumar go to White Castle" will either be regarded as pure comedic genius, or rendered barley watchable.
The title of the film is quite appropriate as the plot is centered on our hero's Harold (a young Korean American investment banker played by John Cho) and Kumar (an Indian American medical school candidate played by Kal Penn) attempting to get to White Castle for a late night craving.
Just like the burgers, it's not for everyone. You have to "get it." To put it bluntly, Harold and Kumar is a "stoner comedy" in league with such films as "Half Baked" or "PCU". As a member of this class of film it is truly exceptional and funny. What makes the film so good in this capacity is that it understands its sophomoric nature and plays to it rather than trying to please the masses.
The excellent writing (credited to Jon Hurwitz & Hayden Schlossberg) lends itself to the extreme but the jokes work and the actors take the material and themselves non too seriously. This is very evident with the hilarious cameo from Neil Patrick Harris who in this film is a far cry from "Doogie Howser M.D."
There are some moments where it does go to far into the realm of weirdness (at one point Harold and Kumar ride a cheetah through the woods) The writers however know this is a ridiculous scenario and thus is garners laughs. Harold: [riding the cheetah] "Dude, am I really high, or is this actually working?" Kumar: "Both."
As Harold and Kumar drive around the state of New Jersey in search of the White Castle they meet a cast of interesting characters who have some of the best lines in the film. One of the more memorable characters is a dubbed "Freakshow" the Jesus loving, devil hatin' pulsating boil necked tow truck driver who invites the pair to "Go on inside, boys, and make yourselves at home. You can rest up, get something to drink, **** my wife, whatever you want. Just don't do anything Jesus wouldn't!" Kumar: (incredulous) "Did he just say we could **** his wife?"
The easily offended should steer well clear of this film as it earns its R rating through extreme political incorrectness, heavy comedic drug use, and nudity. If however this is your type of humor, this is your type of movie and one of the best of its genre. Now I'm craving a 10 sack.
-- Eric English
For more reviews please visit our film/television review section.
SPONSORED LINKS