Star Wars: Episode VI - Return of the Jedi (1983)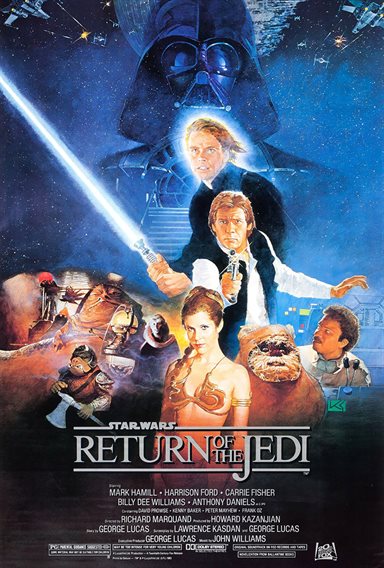 | | |
| --- | --- |
| Director: | |
| Writers: | George Lucas, Lawrence Kasdan |
| Cast: | |
| Released: | Wednesday, May 25, 1983 |
| Length: | 134 minutes |
| Studio: | 20th Century Fox |
| Genre: | Sci-Fi/Fantasy, Action/Adventure |
| Rating: | Some material may not be suitable for children. |
Synopsis
As the Emperor himself oversees the construction of the new Death Star by Lord Darth Vader and the evil Galactic Empire, smuggler Han Solo is rescued from the clutches of the vile gangster Jabba the Hutt by his friends, Luke Skywalker, Princess Leia and Chewbacca. Leaving Skywalker Jedi training with Yoda, Solo returns to the Rebel Fleet to prepare for to complete his battle with the Empire itself. During the ensuing fighting the newly returned Skywalker is captured by Vader. Can the Rebels, and their new found friends, the Ewoks, help restore freedom to the Galaxy?
Purchase your copy of Star Wars: Episode VI - Return of the Jedi today at
Download Star Wars: Episode VI - Return of the Jedi in Digital HD from the iTunes store.
Star Wars: Episode VI - Return of the Jedi images are © 20th Century Fox. All Rights Reserved.


Ewan McGregor to Reprise Role of Obi-Wan Kenobi for Disney+
8/16/2019 2:54 PM EDT
It's being reported that Ewan McGregor is currently in talks to join the cast of a yet-untitled TV series for Disney+. He would be reprising his role of Obi-Wan Kenobi.McGregor played Kenobi in The Phantom Menace (1999), Attack of the Clones (2002) and Revenge of the Sith (2005), playing a young version of the character.Obi-Wan Kenobi was originally played by Alec Guinness 1977's Star Wars: A New ...
More>>
Veteran Star Wars Alum Reunite at Galaxy's Edge Disneyland
5/30/2019 1:20 PM EDT
Galaxy's Edge was launched this week at the Disneyland Resort in Anaheim, CA with a full-scale media blitz. In addition to a firework and a light show, some of our favorite Star Wars alum made an appearance. Mark Hamill, Harrison Ford, and Billy Dee Williams gathered on stage with George Lucas and Bob Iger.The new "land" is an immersive experience with vehicle replicas including the Millenium Falc...
More>>
Carrie Fisher to Make Appearance in The Rise of Skywalker
5/23/2019 1:38 PM EDT
"Star Wars" fans will be seeing an unexpected character in the next film. J.J. Abrams has revealed that the late Carrie Fisher will be included in "Star Wars: The Rise of Skywalker."How can that be? Well, J.J. knew that a digital version of Fisher wouldn't be right but remembered that there was extra footage of Fisher from 2015's "The Force Awakens". He decided to incorporate that into the new fil...
More>>
Game of Thrones' David Benioff and D.B. Weiss to Head Up Next St...
5/14/2019 1:21 PM EDT
It has been confirmed that Game of Thrones showrunners David Benioff and D.B. Weiss will head up the next Star Wars film. Walt Disney Company chairman Bob Iger confirmed the news today at the MoffetNathanson Media & Communications Summit."I haven't seen [Episode] 9 finished yet, but I'm confident based on the pieces that I've seen and the script that I've read that it's going to be extremely popul...
More>>
Walt Disney Studios Releases Film List Through 2027
5/7/2019 4:31 PM EDT
The Walt Disney Studios have released their current film schedule through 2027. The calendar includes some changes that were made including some major additions.This summer alone will see the release of some major films including  Disney's Aladdin on May 24, Fox's Dark Phoenix on June 7, Pixar's Toy Story 4 on June 21, Fox's Stuber on July 12, and Disney's The Lion King on July 19. the rest of the...
More>>
Chewbacca Actor Peter Mayhew Dies at 74
5/2/2019 9:40 PM EDT
Peter Mayhew, known to the world as the man behind the character of Star Wars' Chewbacca, has died at 74. The news was announced on his Twitter account today.Mayhew portrayed Chewbacca in Star Wars (1977), The Empire Strikes Back (1980), Return of the Jedi (1983), Revenge of the Sith (2005) and The Force Awakens (2015). His former Star Wars co-stars took to social media to express their feelings a...
More>>
Disney Announces New Rogue One Series for Disney + Streaming Ser...
11/8/2018 10:37 PM EDT
Disney has finally announced the name of its upcoming streaming service. They will be calling it Disney + and it will launch in late 2019.Disney+ will feature original programming as well as existing Disney, Pixar, Marvel and Star Wars properties. After the acquisition of 21st Century Fox is final, the service will also stream programming from National Geographic. The company also announced that o...
More>>
The Crown Star Matt Smith Joins Cast of Star Wars: Episode IX
8/28/2018 3:19 PM EDT
Rumor has it that Matt Smith has signed on to join the cast of Star Wars: Episode IX. Smith is best known for his roles in Doctor Who and The Crown where he played Prince Philip, Duke of Edinburgh and earned a Primetime Emmy nomination for the portrayal.Smith joins a cast that includes Daisy Ridley, John Boyega, Billy Dee Williams, Mark Hamill, Anthony Daniels, Oscar Isaac, Adam Driver, Keri Russe...
More>>
Kelly Marie Tran Writes About Dealing with Online Harassment
8/21/2018 4:30 PM EDT
Kelly Marie Tran, who starred in "Star Wars: The Last Jedi" has taken to the New York Times to write an op-ed about her struggle with harassment she's received through social media. She wrote in the piece that it wasn't easy to deal with, and the fact that she deleted her Instagram account in June after racist and misogynistic comments confirms the difficulties."It wasn't their words, it's that I ...
More>>
Star Wars: Episode IX Begins Production Next Week
7/27/2018 4:45 PM EDT
Star Wars: Episode IX will begin filming next week in London's  Pinewood Studios. On August 1, J.J. Abrams will be returning to work on the final installment of the saga.Returning cast members include Daisy Ridley, Adam Driver, John Boyega, Oscar Isaac, Lupita Nyong'o, Domhnall Gleeson, Kelly Marie Tran, Joonas Suotamo, and Billie Lourd. Joining the cast of Episode IX are Naomi Ackie and Richard E...
More>>
Keri Russell to Join Star Wars Cast
7/9/2018 2:11 PM EDT
Keri Russell is said to be in talks to star in the upcoming "Star Wars: Episode IX". The film will be written and directed by J.J. Abrams, who worked on "Star Wars: The Force Awakens".Russell and Abrams also worked together for the 2006 film "Mission: Impossible III". Through her work with this "MI" and her FX series, "The Americans", Russell has shown that she's up for more of a hands-on film rol...
More>>
Han Solo Film to Debut at Cannes Film Festival
4/6/2018 11:13 AM EDT
It was announced that the Solo: A Star Wars Story film will be premiering at the Cannes Film Festival, which runs from May 8 to May 19.The film, which will debut at the festival on May 15, stars Alden Ehrenreich as Han Solo, Donald Glover as Lando Calrissian, and Emilia Clarke and Woody Harrelson. This isn't the first time a Star Wars film will be debuted at the festival - 2002's Attack of the Clo...
More>>
SPONSORED LINKS
Comments

Courtesy of
Movie Hype App
oquinteroavila
A terminar ahora maratón de star Wars
11/25/2015 5:47 PM EDT
movieguynathan
Closing out night with a great film. If only they will now come out with the unedited version!
12/12/2013 11:22 PM EDT