Robocop (1987)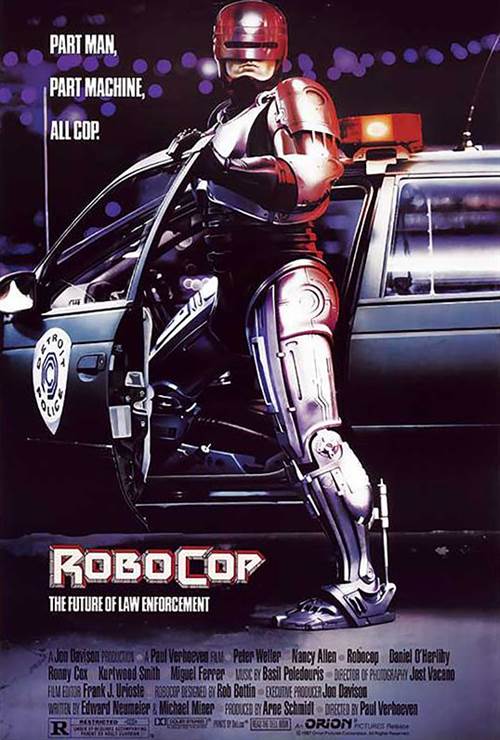 | | |
| --- | --- |
| Director: | |
| Writers: | |
| Cast: | |
| Released: | Thursday, January 1, 1987 |
| Length: | 103 minutes |
| Studio: | Orion Pictures |
| Genre: | Sci-Fi/Fantasy, Action/Adventure |
| Rating: | Under 17 requires accompanying parent or adult guardian. |
Robocop Synopsis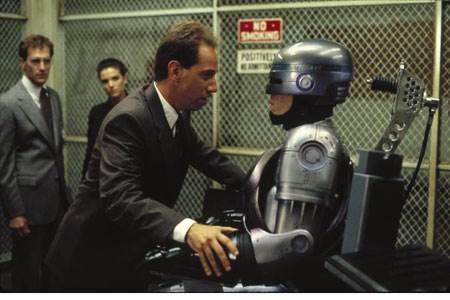 In the not-to-distant-future, a newly transferred Detroit police officer is remade into an indestructible cybornetic cop after being dismembered by a gang of thugs in an abandoned warehouse. Reborn as Robocop he is programed to serve and protect the citizens of Detroit and eliminate the rampant crime in the city streets so that a massive city-wide reconstruction project can get underway. But once he has completed his task, he sets his sites on the corruption inside Securities Concepts Inc.- the corporation that created him.
Robocop images are © Orion Pictures. All Rights Reserved.
Neill Blomkamp Discusses RoboCop Sequel
2/13/2019 2:51 PM EST
Director Neill Blomkamp recently spoke about the upcoming RoboCop sequel, RoboCop Returns, a project that he will be bringing to life for MGM.Ed Neumeier and Michael Miner, the original creators, have signed on to write and produce the film. The 1987...
| Full Article
Production Begins This Weekend on RoboCop Reboot
9/13/2012 3:08 PM EST
This Saturday, September 15th, production will begin on "RoboCop" in Toronto, Canada.Based on the 1987 film of the same name, it will star Joel Kinnaman, Gary Oldman, Michael Keaton, and Samuel L. Jackson. Jose Padilha will be directing the screenpla...
| Full Article
Michael Keaton Joins RoboCop Remake
8/30/2012 10:10 AM EST
Michael Keaton has joined the cast of the upcoming film, "RoboCop". he is set to play the role of Raymond Sellars, the CEO of the company that builds RoboCop.Originally,  the role was to be played by Hugh Laurie, but he dropped out for making the dea...
| Full Article
Hugh Laurie to Join Robocop Cast
6/13/2012 10:50 AM EST
The star of" House M.D.", Hugh Laurie, is in negotiations to star in the upcoming Robocop. It's understood that the British actor will play the villain, the evil CEO of Omnicorp who puts profit before anything else, up against Joel Kinnaman Robocop.A...
| Full Article
Samuel L. Jackson to Star in Robocop
6/7/2012 11:30 AM EST
Samuel L. Jackson is the latest star to join the cast of the upcoming "Robocop" reboot. The ultra cool acting legend will be playing the role of Pat Novak, a media mogul and extremely powerful man.The reboot will also star Joel Kinnaman as the title ...
| Full Article
Oldman and Kinnaman to Star in Robocop Reboot
5/24/2012 3:12 PM EST
MGM's "Robocop" reboot will be starring Gary Oldman and Joel Kinnaman according to Heat Vision.Oldman will be playing the role of Norton, the creator of Robocop, and Norton will play Robocop, formerly Alex Murphy.Being released in the summer of 2013,...
| Full Article
Schenk Signs on to RoboCop
2/1/2012 3:21 PM EST
Nick Schenk, who penned "Gran Torino", has signed on with MGM to work on the script for their upcoming "RoboCop" reboot.Directing the film will be Jose Padilha, who Schenk is currently working with on the film, "Tri-Border".Shooting is expected to be...
| Full Article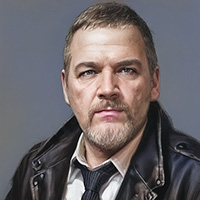 Physical Media: Blu-ray Review
This Robocop release is Part Man, Part Machine, and ALL ARROW VIDEO!
RoboCop Trilogy Physical Media: Blu-ray Review
The Robocop movie, when originally released was quite successful in the theaters. It did well enough that it went on to spawn two sequels. On the surface the film comes off as your standard action film; a tough as nails hero against seemingly impossible odds. What some viewers may not notice right o...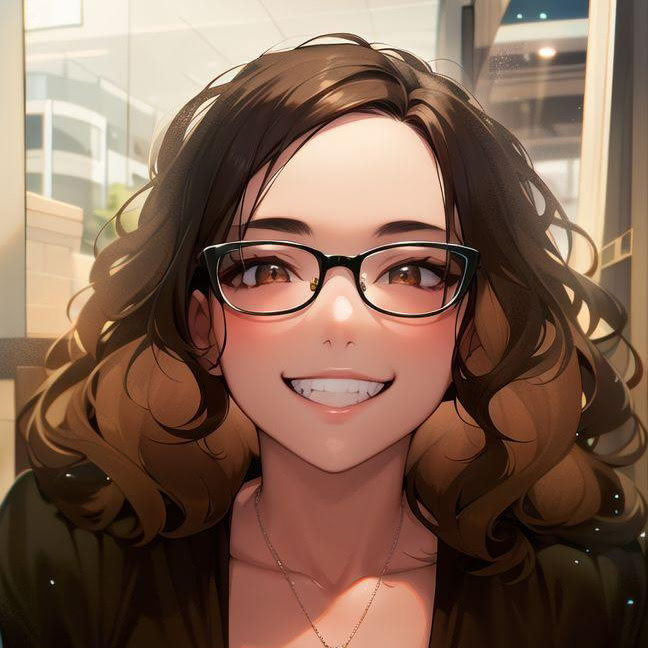 RoboCop Steelbook Physical Media: 4K UHD Review
To say the 4K Steelbook of RoboCop has much to offer, is an understatement.
SPONSORED LINKS