Robocop (1987)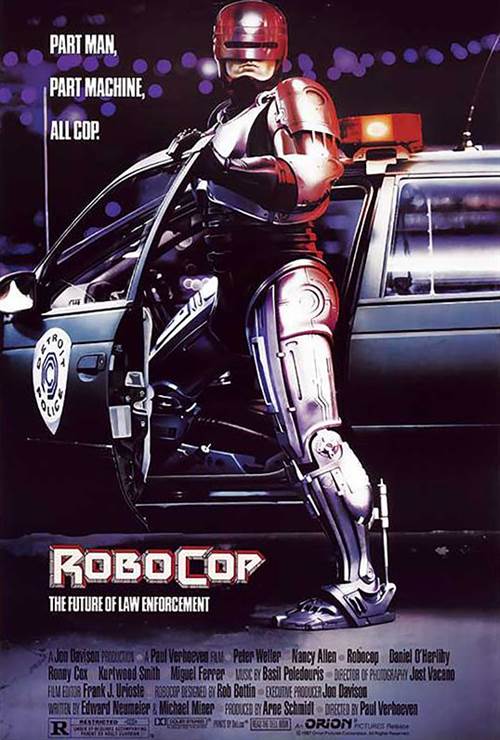 | | |
| --- | --- |
| Director: | |
| Writers: | |
| Cast: | |
| Released: | Thursday, January 1, 1987 |
| Length: | 103 minutes |
| Studio: | Orion Pictures |
| Genre: | Sci-Fi/Fantasy, Action/Adventure |
| Rating: | Under 17 requires accompanying parent or adult guardian. |
Robocop Synopsis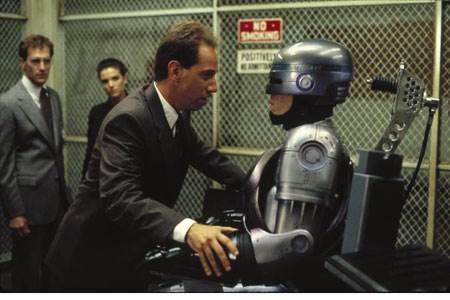 In the not-to-distant-future, a newly transferred Detroit police officer is remade into an indestructible cybornetic cop after being dismembered by a gang of thugs in an abandoned warehouse. Reborn as Robocop he is programed to serve and protect the citizens of Detroit and eliminate the rampant crime in the city streets so that a massive city-wide reconstruction project can get underway. But once he has completed his task, he sets his sites on the corruption inside Securities Concepts Inc.- the corporation that created him.

Purchase DVD/Blu-ray/4K UHD physical copy of Robocop today at Amazon.com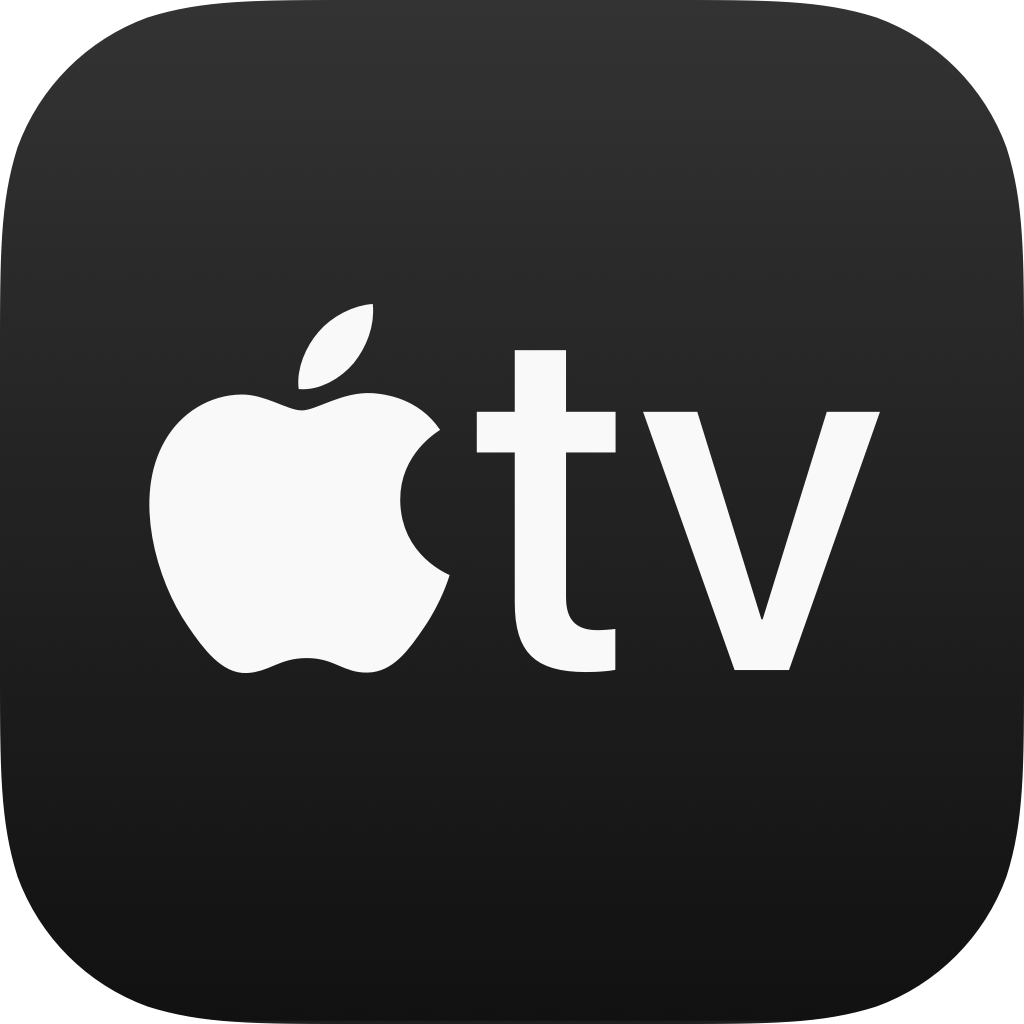 Stream Robocop in Digital HD/4K from the AppleTV store.
Listen to the Robocop soundtrack on Apple Music.
Robocop images are © Orion Pictures. All Rights Reserved.
Neill Blomkamp Discusses RoboCop Sequel
2/13/2019 2:51 PM EST
Director Neill Blomkamp recently spoke about the upcoming RoboCop sequel, RoboCop Returns, a project that he will be bringing to life for MGM.Ed Neumeier and Michael Miner, the original creators, have signed on to write and produce the film. The 1987 original was directed by Paul Verhoeven. Blomkamp spoke of how he wants the project to turn out."If I can be honest to what Paul Verhoeven did and al...
More>>
Production Begins This Weekend on RoboCop Reboot
9/13/2012 3:08 PM EST
This Saturday, September 15th, production will begin on "RoboCop" in Toronto, Canada.Based on the 1987 film of the same name, it will star Joel Kinnaman, Gary Oldman, Michael Keaton, and Samuel L. Jackson. Jose Padilha will be directing the screenplay by Josh Zetumer and Nick Schenk.Speaking about the announcement, Padilha said, "It's exciting to think that we're going to be starting production on...
More>>
Michael Keaton Joins RoboCop Remake
8/30/2012 10:10 AM EST
Michael Keaton has joined the cast of the upcoming film, "RoboCop". he is set to play the role of Raymond Sellars, the CEO of the company that builds RoboCop.Originally,  the role was to be played by Hugh Laurie, but he dropped out for making the deal final.Jose Padilha, director of the film, said,  "Michael is the final addition to the amazing cast we have assembled for this film and it is so gre...
More>>
Hugh Laurie to Join Robocop Cast
6/13/2012 10:50 AM EST
The star of" House M.D.", Hugh Laurie, is in negotiations to star in the upcoming Robocop. It's understood that the British actor will play the villain, the evil CEO of Omnicorp who puts profit before anything else, up against Joel Kinnaman Robocop.Along with Kinnaman, Laurie will be teaming up with Gary Oldman who plays the law enforcing cyborg scientific creator and Samuel L. Jackson a media mag...
More>>
Samuel L. Jackson to Star in Robocop
6/7/2012 11:30 AM EST
Samuel L. Jackson is the latest star to join the cast of the upcoming "Robocop" reboot. The ultra cool acting legend will be playing the role of Pat Novak, a media mogul and extremely powerful man.The reboot will also star Joel Kinnaman as the title role of Robocop, a man who brought back from near death and changed into a cyborg police officer.The film will be directed by Jose Padihla, and will b...
More>>
Oldman and Kinnaman to Star in Robocop Reboot
5/24/2012 3:12 PM EST
MGM's "Robocop" reboot will be starring Gary Oldman and Joel Kinnaman according to Heat Vision.Oldman will be playing the role of Norton, the creator of Robocop, and Norton will play Robocop, formerly Alex Murphy.Being released in the summer of 2013, Robocop will be directed by Jose Padilha based on a script by James Vanderbilt (The Amazing Spiderman); meanwhile Gary Oldman's next appearance on th...
More>>
Schenk Signs on to RoboCop
2/1/2012 3:21 PM EST
Nick Schenk, who penned "Gran Torino", has signed on with MGM to work on the script for their upcoming "RoboCop" reboot.Directing the film will be Jose Padilha, who Schenk is currently working with on the film, "Tri-Border".Shooting is expected to begin this summer....
More>>
RoboCop Steelbook 4K Review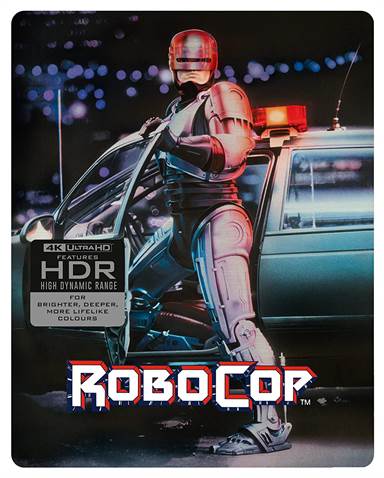 There are those who believe artificial intelligence will soon take over the world. Computers, robots, etc. could become so smart that they would run themselves and no longer require human input. Everything from surgery to food shopping and transportation will all be done by machines. Even law enforcement could be digitalized at some point with robots being used to stop crime. What would that look like though? While no one really knows, 1987's RoboCop offered a glimpse of what could be and, as one could imagine, it isn't particularly pretty. Luckily, thanks to Arrow Video, you can own a limited edition 4K Steelbook of this classic, sci-fi film, out on May 31, 2022.
Sometime in the future, the city of Detroit has become a dystopia with rampant crime and poverty. Omni Consumer Products believes they have created a solution to the chaos with their, ED-209 prototype droid, a law enforcement robot. However, when, during a demonstration, the droid brutally kills an OCP executive, the company looks to find another solution.
Meanwhile, Detroit Cop Alex Murphy (Peter Weller; Naked Lunch) is transferred to Metro West which is the toughest area in the city. As Murphy and his partner investigate a notorious gang, Murphy is captured and beaten to death. OCP, however, takes Murphy's corpse and turns it into a cyborg OCP calls RoboCop. This part man/mostly machine is efficient while having no memory of his former life as Murphy…or does he?
Arrow always takes time and care putting together special packaging to go along with their Blu-ray/4K releases and, in the case of RoboCop, offers collectors two different versions to choose from (or to splurge and buy both). For the purposes of this review, I will be discussing the 4K Steelbook.
To say the 4K Steelbook of RoboCop has much to offer is an understatement. The 2160p video transfer is decent but, much like the Blu-ray release from several years ago, correcting the brightness shows some of the graininess and flaws that could not be removed from the original negative. That isn't to say the upgrade isn't an improvement because it is but there is only so much cleaning and upgrades that can be done.
The audio upgrade on this 4K release is a surprise, as Arrow Video offers a Dolby Atmos track and, unlike the video, the jump from DTS-HD Master Audio 5.1 is noticeable from beginning to end. Interestingly, to access the Atmos audio, the disc comes with instructions to set the player to bitstream and disable BD secondary audio. The audio track is layered and immersive while not overwhelming the audience.
While both releases from Arrow have two discs, the Steelbook only offers the 4K version of the movie, which is unusual as combo packs typically include both the 4K and 1080p versions of the film. In this case, the Steelbook has a large amount of, though not necessarily new, extras.
They include: Director's Cut, Commentaries, Archive Commentary by Paul Verhoeven, executive producer Jon Davison and co-writer Ed Neumeier (originally recorded for the Theatrical Cut and re-edited in 2014 for the Director's Cut), New Commentary by film historian Paul M. Sammon, New Commentary by fans Christopher Griffiths, Gary Smart and Eastwood Allen, The Future of Law Enforcement, RoboTalk, Truth of Character, Casting Old Detroit, Connecting the Shots, Analog, More Man Than Machine: Composing RoboCop, RoboProps, 2012 Q &A with the Filmmakers, RoboCop: Creating a Legend, Villains of Old Detroit, Special Effects: Then & Now, Paul Verhoeven Easter Egg, Deleted Scenes, The Boardroom: Storyboard with Commentary by Phil Tippett, Director's Cut Production Footage, Trailers, Theatrical Trailer 1, Theatrical Trailer 2, TV Spots, Image Galleries, Production Stills, Behind the Scenes, Poster & Video Art, Theatrical Cut, Archive Commentary by Paul Verhoeven, executive producer Jon Davison and co-writer Ed Neumeier, Two Isolated Score Tracks, Edited for Television Version, RoboCop: Edited for Television, and Split Screen Comparisons (Director's Cut vs. Theatrical Cut and Theatrical Cut vs. TV Cut)
RoboCop offered a glimpse of what law enforcement might look like in the future and while critics didn't particularly like the movie, it has become a cult classic amongst fans. The movie was so popular that there is even a statue of RoboCop in Detroit (think Rocky in Philadelphia).
Arrow Video always delivers and this time is no exception. Whether you get the 4K UHD Box Set Limited Edition version that includes a fold-out poster and postcards or choose 4K Steelbook, you can't go wrong.
Grade: B
-- Allison Rose
Read More Robocop Reviews
For more reviews please visit our film/television review section.
SPONSORED LINKS