Machete (2010)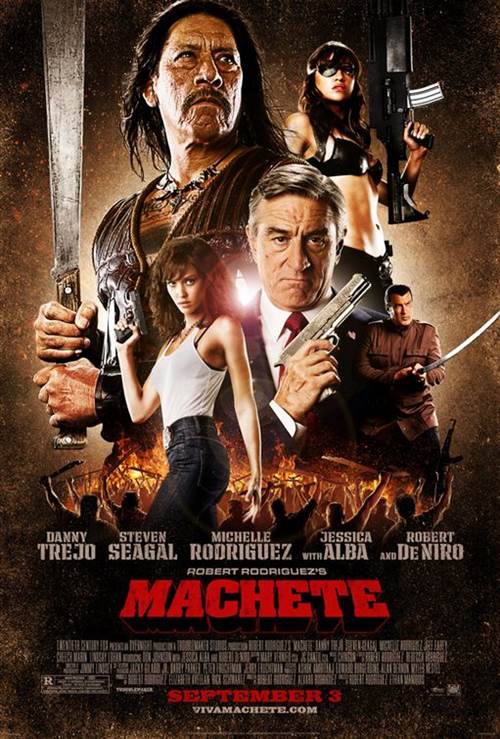 Share this:
| | |
| --- | --- |
| Director: | |
| Writers: | |
| Cast: | |
| Released: | Friday, September 3, 2010 |
| Length: | 105 minutes |
| Studio: | 20th Century Studios |
| Genre: | Action/Adventure |
| Rating: | Under 17 requires accompanying parent or adult guardian. |
Synopsis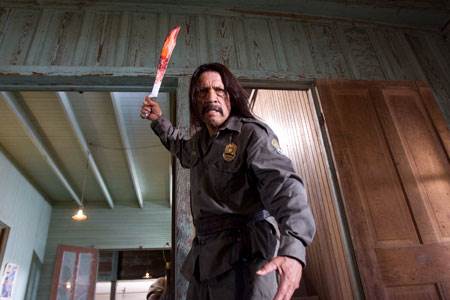 Machete is based on the fake trailer in Robert Rodriguez's 2007 Grindhouse, featuring Danny Trejo and Jeff Fahey reprising their original roles.
The feature version of the trailer finds Machete (Trejo) a renegade former Mexican Federale, roaming the streets of Texas after a shakedown from drug lord Torrez (Steven Seagal). Reluctantly, Machete takes an offer from spin doctor Benz (Fahey) to assassinate McLaughlin (Robert De Niro) a corrupt Senator. Double crossed and on the run Machete braves the odds with the help of Luz (Michelle Rodriguez), a saucy taco slinger, Padre (Cheech Marin) his holy brother, and April (Lindsay Lohan) a socialite with a penchant for guns. All while being tracked by Sartana (Jessica Alba), a sexy ICE agent with a special interest in the blade slinger.

Purchase DVD/Blu-ray/4K UHD physical copy of Machete today at Amazon.com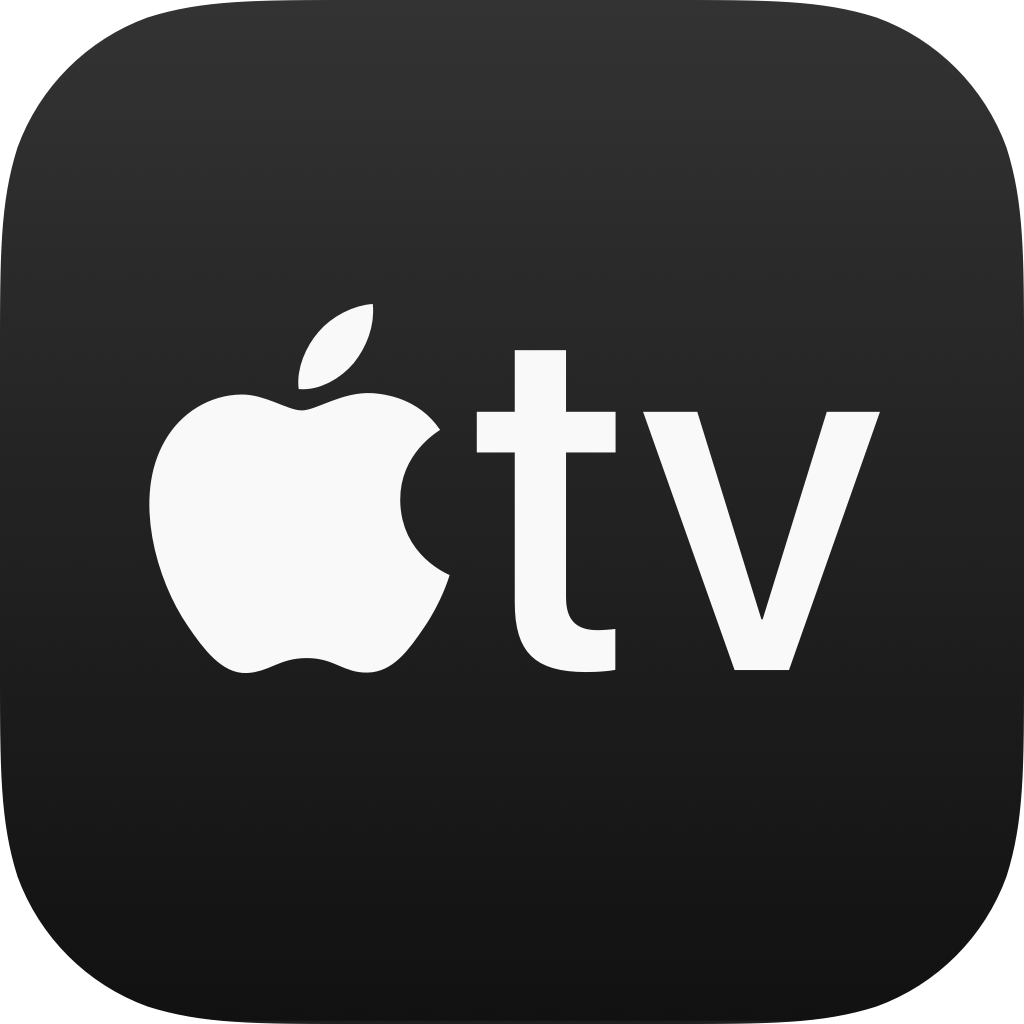 Download Machete in Digital HD/4K from the iTunes store.
Machete images are © 20th Century Studios. All Rights Reserved.
Open Road Films Will Bring Robert Rodriguez's Machete Kills To T...
10/19/2012 11:29 AM EST
Open Road Films has acquired all U.S. distribution rights to MACHETE KILLS, directed by Robert Rodriguez (Machete, Sin City, Spy Kids franchise) and starring Danny Trejo, Michelle Rodriguez, Sofia Vergara, Amber Heard, Charlie Sheen, Lady Gaga, Antonio Banderas, Jessica Alba, Demian Bichir, Alexa Vega, Vanessa Hudgens, Cuba Gooding, Jr., William Sadler, Marko Zaror and Mel Gibson.  The announcemen...
More>>
Machete Sequel to Star Charlie Sheen as The President
6/22/2012 10:59 AM EST
"Machete 2" is currently under production, and some of the cast may surprise you.  While Rodriguez's first "Machete" film starred the ever-troubled Lindsey Lohan, the next film will feature Charlie Sheen and Mel Gibson. Gibson signed on in April as a "Bond-style villain".  Now, this week, the announcement was made that Sheen will be playing the President of the United States.  He made the followin...
More>>
Machete Theatrical Review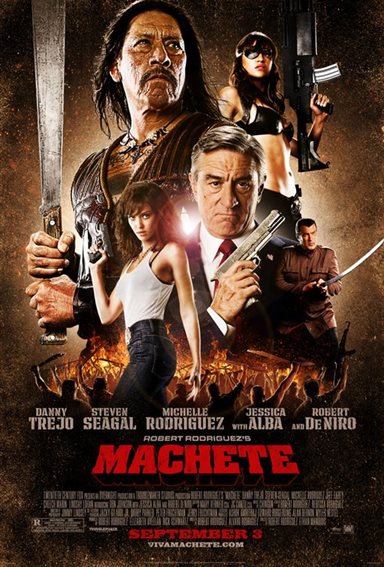 Three years ago, Robert Rodriguez and Quentin Tarantino released Grindhouse, an homage to the B slasher/zombie movies from the 1970s. Part of that homage was including trailers for "fake" movies. One of those was Machete. However, Machete was more than just a trailer at that point.

The first script for Machete was written in 1993. In fact, the idea was still being refined when Robert Rodriguez shot Spy Kids and that was the first time Danny Trejo actually played Machete. Robert Rodriguez shared a tidbit about one line in the movie that came from Danny Trejo himself. During the time when the movie was still just a rough script and ideas, Danny Trejo called Robert on the phone. Robert normally doesn't like to talk on the phone and prefers texting or emailing. To which Danny replied, "Machete don't text." You will hear that line again. The ideas continued to simmer until 2007 when the "fake" trailer was released with Grindhouse. The audience's reaction to the trailer was extremely positive and demand was there to actually make a Machete movie. Two years later, filming began. And what's even better – Robert Rodriguez actually uses most, if not all of the scenes he previously shot for the trailer.

Considering the usual formulaic movies that usually come from Hollywood, Machete is a welcome respite for one wanting something different. Are you going to have character development in the movie? No. Are you going to have a lot of cheesy dialogue at times? Yes. Are you going to see lots of gore and gratuitous violence? Yes.

Story/Script/Plot Development (B): On the macro view, the story is extremely simple – it's a revenge story. But does it need to be more than that? Machete, while it was riding on the coattails of the immigration debate still currently going on in Arizona, was filmed before that issue came to the international light. And while it does comment on the current immigration issue facing the United States, it does so fairly without being heavy handed towards one side of the political spectrum. The dialogue is very basic, but that fits well with this genre.

Cinematography (A): Violence takes a lead role in this movie, and to properly do that, you need excellent cinematography. Machete delivers on that. Between the camera angles and trick photography, it makes what is happening seem plausible.

Acting/Chemistry (B): This hurts to give this a B here. Mainly because Danny Trejo is Machete. Without him, there would not be a Machete. And he plays his role extremely well. I know that he probably won't be recognized for this role because some people will think he's not really acting….but trust me, he is. He has a wonderful chemistry with Jessica Alba (ICE Agent Sartana) and Michelle Rodriguez (Luz), both of whom do a wonderful job of portraying their roles on the screen. Robert DeNiro (Senator McLaughlin) again gives his role his all and it shows. But one of the biggest surprises is the return of Jeff Fahey (Booth) as a leading character. Jeff had previously worked with Robert Rodriguez in Planet Terror, but he really shows his capabilities as an actor in Machete. Cheech Marin (Padr) is also good reprising his role from the trailer as a gun-toting priest.

The biggest disappointment however was Lindsay Lohan. I don't know if her character was written specifically for her, but it seemed like she wasn't acting. She seemed to be playing herself. Once you see the movie you'll understand what I mean when you compare her character to her own personal life. And because of this, her character brings down the scenes she is in and brings down the grade from an A.

Use of locations/Costumes/Special Effects (A): Filmed mainly around Austin, Texas – Machete is supposed to be in Texas…and it is. Costumes are as expected, with Machete having the most unique costume for most of the movie. Now the special effects are where this movie does shine. Using what appears to be minimal digital effects and relying mostly on the old-fashioned kind, Machete really does fit well as an homage to the 70s slasher/zombie flicks.

Movie Score (C): The score is another homage to the genre, with a transition to cheesy 70s porn music whenever Machete is showing his softer side, but the rest of the film is a variation of the general Machete theme. It fits well but it's nothing special.

Final Grade (B): Machete is a fast paced, action packed fun ride of a movie. Once it starts it never lets up….and isn't for those who can't stand the sight of blood. Gruesome at times and always graphic – Machete begins his carnage minutes into the movie….and doesn't stop until all of the bad guys are dead. If this is your kind of movie, you'll have fun. Otherwise, I'd skip it.
Read More Machete Reviews
For more reviews please visit our film/television review section.
SPONSORED LINKS