Dolittle (2020)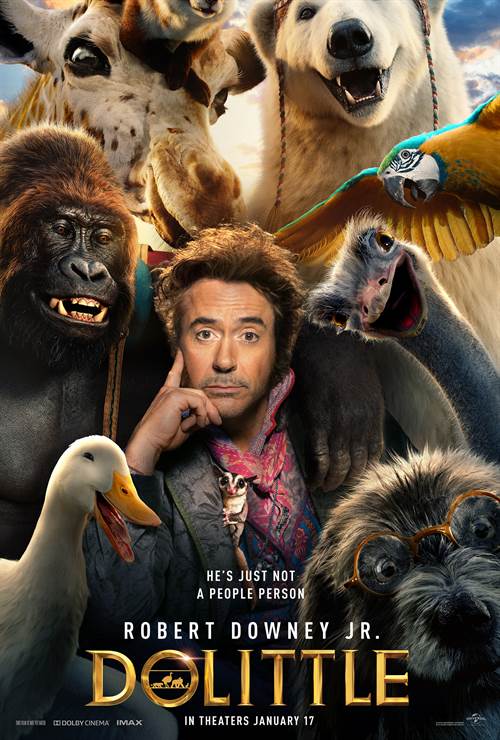 Share this:
| | |
| --- | --- |
| Director: | |
| Writers: | Stephen Gaghan, Hugh Lofting, Thomas Shepherd |
| Cast: | |
| Released: | Friday, January 17, 2020 |
| Length: | 106 minutes |
| Studio: | Universal Pictures |
| Genre: | Comedy |
| Rating: | Some material may not be suitable for children. |
This film contains a scene during or after the credits.
Synopsis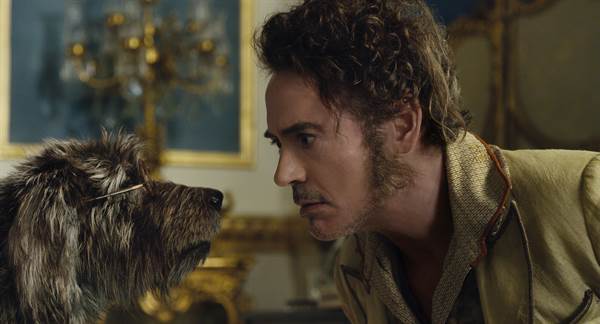 Robert Downey Jr. electrifies one of literature's most enduring characters in a vivid reimagining of the classic tale of the man who could talk to animals: Dolittle.
After losing his wife seven years earlier, the eccentric Dr. John Dolittle (Downey), famed doctor and veterinarian of Queen Victoria's England, hermits himself away behind the high walls of Dolittle Manor with only his menagerie of exotic animals for company.
But when the young queen (Jessie Buckley, Wild Rose) falls gravely ill, a reluctant Dolittle is forced to set sail on an epic adventure to a mythical island in search of a cure, regaining his wit and courage as he crosses old adversaries and discovers wondrous creatures.
The doctor is joined on his quest by a young, self-appointed apprentice (Dunkirk's Harry Collett) and a raucous coterie of animal friends, including an anxious gorilla (Oscar® winner Rami Malek), an enthusiastic but bird-brained duck (Oscar® winner Octavia Spencer), a bickering duo of a cynical ostrich (The Big Sick's Kumail Nanjiani) and an upbeat polar bear (John Cena, Bumblebee) and a headstrong parrot (Oscar® winner Emma Thompson), who serves as Dolittle's most trusted advisor and confidante.
The film also stars Antonio Banderas, Michael Sheen (The Queen) and Oscar® winner Jim Broadbent and features additional voice performances from Oscar® winner Marion Cotillard, Frances de la Tour, Carmen Ejogo, Ralph Fiennes, Selena Gomez, Tom Holland, and Craig Robinson.
Directed by Academy Award® winner Stephen Gaghan (Syriana, Traffic), Dolittle is produced by Joe Roth and Jeff Kirschenbaum under their Roth/Kirschenbaum Films (Alice in Wonderland, Maleficent) and Susan Downey (Sherlock Holmes franchise, The Judge) for Team Downey. The film is executive produced by Robert Downey Jr., Sarah Bradshaw (The Mummy, Maleficent) and Zachary Roth (Maleficent: Mistress of Evil).
Purchase DVD/Blu-ray/4K physical copy of Dolittle today at
Download Dolittle in Digital HD/4K from the iTunes store.
Listen to the Dolittle soundtrack on Apple Music.
Dolittle images are © Universal Pictures. All Rights Reserved.


Free Passes For Two To A Screening of Universal Pictures' DOLITTLE
1/6/2020 4:20 PM EST
Robert Downey Jr. (Ironman) once again lends his quirky personality to a character as the lead in this month's DOLITTLE.  As the eccentric man who can talk to animals he brings the beloved literary character to life in a reimagining of the classic tale.   Before it is released nationwide, Universal Pictures, in conjunction with FlickDirect, want to give some lucky winners the chance to win advance...
More>>
Dolittle Theatrical Review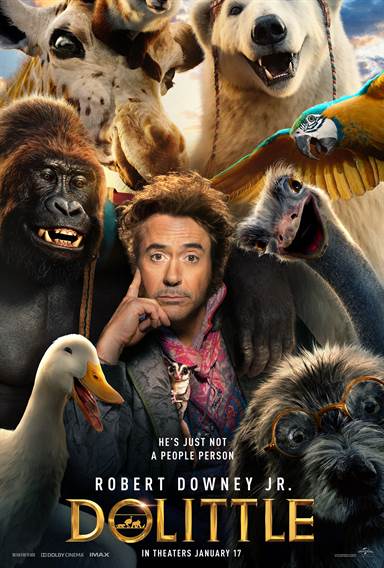 When I was a boy, lad, young child, I was fascinated by an old black and white film I saw on TV called "Treasure Island". It exposed me to everything I knew nothing about, a dangerous sea voyage, nasty pirates, the hunt for treasure, and a resolution in doubt. I was so impressed by it that I still remember the impact it had on me to this day. "Dolittle" achieves that same impact utilizing modern effects and featuring an enduring character as memorable as Long John Silver.

I know that audiences today are more jaded than during my youth, having already been exposed to films like the "Pirates Of The Caribbean", the "Avenger" movies, and even the rash of animated films starring talking animals. Even still, any young child, who sees "Dolittle", will be fascinated by all the elements in it, and that goes for we adults as well. It's loaded with family style humor, abundant action, and it delivers believable animation that smoothly floats the storyline along.

Just so you know, this is not a continuation of the Eddie Murphy comedy films about the same character, or any of the sequels with Kyla Pratt, or even the one way-back-when starring Rex Harrison; it's instead a pure adventure story from another era.
Here's The Storyline…

In young Queen Victoria's England, eccentric doctor and famed veterinarian Dr. John Dolittle (Downey Jr.) has locked himself away from the world in his vast manor house following the death of his beloved wife seven years ago. He lives there with a unique menagerie of talking animals consisting of a fearful gorilla (Malek), a bird-brained duck (Spencer), a sarcastic ostrich (Nanjiani), an upbeat polar bear (John Cena) and a pigheaded parrot (Thompson).
When the young Queen (Buckley) suddenly falls deathly ill, Dolittle is called in to find a cure for her sickness. Turns out that the antidote lies on a Mythical Island across a forbidden Sea filled with old adversaries and strange creatures. And so the adventure begins, off he goes with his young apprentice (Collett) and his entourage of animals in search of the fabled cure.
Once you get past the strange accent Robert Downey Jr. chose to use in the film, you'll find the child in you falling right into the story. Absurd? Yes. Contrived, Yes. Fun? Absolutely! Funny? You bet! It's also an interesting game putting the animal's voices with the actual actors voicing the roles. Truth is, if I had a seven-year-old child right now, you'd find us in line at a theater buying tickets to see "Dolittle" on the big screen.

My take…Packed with comedy, action, and animation, "Dolittle" is a rousing good time for the whole family. Go see it.
Grade: B "Dolittle" is Rated PG for some action, rude humor, and brief language. Running Time: 1hr. 41min.

-- Alyn Darnay
Read More Dolittle Reviews
For more reviews please visit our film/television review section.
Watch Robert Downey Jr audition the most talented animals in the business for #Dolittle. Robert Dow...
SPONSORED LINKS