Jigsaw (2017)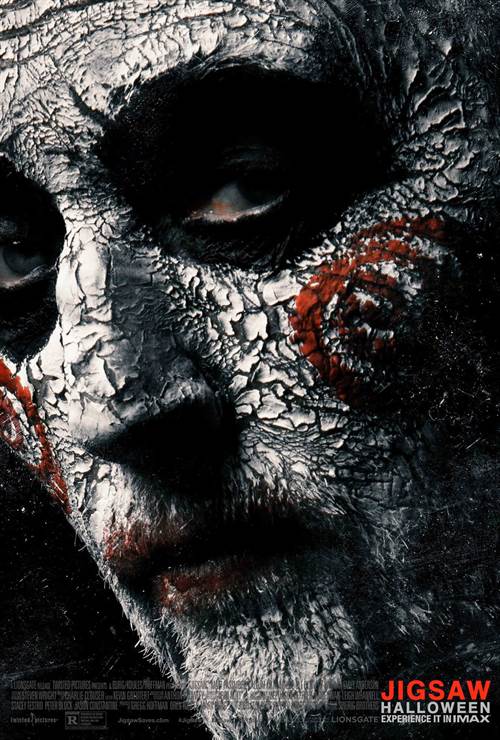 Share this:
| | |
| --- | --- |
| Director: | |
| Writers: | Josh Stolberg, Pete Goldfinger |
| Cast: | |
| Released: | Friday, October 27, 2017 |
| Length: | 91 minutes |
| Studio: | Lionsgate |
| Genre: | Horror |
| Rating: | Under 17 requires accompanying parent or adult guardian. |
Synopsis
Thirteen years ago on Halloween weekend--SAW and the character of JIGSAW introduced the world to a new face of horror. For seven straight years "If it's Halloween it must be SAW" was a holiday tradition. This October 27, Lionsgate and Twisted Pictures proudly present JIGSAW! After a series of murders bearing all the markings of the Jigsaw killer, law enforcement find themselves chasing the ghost of a man dead for over a decade and embroiled in a new game that's only just begun. Is John Kramer back from the dead to remind the world to be grateful for the gift of life? Or is this a trap set by a killer with designs of their own?
Purchase DVD/Blu-ray/4K physical copy of Jigsaw today at
Download Jigsaw in Digital HD/4K from the iTunes store.
Listen to the Jigsaw soundtrack on Apple Music.
Jigsaw images are © Lionsgate. All Rights Reserved.


Samuel L. Jackson to Star in Chris Rock's Saw Reboot
7/8/2019 1:42 PM EST
It was announced a couple of months ago that Chris Rock was teaming up with Lionsgate to reboot the "Saw" franchise, and now, we have learned that Samuel L. Jackson will be starring in the project.Jackson will be playing the father of Rock's character, who is a detective. Also starring in the film will be Max Minghella, who will play Rock's partner William Schenk, and  Marisol Nichols who plays Ro...
More>>
Chris Rock Joins Saw Franchise Reboot
5/16/2019 1:53 PM EST
It has been announced Chris Rock has written a story that will be adapted for the next film in the "Saw" franchise. Rock, who is teaming up with Lionsgate and Twisted Pictures for the project, will also serve as executive producer for the film."I've been a fan of Saw since the first film in 2004. I am excited by the opportunity to take this to a really intense and twisted new place," said Rock.Lio...
More>>
All-New SAW Maze Heading to Universal's Halloween Horror Nights
8/14/2017 1:51 PM EST
The announcements keep coming from the Universal Halloween Horror Nights camp. This year, HHN welcomes the Saw franchise to the parks with an all-new maze.The maze will bring guests face-to-face with the work of master craftsman "Jigsaw" and a collection of his most infamous traps from the SAW film series and upcoming eighth installment JIGSAW.Lionsgate Senior Vice President of Global Live and Loc...
More>>
The "Saw" Franchise Comes to an End
7/22/2010 12:37 PM EST
According to USA Today, There will be an announcement made Friday that "Saw 3D" will be the last film of the franchise.  The announcement will be made by Lionsgate, producers and star Tobin Bell. Producer Oren Koules said, "It's time to stop.  We have told the story we wanted to tell, and this is going to be a great farewell." The upcoming film will feature a battle over Jigsaw's legacy and whil...
More>>
Shawnee Smith Will Return To Saw Franchise
3/25/2009 4:03 PM EST
Producer Marc Burg announced, on the "Saw" franchise's official website, that Shawnee Smith will be returning to the cast for "Saw VI".The film is said to be more violent than the others, and there will also be a few new characters, according to Burg. The film is scheduled for an October 23rd, 2009 release, with shooting beginning on March 30....
More>>
Julie Benz To Star In Saw V
3/26/2008 12:45 PM EST
Julie Benz, star of Showtime's "Dexter" and Joss Whedon's Angel, will be starring in the latest Saw film, "Saw V". The film will be released on October 24.David Hackl will be directing the film, and Patrick Melton and Marcus Dunstan will be penning the script. Producing the film are Peter Block, Jason Constantine, Daniel Heffner, Stacey Testro, Leigh Whannell and James Wan.Production began on Marc...
More>>
Lionsgate Film's Saw and Red Cross To Hold Blood Drive
8/14/2007 11:21 AM EST
Lionsgate Film and the American Red Cross announced last week that they will be holding a blood drive. The Fourth Annual Saw "Give Til It Hurts" will coincide with the opening of the latest Saw movie on October 26, 2007. The announcement came from Lionsgate Co-Presidents of Theatrical Marketing Tim Palen and Sarah Greenberg and Gregory S. Ballish, Senior Vice President, Biomedical Services, Ameri...
More>>
Lionsgate's Saw IV To Be Directed by Darren Lynn Bousman
2/22/2007 11:21 AM EST
Darren Lynn Bousman will be returning to direct the next installment of th Saw series. The saw Series is the most successful horror series ever made. The announcement was made Tuesday, February 20, by Lionsgate President of Acquisitions and Co-Productions Peter Block and Senior Vice President of Aquisitions Jason Constantine and Twisted Pictures' Mark Burg and Oren Koules.Burg and Koules will be p...
More>>
Jigsaw 4K Ultra HD Review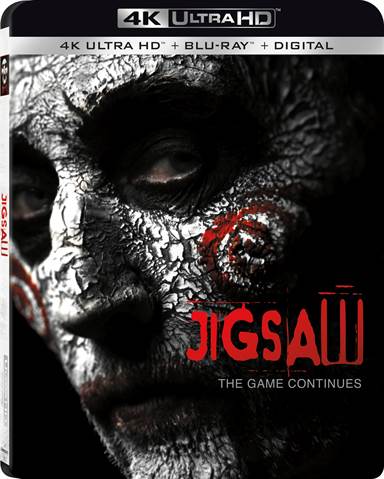 In October of 2004, a little unknown film entitled
Saw,
by then unknown writer/director James Wan (
Furious 7
) and writer Leigh Whannell, rewrote the modern slasher horror film and created a new modern horror killer, Jigsaw (Tobin Bell;
The Flash
). It went on to spawn many sequels before it's "finale" in 2010 with the death of
Jigsaw in Saw 3D: The Final Chapter
. However, his death, as with most horror icons, was premature, and in 2017 Jigsaw returned from the dead in a film entitled simply
Jigsaw
. This week,
Jigsaw
comes home for your viewing pleasure.
It's been over a decade since John Kramer aka Jigsaw has passed away from this earth; however, dead bodies are continuing to pile up in the city with the same signature that Jigsaw had been known for. How could this be? Had John Kramer come back from the dead to continue his killings? Or is the work of a copycat killer? These are the questions that directors Michael and Peter Spierig (Daybreakers) try to answer from a screenplay by Josh Stolberg (Sorority Row) and Pete Goldfinger (Piranha 3D) which stars Matt Passmore (Lethal Weapon), Callum Keith Rennie (Fifty Shades Freed), Clé Bennett (Private Eyes), Hannah Emily Anderson (Lost Girl), Laura Vandervoort (Smallville), Mandela Van Peebles (Roots), Paul Braunstein (The Thing), Brittany Allen (Falling Water), and Josiah Black (Kindergarten Cop 2).
With Jigsaw, producers of the Lionsgate series wanted to go back to the roots of the series as well as also try to bring in new audiences who might have been turned off by the "torture" stigmatism associated with the later entries in series. Unfortunately, they missed the mark on both accounts. When the original Saw film was introduced to audiences in 2004, it succeeded as being a smart low budget thriller, containing A-List stars, and introducing a new style of hyper-realized filmmaking that increased the tension felt by audiences. With all of these elements combined, a new breed of horror film was born. While the later entries in the series did get bloodier and bloodier they still were faithful to the tone of the original film. However, with Jigsaw, the film tried too hard to become a "Non-Saw" entry in the franchise. Gone are the A-list actors (Bell and Rennie are unfortunately the only real stars here), the hyper-realized filming is non-existent, and the story is a run of the mill horror film with the now expected "twist" at the end.
While the signature style of the Saw series was abandoned for this film, Jigsaw on 4K UHD looks simply amazing. Presented in 2160p with a 2.39 aspect ratio, Jigsaw's traps seem to almost jump off the screen and be in the room with you. The picture details are sharp. Blacks are deep and spot on, and color depth is extremely deep. The Dolby Atmos soundtrack featured on the 4K disc makes great use of the height element having the sounds of Jigsaw's traps truly envelope the entire room.
Jigsaw 4K comes with a Digital HD copy of the film which can either be redeemed on Ultraviolet or iTunes, "The Choice is Yours: Exploring the Props Featurette", and a seven-part documentary entitled "I Speak for the Dead: The Legacy of Jigsaw". The documentary is broken down as follows:
A New Game
You Know His Name
Survival of the Fittest
Death by Design
Blood Sacrifice
The Source of Fear
The Truth Will Set You Free
With a lot of lackluster, modern horror films produced lately, Lionsgate had a great idea trying to bring back an iconic horror series of the past. Unfortunately, whether it was a lack of interest from the original creators or lack of funding, the film just didn't succeed on the same level the series did in the past. One can only hope they will try one more time and Jigsaw's games can continue in the future with a solid entry reinvigorating the series.

Grade: C-
For more reviews please visit our film/television review section.
SPONSORED LINKS