Sherlock Holmes: A Game of Shadows (2011)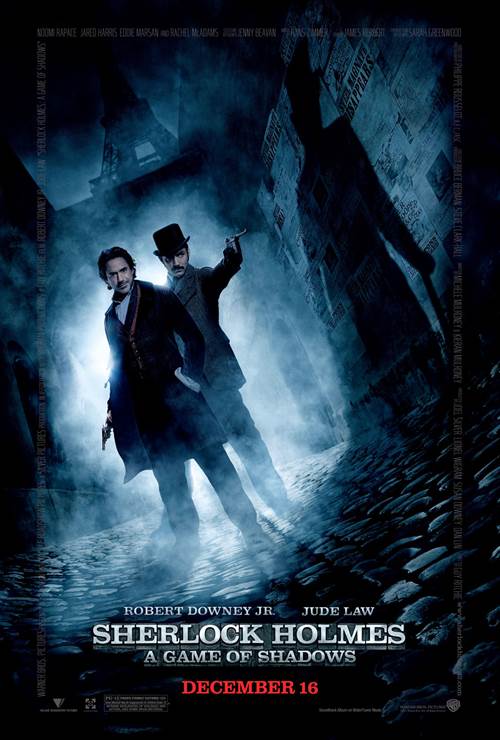 Share this:
| | |
| --- | --- |
| Director: | |
| Writers: | Kieran Mulroney, Michele Mulroney |
| Cast: | |
| Released: | Friday, December 16, 2011 |
| Length: | 129 minutes |
| Studio: | Warner Bros. |
| Genre: | Action/Adventure |
| Rating: | Some material may be inappropriate for children under 13. |
Synopsis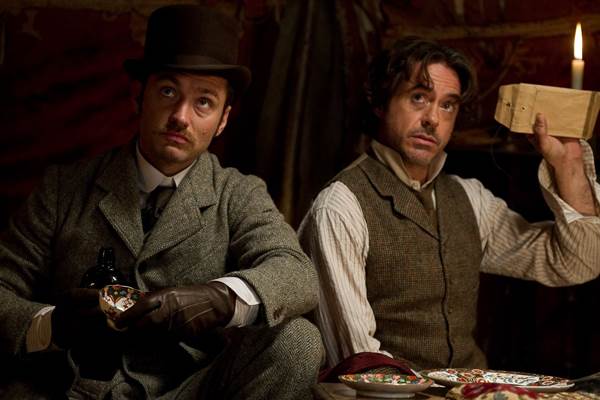 Guy Ritchie helms a new action-packed adventure, following the world's most famous detective, Sherlock Holmes (Robert Downey Jr.), and his longtime trusted associate, Dr. Watson (Jude Law), as they match wits with their arch-nemesis, the criminal genius Moriarty (Jared Harris)
Purchase DVD/Blu-ray/4K physical copy of Sherlock Holmes: A Game of Shadows today at
Download Sherlock Holmes: A Game of Shadows in Digital HD/4K from the iTunes store.
Listen to the Sherlock Holmes: A Game of Shadows soundtrack on Apple Music.
Sherlock Holmes: A Game of Shadows images are © Warner Bros.. All Rights Reserved.


Rocketman's Dexter Fletcher In Talks to Direct Sherlock Holmes 3
7/11/2019 4:20 PM EST
Dexter Fletcher is currently in talks to direct the upcoming film "Sherlock Holmes 3". The film will star Robert Downey Jr. and Jude Law as their characters, Holmes and Watson.Fletcher directed "Rocketman", as well as taking the helm for "Bohemian Rhapsody" after Bryan Singer was fired. Guy Ritchie directed the first two "Sherlock Holmes" films, which grossed over $1 billion combined worldwide.The...
More>>
Joel Silver Confirms Start of Production for Sherlock Holmes 3
5/20/2016 2:51 PM EST
Today, Joel Silver, producer for the upcoming Sherlock Holmes film, has confirmed that production will begin this fall. He also confirmed that they have a script and that Robert Downey Jr. and Jude Law will both be returning to reprise their roles as Sherlock Holmes and Dr. Watson. Silver said during an interview, "It looks like it could happen this fall. Downey said he wants to do it. He's gotta ...
More>>
Another Sherlock Holmes Film a Possibility
9/26/2013 5:13 PM EST
Despite all the chatter about a possible third film for the Warner Bros. Sherlock Holmes franchise since the last movie, "A Game of Shadows", back in 2011, little has happened.Things may have be changing a little now as Sherlock's trusted side kick, Dr. Watson (Jude Law) has been talking to Empire over the possibilities of making a third movie happen, by stating he has already had a few meetings w...
More>>
Dan Lin Discusses Sherlock Holmes 3
12/18/2012 10:33 AM EST
Even before "Sherlock Holmes: A Game of Shadows" was released, it was known that work on a script for a third installment of the franchise was well under way. Now, producer Dan Lin has been telling Collider that indeed a third movie is on its way, but we will have to be patient. "It is a high priority for the studio and all for the filmmakers involved. We want to make the right movie.  We got a gr...
More>>
Jude Law Talks Sherlock Holmes 3
9/18/2012 2:02 PM EST
Jude Law, who is currently out doing press for "Anna Karenina", recently spoke about the possibility of a third "Sherlock Holmes" film.Law said, "I don't [know when filming begins]. There's certainly talk of it and I know there's a script being played around with, but [Robert] Downey's a busy boy and I'm a busy boy, so we'll see. But we want to [do another one]. We're a very happy team and we have...
More>>
Downey Discusses Iron Man 3
1/11/2012 2:39 PM EST
While attending the Brazilian premiere for "Sherlock Holmes: A Game of Shadows", Robert Downey, Jr. spoke about the upcoming "Iron Man 3" film.He said, "I think that we have an opportunity with the third Iron Man to make the best of the three, and maybe one of the better superhero movies that's ever been made. But I think we have to remember what made the first one good. It was very character-driv...
More>>
Win Complimentary Passes To See An Advance Screening of Sherlock...
12/7/2011 12:08 PM EST
Warnes Bros will release the highly anticipated film, Sherlock Holmes: A Game of Shadows, on Friday, December 16th, 2011 and for all you fans that are living in South Florida, we have a way for you to catch a complimentary screening of it early. Just "Like" FlickDirect on Facebook and email contest@flickdirect.com with your mailing address, and your Facebook profile (for like verifcation).  All n...
More>>
Drew Pearce Hired for Sherlock Holmes 3
10/24/2011 11:56 AM EST
"Sherlock Holmes 3" is moving along with development. The second film in the franchise still won't be released for another two months, but a writer has already been secured for the third.Warner Bros. has brought on Drew Pearce from "Iron Man 3" and "No Heroics" fame. There is no word yet on what the plot for the third film will be.  The first film was an original story, and the second film's story...
More>>
Sherlock Holmes: A Game of Shadows Theatrical Review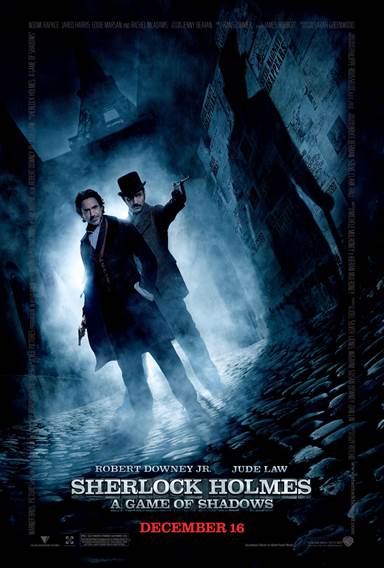 Another fine adventure for the London detective becomes afoot in the newest 19th century Sir Arthur Conan Doyle crime story Sherlock Holmes: A Game of Shadows. The cast from the 2009 release reprises their roles under the able direction of Guy Richie making this outing even more exciting than the last. Don't skimp here; choose the theater with the best sound and picture quality to magnify your action experience.

Holmes (Robert Downey Jr.) and Watson (Jude Law) are at it again solving a mystery of magnitude consequence when the detective ends up with a mysterious note following a run in with his on again off again romantic interest Irene Adler (Rachel McAdams). Quick to smell a rat, Holmes puts things in perspective leading him to a Gypsy named Madam Simza (Noomi Rapace) who gives Holmes a clue to the whereabouts of his archenemy Professor Moriarty (Jared Harris). But, there's more than meets the eye here as Holmes and Watson find out, it's about an evil plan to make a fortune selling war armaments, the most modern cannons that deliver devastation and mayhem. Will Holmes and Watson make it in time to stop a world war?

Downey and Law continue to entertain bringing Holmes and Watson to life as they pick at each other, protect each other's lives, figure out the clues and charge full ahead until their perpetrator has been caught. Whether it's diving into a huge falls, fleeing machine guns, throwing Watson's new wife off of a moving train or fighting an outnumbered number of adversaries, the two are complete as friends with each other.

Adding to the wild and adventurous film Noomi Rapace (The Girl with the Dragon Tattoo) takes on the role of Madam Simza the sister of the 'key' in the game of shadows. Strong willed and spirited, Sim blends in well with the investigating duo as they track down her brother in order to stop Moriarty from starting a war.

The trick here is to reproduce and continue the momentum from the first Sherlock Homes film keeping it palatable enough for the action adventure junkies. Without a doubt, returning producers Joel Silver, Lionel Wigram, Susan Downey and Dan Lin have repeated with even more energy than their first release. Not holding back a penny, you can see the quality of the production in the special effects, locations in France, Germany and Switzerland, a heightened production design team, extremely good make-up, and thrills provided by some cringing computer graphics.

Enhancing some tricks used by director Walter Hill, director Guy Richie develops a scene in the forest that's reminiscent of The Long Riders. This event, although less gory, provides a cacophony of sounds as bullets and cannon fired rounds burst through trees and shred anything that's in its deadly path. Shown in slow motion you can hear branches and trunks of trees split, and shrapnel wiz by the heads of Holmes and his mates fleeing through the dank forest.

What keeps this a big adventure is the music by Hanz Zimmer with its consistent brilliant percussion and brass musicians pounding out urgency and suspense. Using some of the music from the original soundtrack, he ramps it up to pandemonium during most of the fighting scenes evoking memories of the beginning foot chase in the first Sherlock Holmes.

I like Sherlock Holmes: A Game of Shadows as much, no even more than the original that spawned this sequel. It's probably the best film Richie has made and he should thank Downey Jr. and Law for believing in him so we the audience can benefit from the nicely written script.

Sherlock Holmes:A Game of Shadows has been rated PG-13 by the MPAA for intense sequences of violence and action, and some drug material.

FINAL ANALYSIS: A smart action adventure with high energy and thrills. (A)

-- John Delia
Read More Sherlock Holmes: A Game of Shadows Reviews
For more reviews please visit our film/television review section.
Guy Ritchie helms a new action-packed adventure, following the world's most famous detective, Sherl...
SPONSORED LINKS
Comments

Courtesy of
Movie Hype App
movieguynathan
I wish they would hurry up and make #3!
6/11/2013 10:57 PM EST
paul
IMO better than the original
1/20/2013 5:06 AM EST