War Horse (2011)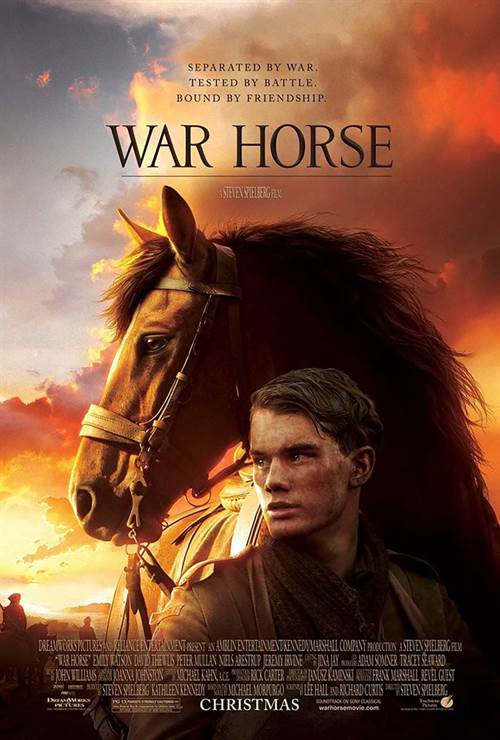 Share this:
| | |
| --- | --- |
| Director: | |
| Writers: | Lee Hall, Richard Curtis, Michael Morpurgo |
| Cast: | |
| Released: | Sunday, December 25, 2011 |
| Length: | 146 minutes |
| Studio: | DreamWorks Studios |
| Genre: | Drama |
| Rating: | Some material may be inappropriate for children under 13. |
Synopsis
From director Steven Spielberg comes "War Horse," an epic adventure for audiences of all ages. Set against a sweeping canvas of rural England and Europe during the First World War, "War Horse" begins with the remarkable friendship between a horse named Joey and a young man called Albert, who tames and trains him. When they are forcefully parted, the film follows the extraordinary journey of the horse as he moves through the war, changing and inspiring the lives of all those he meets—British cavalry, German soldiers, and a French farmer and his granddaughter—before the story reaches its emotional climax in the heart of No Man's Land.

The First World War is experienced through the journey of this horse—an odyssey of joy and sorrow, passionate friendship and high adventure. "War Horse" is one of the great stories of friendship and war— a successful book, it was turned into a hugely successful international theatrical hit that is arriving on Broadway next year. It now comes to screen in an epic adaptation by one of the great directors in film history.

DreamWorks Pictures' "War Horse," director Steven Spielberg's epic adventure for audiences of all ages, is a tale of loyalty, hope and tenacity set against a sweeping canvas of rural England and Europe during the First World War.
Purchase DVD/Blu-ray/4K physical copy of War Horse today at
Download War Horse in Digital HD/4K from the iTunes store.
War Horse images are © DreamWorks Studios. All Rights Reserved.


Win Complimentary Passes To See An Advance Screening of War Horse
12/2/2011 1:59 PM EST
Dreamworks will release the highly anticipated film, War Horse, on Sunday, December 25, 2011 and for all you fans that are living in South Florida, we have a way for you to catch a complimentary screening of it early.Just "Like" FlickDirect on Facebook and email contest@flickdirect.com with your mailing address, and your Facebook profile (for like verifcation).  All names will be entered in a draw...
More>>
War Horse Theatrical Review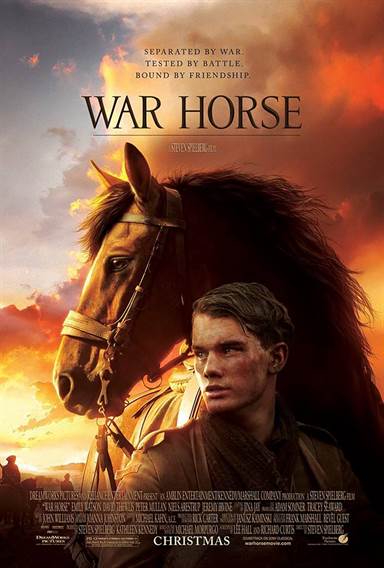 Steven Spielberg adds another holiday film to the mix, but this one tends to skew higher on the age scale due the violence and cruelty. The film called War Horse has a bountiful cast of good actors, a bold story and brilliant cinematography that sometimes seems 'too' real. Although targeted to young boys, the film gets a little too strong for immature adolescents. For acting and story however, the movie is a must see.

The movie centers on a horse named Joey that gets purchased at an auction by a local English farmer. The man brings it home to work on his fields but quickly finds out that thoroughbreds do not make good plow horses. His son Albert (Jeremy Irvine) bonds with Joey and the horse helps save the farm. War breaks out with Germany and young men are being pressed into service for England. Although Albert wants to join, his age keeps him out of the army, but the much needed horse brigade purchases Joey. So begins the unexpected journey of Joey and the inspiring desire to get back home with his best friend Albert.

The amazing photography in War Horse shows the brutality of war and the inhumanity brought about by countries seeking world power. The story puts a beautiful and gallant young horse in harms way leading his master in fights that show the cruelty the animal has to endure. But it's this courage and tenacity by Joey to get back to the boy he loves that makes the film emotional.

Direction by Spielberg is evident in the production with strong attention to realism, smooth roll out of story and uplifting ending. His war realism, much like that in Saving Private Ryan, impacts the screen in scenes of violence during a Calvary charge and a run by Joey across 'No Man's Land' that gets very brutal, deadly and bloody. At one point, although this film takes place in WWI, I thought I was reliving Spielberg's death drive on the beaches of D-Day in Saving Private Ryan with bullets whizzing by, explosions all around and the showings of raw courage by the military.

Although the film has been rated PG-13 by the MPAA, please be cautious when deciding to bring pre-teens to a showing. This pertains specially to those youngsters who may become traumatized by the showing of animals lying dead on the battlefield.

-- John Delia
Read More War Horse Reviews
For more reviews please visit our film/television review section.
From director Steven Spielberg comes "War Horse," an epic adventure for audiences of all...
SPONSORED LINKS