Spider-Man: Homecoming (2017)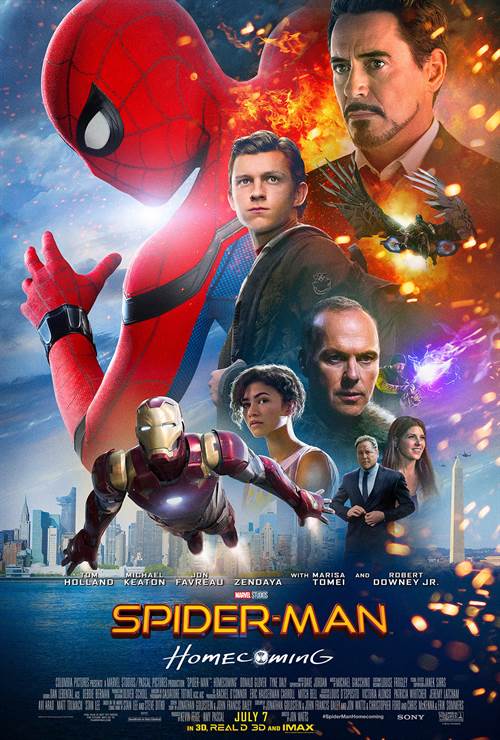 Share this:
| | |
| --- | --- |
| Director: | |
| Writers: | |
| Cast: | |
| Released: | Friday, July 7, 2017 |
| Length: | 133 minutes |
| Studio: | Sony Pictures |
| Genre: | Sci-Fi/Fantasy, Action/Adventure |
| Rating: | Some material may be inappropriate for children under 13. |
Synopsis
A young Peter Parker/Spider-Man (Tom Holland), who made his sensational debut in Captain America: Civil War, begins to navigate his newfound identity as the web-slinging super hero in Spider-Man: Homecoming. Thrilled by his experience with the Avengers, Peter returns home, where he lives with his Aunt May (Marisa Tomei), under the watchful eye of his new mentor Tony Stark (Robert Downey Jr.). Peter tries to fall back into his normal daily routine - distracted by thoughts of proving himself to be more than just your friendly neighborhood Spider-Man - but when the Vulture (Michael Keaton) emerges as a new villain, everything that Peter holds most important will be threatened.

Purchase DVD/Blu-ray/4K UHD physical copy of Spider-Man: Homecoming today at Amazon.com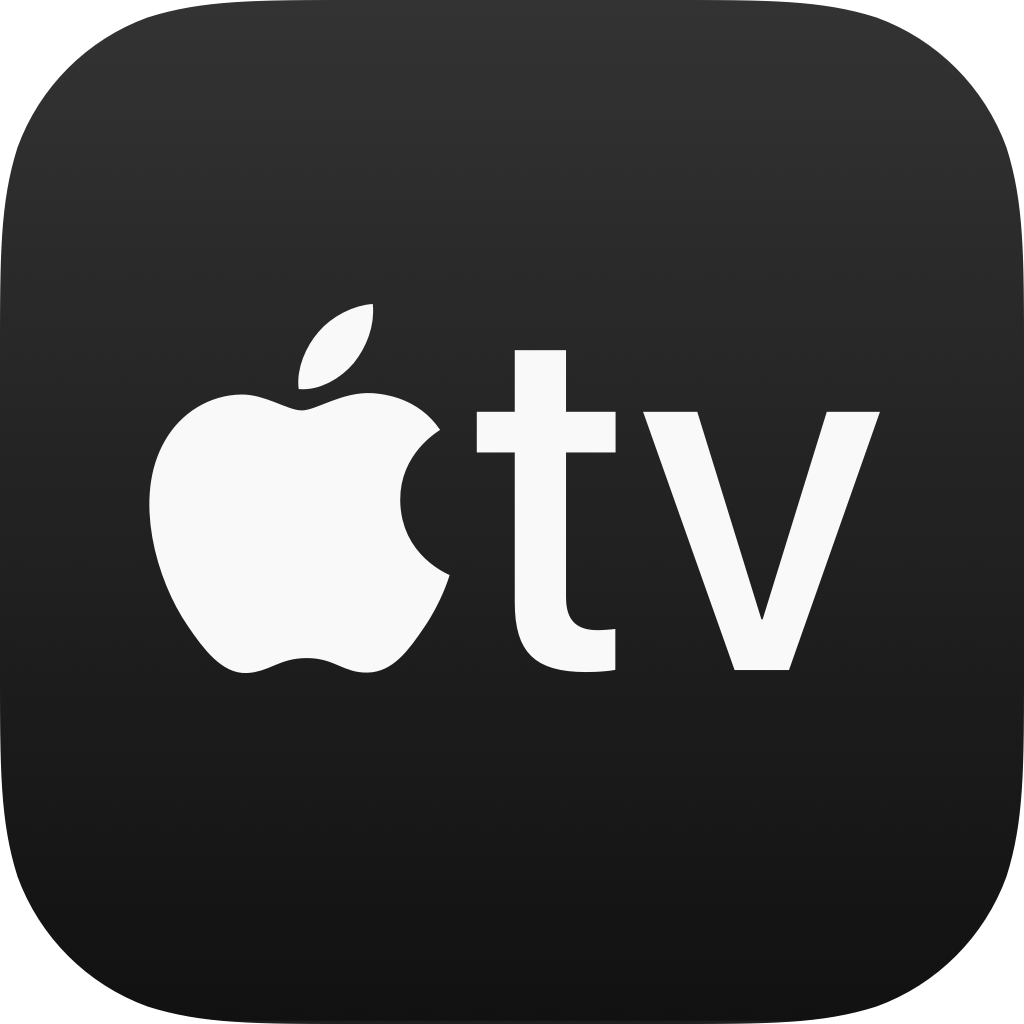 Download Spider-Man: Homecoming in Digital HD/4K from the iTunes store.
Listen to the Spider-Man: Homecoming soundtrack on Apple Music.
Spider-Man: Homecoming images are © Sony Pictures. All Rights Reserved.
Spider-Man "Hangs Out" at New York Comic Con 2017
10/12/2017 11:04 AM EDT
Part of the fun of going to NY Comic Con is to try out all the fun experiences the television shows and movie studios create.  Each year, they seem to become more elaborate and interactive than the year before and this year was no exception.  Among the offerings for fans was Marvel's Spiderman: Homecoming "Hang Like Spidey" opportunity that ran all four days.  Fans could try the virtual reality vi...
More>>
Spider-Man: Homecoming On track to Earn Over $100 Million This W...
7/7/2017 4:54 PM EDT
Spider-Man: Homecoming is on course to have a huge opening weekend.  The film, starring Tom Holland, Zendaya, and Robert Downey, Jr., is expected to no only reach the $100 million mark, but exceed it. The low end of the estimates is about $105 million for the first three day total. It has already earned between $42-$45 million through today. There is some serious buzz about this film, and fans are...
More>>
Zendaya Lands Role of Mary Jane Watson in Spider-Man:Homecoming
8/19/2016 10:17 AM EDT
A few months ago, it was announced that Disney star Zendaya would be playing a lead role in the up coming Spider-Man: Homecoming, and now it has been reported by many sources that she will, in fact, be playing the role of Mary Jane Watson.This current Spider-Man reboot will star Tom Holland as Peter Parker, and the film will be focusing on his high school years.Holland made his debut as Spidey in ...
More>>
Robert Downey Jr to Appear in Upcoming Spider-man: Homecoming
4/21/2016 2:27 PM EDT
Robert Downey Jr. will be making an appearance as Tony Stark in  "Spider-Man: Homecoming".Sony and Marvel recognized the potential of these two joining forces after seeing their performance together in "Captain America: Civil War".  Spider-man is portrayed by Tom Holland.The upcoming film will focus on Peter Parker's high school days, but no other information other than that has been made availabl...
More>>
Marisa Tomei Top Pick for Aunt May in Spider-Man
7/8/2015 2:44 PM EDT
Marvel and Sony have set their eyes on Marisa Tomei to portray the lovable Aunt May for the upcoming Spider-Man franchise reboot.  While there isn't any deal-making news to speak of, according to reports, they have made Tomei an offer just last week.Tomei would join Tom Holland who was recently cast to play Peter Parker.Jon Watts has been chosen to direct, but a screenwriter has yet to be chosen t...
More>>
Spider-Man: Homecoming Theatrical Review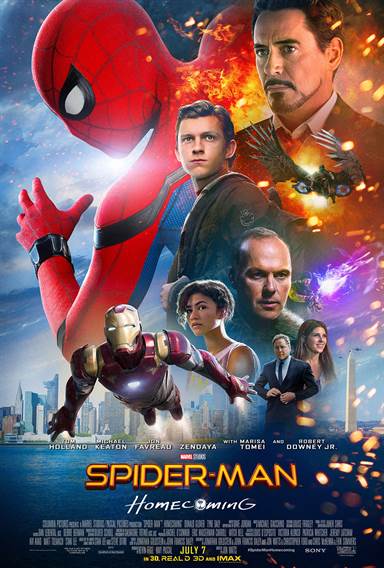 Spider-Man made his debut in Marvel comics 55 years ago as a sidekick to the protagonist. He was a lonely teen who, like most kids his age, suffered anxiety and inadequacy. He became so popular there have been a number of comic books, merchandise, movies and television shows focused solely on him. In more recent years, we have had the movie series starring Tobey Maguire (
Pleasantville
) and 2012's
The Amazing Spider-Man
and its 2014 Sequel starring Andrew Garfield (
The Social Network
). While those were both seemingly more mature Spider-Man portrayals, this time around we have a younger version played by Tom Holland (
The Lost City of Z)
in
Spider-Man: Homecoming
.
When we meet young Peter Parker/Spider-Man he has already been bitten by his fateful spider, has powers and helped the Avengers. He is also a High School sophomore in the band and on the debate team. No one knows about his secret life, not even his best friend Ned (Jacob Batalon; North Wood), as he tells everyone he has an "internship" with Stark Enterprises. Really all he does is patrol his local neighborhood looking for bad guys and waiting for the day he once again gets called up to help Iron Man and the Avengers.
When Spidey suddenly discovers that there is an arms dealer in his neighborhood selling high-tech weaponry, he tries telling Iron Man but gets shut down at every turn. He then takes matters into his own hands, gets caught up in a mess of trouble and accidentally splits a Staten Island Ferry in half, requiring Iron Man to come to the rescue and stripping Spider-Man of the cool new spider suit Stark gave him. And all the while he tries to navigate the everyday trials and tribulations of high school and the homecoming dance.
Holland was a smart choice for Peter as he embodies that sense of high school geek with a small undercurrent of coolness sitting buried below the surface. He is the typical dorky guy in high school who later goes off to college and comes home for summer break having grown muscles and better looking than he ever was in high school (we all know someone like that!). Michael Keaton (Spotlight) is on fire lately in his film roles and this is no different. He plays the villain in this film and he does a convincing job of it. Zendaya, (Shake it up!), for all the controversy her casting caused, is well suited to this role as she makes MJ a little tougher and more of a loner than past films have portrayed her to be.
The graphics are pretty good for the most part, but there were a few times I rolled my eyes as they looked terribly fake. I also didn't need the "Spider-Man swings in front of the camera" shot as often as it occurred in this film, and my main complaint is the same complaint I have about every Marvel movie… it's too long. They could have cut the film down by easily 10-15 minutes and not lose any content of value. There was also too much "Iron Man" in Spidey's suit, with all the gadgets Iron Man enjoys in his. For purists, this will be a sour note in an otherwise solid film.
The script is a winner though, with humor strewn throughout the film. It seems the writers made a concerted effort to bring some laughs and it works. The movie was enjoyable and most definitely fun. With the young cast and feel of the film, it is certainly geared to appeal to a tween/teen audience along with the diehard adult Spider-Man fans. Also, be sure to stay through the credits for a fun end scene.
Perhaps Marvel is finally trying to lighten things up a bit and if so, this was a good start and paves the way to an already announced sequel.
Grade: B
Read More Spider-Man: Homecoming Reviews
For more reviews please visit our film/television review section.
A young Peter Parker/Spider-Man (Tom Holland), who made his sensational debut in Captain America: Ci...

A young Peter Parker/Spider-Man (Tom Holland), who made his sensational debut in Captain America: Ci...

A young Peter Parker/Spider-Man (Tom Holland), who made his sensational debut in Captain America: Ci...
SPONSORED LINKS