Suicide Squad (2016)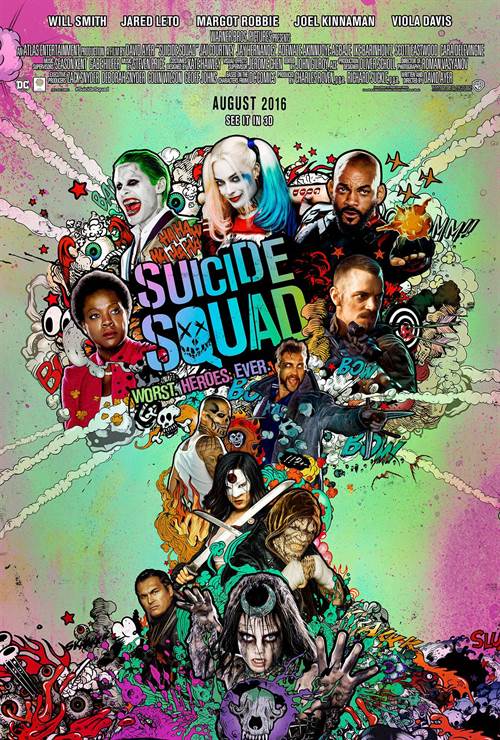 Share this:
| | |
| --- | --- |
| Director: | |
| Writers: | |
| Cast: | |
| Released: | Friday, August 5, 2016 |
| Length: | 130 minutes |
| Studio: | Warner Bros. |
| Genre: | Sci-Fi/Fantasy, Action/Adventure |
| Rating: | Some material may be inappropriate for children under 13. |
This film contains a scene during or after the credits.
Synopsis
It feels good to be bad
... Assemble a team of the world's most dangerous, incarcerated Super Villains, provide them with the most powerful arsenal at the government's disposal, and send them off on a mission to defeat an enigmatic, insuperable entity. U.S. intelligence officer Amanda Waller has determined only a secretly convened group of disparate, despicable individuals with next to nothing to lose will do. However, once they realize they weren't picked to succeed but chosen for their patent culpability when they inevitably fail, will the Suicide Squad resolve to die trying, or decide it's every man for himself?

Purchase DVD/Blu-ray/4K UHD physical copy of Suicide Squad today at Amazon.com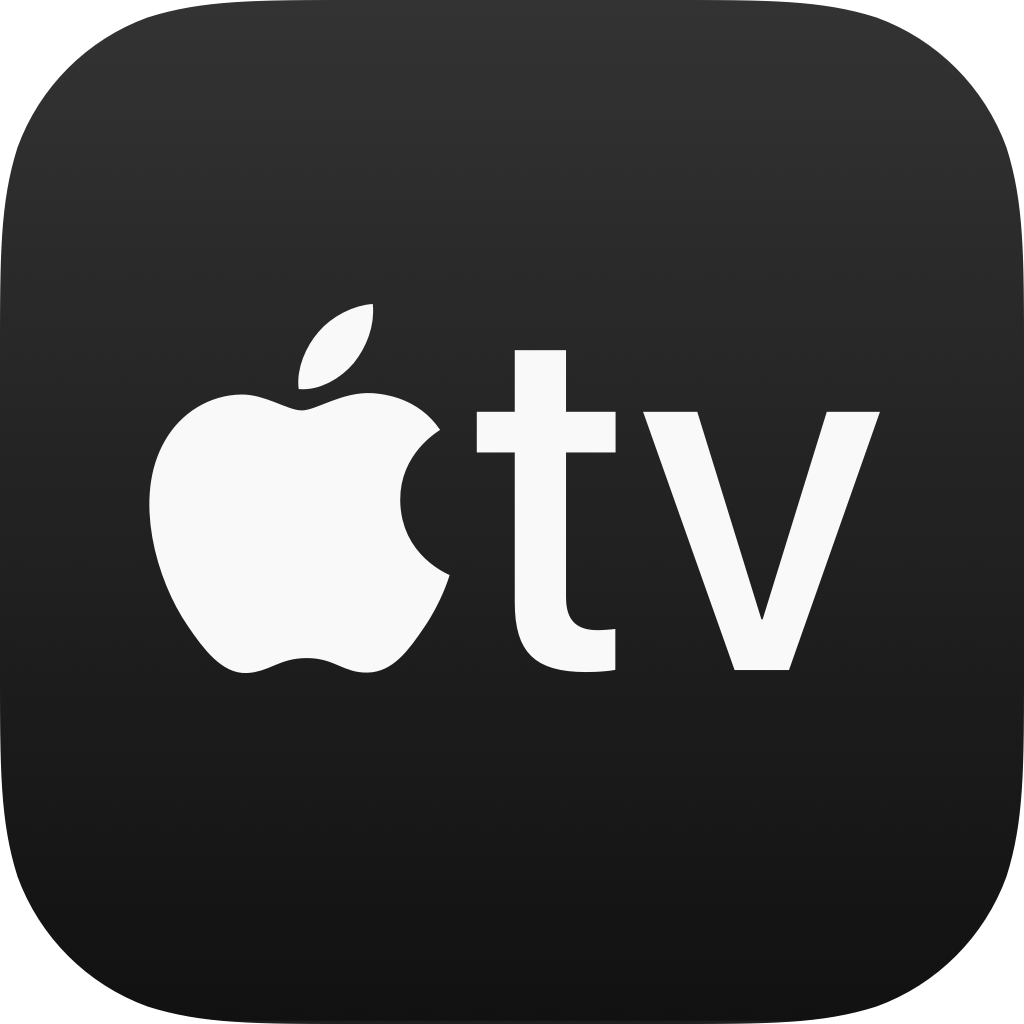 Download Suicide Squad in Digital HD/4K from the iTunes store.
Listen to the Suicide Squad soundtrack on Apple Music.
Suicide Squad images are © Warner Bros.. All Rights Reserved.
Helen Mirren to Star in Shazam! Fury of the Gods
3/24/2021 2:06 PM EDT
Helen Mirren has signed on to join the cast of "Shazam! Fury of the Gods". She will play the villain Hespera, a daughter of Atlas.Zachary Levi will reprise his role of Shazam/Billy Batson for the film, which follows the story of a kid who inherits superpowers of six gods - Solomon, Atlas, Zeus, Achilles, and Mercury. The character was created by  Bill Parker and C.C. Beck. 2019's original earned o...
More>>
Will Smith Won't be Back for Suicide Squad Sequel
2/28/2019 10:38 AM EDT
Will Smith won't be reprising his role as Deadshot for the upcoming Suicide Squad 2 film. Smith was said to have parted ways amicably, and that there was no official return to be made for the sequel in the first place. Schdueling conflicts were the final deciding factor in the end.  The film will begin production later this year in Atlanta and we will see Margot Robbie return to the franchise as H...
More>>
Jared Leto's Joker to Get Standalone Film
6/6/2018 2:55 PM EDT
The Joker looks to be getting a standalone film from Warner Bros. The film would feature Jared Leto's version of The Joker from 2016's Suicide Squad.Leto would return to star in and executive produce the film, according to reports. There's no word yet on what the storyline will be for the project or when it would go into production. There is also a Suicide Squad sequel that had been announced, and...
More>>
Warner Bros. Developing Joker and Harley Quinn Standalone Film
8/24/2017 11:48 AM EDT
Warner Bros. is currently developing another film that will be feature Jared Leto as the Joker and Margot Robbie as Harley Quinn. The film will be presented as a "criminal love story."2016's "Suicide Squad", which starred Leto and Robbie, earned $745 million worldwide, despite disappointing reviews. The film was directed by David Ayer and will be getting a sequel.Glenn Ficarra and John Requa are c...
More>>
Jaume Collett-Serra to Direct Suicide Squad Sequel
7/12/2017 10:37 AM EDT
Jaume Collett-Serra has been chosen to direct the sequel to Warner Bros.' "Suicide Squad".  The film will star Will Smith and Margot Robbie.Collet-Serra directed "The Shallows" and "The Commuter" and also recently signed on to direct the thriller "Waco".David Ayer directed the original "Suicide Squad", which earned over $700 million,  but the studio wanted to go in a different direction this time ...
More>>
Warner Bros. Provides Fans The Opportunity to Experience Suicide...
12/13/2016 9:08 AM EDT
Suicide Squad was one of the most anticipated films of the summer and no doubt more than one person will be getting the Blu-ray and Digital HD as a gift this holiday season.  With a strong cast, good script, great special effects, and the DC Comics name behind it, it's sure to be a sell-out success. Warner Bros. anticipated the demand for the film and sent the costumes and Joker's car on a seven-c...
More>>
Reddit User Wants to Sue Over Lack of Joker Screen Time in Suici...
8/10/2016 11:24 AM EDT
File this one under "First World Problems", folks.A reddit user, whose screen name is BlackPanther2016, decided they weren't satisfied with the amount of screen time that the Joker received in the new "suicide Squad" film, and said that he plans on suing over the issue."I told the theatre about this unjust act and said 'I didn't get what I came here to see, can I have my money back?' They laughed ...
More>>
Suicide Sqaud Killing at International Box Office
8/4/2016 4:13 PM EDT
"Suicide Squad", the latest of a flurry of comic book based film releases, seems to be taking the box office by storm, despite many bad critical reviews. The film has opened with over $8 million in seven international markets so far, including  $2.9 million in South Korea and $2.7 million in France. Both solid figures.  Overall, the film is expected to earn over $100 million internationally once i...
More>>
Suicide Squad Movie Soundtrack Playlist Revealed
6/17/2016 2:31 PM EDT
The track list for the Suicide Squad soundtrack was released and it's definitely packed with some major players. Pre-orders have been taken since yesterday on Amazon.  The release will have new songs, classics and covers from Skrillex and Rick Ross, Twenty One Pilots, Grimes, Eminem, Panic! at the Disco (covering Queen's "Bohemian Rhapsody") and Lil Wayne with Wiz Khalifa and Imagine Dragons. You ...
More>>
Margot Robbie to Reprise Harley Quinn Role in Standalone Film
5/16/2016 4:53 PM EDT
"Suicide Squad" will be released this summer starring Margot Robbie, Jared Leto, Will Smith and Joel Kinnamen, among others, and now the character standalone films are already beginning to surface.Warner Bros. and DC Entertainment are developing a cast of female heroes and villains, and Margot Robbie will be returning to reprise her role of Harley Quinn. She will also be producing the film, which ...
More>>
Warner Bros. Calls for Suicide Squad Reshoots
4/1/2016 4:41 PM EDT
Suicide Squad, the upcoming Warner Bros. DCEU film, will be getting a bit of a makeover.  Rumor has it that the studio will be spending tens of millions of dollars on re-shoots, adding some more "lighthearted" scenes.  With the release of their trailer, fans have responded to jokes throughout, and since what was shown was pretty much all the comedy content of the film, the studio decided to give f...
More>>
Suicide Squad Theatrical Review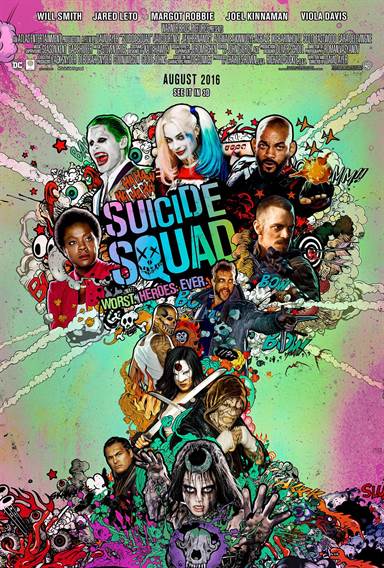 The world of comic books has invaded the movie theaters and has all but taken over. The biggest blockbusters in the past few years have all included men in capes with super human abilities. It was only natural that when DC comics and Warner Bros. announced they were making a movie from
Suicide Squad
that the speculation and hype surrounding it would be huge. The big question is does the movie live up to the hype?
With Superman dead (is he really though?) the world is vulnerable to alien attacks and Amanda Waller (Viola Davis; The Help) is very well aware. She works for the US government but holds the heart of the Enchantress (Cara Delevingne; Paper Towns) and, therefore, controls her. When the Enchantress breaks free from Waller's control, she gains the power to destroy the world and make humans bow down to her every whim.
In order to protect the world, Waller puts together a team of mercenaries to take down any supernatural threat including the Enchantress. However, this team isn't your usual band of super heroes. They are some of the most dangerous criminals known to man. Included are Deadshot (Will Smith; Concussion); Harley Quinn (Margot Robbie; The Legend of Tarzan); Diablo (Jay Hernandez; The Expanse); Killer Croc (Adewale Akinnuoye Agbaje; Thor), and Boomerang (Jai Courtney; Divergent). Together with the US military, they are sent out to destroy the supernatural beings in exchange for reduced prison sentences.
So to circle back around… does the movie live up to the hype? No, no it doesn't. Is it absolutely horrible? No, no it isn't. Let's start with the good points shall we?
One - Margot Robbie as Harley Quinn. This woman is on fire lately. She has been in several hot movies as of late and she stands out in each one. Suicide Squad is no different. Her Harley Quinn is a perfect blend of funny and batshit crazy and she plays it to a tee. She isn't too over the top, which makes her almost believable. I can see why she is getting her own spin off movie, but unfortunately, I'm not sure it will do well, as I can't see a plot line that would work for her as a feature length film.
Two – the music. The soundtrack is a great blend of hits from several decades and they are all excellent choices. The songs add an element of fun and nostalgia for someone my age.
Three – the humor. There are some very funny moments in the film, often thanks to Harley Quinn and Boomerang. These humorous tension breakers help the film not take itself too seriously.
Four – every fight scene doesn't last ten minutes, which is a refreshing change from every other action movie of the last 20 years.
Now for the less that great points. Deadshot isn't dark enough and therefore the film isn't dark enough, Writer and Director David Ayer (Fury) gave Deadshot too much humanity and vulnerability, which doesn't translate well from comic book to screen. Also, Smith isn't unique as Deadshot. He plays the character like he has played so many other characters before.
The Joker (Jared Leto; Dallas Buyers Club) is very good for the amount of time he is in the film. I know this movie isn't really about him, but he seems underutilized. Additionally, Delevingne has moments that are ok, but when she becomes the all-powerful Enchantress, she does this weird dancing thing that looks more like a monkey having a muscle spasm than a goddess casting a spell and unleashing damnation on the whole human race.
Suicide Squad sadly doesn't live up to expectations, but it is a solid effort at something a little different, while still giving the audience some of what it wants. With a mixture of the good and the bad, it's an entertaining film that doesn't quite hit it's mark.
Grade: B-
Read More Suicide Squad Reviews
For more reviews please visit our film/television review section.
It feels good to be bad... Assemble a team of the world's most dangerous, incarcerated Super Villain...

It feels good to be bad... Assemble a team of the world's most dangerous, incarcerated Super Villain...

It feels good to be bad... Assemble a team of the world's most dangerous, incarcerated Super Villain...
SPONSORED LINKS