Fantastic Beasts: The Crimes of Grindelwald (2018)
| | |
| --- | --- |
| Director: | |
| Writers: | J.K. Rowling |
| Cast: | |
| Released: | Friday, November 16, 2018 |
| Length: | 134 minutes |
| Studio: | Warner Bros. |
| Genre: | Sci-Fi/Fantasy, Action/Adventure |
| Rating: | Some material may be inappropriate for children under 13. |
Synopsis
At the end of the first film, the powerful Dark wizard Gellert Grindelwald (Johnny Depp) was captured by MACUSA (Magical Congress of the United States of America), with the help of Newt Scamander (Eddie Redmayne). But, making good on his threat, Grindelwald escaped custody and has set about gathering followers, most unsuspecting of his true agenda: to raise pure-blood wizards up to rule over all non-magical beings.

In an effort to thwart Grindelwald's plans, Albus Dumbledore (Jude Law) enlists his former student Newt Scamander, who agrees to help, unaware of the dangers that lie ahead. Lines are drawn as love and loyalty are tested, even among the truest friends and family, in an increasingly divided wizarding world.
Purchase your copy of Fantastic Beasts: The Crimes of Grindelwald today at
Download Fantastic Beasts: The Crimes of Grindelwald in Digital HD from the iTunes store.
Listen to the Fantastic Beasts: The Crimes of Grindelwald soundtrack on Apple Music.
Fantastic Beasts: The Crimes of Grindelwald images are © Warner Bros.. All Rights Reserved.


Fantastic Beasts Films Will Travel the Globe
1/27/2018 10:39 AM EDT
Director David Yates has revealed that the five upcoming Fantastic Beast films will all take place in different cities.The first film took place in New York, and the second will be taking place in Paris. We don't yet know where the next three film will take place but Yates said, "This is a global story, ultimately. And given that there's a global audience for this, it's all the more delightful to ...
More>>
Jude Law Cast as Young Dumbledore in Fantastic Beasts Sequel
4/12/2017 12:49 PM EDT
Jude Law has been cast to play a young Dumbledore in the upcoming sequel to "Fantastic Beasts and Where to Find Them".  Law will join not only Eddie Redmayne in the cast, but Johnny Deep as well. David Yates will be returning to direct the sequel.  "Fantastic Beasts and Where to Find Them" grossed over $812 million worldwide. It follows the story of  Newt Scamander, a British wizard and "magizoolo...
More>>
Johnny Depp Joins Cast of first of four "Fantastic Beasts" Sequels
11/2/2016 11:32 AM EDT
Fantastic Beasts and Where to Find Them hasn't even hit screens yet and announcements are already being made about the starring roles in the sequel.  While Warner Bros. is keeping the actual role top secret, the Fantastic Beasts sequel will be graced with the acting abilities of none other than Johnny Depp.  Depp is also slated to reprise his role as Captain Jack Sparrow (2017) in a fifth installm...
More>>
Fantastic Beasts: The Crimes of Grindelwald Theatrical Review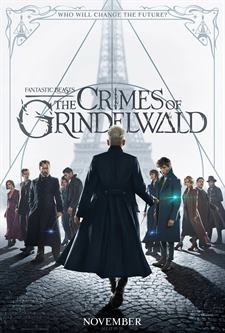 J.K.Rowling couldn't have imagined the phenomenon she created when she originally spun a story about a magical world and a boy wizard. Like so many of the comic book superheroes, Harry Potter has become its own universe with avid fans of all ages worldwide. When the eight films ended there was a certain sadness to see it all come to a close but that was soon remedied when in 2016 Fantastic Beasts and Where to Find Them debuted in theaters. Two years later we now have the second installment, Fantastic Beasts: The Crimes of Grindelwald coming just in time for the Thanksgiving Holiday weekend.

As the film opens we see Grindelwald (Johnny Depp; Pirates of the Caribbean Series) locked away in a magical cell ready to be transported back to Europe to stand trial. However, through his devious magical means, he escapes and ends up in Paris, France. Meanwhile back in London Newt Scamander (Eddie Redmayne; The Theory of Everything) finds himself at the Ministry of Magic hoping to have his travel ban lifted but when he refuses to go work for them they deny his request leaving him to stay in England and simply care for his beasts. After two visits - one from Albus Dumbledore (Jude Law; The Talented Mr. Ripley) and the other from Queenie (Alison Sudol; Between Us) and Jacob (Dan Fogler; Fanboy) – Newt ends up in Paris though.

He goes there looking for Tina (Katherine Waterson; Alien: Covenant) who herself is trying to locate Credence (Ezra Miller; Justice League), an obscurial who can unleash awesome and destructive powers. Unfortunately, Grindelwald is also looking for Credence who he believes can help him in his quest for power to take over the world from the "no-majes". Credence, meanwhile, is simply searching to find out who he truly is and if he has any family.

Director David Yates, who directed half of the Harry Potter movies, returns for this sequel and makes his presence felt. His sweeping and dynamic visuals bring the viewer inside this world and embraces them as part of the scenery. The look of the films is truly magical while the tone is much darker than the original Fantastic Beasts movie. There is less humor this go around and that is partially due to his direction and partially due to Rowling's writing.

The film is well cast with all of the main actors reprising their roles form the first movie. Redmayne is a perfect choice for the awkward, nerdy and slightly off centered Scamander while Waterson blends nicely with him as Tina. Law has a commanding presence on the screen which helps to make his Dumbledore believable. Sudol and Fogler reunite as the adorable couple we all fell in love with the first time around. Depp, however, doesn't really add much to the movie. Gone is his eccentric quirkiness that he brought to Captain Jack Sparrow from the Pirates franchise and is replaced by a sinister albino - for lack of a better word (a side note: Depp isn't especially attractive as a washed out blonde). Miller is equally as sinister but with an almost childlike demeanor that garners him some sympathy from the audience.

While the magical aspects and visuals are appealing, the story is clunky and awkward. The detail-laden script is confusing and convoluted but without the humor and fun of the first film. Fan of the Potter Universe will no doubt go to see it but shouldn't expect it to be as inviting as Fantastic Beasts and Where to Find them and even though the series is slated for several more films in the franchise it will be interesting to see how many of those actually come to fruition.

Grade: C
Read More Fantastic Beasts: The Crimes of Grindelwald Reviews
For more reviews please visit our film/television review section.
SPONSORED LINKS
Comments

Courtesy of
Movie Hype App
ali121
heard good things. hope it's as good as the first one!
11/14/2018 7:09 PM EDT
naser8128
i've seen part one 3 times , can't wait to part 2 😍
11/6/2018 3:04 AM EDT
artemis52
I need to see this movie
10/28/2018 9:26 AM EDT