The Batman (2022)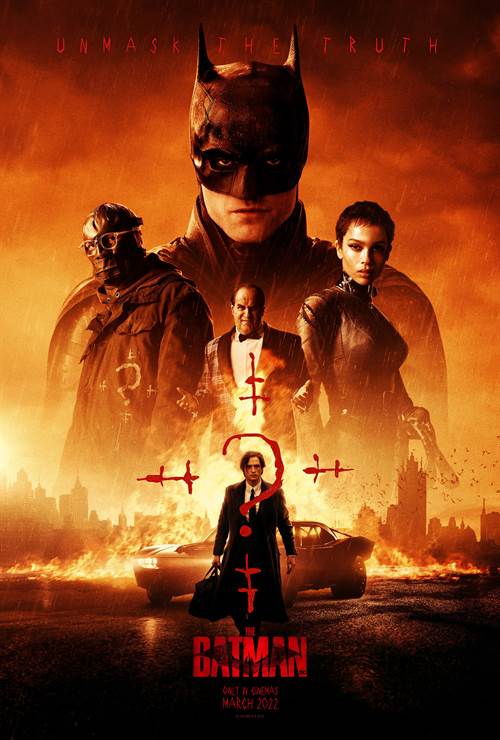 Share this:
| | |
| --- | --- |
| Director: | |
| Writers: | |
| Cast: | |
| Released: | Friday, March 4, 2022 |
| Studio: | Warner Bros. |
| Genre: | Action/Adventure |
| Rating: | This Film Is Not Yet Rated |
Synopsis
The Riddler plays a deadly game of cat and mouse with Batman and Commissioner Gordon in Gotham City.
The Batman images are © Warner Bros.. All Rights Reserved.
Penguin Spinoff Series Reportedly in Development for HBO Max
9/14/2021 2:38 PM EST
Rumor has it that HBO Max is developing a series about The Penguin, which will be a spinoff of "The Batman".There's no word yet on casting for the show, but Colin Farrell is set to play the infamous villain in "The Batman" and is said to have been approached about reprising his role for the series.The HBO Max series would be about the rise of the Penguin and his power in the underworld of Gotham.T...
More>>
Production Resumes on The Batman
9/18/2020 2:33 PM EST
Production for "The Batman" has resumed, according to Warner Bros. A halt in production came after Robert Pattinson had tested positive for COVID-19.In a statement, the studio said, "Following a hiatus for COVID-19 quarantine precautions, filming has now resumed on The Batman in the UK."Aside from Pattinson, "The Batman" cast includes Zoë Kravitz as Selina Kyle/Catwoman, Paul Dano as Edward Nashto...
More>>
Robert Pattinson Tests Positive for Coronavirus
9/3/2020 3:00 PM EST
Robert Pattinson, star of upcoming film "The Batman", has reportedly tested positive for the coronavirus. Production has now halted on the film.According to a statement given to Vanity Fair, Warner Bros. said, "A member of The Batman production has tested positive for Covid-19, and is isolating in accordance with established protocols. Filming is temporarily paused." The studio hasn't confirmed th...
More>>
HBO Max Announces New Batman Series
7/12/2020 8:32 AM EST
HBO Max has announced that it has given the green light for a new "Batman" series. The series will be set in Matt Reeves' upcoming "The Batman" universe."This is an amazing opportunity. Not only to expand the vision of the world I am creating in the film, but to explore it in the kind of depth and detail that only a long-form format can afford-and getting to work with the incredibly talented Teren...
More>>
The Batman Camera Test Gives A Look At New Batsuit
2/14/2020 10:51 AM EST
A first look at Robert Pattinson as Batman has been released by Director Matt Reeves.Pattinson, who was a surprise choice for some, will be playing the iconic character in the upcoming film "The Batman". It was a part that the actor has wanted to play for a long time. "I'd had Batman in my mind for a while. It's such an absurd thing to say. I sort of had an idea to do it, and I'd been prodding Mat...
More>>
Ben Affleck Hanging Up Batman Cowl
1/31/2019 11:19 AM EST
Warner Bros. has announced that the release date for their upcoming film "The Batman" will be on June  25, 2021. The film won't be featuring Ben Affleck as Batman, as the storyline will be featuring a younger Bruce Wayne. Affleck has protrayed the hero in "Batman v. Superman: Dawn of Justice", "Suicide Squad" and "Justice League".Originally, Affleck was set to direct "The Batman" but left due to n...
More>>
Ben Affleck Responds to Batman Rumors
7/23/2017 5:23 PM EST
Rumors have been swirling around about Ben Affleck possibly leaving the Batman franchise but he quickly dispelled those rumors as the Justice League panel at Comic-Con.Affleck said, "Batman is the coolest f*cking part in any universe. I am so thrilled to do it. It is f*cking amazing. After two films, Kevin Tsujihara, Sue Kroll and Toby Emmerich have said, 'We want you to be our Batman.' I would be...
More>>
Matt Reeves Signs on to Direct The Batman
2/23/2017 2:53 PM EST
In a seemingly never ending saga, Matt Reeves has officially signed on to direct "The Batman".Ben Affleck, who stars as Batman, was originally set to direct the film, but stepped back so that he could focus more on his starring role.  Reeves was then offered the job, and negotiations started taking place. Just last week, however, it was announced that negotiations had been put on hold, but that th...
More>>
The Riddler plays a deadly game of cat and mouse with Batman and Commissioner Gordon in Gotham City....
SPONSORED LINKS