Green Lantern (2011)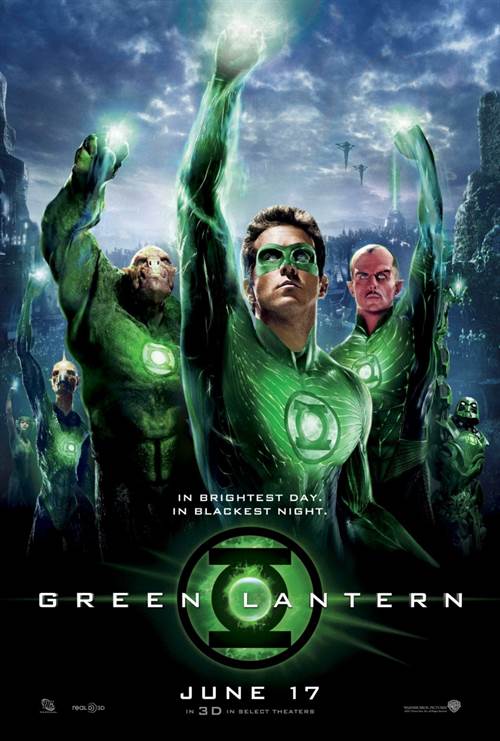 | | |
| --- | --- |
| Director: | |
| Writers: | |
| Cast: | |
| Released: | Friday, June 17, 2011 |
| Length: | 114 minutes |
| Studio: | Warner Bros. |
| Genre: | Sci-Fi/Fantasy, Action/Adventure |
| Rating: | Some material may be inappropriate for children under 13. |
Green Lantern Synopsis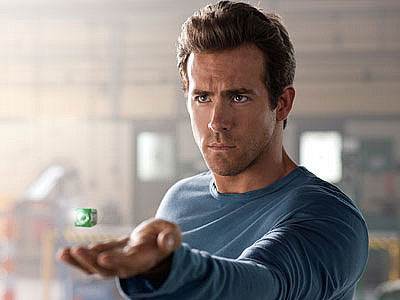 In a universe as vast as it is mysterious, a small but powerful force has existed for centuries. Protectors of peace and justice, they are called the Green Lantern Corps. A brotherhood of warriors sworn to keep intergalactic order, each Green Lantern wears a ring that grants him superpowers. But when a new enemy called Parallax threatens to destroy the balance of power in the Universe, their fate and the fate of Earth lie in the hands of their newest recruit, the first human ever selected: Hal Jordan.
Hal is a gifted and cocky test pilot, but the Green Lanterns have little respect for humans, who have never harnessed the infinite powers of the ring before. But Hal is clearly the missing piece to the puzzle, and along with his determination and willpower, he has one thing no member of the Corps has ever had: humanity. With the encouragement of fellow pilot and childhood sweetheart Carol Ferris (Blake Lively), if Hal can quickly master his new powers and find the courage to overcome his fears, he may prove to be not only the key to defeating Parallax…he will become the greatest Green Lantern of all

Purchase DVD/Blu-ray/4K UHD physical copy of Green Lantern today at Amazon.com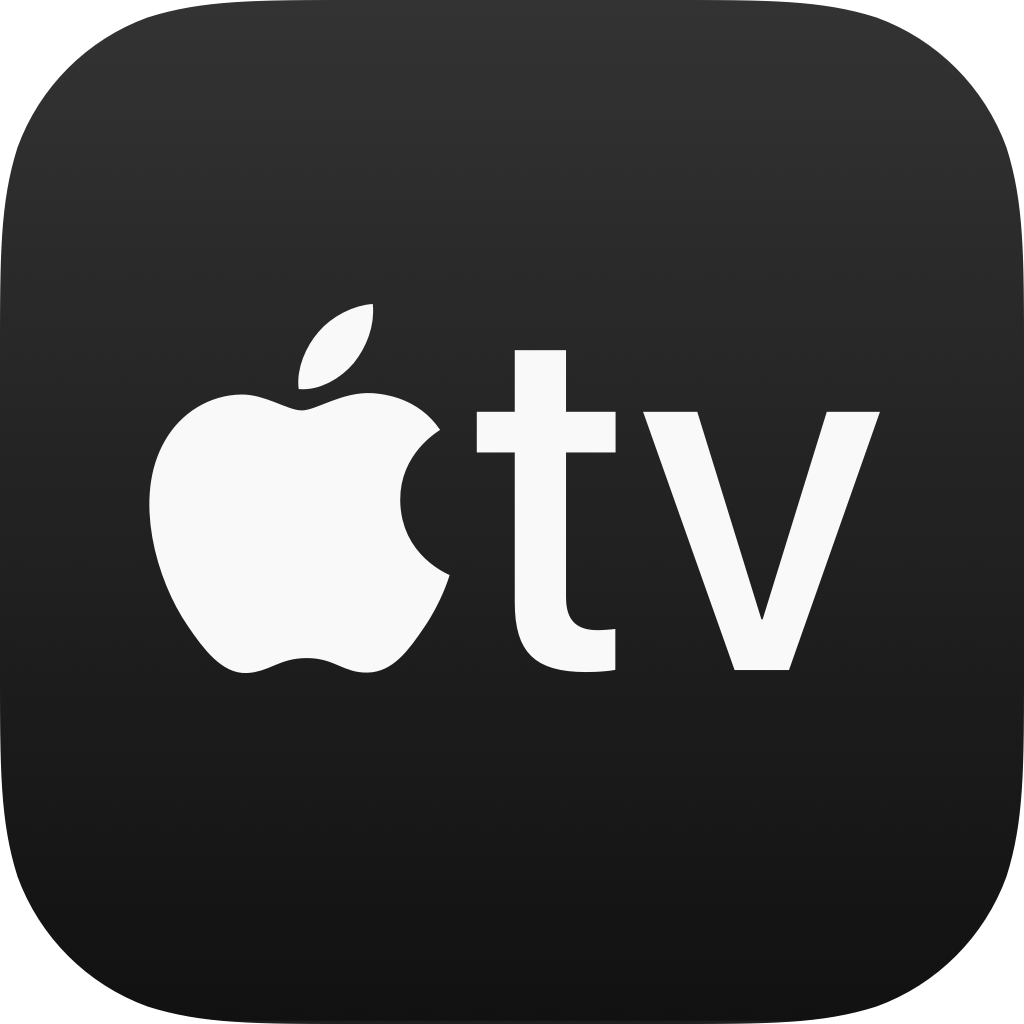 Stream Green Lantern in Digital HD/4K from the AppleTV store.
Green Lantern images are © Warner Bros.. All Rights Reserved.
Green Lantern: The Animated Series Gets Announced At New York Co...
10/17/2011 4:53 PM EST
One of the many announcements at NY Comic Con this year is the new animated show Green Lantern: The Animated Series. Coming on the heels of the recent live action movie, this show has the promise of being more of a hit than the Hollywood film.    The show will skip the standard introduction of the main characters. Given that most old and new fans went to see the live action film, rehashing the ori...
More>>
"Green Lantern" Sequel Will Be a "Darker" Film
8/3/2011 10:53 AM EST
"Green Lantern" was a relative box office disappointment, yet that hasn't stopped Warner Bros. from going ahead with plans for a sequel.They will be taking a slightly different path for the next film, however. "To go forward we need to make it a little edgier and darker with more emphasis on action… And we have to find a way to balance the time the movie spends in space versus on Earth", said Jeff...
More>>
"Green Lantern" Sequel Being Planned
6/27/2011 4:12 PM EST
Warner Bros. will be going ahead with a "Green Lantern" sequel, according to The Hollywood Reporter.Given its relatively disappointing $52 million opening and 66% drop of earnings for the second weekend, a sequel is a bit surprising, but in this day and age, sequels and prequels rule. The studio is looking for its DC brand to be a big post "Harry Potter" earner for them.Sales overseas for the film...
More>>
Green Lantern Blu-ray Review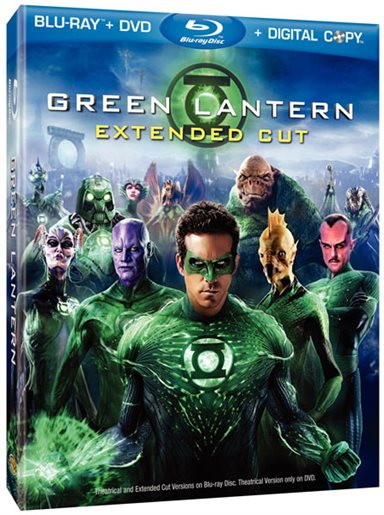 Once again we find ourselves anticipating yet another comic book movie. This time around it is the classic hero, Green Lantern who takes center stage in the tale featuring his origin.

Ryan Reynolds stars as the main character Hal Jordan, a test pilot who works for Ferris Air. At the outset we see a familiar scenario play out in which a young boy, who idolizes someone, witness their demise firsthand. The boy is a young Hal (Gattlin Griffith) and it is his father Martin (Jon Tenney) who dies as he is about to test a prototype aircraft. Fast forward to the present and Hal is an adult who, like most young males, can not commit to any one thing in his life.

One morning during a test scenario with a new type of pilot-less aircraft, Hal makes a judgment call which costs the company he works for a plane and Hal his job. At the same time, way out in distant space an alien named Abin Sur (Temuera Morrison) encounters an old foe by the name of Parallax (voiced by Clancy Brown). His battle does not go well and in his escape heads towards Earth to select a new recruit. When he crashes he sends out a signal to find one who has the "ability to overcome great fear" and of course this is Hal.

When Hal is chosen and given the ring he learns that it is a weapon designed by an ancient race of aliens known as The Guardians. They created the Green Lantern rings and the Green Lantern Corps which is tasked with keeping order and justice in the universe. The rings allow the bearer to turn their thoughts into reality. Hal is taken to the planet OA where he begins training in the use of the ring as well as how to fight. One of his trainers is a very large orange alien by the name of Kilowog (voiced by Michael Clarke Duncan). During his training Hal realizes that he is unworthy of this honor and returns home.

Meanwhile back on Earth, Abin Sur's body was discovered by the government and is now being analyzed by a doctor named Hector Hammond (Peter Sarsgaard) who is an old friend of Hal's from childhood. His exposure to the alien body also exposes him to some of the evil energy of Parallax. This energy begins to transform him and of course turn him evil. As Parallax slowly makes his way to Earth, becoming more powerful as he does, Hal must look within himself to find the strength needed to defeat his enemies and save the planet.

There was a lot of buzz surrounding Green Lantern and when it finally hit theaters it didn't do as well as most people hoped. That is probably due to the lack of a solid story, and a character history too big for one movie to contain. Like most comic movies now, the performances are fairly thin, all characters, aside from our hero, are relegated to a few short scenes in which we get a vague sense of who they are. The CGI, while good, doesn't really translate well here. The costumes and characters look comical on the screen, even on Blu-ray. Even Reynolds, who is fun to watch can't hold this movie up by himself.

Now the movie drops on a 2-disc Blu-ray and is loaded with some pretty good extras. Disc 1 features the Blu-ray versions of the film, one a theatrical cut and the other an extended version. The special features include some deleted scenes, a digital copy of Justice League #1, a movie mode which allows the user to view some back story on the character as the film plays, individual clips showcasing the making of the film and how the actors prepared, a history of the character with interviews from notable writers and artists, a small doc showing how Reynolds prepared physically and mentally for the role and finally a look at the new animated Green Lantern show soon to be airing on Cartoon Network.

Over on disc 2 is the standard version of the theatrical film, no extended cut here as well as some of the same features from disc 1.

While the film may not have done well and who can say if there will be a sequel, it is quite fun to take a look at some of the features on this disc, most notably the history of Green Lantern and the animated show. It isn't hard to see that the animated show will do well; some formats just work better within the context of animation. Regardless of how the film did, any fan of film and Blu-ray would be delighted to sit back and watch the creation of one of comics most celebrated heroes.

Read More Green Lantern Reviews
For more reviews please visit our film/television review section.
SPONSORED LINKS