The Dark Knight Rises (2012)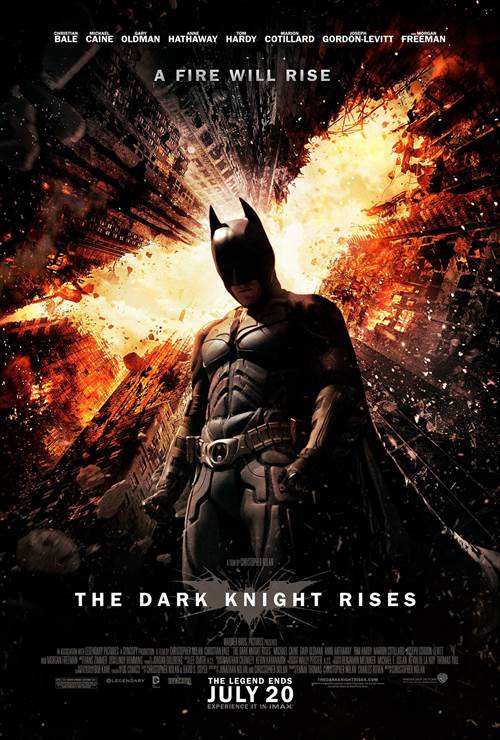 | | |
| --- | --- |
| Director: | |
| Writers: | |
| Cast: | |
| Released: | Friday, July 20, 2012 |
| Length: | 165 minutes |
| Studio: | Warner Bros. |
| Genre: | Action/Adventure, Sci-Fi/Fantasy |
| Rating: | Some material may be inappropriate for children under 13. |
The Dark Knight Rises Synopsis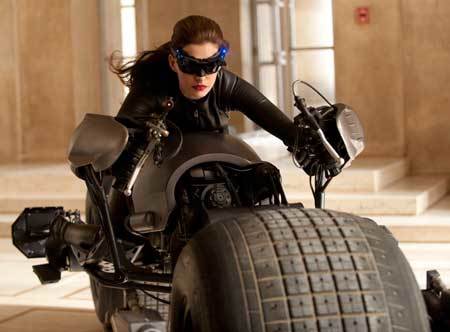 Warner Bros. Pictures' and Legendary Pictures' "The Dark Knight Rises" is the epic conclusion to filmmaker Christopher Nolan's Batman trilogy.
Leading an all-star international cast, Oscar® winner Christian Bale ("The Fighter") again plays the dual role of Bruce Wayne/Batman. The film also stars Anne Hathaway, as Selina Kyle; Tom Hardy, as Bane; Oscar® winner Marion Cotillard ("La Vie en Rose"), as Miranda Tate; and Joseph Gordon-Levitt, as John Blake.
Returning to the main cast, Oscar® winner Michael Caine ("The Cider House Rules") plays Alfred; Gary Oldman is Commissioner Gordon; and Oscar® winner Morgan Freeman ("Million Dollar Baby") reprises the role of Lucius Fox.
The screenplay is written by Christopher Nolan and Jonathan Nolan, story by Christopher Nolan & David S. Goyer. The film is produced by Emma Thomas, Christopher Nolan and Charles Roven, who previously teamed on "Batman Begins" and the record-breaking blockbuster "The Dark Knight." The executive producers are Benjamin Melniker, Michael E. Uslan, Kevin De La Noy and Thomas Tull, with Jordan Goldberg serving as co-producer. The film is based upon characters appearing in comic books published by DC Comics. Batman was created by Bob Kane.
Behind the scenes, "The Dark Knight Rises" reunites the director with several of his longtime collaborators, all of whom worked together on the "The Dark Knight." The creative team includes director of photography Wally Pfister, who recently won an Oscar® for his work on Nolan's "Inception"; production designer Nathan Crowley; editor Lee Smith; and Oscar®-winning costume designer Lindy Hemming ("Topsy-Turvy"). In addition, Paul Franklin and Chris Corbould, who both won Oscars® for the effects in "Inception," supervised the visual and special effects, respectively. The music is composed by Oscar® winner Hans Zimmer ("The Lion King").
In helming the film, Christopher Nolan is utilizing IMAX® cameras even more extensively than he did on "The Dark Knight," which had marked the first time ever that a major feature film was partially shot with IMAX cameras.
The locations span three continents and include the American cities of Pittsburgh, New York and Los Angeles, as well as sites in India, England and Scotland.
"The Dark Knight Rises" is a presentation of Warner Bros. Pictures, in association with Legendary Pictures. Slated for release beginning July 20, 2012, the film will be distributed worldwide by Warner Bros. Pictures, a Warner Bros. Entertainment Company.
The Dark Knight Rises images are © Warner Bros.. All Rights Reserved.
The Batman to Premier on HBO Max on April 18
4/11/2022 1:15 PM EST
It has been announced that Warner Bros. "The Batman", directed by Matt Reeves, will be available to stream on HBO Max starting Monday, April 18, followed by an HBO release on Saturday, April 23 at 8:00PM ET.The film stars Robert Pattinson ("Tenet," "...
| Full Article
The Batman Opens in China to Disappointing Numbers
3/18/2022 2:12 PM EST
"The Batman" debuted here in the United States on March 4 to an opening of $134 million, but in China, it's not going as well.As of today, ticket sales have only rung in at about $3.6 million. There are a few factors at play, including COVID flare-up...
| Full Article
The Batman Spawns Series Spinoff
3/9/2022 3:37 PM EST
HBO Max has officially ordered "The Batman" spinoff series based on the Penguin character. Collin Farrell will reprise his role as Oswald Cobblepot, who was featured in the film. He commented on the news, saying, "The world that Matt Reeves created f...
| Full Article
The Batman Theme Music Revealed by Composer
1/21/2022 3:23 PM EST
Composer Michael Giacchino has released the theme for The Batman, which will hit theatres on March 4.The music has dark and moody undertones, which is, of course, fitting for the Caped Crusader. The theme can be found on most streaming platforms.The ...
| Full Article
The Batman Runtime is Released
1/20/2022 4:50 PM EST
The official runtime for "The Batman" has been announced, so settle in for a while. The film, not including the credits, will be two hours and 47 minutes, making it one of the longest-running comic-themed films ever.Robert Pattinson stars in the film...
| Full Article
Largest Batman Franchise Merchandising Campaign in a Decade Laun...
1/10/2022 3:08 PM EST
WarnerMedia Global Brands and Experiences has announced that they are launching a new "The Batman" lifestyle merchandise collection, which allows fans to channel Batman/Bruce Wayne and Catwoman/Selina Kyle like never before.Today, the largest collect...
| Full Article
Michael Keaton in Talks to Reprise Batman Role
6/22/2020 3:29 PM EST
Word around town is that Michael Keaton may be reprising his role as Batman. The actor is currently in talks to star in the Warner Bros.'s DC movie The Flash.Keaton played the iconic superhero in 1989's Batman and again in 1992's Batman Returns. He t...
| Full Article
The Dark Knight Coming Back to IMAX Theatres for Batman's 80th A...
3/14/2019 10:52 AM EST
To commemorate the 80th anniversary of Batman, Warner Bros. will be returning all three "Dark Knight" films to IMAX theatres. Jeff Goldstein, President, Domestic Distribution, Warner Bros. Pictures, made the announcement."Christopher Nolan broke new ...
| Full Article
Batman's 80th Anniversary Events Announced Around the Globe
3/7/2019 4:04 PM EST
Batman will turn 80 this year, and celebrations for the event are being announced.On March 30, DC Comics will hold a "Happy Birthday Batman" panel at WonderCon, which takes place in Anaheim, with tie-in events that will be held at this year's ComicCo...
| Full Article
Imax to Release The Dark Knight for 10th Anniversary
7/18/2018 2:01 PM EST
In honor of its 10th anniversary, Imax will be releasing The Dark Knight on its screens next month. Beginning on August 24, fans can take advantage of seeing the film in this giant format for one week at Imax theaters in Los Angeles, New York, San Fr...
| Full Article
Hangover Director Todd Phillips Working on Joker Origin Film
8/23/2017 11:02 AM EST
Rumors have been swirling about a possible Joker origin film being in the works. According to reports,  "The Hangover" director Todd Phillips is currently in talks to direct and co-write the film. It is also said that Martin Scorcese could be involve...
| Full Article
Matt Reeves Signs on to Direct The Batman
2/23/2017 2:53 PM EST
In a seemingly never ending saga, Matt Reeves has officially signed on to direct "The Batman".Ben Affleck, who stars as Batman, was originally set to direct the film, but stepped back so that he could focus more on his starring role.  Reeves was then...
| Full Article

Movie / Film Review
The Best Batman (The Dark Knight) Got Better with Dark Knight Rises.

Physical Media: Blu-ray Review
This year may well go down as the year of the comic book hero in movie history; there has been a whole host of them. Still, it was no surprise that, among them, one of the most hotly anticipated comic book hero movies of the year was The Dark Knight Rises (TDKR), the last in Christopher No...
SPONSORED LINKS