The Dark Knight Rises (2012)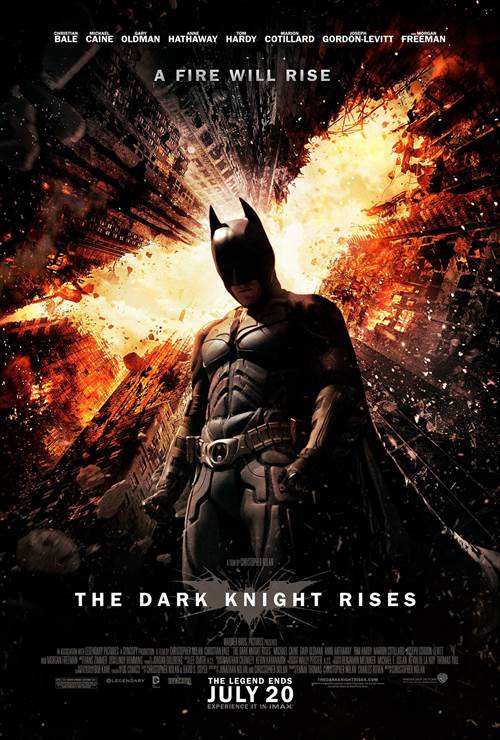 | | |
| --- | --- |
| Director: | |
| Writers: | |
| Cast: | |
| Released: | Friday, July 20, 2012 |
| Length: | 165 minutes |
| Studio: | Warner Bros. |
| Genre: | Action/Adventure, Sci-Fi/Fantasy |
| Rating: | Some material may be inappropriate for children under 13. |
The Dark Knight Rises Synopsis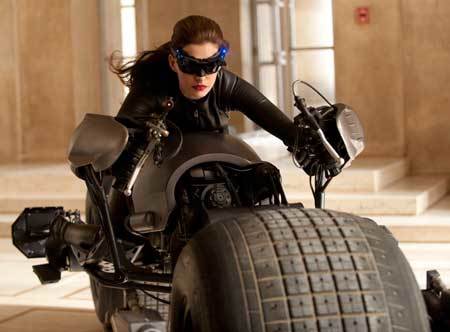 Warner Bros. Pictures' and Legendary Pictures' "The Dark Knight Rises" is the epic conclusion to filmmaker Christopher Nolan's Batman trilogy.
Leading an all-star international cast, Oscar® winner Christian Bale ("The Fighter") again plays the dual role of Bruce Wayne/Batman. The film also stars Anne Hathaway, as Selina Kyle; Tom Hardy, as Bane; Oscar® winner Marion Cotillard ("La Vie en Rose"), as Miranda Tate; and Joseph Gordon-Levitt, as John Blake.
Returning to the main cast, Oscar® winner Michael Caine ("The Cider House Rules") plays Alfred; Gary Oldman is Commissioner Gordon; and Oscar® winner Morgan Freeman ("Million Dollar Baby") reprises the role of Lucius Fox.
The screenplay is written by Christopher Nolan and Jonathan Nolan, story by Christopher Nolan & David S. Goyer. The film is produced by Emma Thomas, Christopher Nolan and Charles Roven, who previously teamed on "Batman Begins" and the record-breaking blockbuster "The Dark Knight." The executive producers are Benjamin Melniker, Michael E. Uslan, Kevin De La Noy and Thomas Tull, with Jordan Goldberg serving as co-producer. The film is based upon characters appearing in comic books published by DC Comics. Batman was created by Bob Kane.
Behind the scenes, "The Dark Knight Rises" reunites the director with several of his longtime collaborators, all of whom worked together on the "The Dark Knight." The creative team includes director of photography Wally Pfister, who recently won an Oscar® for his work on Nolan's "Inception"; production designer Nathan Crowley; editor Lee Smith; and Oscar®-winning costume designer Lindy Hemming ("Topsy-Turvy"). In addition, Paul Franklin and Chris Corbould, who both won Oscars® for the effects in "Inception," supervised the visual and special effects, respectively. The music is composed by Oscar® winner Hans Zimmer ("The Lion King").
In helming the film, Christopher Nolan is utilizing IMAX® cameras even more extensively than he did on "The Dark Knight," which had marked the first time ever that a major feature film was partially shot with IMAX cameras.
The locations span three continents and include the American cities of Pittsburgh, New York and Los Angeles, as well as sites in India, England and Scotland.
"The Dark Knight Rises" is a presentation of Warner Bros. Pictures, in association with Legendary Pictures. Slated for release beginning July 20, 2012, the film will be distributed worldwide by Warner Bros. Pictures, a Warner Bros. Entertainment Company.

Purchase DVD/Blu-ray/4K UHD physical copy of The Dark Knight Rises today at Amazon.com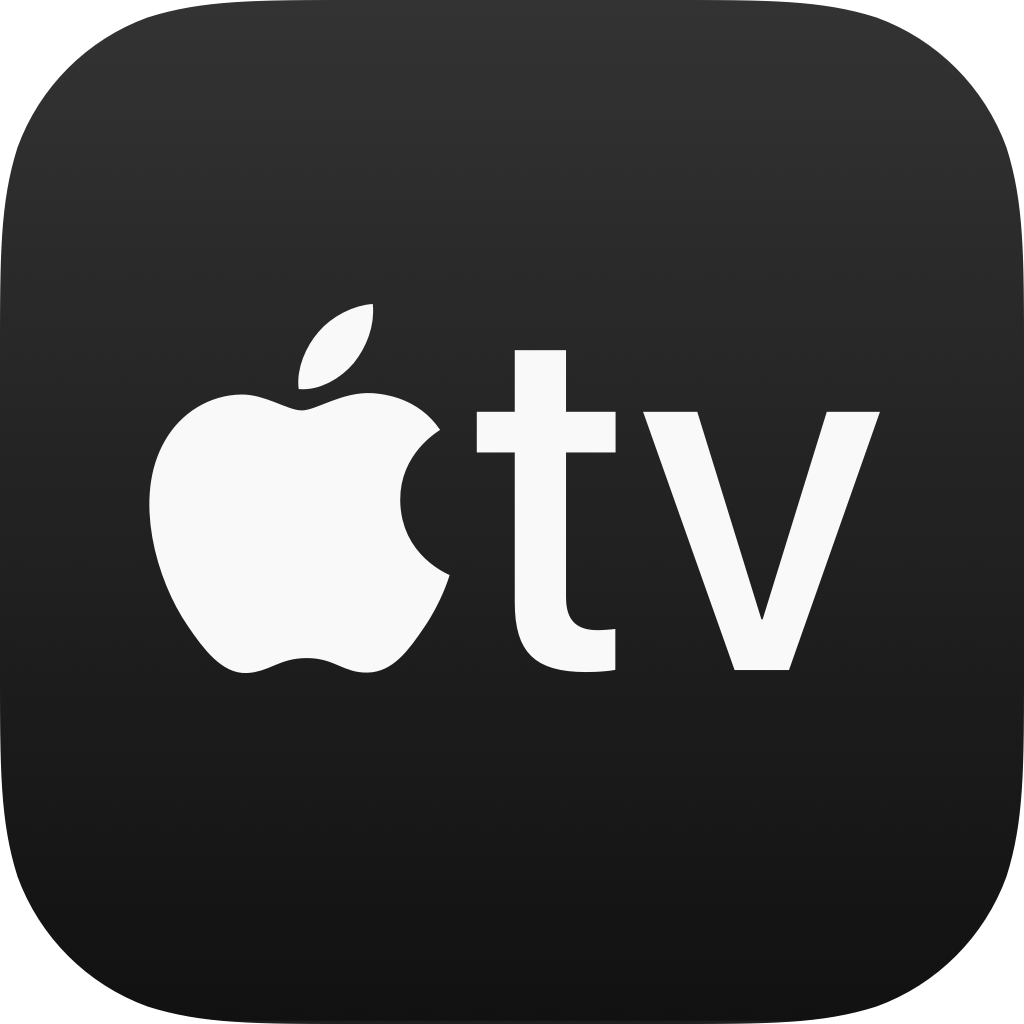 Stream The Dark Knight Rises in Digital HD/4K from the AppleTV store.
Listen to the The Dark Knight Rises soundtrack on Apple Music.
The Dark Knight Rises images are © Warner Bros.. All Rights Reserved.
The Batman to Premier on HBO Max on April 18
4/11/2022 1:15 PM EST
It has been announced that Warner Bros. "The Batman", directed by Matt Reeves, will be available to stream on HBO Max starting Monday, April 18, followed by an HBO release on Saturday, April 23 at 8:00PM ET.The film stars Robert Pattinson ("Tenet," "The Lighthouse"), as well as Zoë Kravitz ("Big Little Lies," "Fantastic Beasts: The Crimes of Grindelwald") as Selina Kyle; Paul Dano ("Love & Mercy,"...
More>>
The Batman Opens in China to Disappointing Numbers
3/18/2022 2:12 PM EST
"The Batman" debuted here in the United States on March 4 to an opening of $134 million, but in China, it's not going as well.As of today, ticket sales have only rung in at about $3.6 million. There are a few factors at play, including COVID flare-ups that are closing theatres again. The country is experiencing its biggest uptick of the virus since the pandemic began, closing about 30% of movie th...
More>>
The Batman Spawns Series Spinoff
3/9/2022 3:37 PM EST
HBO Max has officially ordered "The Batman" spinoff series based on the Penguin character. Collin Farrell will reprise his role as Oswald Cobblepot, who was featured in the film. He commented on the news, saying, "The world that Matt Reeves created for 'The Batman' is one that warrants a deeper gaze through the eyes of Oswald Cobblepot. I couldn't be more excited about continuing this exploration ...
More>>
The Batman Theme Music Revealed by Composer
1/21/2022 3:23 PM EST
Composer Michael Giacchino has released the theme for The Batman, which will hit theatres on March 4.The music has dark and moody undertones, which is, of course, fitting for the Caped Crusader. The theme can be found on most streaming platforms.The film stars Robert Pattinson as Bruce Wayne, Zoë Kravitz as Catwoman, Andy Serkis as Alfred Pennyworth, Colin Farrell as the Penguin, Jeffrey Wright as...
More>>
The Batman Runtime is Released
1/20/2022 4:50 PM EST
The official runtime for "The Batman" has been announced, so settle in for a while. The film, not including the credits, will be two hours and 47 minutes, making it one of the longest-running comic-themed films ever.Robert Pattinson stars in the film, alongside Zoë Kravitz, Paul Dano, Jeffrey Wright, John Turturro, Peter Sarsgaard, Andy Serkis, and Colin Farrell."The Batman" lands in theaters on M...
More>>
Largest Batman Franchise Merchandising Campaign in a Decade Laun...
1/10/2022 3:08 PM EST
WarnerMedia Global Brands and Experiences has announced that they are launching a new "The Batman" lifestyle merchandise collection, which allows fans to channel Batman/Bruce Wayne and Catwoman/Selina Kyle like never before.Today, the largest collection of Batman film products in over a decade has been revealed with premier partners worldwide launching "The Batman" fashion, accessories, beauty pro...
More>>
Michael Keaton in Talks to Reprise Batman Role
6/22/2020 3:29 PM EST
Word around town is that Michael Keaton may be reprising his role as Batman. The actor is currently in talks to star in the Warner Bros.'s DC movie The Flash.Keaton played the iconic superhero in 1989's Batman and again in 1992's Batman Returns. He turned out to be a fan favorite, even though many initially doubted his ability to play the debonair caped crusader. It's also being said that these ta...
More>>
The Dark Knight Coming Back to IMAX Theatres for Batman's 80th A...
3/14/2019 10:52 AM EST
To commemorate the 80th anniversary of Batman, Warner Bros. will be returning all three "Dark Knight" films to IMAX theatres. Jeff Goldstein, President, Domestic Distribution, Warner Bros. Pictures, made the announcement."Christopher Nolan broke new ground with the 'Dark Knight' Trilogy, and this is a rare chance for today's audiences to experience these extraordinary films as they were meant to b...
More>>
Batman's 80th Anniversary Events Announced Around the Globe
3/7/2019 4:04 PM EST
Batman will turn 80 this year, and celebrations for the event are being announced.On March 30, DC Comics will hold a "Happy Birthday Batman" panel at WonderCon, which takes place in Anaheim, with tie-in events that will be held at this year's ComicCon in SanDiego. To celebrate Batman Day on September 21, more events will be held, such as a 5K and 10K cosplay run and a display of Bat-signals in cit...
More>>
Imax to Release The Dark Knight for 10th Anniversary
7/18/2018 2:01 PM EST
In honor of its 10th anniversary, Imax will be releasing The Dark Knight on its screens next month. Beginning on August 24, fans can take advantage of seeing the film in this giant format for one week at Imax theaters in Los Angeles, New York, San Francisco and Toronto.The film, which starred Christian Bale as Batman/Bruce Wayne, was originally released July 18, 2008 and brought the world a legend...
More>>
Hangover Director Todd Phillips Working on Joker Origin Film
8/23/2017 11:02 AM EST
Rumors have been swirling about a possible Joker origin film being in the works. According to reports,  "The Hangover" director Todd Phillips is currently in talks to direct and co-write the film. It is also said that Martin Scorcese could be involved with the project as well.  Origin films have become quite popular in recent years and the Joker would be perfect for such a platform. The character ...
More>>
Matt Reeves Signs on to Direct The Batman
2/23/2017 2:53 PM EST
In a seemingly never ending saga, Matt Reeves has officially signed on to direct "The Batman".Ben Affleck, who stars as Batman, was originally set to direct the film, but stepped back so that he could focus more on his starring role.  Reeves was then offered the job, and negotiations started taking place. Just last week, however, it was announced that negotiations had been put on hold, but that th...
More>>
The Dark Knight Rises Blu-ray Review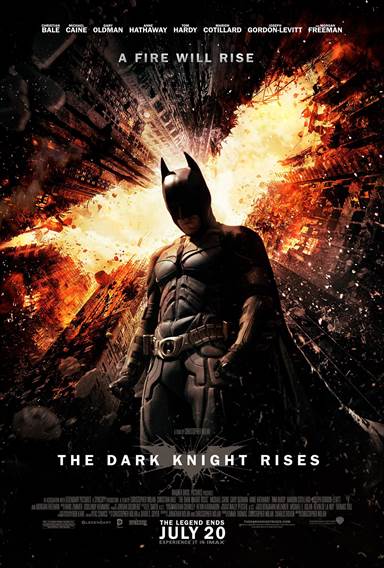 This year may well go down as the year of the comic book hero in movie history; there has been a whole host of them. Still, it was no surprise that, among them, one of the most hotly anticipated comic book hero movies of the year was
The Dark Knight Rises
(
TDKR
), the last in Christopher Nolan's Batman trilogy. Beginning in 2005 with
Batman Begins
and continuing with 2008's
The Dark Knight
, the fan base for Nolan's movies grew with each release. So it is maybe with a heavy heart that, with the release of
The Dark Knight Rises
to Blu-ray and DVD, we see the end of one of the most epic franchises the movie industry has produced in the last few years.
Opening with the terrorist Bane (Tom Hardy,
Inception
,
Warrior
) escaping from his CIA guards in a highly imaginative and audacious plane hijacking, the story picks up eight years after
The Dark Knight
's conclusion. Bruce Wayne (Christian Bale) is a shadow of the man he formally was, a reclusive cripple who walks with the aid of a stick, broken physically and mentally from his years of crime fighting in the guise of The Batman. A guise that stood for a symbol of hope for many while regarded as a criminal vigilante by the few. Even when jewel thief Selina Kyle a.k.a. Catwoman (Anne Hathaway,
Rachel Getting Married
,
The Devil Wears Prada
) breaks in to Wayne Manor and gets caught red-handed by Wayne, you sense a reluctance on his part to confront her; it's going to take a lot more than this to get him back in the black suit.
Back in the suit he does get, though, when he finds out that his old friend and only ally in the Gotham City Police Department, Commissioner Gordon (Gary Oldman), is lying on a hospital bed, barely alive, after escaping from the sewers where the new self-proclaimed leader of The League of Shadows has made his lair. I suppose you could not ask for a better hideout, what with the ability to move around Gotham undetected, searching for a nuclear renewable energy source he has found a way to convert into an atomic bomb and hold the city hostage.
From here the movie starts to move at a faster pace, for if there was a criticism of this third outing of the Caped Crusader, it's that the first portion of the film was on the slow side. Nolan must have had sleepless nights trying to weave the intricacies of the story into such a short space of on screen time, and he must be applauded for doing such a good job, taking each thread and tying them together at the one point where chaos and order at last meet. While being drawn into the movie with each scene that passes, you realize that Bane and Wayne are not too different, but being born poles apart on the poverty line, their outlook on the world is totally different.
The use of CGI for stunts and effects really can make or break a movie, and as with its predecessors,
TDKR
exploits it well, enhancing the screenplay and making you believe that what you are watching is reality. Whether there was any pressure from the studio to go down the all-too-familiar 3D route I don't know, but I for one am glad that route was not taken. A movie with great story and effects does not need any sort of conversion to enhance it. Another strong point in all the three movies is Hans Zimmer's soundtrack, a man at the top of his field and again failing to disappoint.
TDKR
's transfer is excellent; the colors on the Blu-ray are extremely vibrant, and just as with the release of
The Dark Knight
, the video ratio switches when the scenes are filmed in IMAX, to a breath-taking proportion.
Extras included with the release are:
Second Screen Experience – Download the mobile/tablet app "The Dark Knight Rises FX" to enjoy exclusive content during the film.
The Batmobile Documentary: Witness all five Batmobiles together for the first time in history. Dive deep into every aspect of the most awe-inspiring weapon in Batman's arsenal as you journey through the birth and evolution of this technological marvel and cultural icon.
Ending the Knight: A comprehensive look into how Director Christopher Nolan and his production team made "The Dark Knight Rises" the epic conclusion to the Dark Knight legend.
Trailers
Art Galleries
DVD copy
UltraViolet Copy – Hopefully they will be switching back to iTunes copy in 2013 since these copies are hopelessly useless and confusing to use.
I could go on with the superlatives but the best compliment I could give is that I will be buying
TDKR
to sit upon the shelf next to the two other films in the trilogy. With its release just before Christmas, some may say the dark nature of Nolan's adaptation may be bad timing, but I say nonsense! I am sure many will be happy to find a copy in their stocking on Christmas morning.
The Dark Knight Rises
is released on Blu-ray, DVD and Digital Download from December 3rd in the United Kingdom and December 4th in the US.
-- Paul Kates
Read More The Dark Knight Rises Reviews
For more reviews please visit our film/television review section.
SPONSORED LINKS