The Hobbit: An Unexpected Journey (2012)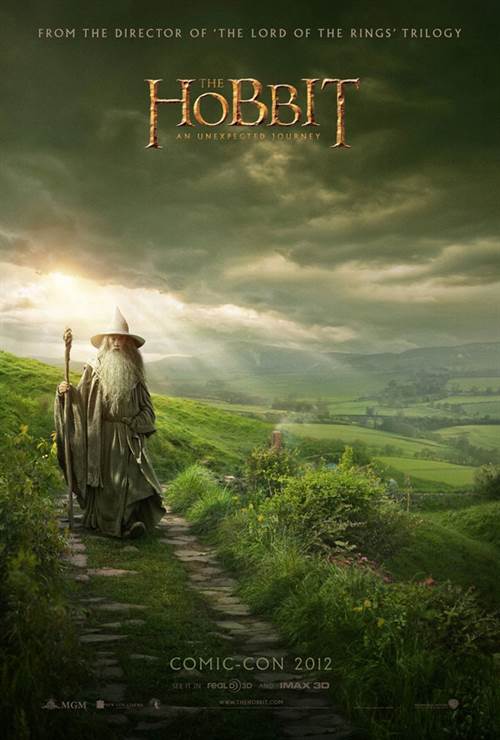 Share this:
| | |
| --- | --- |
| Director: | |
| Writers: | Fran Walsh, Philippa Boyens, Guillermo del Toro, Peter Jackson |
| Cast: | |
| Released: | Friday, December 14, 2012 |
| Length: | 170 minutes |
| Studio: | New Line Cinema |
| Genre: | Sci-Fi/Fantasy, Action/Adventure |
| Rating: | Some material may be inappropriate for children under 13. |
Synopsis
The adventure follows the journey of title character Bilbo Baggins, who is swept into an epic quest to reclaim the lost Dwarf Kingdom of Erebor from the fearsome dragon Smaug. Approached out of the blue by the wizard Gandalf the Grey, Bilbo finds himself joining a company of thirteen dwarves led by the legendary warrior, Thorin Oakenshield. Their journey will take them into the Wild; through treacherous lands swarming with Goblins and Orcs, deadly Wargs and Sorcerers. Although their goal lies to the East and the wastelands of the Lonely Mountain, first they must escape the goblin tunnels, where Bilbo meets the creature that will change his life forever...Gollum. Here, alone with Gollum, on the shores of an underground lake, the unassuming Bilbo Baggins not only discovers depths of ingenuity and courage that surprise even him, he also gains possession of Gollum's "precious" ring that holds unexpected and useful qualities... A simple, gold ring that is tied to the fate of all Middle-earth in ways Bilbo cannot begin to know.
Purchase DVD/Blu-ray/4K physical copy of The Hobbit: An Unexpected Journey today at
Download The Hobbit: An Unexpected Journey in Digital HD/4K from the iTunes store.
The Hobbit: An Unexpected Journey images are © New Line Cinema. All Rights Reserved.


Lord of the Rings Star Ian Holm Dies at 88
6/19/2020 9:44 AM EDT
"Lord of the Rings" veteran actor Ian Holm died today in London. He was 88.In a statement, his agent said, "It is with great sadness that the actor Sir Ian Holm CBE passed away this morning at the age of 88. He died peacefully in hospital, with his family and carer," adding that his illness was Parkinson's related. "Charming, kind, and ferociously talented, we will miss him hugely."Holm gained a n...
More>>
Amazon Studios Gives Greenlight for Lord of the Rings Season 2
11/19/2019 2:17 PM EDT
Amazon Studios has announced that they will be going ahead with a second season for their Lord of the Rings series. The first season is currently still in pre-production. The series will film in New Zealand and will be produced by Amazon Studios alongside the Tolkien Estate and Trust, HarperCollins, and New Line Cinema.The show will have a new storyline that will precede the timeline of Tolkien's ...
More>>
Will Poulter Cast as Lead in Amazon's Lord of the Rings Series
9/5/2019 11:30 AM EDT
It's being reported that Will Poulter has been cast in the upcoming "Lord of the Rings" series for Amazon. The actor will play one of the lead roles but no word yet on exactly who it will be. Poulter recently starred in "Midsommar" as well as "Black Mirror" and "Bandersnatch". He also starred in "The Maze Runner" franchise, "The Revenant," and "Detroit."The series was announced in late 2017 but we...
More>>
Lord of the Rings Series Won't Have a Timetable
2/15/2019 1:38 PM EDT
Jennifer Salke, head of Amazon Studios, was on hand at TCA speaking about the upcoming "Lord of the Rings" series. According to Salke, there will be "no timetable" to the story.Through some social media posts, the company has released some clues as to what viewers can expect. They posted a map of Middle Earth on Twitter and Instagram for fans to explore and the tweet was followed with a J.R.R. Tol...
More>>
Peter Jackson Dispels Lord of the Rings Series Rumors
6/6/2018 2:41 PM EDT
Peter Jackson has made it clear that he isn't involved with the new Lord of the Rings Amazon series. The director did an interview with the French-based Allocine recently and said, "I'm not involved at all in the 'Lord of the Rings' series. I understand how my name could come up, but there is nothing happening with me on this project."He also went on to debunk rumors about him directing a superher...
More>>
Amazon Announces Lord of the Rings Series for Prime
11/13/2017 4:20 PM EDT
Amazon has officially announced that they have acquired the television rights to The Lord of the Rings, which will air exclusively on their Prime Video. Sharon Tal Yguado, Head of Scripted Series, Amazon Studios, said, "The Lord of the Rings is a cultural phenomenon that has captured the imagination of generations of fans through literature and the big screen. We are honored to be working with the...
More>>
Amazon Rumored to be Developing Lord of the Rings Series
11/6/2017 4:38 PM EDT
Amazon, in conjunction with Warner Bros. Television and the estate of J.R.R. Tolkien, is said to be developing a Lord of the Rings television series.  The series has been the brainchild of Warner Bros. and the Tolkien estate for a while, and are now said to be shopping for a home. While there is no confirmation that Amazon has signed on, many are reporting that Amazon CEO Jeff Bezos is personally ...
More>>
Peter Jackson Renames Third Hobbit Installment
4/24/2014 3:05 PM EDT
Warner Bros Pictures, Metro-Goldwyn-Mayer Pictures and New Line Cinema jointly announced today that the much-anticipated final film in Peter Jackson's trilogy adaptation of the enduringly popular masterpiece The Hobbit, by J.R.R. Tolkien, has now been titled "The Hobbit: The Battle of the Five Armies."   The film, previously titled "The Hobbit: There and Back Again," will be released worldwide Dec...
More>>
Details Discussed for Hobbit's Extended Cut
6/25/2013 3:02 PM EDT
Peter Jackson, writer Fran Walsh and producer/co-writer Philippa Boyens recently spoke about the upcoming "The Hobbit: The Desolation of Smaug" film, and about some of the new scenes that will be shown in the longer cut.   "We are putting things in the extended cut that are going to play straight into the second film, like this character Girion, who is defending [the city of] Dale using black arro...
More>>
Release Date Pushed Back for The Hobbit: There And Back Again
3/1/2013 9:34 AM EDT
" The Hobbit: There And Back Again", the final film of the Hobbit trilogy, has had its release date pushed back.  Originally, the film was to be released on July 18, 2014 and now the date is set for December 17, 2014.The rescheduling will now avoid the film going up against "X-Men: Days Of Future Past".The original film has earned $300.9M domestically and $979.9M worldwide.  The second installment...
More>>
Will 48 Frames Per Second Be The New Norm?
12/21/2012 8:21 AM EDT
You may have noticed more and more articles out on the internet discussing the biggest thing to hit movies since Avatar proved that modern 3D was here to stay.  Of course I am talking about The Hobbit, which was shot in 48fps (frames per second) High Frame Rate, also known or described as "HFR" (Although the movie theater I went to didn't understand me when I asked for a ticket to the Hobbit in HF...
More>>
Six Exclusive Clips From The Hobbit: An Unexpected Journey
12/11/2012 11:49 AM EDT
Check out these exclusive clips from "The Hobbit: An Unexpected Journey" opening in just 2 days!The Journey Begins on your iPhone with the critically acclaimed Movie Clock app. Check in to The Hobbit at the theater and begin your countdown to The Desolation of Smaug. GET IT NOW!There Is Nobody HomeGive Him The ContractGoblin ChaseI Wasn't Talking To You<iframe allowfullscreen="" frameborder="0" he...
More>>
The Hobbit: An Unexpected Journey Theatrical Review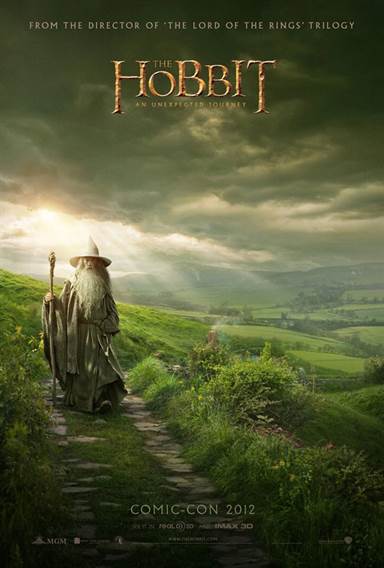 "In a hole in the ground there lived a Hobbit." That's how J.R.R.Tolkien introduced us to his first novel set within the realms of Middle Earth -- short, sharp, to the point.. It's a pity then, that in his film adaptation of the same novel, Peter Jackson did not think along such lines.
An Unexpected Journey Begins on your iPhone with Movie Clock. Check in at theater and begin your countdown to

The Desolation of Smaug. GET IT NOW!
Instead, "The Hobbit: An Unexpected Journey"'s intro drags on, taking greater pains to tie his epic Lord of the Rings trilogy to his new movie than to introduce his latest offering, and that was even before the titles rolled.
Coming in at a butt-numbing 2 hours and 49 minutes long, the first part of this trilogy covers, unsurprisingly, approximately one third of the book, and although the first movie of Rings was slightly longer, it did at least cover a whole tome that had a beginning, middle and end.
The intro sees Ian Holm and Elijah Wood reprise their roles of Bilbo and Frodo Baggins, before moving forward, or more precisely backward, where Martin Freeman then takes over as the younger Bilbo. As a young Hobbit, Bilbo has yearned to see the world beyond the shire, but has apprehensions of doing anything about it, until the wizard Gandalf (Ian McKellen) prods him in the right direction, conscripting him to become a burglar for a group of dwarves who want to reclaim their city from the menace that is the dragon Smaug. The grand gathering of hobbit meeting dwarf seems drawn out as the gathering of the Fellowship; of the band of thirteen dwarves, only two really stand out throughout the movie: Thorin (Richard Armitage) and Bofur (James Nesbitt).
Once the party leaves the shire to begin their quest, the movie itself starts to move along at a more entertaining rate. Journeying through some stunning vistas that has always been a big part of the way Peter Jackson has sold Middle Earth to the audience. With Hugo Weaving (Elrond), Cate Blanchett (Galadriel) Christopher Lee (Saruman) and the charismatic Andy Serkis as Gollum reprising their roles, there are also two notable new faces: Barry Humphreys as the Goblin King, and Sylvester McCoy as the tree-hugging creature-loving mage Radagast, who really is quite splendid.
With Jackson behind the camera again, and myself having seen his trilogy countless times, there was a feel permeating the film of meeting up with an old friend after a few years. From snow-capped mountains to deserted heathland, the sweeping scenic shots evidenced that once again we were transported to Tolkien's Middle Earth, through the eyes of the director. Some shots were very familiar; some less so. Add to this the dull melancholic input of Howard Shore's soundtrack, and you know for certain you are back in Jackson's Middle Earth.
Just like in The Fellowship of the Ring, this series opener lays a lot of the story down for future episodes to explore, but in contrast to Fellowship, this has a lighter more jovial feel about it. You can't help but laugh at some of the one-liners delivered, especially from the dwarves. There has been a lot of noise in the press regarding Jackson's decision to shoot in the high definition 48 frames per second instead of the more common 24; after seeing the 48fps version I think it has both its advantages as well as disadvantages. You can't help but be in awe of the detail it adds to the scenic and especially the computer generated scenes, they flow seamlessly, but that has a trade off as some of the other props looked all faked up on close up, but I would take that trade off any day of the week, it works well especially with 3D.
So all things considered, maybe it would be to unwise to judge Jackson's second adventure into Middle Earth after just one installment, as I am sure, as with the former trilogy, it will get better with each movie. Then you may ask, why only a "C"? Originally the story of The Hobbit was going to be told over two feature films, but then the news came it was to be stretched out to a trilogy! I had the feeling it was going to be buffed up with scenes of little relevance to the story, and I was right, a sing-song stacking of dishes seeming to prove my point. Whether that was the studio or the director's choice, I do not know; I just hope An Unexpected Journey is the only movie in this trilogy that will have had to be inflated with irrelevant scenes. My appetite has been whetted for more; already I am
counting down for the second installment, The Desolation of Smaug
.
-- Paul Kates
Read More The Hobbit: An Unexpected Journey Reviews
For more reviews please visit our film/television review section.
The adventure follows the journey of title character Bilbo Baggins, who is swept into an epic quest...
SPONSORED LINKS
Comments

Courtesy of
Movie Hype App
orangetalk079
Got extended edition, adds to experience. Can't wait for DOS
12/1/2013 1:11 PM EDT
clampfan101
Can't wait! :)
10/31/2013 11:51 AM EDT
butchok28
Now
10/6/2013 12:16 AM EDT
eric
So far pretty good
10/4/2013 7:57 PM EDT
rayanepimentel
The only thing i can say is that Its perfect.
9/29/2013 12:01 PM EDT
jlawmyidol
Amazing!!!
9/24/2013 12:51 AM EDT
russellquorn
Relaxed and going nowhere :)
9/22/2013 1:44 PM EDT
wgtspook
Movie night with wifey
6/14/2013 9:01 PM EDT
derekshort
Fantastic movie!!
5/13/2013 7:52 AM EDT
babykakx
This was an amazing movie!
4/3/2013 3:35 PM EDT
nannyogg
Loved it, excellent.
4/1/2013 9:53 AM EDT
deerefarmer
Pretty good
3/30/2013 12:53 AM EDT
dan212o
Amazing movie
3/28/2013 11:19 AM EDT
jeffc0x
Looking forward to the next 2 movies
3/28/2013 8:14 AM EDT
movieguynathan
Finally have a spare hour to start this in 3d at home.
3/23/2013 8:20 PM EDT