Top Gun (1986)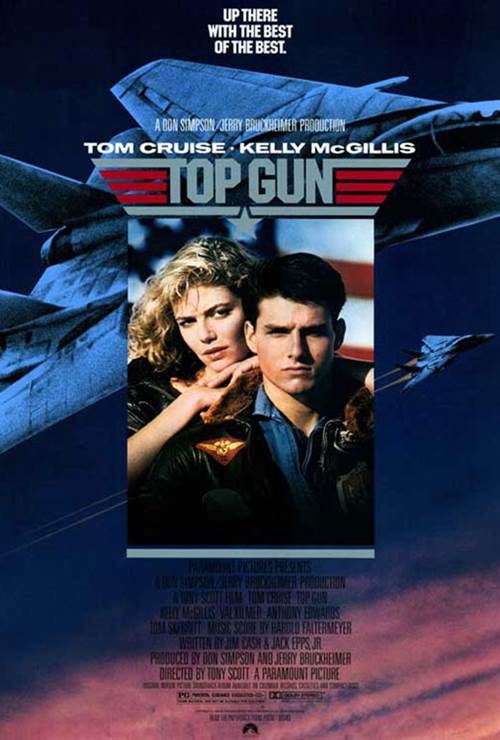 | | |
| --- | --- |
| Director: | |
| Writers: | |
| Cast: | |
| Released: | Friday, May 16, 1986 |
| Length: | 110 minutes |
| Studio: | Paramount Pictures |
| Genre: | Action/Adventure |
| Rating: | Some material may not be suitable for children. |
Top Gun Synopsis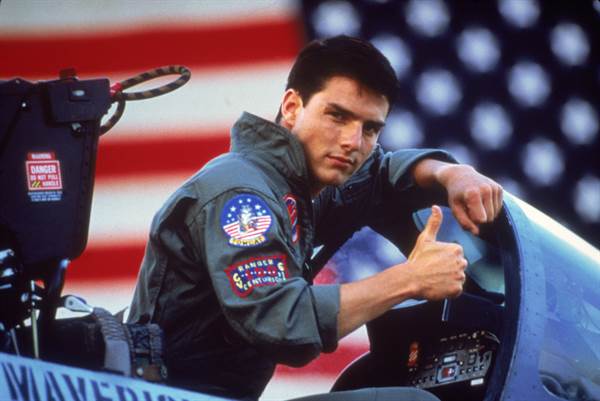 A hip, heart-pounding combination of action, music and incredible aerial photography helped make Top Gun the blockbuster hit of 1986. Top Gun takes a look at the danger and excitement that awaits every pilot at the Navy's prestigious fighter weapons school. Tom Cruise is superb as Maverick Mitchell, a daring young flyer who's out to become the best. And Kelly McGillis sizzles as the civilian instructor who teaches Maverick a few things you can't learn in a classroom.

Purchase DVD/Blu-ray/4K UHD physical copy of Top Gun today at Amazon.com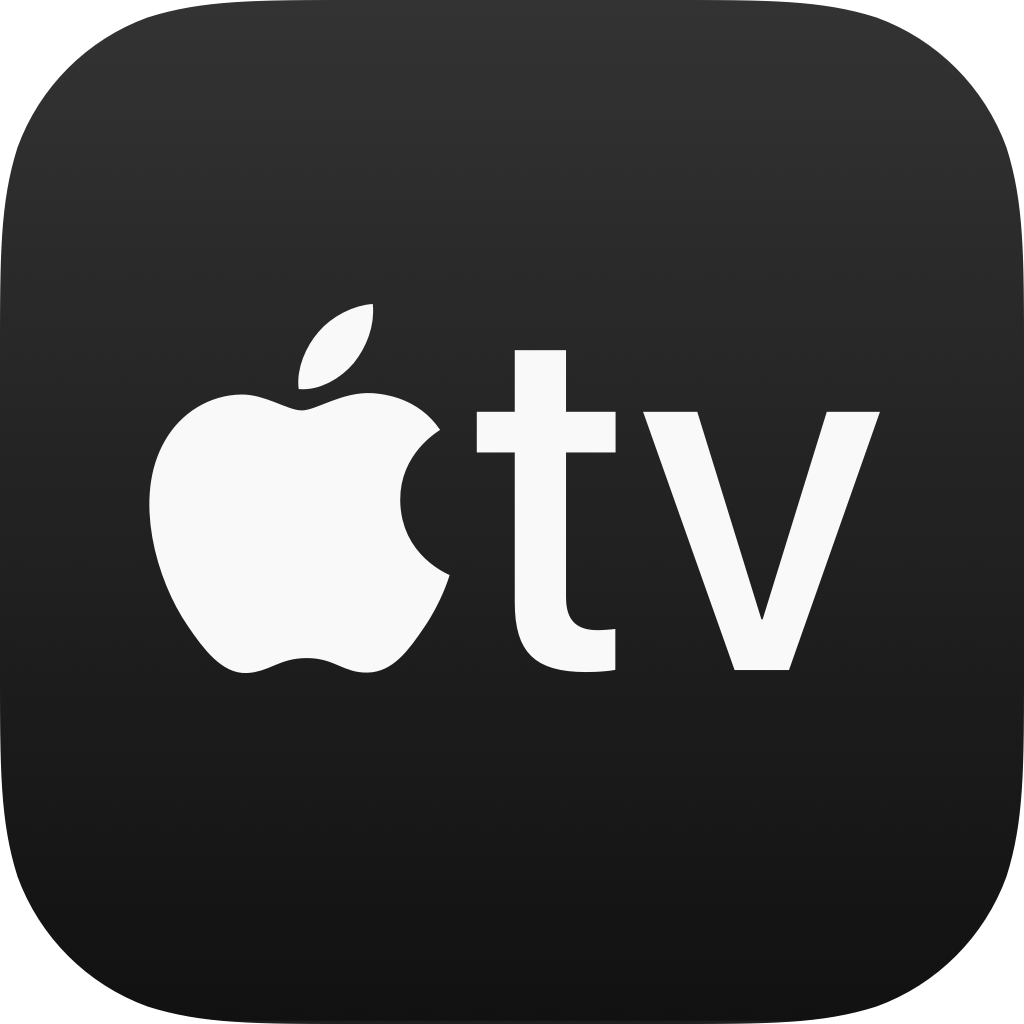 Stream Top Gun in Digital HD/4K from the AppleTV store.
Listen to the Top Gun soundtrack on Apple Music.
Top Gun images are © Paramount Pictures. All Rights Reserved.
Paramount+ Announces Top Gun: Maverick Release Date
11/22/2022 10:03 AM EST
Soon, "Top Gun: Maverick" will be flying into Paramount+. The studio announced today that their streamer will debut the film on Thursday, Dec. 22 in the U.S., Canada, Australia, Germany, Switzerland, Austria, Italy, the U.K., and Latin America.The film stars Tom Cruise, Miles Teller, Jennifer Connelly, Jon Hamm, Glen Powell, Lewis Pullman, Charles Parnell, Bashir Salahuddin, Monica Barbaro, Jay El...
More>>
Top Gun: Maverick Breaking Digital Selling Records
9/2/2022 4:06 PM EST
"Top Gun: Maverick" is continuing to break records. The film has now become the #1 Week-One Digital sell-through title of all time in the U.S. and in major territories around the world. Released for sale across Digital platforms on August 23, the film has already become one of the Top 20 best-selling digital releases in history after being available for only one week.  In addition, the Digital rel...
More>>
Paramount Pictures to Host Top Gun: Maverick Fan Appreciation W...
8/8/2022 12:24 PM EST
Paramount Pictures has announced that they will be holding a nationwide "Top Gun: Maverick" Fan Appreciation Weekend this weekend. "Paramount Pictures is eternally grateful to the millions of fans going to theatres to experience Top Gun: Maverick the way it was meant to be seen - on the big screen," said Chris Aronson, President, Domestic Distribution of Paramount Pictures. "We are excited about t...
More>>
Top Gun: Maverick Officially Cruise's Biggest Movie Ever
6/17/2022 1:24 PM EST
"Top Gun: Maverick" has officially become Tom Cruise's biggest movie ever. The sequel has now reached over $800 million at the box office globally in just 21 days."Maverick" now surpasses Cruise's previous biggest earner "Mission: Impossible - Fallout", which earned $791.1 million globally. It has also now become Paramount's biggest title in 15 markets.The film brings back the character of Captain...
More>>
See an Advance Screening of TOP GUN: MAVERICK in Florida
5/10/2022 11:17 AM EST
It has been over thirty years since Tom Cruise (Mission: Impossible), Anthony Edwards (ER), Val Kilmer (Real Genius), etc. graced movie theater screens portraying Naval fighter pilots in the blockbuster movie, Top Gun.  This Memorial Day weekend audiences will finally get to revisit US Navy's Fighter Weapons School at Naval Air Station Miramar in San Diego, California as the long-awaited sequel, T...
More>>
Paramount Pictures Announces Top Gun Tuesday Early Screenings
5/3/2022 4:01 PM EST
Today,  Paramount Pictures announced "Top Gun Tuesday," a special pre-opening fan event to celebrate the theatrical release of Top Gun: Maverick opening nationwide exclusively in theatres. The Early Access Premiere will include one showing of the film on "Top Gun Tuesday," May 24th, in advance of the movie's national release on Friday, May 27th."Fans of Top Gun have been patiently waiting-some for...
More>>
Top Gun: Maverick to Screen First at CinemaCon
4/8/2022 2:59 PM EST
It has been announced that "Top Gun: Maverick", which will premier in San Diego on May 4, will also be getting a screening at CinemaCon.CinemaCon will take from April 25-28 at Caesars Palace in Las Vegas, and is the Official Convention of The National Association of Theatre Owners. The event has become an important gathering for the worldwide motion picture theater industry, attracting attendees f...
More>>
Top Gun Heading Back To Movie Theaters
5/5/2021 3:04 PM EST
Top Gun will be celebrating its 35 anniversary, and fans who feel the need for speed can now celebrate the occasion with the limited theatrical release that will run on "Top Gun Day" on May 13. The event will be available at over 150 Dolby Cinemas at AMC across the country.The iconic 1986 film has been remastered and will be presented with Dolby Vision® for ultra-vivid picture quality and with sta...
More>>
Joseph Kosinski Front Runner to Direct Top Gun 2
5/24/2017 2:42 PM EST
Top Gun 2, the follow up the classic 1986 Tom Cruise film, is heading for production, and it's said that Joseph Kosinski is the front-runner to direct. Kosinski worked with cruise on "Oblivion".While there is no confirmation of the news, it is said that Cruise met with some possible directors and that Kosinski is the one that stood out given his vision for the film.Cruise commented about the upcom...
More>>
Top Gun 2 to Show Cruise Take on Drones
6/29/2015 2:11 PM EST
The Top Gun sequel has been in the works for a while now, and some information has surfaced about the plot.  The film's producer, David Ellison, said that they will be exploring the conflict between traditional aviation and the new era of aviation, which is unmanned drones. Also, a while back, it was reported that Tom Cruise would be reprising his role as Maverick.Ellis said, "Justin Marks is writ...
More>>
Top Gun 4K Review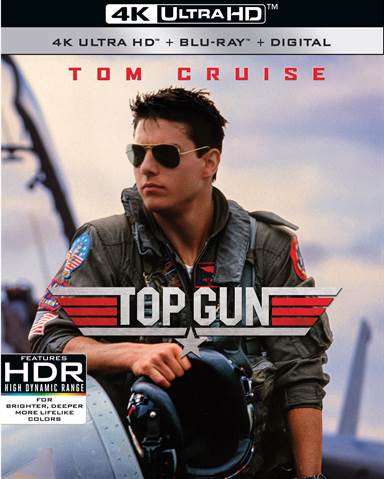 If Top Gun was released on May 16, 1986, then why is Top Gun Day celebrated on May 13th? And what exactly is Top Gun day? Well, the answer to the first question is because the organizers of the first Top Gun day made a mistake and the answer to the second question is Top Gun day is similar to Talk Like a Pirate day where people go around quoting the film and celebrating the movie that made almost every young man want to join the Navy and become an aviator. In the spirit of this fictitious holiday, Paramount Pictures is releasing the movie on 4K UHD on May 19, 2020.
Pete "Maverick" Mitchell (Tom Cruise; Mission: Impossible series) is one heck of a fighter pilot who unfortunately has a chip on his shoulder and seems to always have something to prove. His father was killed in combat under mysterious circumstances and Maverick has spent his life trying to dodge the reputation of his father's ghost. While it has made him try harder than other pilots, it also made him show off his skills by flying recklessly and disobeying orders.
When Maverick and his co-pilot, Nick "Goose" Bradshaw (Anthony Edwards; ER), are offered the opportunity to attend TOPGUN, the Naval Fighter Weapons School, his cockiness continually gets him in trouble. It also gets him noticed by one of the civilian instructors, Charlotte "Charlie" Blackwood (Kelly McGillis; Witness) who wants to learn more about his interaction with an enemy aircraft while on maneuvers. When the two start a romantic relationship, it complicates her position and his training. While Maverick and Goose don't end up winning the Top Gun trophy, Maverick learns to reconcile his feelings about his father to become a better pilot.
Top Gun became a surprise hit grossing over 350 million dollars worldwide on a 15 million dollar budget. It also became one of the best-recruiting tools the Navy ever had. Tom Cruise, who had already seen box office success in The Outsiders and Risky Business, became an A list star whose achievements just keep growing over thirty years later. McGillis, Edwards and Meg Ryan (Sleepless in Seattle) were all perfect in their supporting roles but Val Kilmer (Real Genius), as Maverick's nemesis, "Iceman", stands out amongst the group going head to head with Cruise.
Director Tony Scott (True Romance) brought some incredible shots to the film, mounting cameras everywhere on the fighter jets to achieve amazing footage while giving the audience the feeling they were flying right alongside Maverick, Goose, Iceman and the others. The outcome was exhilarating shots that showed off these multi-million dollar machines. His close up views of Cruise during Maverick's introspective moments helps the viewer understand some of what he was thinking and feeling. Scott's pacing was excellent and his vision was clear. He was the right person to direct Top Gun and part of the reason it became so successful in theaters.
The 4K resolution and HDR Dolby Vision enhance the viewing quality of the original film. There are a few moments, especially at the beginning of the film, that doesn't seem all that different but during the flying scenes and with many of the outdoor shots, the uptick in quality is visible. Of course, the video cannot compare to the Dolby Atmos audio, which is top-notch. Everything from the jet engines, to the dialogue and the now-famous soundtrack, is equally strong and crisp. There are two new extras included on the 4K disc while previously released extras are housed on the Blu-ray disc. The extras include: NEW! The Legacy of Top Gun, NEW! On Your Six - Thirty Years of Top Gun (Looking Back, America's Best, Into the Danger Zone, Going Ballistic, Narrow Targets and the Future), previously released: Danger Zone: The Making of Top Gun, Multi-Angle Storyboards, Best of the Best: Inside the Real Top Gun, Music Videos, Original Theatrical Promotional Material, and Audio Commentary.
While not critically acclaimed, Top Gun was a box office success and has become a "new classic". With lots of quotable lines, the script was at worst cheesy and at best almost poetic. Watching the film over 30 years later still gets one's heart pumping and has the audience humming the now-iconic soundtrack.
Remember to celebrate Top Gun Day on May 13th, while we all anxiously await the sequel, due out in theaters this December.
Grade: B+
For more reviews please visit our film/television review section.
SPONSORED LINKS