Jurassic Park (1993)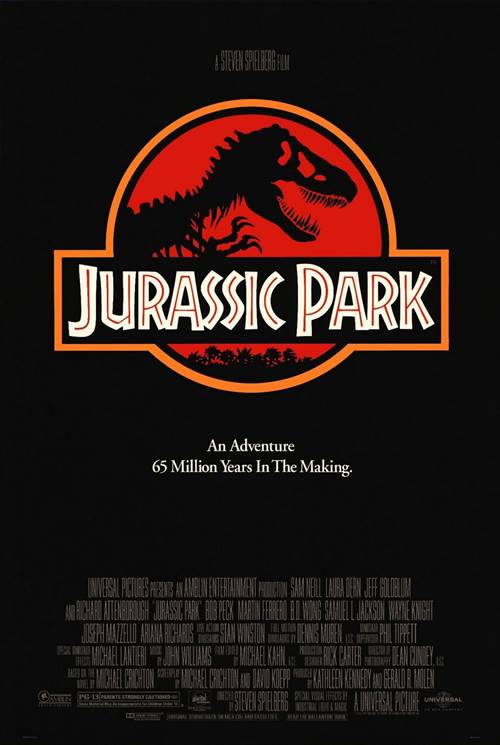 Share this:
| | |
| --- | --- |
| Director: | |
| Writers: | Michael Crichton, David Koepp |
| Cast: | |
| Released: | Friday, June 11, 1993 |
| Length: | 127 minutes |
| Studio: | Universal Pictures |
| Genre: | Sci-Fi/Fantasy, Action/Adventure |
| Rating: | Some material may be inappropriate for children under 13. |
Synopsis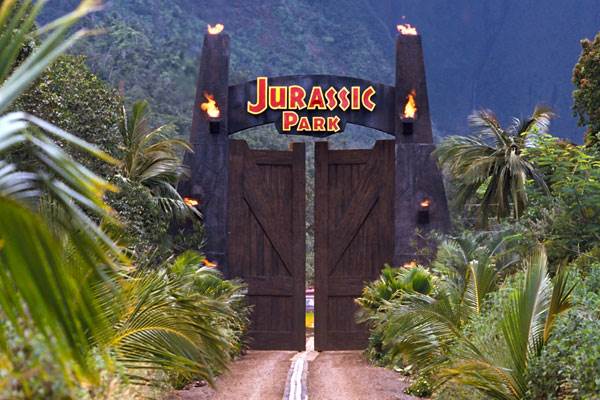 Millionaire John Hammond launches a dinosaur theme-park...with real dinosaurs that he has cloned from DNA found encased in fossils.

Hammond asks two dinosaur experts and a select group of observers to take a trial-run through the park as it is "fine-tuned" before its grand opening. A hurricane and an unscrupulous engineer throw the park into disarray as the dinosaurs rebel against their captors and destroy the park and terrorizing the guests.
Purchase DVD/Blu-ray/4K physical copy of Jurassic Park today at
Download Jurassic Park in Digital HD/4K from the iTunes store.
Listen to the Jurassic Park soundtrack on Apple Music.
Jurassic Park images are © Universal Pictures. All Rights Reserved.


Jurassic World Dominion to Resume Production on July 6
6/15/2020 10:46 AM EDT
Things are slowly returning to normal during this pandemic, and many businesses are finally getting the chance to open nack up. This also includes show business. In March, the production of "Jurassic World: Dominion" was stopped because of COVID-19. Now, the film is set to begin production again on July 6. This will mark the U.K.'s first major film to shoot since the pandemic began.Production was ...
More>>
Dichen Lachman Joins Cast of Jurassic World 3
2/19/2020 2:54 PM EDT
Dichen Lachman has signed on to join the cast of Jurassic World 3. Lachman starred as Jiaying on "Agents of S.H.I.E.L.D.", as well as Frankie in TNT's "Animal Kingdom". For "Jurassic World 3" She will be joining a cast that includes Chris Pratt, Bryce Dallas Howard, Mamoudou Athie, DeWanda Wise, Laura Dern, Sam Neill, and Jeff Goldblum. The entire Jurassic franchise, which spans almost 27 years, h...
More>>
Jeff Goldblum, Laura Dern, and Sam Neill Returning for Jurassic ...
9/25/2019 1:24 PM EDT
Jeff Goldblum, Laura Dern, and Sam Neill will be returning to the "Jurassic Park" franchise. All three are set to reprise their roles for the upcoming "Jurassic World 3." Goldblum will return as Dr. Ian Malcolm, Dern as Dr. Ellie Sattler and Neill as Dr. Alan Grant. The film will also see the return of stars Chris Pratt as Owen Grady and Bryce Dallas Howard as Claire Dearing."Jurassic World 3" wil...
More>>
Win Complimentary Passes For Two To An Advance Screening of Univ...
6/5/2018 2:07 PM EDT
Twenty five years ago the idea of an island full of dinosaurs thrilled audiences and set off a great movie franchise. Jurassic Park spawned two sequels as well a plethora of merchandising.  Three years ago that franchise got a reboot with Jurassic World and now the highly anticipated fifth film, JURASSIC WORLD: FALLEN KINGDOM is coming to theaters on June 22, 2018.FlickDirect, in conjunction with ...
More>>
Chris Pratt and Bryce Dallas Howard Unbox Enormous Jurassic Worl...
6/4/2018 10:43 AM EDT
Universal Pictures and Amblin Entertainment's Jurassic World: Fallen Kingdom, in collaboration with Amazon, had announced that they had an enormous special delivery that was sent to The Grove in Los Angeles on May 30. The package, delivered by a Jeep Wrangler motorcade, measured in at 40' L x 14' 9" H x 14' W. Chris Pratt and Bryce Dallas Howard were on hand Saturday at The Grove to unbox the larg...
More>>
Amazon and Jurassic World: Fallen Kingdom Team Up to Make Amazon...
5/31/2018 4:45 PM EDT
A special delivery was made yesterday to The Grove in Los Angeles. Universal Pictures and Amblin Entertainment's Jurassic World: Fallen Kingdom, in collaboration with Amazon, have sent Amazon's largest delivery in their history to the popular shopping spot. The delivery was escorted by a Jeep motorcade.The box is now on display but we won't find out what's inside until June 2 at 12 p.m. PDT. The s...
More>>
Jurassic World 3 to be Directed by Colin Trevorrow
3/30/2018 5:18 PM EDT
It was announced today that the third film in the Jurassic World franchise will be directed by Colin Trevorrow. Trevorrow directed 2015's installment that brought the franchise back to life. The film grossed over $1.6 billion at the box office, making it the fourth highest-grossing title of all time. The director also wrote and produced the second film in the franchise titled Jurassic World: The F...
More>>
Jeff Goldblum Joins Cast for Jurassic World Sequel
4/26/2017 2:04 PM EDT
It has been announced that Jeff Goldblum will be returning to the Jurassic Park franchise. The actor appeared in 1993's Jurassic Park and 1997's The Lost World: Jurassic Park.Goldblum has been cast in the upcoming Jurassic World sequel alongside Chris Pratt, Bryce Dallas Howard, Justice Smith, James Cromwell and Toby Jones. He will be reprising his role as Dr. Ian Malcolm, a mathematician, and ins...
More>>
Reports Point To Universal Pictures Servers Responsible for Pira...
7/23/2015 2:51 PM EDT
Unverified reports have surfaced that Universal Pictures in France has been seeding a pirated copy of Jurassic World from its servers.The studio, which released the blockbuster film on June 12 of this year, had filed a takedown notice with Google, which demanded that they block any links to sites that lead to pirated copies of Jurassic World.  A specific block request stood out, which was a link t...
More>>
Jurassic World Takes A Dino Sized Bite Out of Box Office Records
6/15/2015 12:17 PM EDT
Jurassic World, the fourth in a series of Jurassic Park films, has become the highest grossing debut film of all time, both domestically and internationally. As of Monday morning, the film has grossed $209 million domestically and over $511 million globally. The previous record holder was 2012's Avengers film, which earned $207.4 million domestically.  Leading into the weekend Universal low-balled...
More>>
Win a Complimentary Pass to See an Advance Screening of Universa...
5/28/2015 2:31 PM EDT
Universal Pictures highly anticipated release JURASSIC WORLD opens nationwide on June 12, 2015 but South Floridians can win passes to a complimentary screening before it is released in Theaters. Enter by downloading the Movie Hype App and "following" JURASSIC WORLD. Be sure to tell us what dinosaur scares you the most and why with the hashtag #contest. We will choose the best, most original entrie...
More>>
Jurassic World a Direct Sequel to Jurassic Park, According to Di...
4/29/2015 3:56 PM EDT
Colin Trevorrow, director of the upcoming Jurassic World film, made some comments about the direction that this new film in the franchise will be taking.  Some may have noticed that the film seems to be giving off the same vibe that the original had, and according to Trevorrow, it's on purpose. "Of course, Jurassic World isn't a mere re-creation of Jurassic Park; it's a direct sequel to the origin...
More>>
Jurassic Park 25th Anniversary Collection 4K Ultra HD Review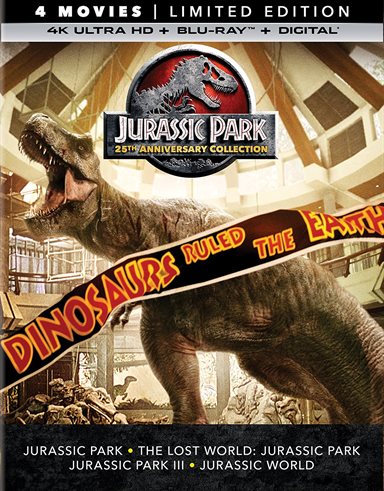 It is hard to believe that our love affair with dinosaurs was satisfied twenty-five years ago when
Jurassic Park
"roared" into movie theaters worldwide. The film became a phenomenon and sparked the imagination of scientists everywhere. Imagine being able to create dinosaurs from their own fossilized DNA. The film was so successful that is spawned two sequels and launched a highly successful, reimagined version –
Jurassic World
- that came out in 2015. As we anticipate the release of that film's sequel this summer, we are now treated to the first four movies on 4K UHD, Blu-ray, and Digital HD.
Of course, there is nothing like the original and that is certainly true here. In the first film, a group of scientists goes to an island owned by a businessman. Once there, they learn that he has been able to use DNA to bring dinosaurs back to life. In the second film, the dinosaur park is abandoned but scientists are there studying these creatures. Of course, there is an antagonist in the form of the wealthy businessman's evil nephew who plans to capture the dinosaurs and bring them to San Diego. Predictably, this plan is incredibly flawed and doesn't end well.
The third installment is the weakest of the bunch and is not based on Michael Creighton's novels. Here we get a group of individuals - both scientists and a divorced couple - who all go looking for the couple's missing son. The stars of this third one are most definitely the dinosaurs since the plot and CGI are weaker than the first two. Fourteen years later, we get to revisit this realm as Jurassic World shows the island functioning as an amusement park/zoo of sorts and stars Chris Pratt (Parks and Recreation) and Bryce Dallas Howard (The Help). Chapter five in the series is slated to open June 22, 2018 (Universal and FlickDirect Florida will be hosting a screening on June 19th, 2018).
The 2160p High Definition video transfer serves this series well. While not a huge difference from the original Blu-ray, there are some subtle details that can be enjoyed with the enhanced viewing platform. The original is the best of the first three as the CGI was done with more time and care than the latter two. Of course, Jurassic World is like comparing apples to oranges. Since it was filmed with the latest technologies the video quality is excellent and the special effects can be seen in sharp contrast.
The audio is slightly upgraded as well, to DTS:X (from DTS-HD Master audio 7.1). The now infamous roar in Jurassic Park is full and vibrates throughout your entire house, but the enhanced audio is most evident in Jurassic World. Again, the updated technology in filming makes for a truly immersive experience that envelopes the viewer and surrounds them with all manner of effects.
The combo pack comes with 8 discs (four 4K and four regular Blu-ray) along with a digital code for each film. Each movie has its own extras amassing to over 8 hours of footage. Much of the extras are previously released material and they include:
Jurassic Park
Return to Jurassic Park: Dawn of a New Era
Return to Jurassic Park: Making Prehistory
Return to Jurassic Park: The Next Step in Evolution
Archival Featurettes: The Making of Jurassic Park; Original Featurette on the Making of the Film; Steven Spielberg Directs Jurassic Park; and Hurricane in Kauai Featurette
Behind the Scenes: Early Pre-Production Meetings; Location Scouting; Phil Tippett Animatics: Raptors in the Kitchen; and Animatics: T-Rex Attack; ILM and Jurassic Park: Before and After the Visual
Jurassic Park: Making the Game
Theatrical Trailer
The Lost World: Jurassic Park
Deleted Scenes
Return to Jurassic Park: Finding The Lost World
Return to Jurassic Park: Something Survived
Archival Featurettes: The Making of The Lost World; Original Featurette on the Making of the Film; The Jurassic Park Phenomenon: A Discussion with Author Michael Crichton; and The Compie Dance Number.
Behind the Scenes: ILM & The Lost World: Before & After the Visual Effects; Production Archives; and Storyboards gallery.
Theatrical Trailer
Jurassic Park III
Visual Effects Feature Commentary
Return to Jurassic Park: The Third Adventure
Archival Featurettes: The Making of Jurassic Park III; The Dinosaurs of Jurassic Park III; The Special Effects of Jurassic Park III; The Industrial Light & Magic Press Reel; The Sounds of Jurassic Park III; The Art of Jurassic Park III; and Montana: Finding New.
Behind the Scenes: a Tour of Stan Winston Studio; Spinosaurus Attacks the Plane; The Lake; A Visit to ILM; Dinosaur Turntables; Storyboards to Final Feature Comparison; and Production Photographs.
The Theatrical Trailer
Jurassic World
Deleted Scenes
Chris and Colin Take on the World
Welcome to Jurassic World
Dinosaurs Roam Once Again
Jurassic World: All Access Pass
Innovation Set Tour with Chris Pratt
Jurassic's Closest Shaves
While fans of the films will love this set, especially in 4K, I'm a little leery to recommend you run out and buy it since they are still filming new movies for the franchise. However, for the ones that have been released on home entertainment, these are the best quality you will get for now.
Grade: A-
For more reviews please visit our film/television review section.
SPONSORED LINKS
Comments

Courtesy of
Movie Hype App
bolillo1989
6/11/2015 7:54 PM EDT
tazbisson
Welcome to Jurassic Park
5/31/2015 4:31 PM EDT
jjdonnie
I want to watch this movie!
5/24/2015 12:48 PM EDT
adamjboss
Can't wait to see dinosaurs for the first time!
4/25/2014 6:21 PM EDT
amr
The best !!! ;)
4/6/2013 3:44 AM EDT
loki
Can't wait to see this!
4/3/2013 8:10 PM EDT
aguynamedgore
Is it worth seeing?
4/3/2013 2:15 PM EDT
haileyluvesyhu
Awesome
4/2/2013 7:22 PM EDT
kbinfet
I love these movies. they are so good
4/2/2013 12:32 PM EDT
toripeace774
Ya ya
3/30/2013 9:46 AM EDT
movieguynathan
Actually this is x14 theaters for me for this films
3/30/2013 9:31 AM EDT
movieguynathan
Time to see one of the best movies ever created in 3d
3/30/2013 9:15 AM EDT