Man of Steel (2013)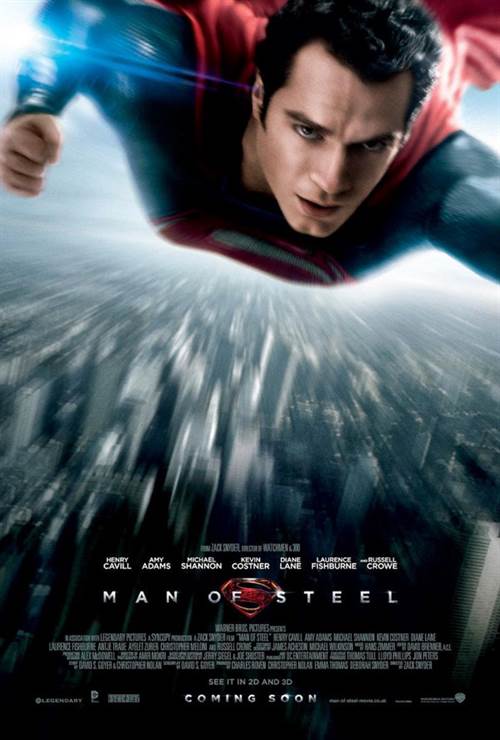 Share this:
| | |
| --- | --- |
| Director: | |
| Writers: | David S. Goyer |
| Cast: | |
| Released: | Friday, June 14, 2013 |
| Length: | 148 minutes |
| Studio: | Warner Bros. |
| Genre: | Sci-Fi/Fantasy, Action/Adventure |
| Rating: | Some material may be inappropriate for children under 13. |
Synopsis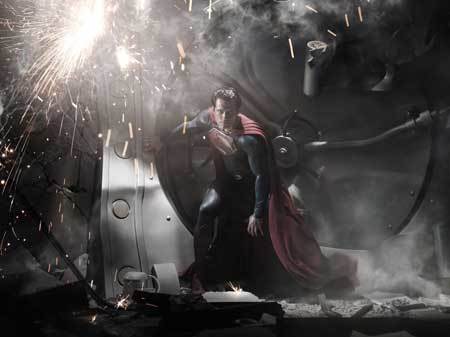 Next summer, "Man of Steel" is coming to the big screen from Warner Bros. Pictures and Legendary Pictures. The film is from director Zack Snyder and produced by Charles Roven, Christopher Nolan, Emma Thomas and Deborah Snyder. The screenplay was written by David S. Goyer from a story by Goyer & Nolan, based upon Superman characters created by Jerry Siegel & Joe Shuster and published by DC Comics.
Purchase DVD/Blu-ray/4K physical copy of Man of Steel today at
Download Man of Steel in Digital HD/4K from the iTunes store.
Man of Steel images are © Warner Bros.. All Rights Reserved.


J.J. Abrams to Produce Black Superman Film
2/26/2021 2:54 PM EST
J.J. Abrams will be producing a "Superman" reboot, this time with a black Superman.Essayist and novelist Ta-Nehisi Coates will be writing the script for the film, and he was happy to comment about the news to the website Shadow and Act."To be invited into the DC Extended Universe by Warner Bros., DC Films and Bad Robot is an honor. I look forward to meaningfully adding to the legacy of America's m...
More>>
Henry Cavill Reprising Superman Role for Upcoming Films
5/28/2020 1:27 PM EST
It's being reported that Henry Cavill may be in talks to put on his Superman cape sometime in the near future. While there are bo plans for another standalone "Superman" film, there could be appearances made in other films for the Warner Bros. DC Universe.While nothing is in the works just yet, there are plenty of films that he could theoretically make an appearance in such as "Shazam 2", Dwayne J...
More>>
Henry Cavill May Need to Part Ways with Warner Bros. After Super...
9/12/2018 12:27 PM EST
UPDATE: Warner Bros. has released a statement regarding the question of Cavill's future in the Superman role saying, "While no decisions have been made regarding any upcoming Superman films, we've always had great respect for and a great relationship with Henry Cavill, and that remains unchanged." A Warner Bros representative gave this statement CNN. Cavill's manager, Dany Garcia, also chimed in a...
More>>
Superman Actress Margot Kidder Dies at Age 69
5/14/2018 2:01 PM EST
Margot Kidder, best known for her role as Lois Lane in Superman, died yesterday. She was 69 years old. Kidder passed away at her home in  Livingston, Montana but the cause of death isn't known yet.Her acting credits also included The Great Waldo Pepper with Robert Redford and Some Kind of Hero with Richard Pryor. She also starred in The Amityville Horror, Black Christmas and Heartaches. Mental Ill...
More>>
Zack Snyder and Henry Cavill Open to Doing Another Superman Film
4/7/2016 11:05 AM EST
Director Zack Snyder, as well as Superman himself, Henry Cavill, have both recently commented on the possibility of another standalone Superman film - and both of them show support for the idea."I think if we could get a good script it would be great to have a standalone Superman movie. I think that would be fun to do. Part of the reason we haven't announced the standalone Superman movie this time...
More>>
Zack Snyder Confirmed for Justice League
4/28/2014 3:07 PM EST
It has been confirmed that a "Justice League" film will be released after the Batman/Superman film, and that Zach Snyder will direct it.Snyder directed the "Man of Steel" and will also be at the helm for the 2nd and 3rd installments of the franchise as well.There is no release date set as of yet, but the "Justice League" is slated for a May 6, 2016 release. Countdown to the release of Justice Leag...
More>>
Joaquin Phoenix as Lex Luthor in new Superman Film?
12/19/2013 2:25 PM EST
Unconfirmed rumors suggest that Joaquin Phoenix is being considered by Warner Bros for the upcoming Batman / Superman movie, with some speculating he is wanted for the super villain role of Lex Luthor.The role of Luthor has for so long been rumored to be going to Breaking Bad actor Bryan Cranston but it seems Phoenix now heads that list.Zack Snyder's movie, which will star Henry Cavill as Superman...
More>>
Join Filmmakers and Cast of Man of Steel™ During a Live Online ...
11/8/2013 2:13 PM EST
WHAT:  Join Henry Cavill, Amy Adams and Man of Steel Director Zack Snyder with special host Kevin Smith on November 9th at 9:00AM PST/Noon EST for an exclusive fan event on Yahoo! Movies.The cast and crew will talk all the things Man of Steel, discuss what the future holds for the Last Son of Krypton, and answer live fan questions.The event will also include a featurette of the sit-down discussion...
More>>
Russell Crowe Discusses Suiting Up for Superman Prequel
7/8/2013 4:37 PM EST
Russell Crowe, who recently starred as Jor-El in "Man of Steel", responded via Twitter to the many requests and comments about seeing some more of pre-destruction Krypton.Crowe said he would absolutely be up for reprising the role and exploring more of the Krypton aspect of the story.    "A lot of you are asking about a KRYPTON prequel. If that's something you feel strongly about let Legendary Pic...
More>>
Man of Steel Soars To The Top of UK Box Office With A Heroic Ope...
6/17/2013 10:25 AM EST
LONDON, June 17, 2013 - Warner Bros. Pictures' and Legendary Pictures' "Man of Steel" has opened to a stellar opening of £11.2 million in the UK and Ireland, marking the biggest opening day of 2013 and the second biggest opening weekend of the year.  The announcement was made today by Josh Berger, President and Managing Director, Warner Bros. UK and Ireland."We're thrilled at the tremendous respon...
More>>
Man of Steel Sequel Officially in the Works
6/11/2013 10:11 AM EST
Warner Bros. has made it official; they are already planning the sequel to "Man of Steel", the latest Superman franchise.The studio already has Zack Snyder returning as director and David S. Goyer returning as the screenwriter.  Goyer will be retuning as part of his 3-picture deal, which also includes Justice League. Nolan will return as producer, but according to sources, he won't be quite as han...
More>>
Man of Steel Ready to Hit Cinemas in June
2/28/2013 11:43 AM EST
Word on the street is that the upcoming film, "Man of Steel" is done.The Superman reboot, which is due out on June 14, is said to have only the 3D post-conversion work left, which is currently taking place.  According to Joblo, there is a bullet list of things to look forward to about the film:    - Imagine a Nolan story with Snyder effects/action.    - There's TONS of action with Superman kicking...
More>>
Man of Steel Theatrical Review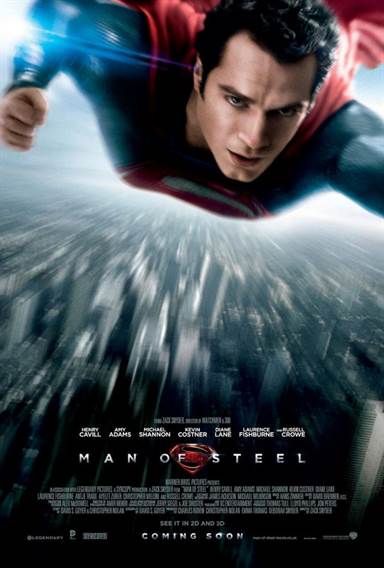 Taking a walk on the dark side for a comic book favorite, Man of Steel blazes into theaters under the direction of Zack Snyder this weekend and he's aiming at taking over Iron Man as the best box-office superhero. The cast, crew and story are impeccable providing a brooding look into the life of Superman and the battle for planet Earth. Yet there's a chance that this version may implode somewhat with Snyder's desire to outperform fantasy productions that have come before it.

The film opens with Jor-El (Russell Crowe) looking on as his wife Lara (Ayelet Zurer) gives birth to Kai-El the first natural born child in centuries on Planet Krypton. With the planet's core so unstable Krypton has very little time before it explodes. In the meantime General Zod (Michael Shannon) has been leading the resistance to take over the high council who has used up the energy of the core for their own benefit. Jor-El, knowing that he must save his newborn son, puts him in an escape pod with the key to restart Krypton on another planet, Earth.

So starts the beginning of a story that shows Clark Kent (Henry Cavill) secretly helping people as he grows older on his new father's (Kevin Costner) farm, the introduction of Lois Lane (Amy Adams) and the attack by General Zod. The story comes quite close to Superman II, but this aggressive presentation really ups the tempo, shuts down the romance and brings excellent visuals far beyond the 1980 version.

In back story we first see Clark Kent as a scruffy deckhand working on a fishing vessel and moments later saving lives. Snyder flashes to several scenes where Clark gets bullied, save classmates and his parents, but always guarded that no one finds out his true powers. The film continues adding a shroud of gloom leading Clark to his meeting with the aliens that turn on him for their chance to take over Earth. Director Zack Snyder turns up the heat as the war begins between Superman and the Krypton Army. As the story plays out it gets intense with a complete absence of any comedy other than a few quips from Lois Lanes' editor Perry White (played by Laurence Fishburne).

My overall feel is that Snyder gets overly high powered and therefore takes this character that's noted for saving innocent lives to a darker level that tends to make him a menace. Scenes of buildings being destroyed with thousands of people getting killed in the wake of battles between Zod and Superman last more than twenty minutes non-stop on the screen. While it totally mesmerizes, it brings out something not present in past films with the superhero. The screenplay was written by David S. Goyer, but the story belongs to Christopher Nolan who gave us the Dark Knight series and it shows here in the menacing story with relentless destruction.

I'm a huge fan of the Dark Knight series so this rendering of the Man of Steel surly puts me in the direct sights of the target audience as I think very highly of the film. Extremely well acted with a great cast choice, excellent cinematography, CGI, animation and special effects, detailed direction with pinpoint control of the powerful script make this production a winner. I especially like Henry Cavill in the title role with his strong screen presence and ability to change character intensity. As the tough adversary Michael Shannon tops most who take on the role of a nemesis when he shows his sinister side that burns up the screen.

Two others pull off great screen shots, Russell Crowe as Superman's strong willed father who comes to him as a ghost with important directives. Also Antje Traue as Faora-Ul a kick-butt Krypton warrior who steals the show many times and puts to rest any doubt that women can be as badass as men. Others you'll want to take notice include Christopher Meloni as Colonel Nathan Hardy a top gun for the American Army who gives a huge assist to the Man of Steel and Dylan Sprayberry as the 13-year-old Clark Kent.

Man of Steel has been rated PG-13 by the MPAA for intense sequences of sci-fi violence, action and destruction, and for some language. Be cautious when deciding to allow immature children see the film as it does have some scenes that may be inappropriate for younger children. The film flies by at a fast clip until the finale where we watch the destruction of a city by darting powerhouses Zod and Superman in CGI.

FINAL ANALYSIS: Superman without all the mushy romance. (B+)

-- John Delia
Read More Man of Steel Reviews
For more reviews please visit our film/television review section.
SPONSORED LINKS