Mission: Impossible (1996)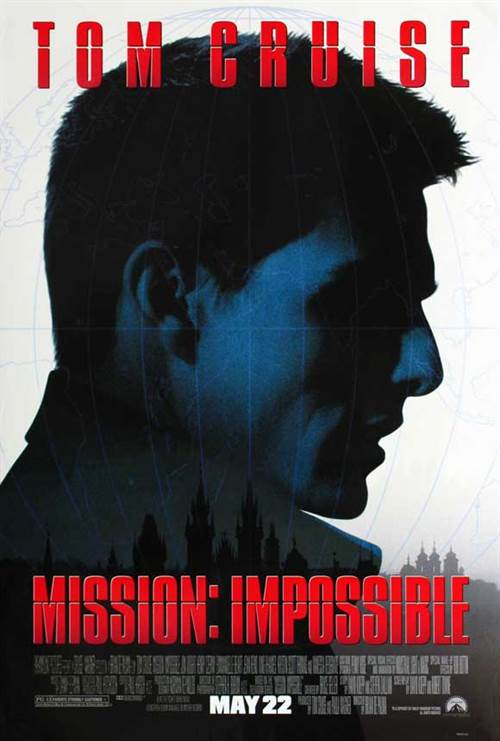 | | |
| --- | --- |
| Director: | |
| Writers: | |
| Cast: | |
| Released: | Wednesday, May 22, 1996 |
| Length: | 110 minutes |
| Studio: | Paramount Pictures |
| Genre: | Action/Adventure |
| Rating: | Some material may be inappropriate for children under 13. |
Synopsis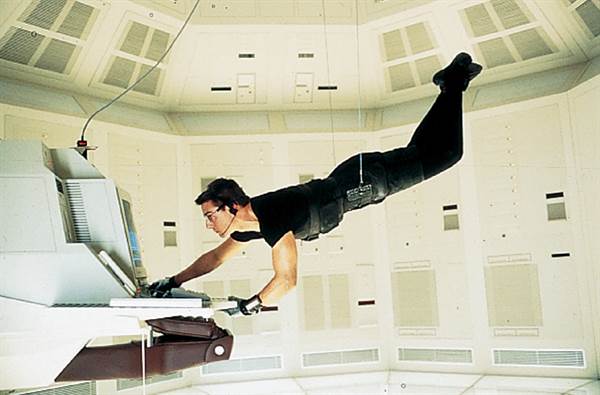 When Ethan Hunt (Tom Cruise), the leader of a crack espionage team whose perilous operation has gone awry with no explanation, discovers that a mole has penetrated the CIA, he's surprised to learn that he's the No. 1 suspect. To clear his name, Hunt now must ferret out the real double agent and, in the process, even the score. Brian De Palma directs this big-screen remake of the popular 1960s TV series. Ving Rhames and Jean Reno co-star.

Purchase DVD/Blu-ray/4K UHD physical copy of Mission: Impossible today at Amazon.com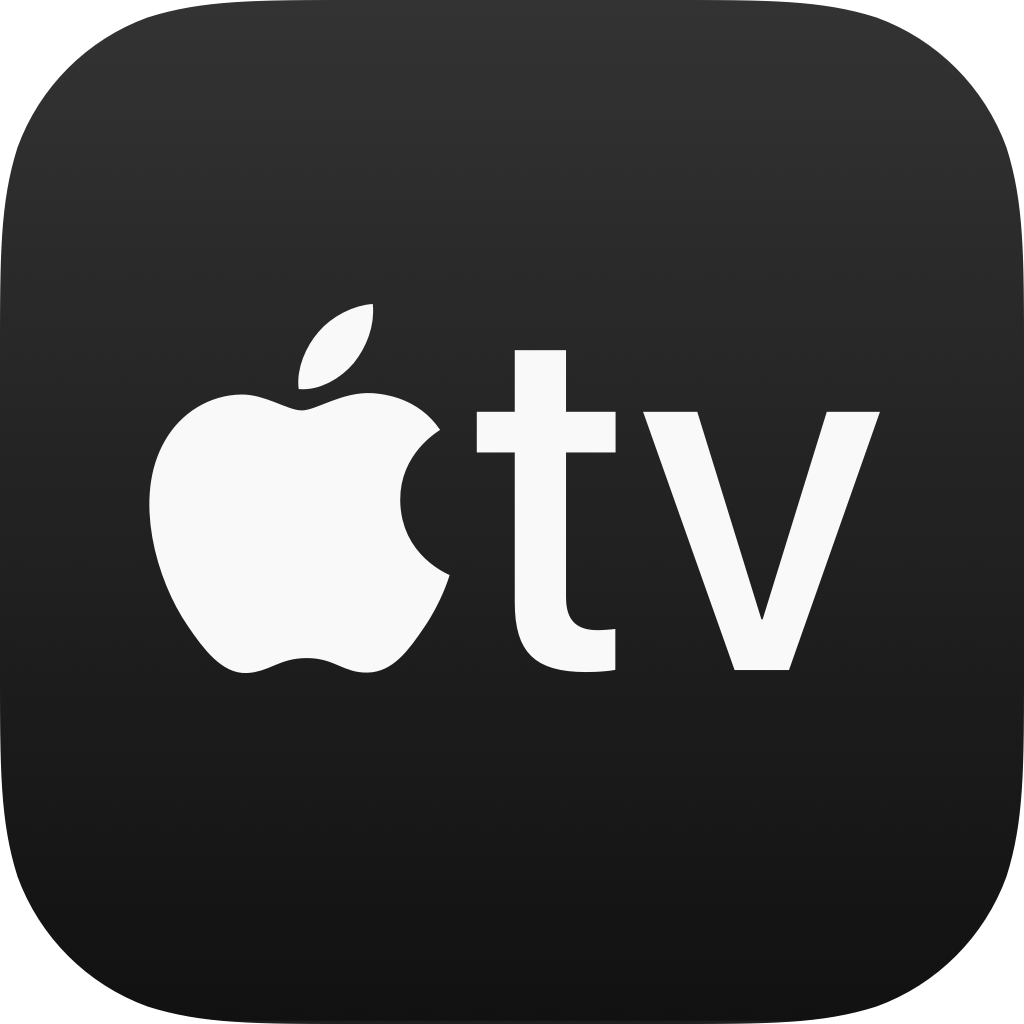 Download Mission: Impossible in Digital HD/4K from the iTunes store.
Listen to the Mission: Impossible soundtrack on Apple Music.
Mission: Impossible images are © Paramount Pictures. All Rights Reserved.
Tom Cruise Surprises CineEurope Convention Attendees
10/6/2021 11:53 AM EST
Tom Cruise surprised guests at the CineEurope event in Barcelona today, showing up for Paramount's presentation of upcoming films. He also introduced previews for "Mission: Impossible 7" and "Top Gun: Maverick"."I wanted to come personally and thank you all. We've had a great relationship over 40 years of my career." He also said that when he is making films, "I'm always thinking about you all" an...
More>>
Mission Impossible 7 Set to Debut On Demand 45 Days After Theatr...
2/25/2021 10:02 AM EST
It's been announced that "Mission: Impossible 7" and "A Quiet Place Part II" will be released on Paramount+ 45 days after their theatrical release. The films will be released in theatres on Nov. 19 and Sept. 17, respectively.Paramount is keeping busy. They have some new installments of the "Paranormal Activity" and "Pet Sematary" franchises, as well as some original content for its streamer. The s...
More>>
Tom Cruise Reprimands Mission Impossible Crew for Not Following ...
12/16/2020 10:56 AM EST
Audio has been released from the U.K. set of "Mission: Impossible 7" that features Tom Cruise yelling at crew members for not following proper COVID-19 safety procedures.In the clip, he says, "I don't ever want to see it again, ever. And if you don't do it you're fired, if I see you do it again you're f-ing gone." He went on to say, "They're back there in Hollywood making movies right now because ...
More>>
Production Halted on Mission Impossible 7 Due to Coronavirus
2/25/2020 2:51 PM EST
Production on Mission: Impossible 7 has been postponed in Italy after a surge in coronavirus cases.A statement from paramount Pictures said the following: "Out of an abundance of caution for the safety and well-being of our cast and crew, and efforts of the local Venetian government to halt public gatherings in response to the threat of coronavirus, we are altering the production plan for our thre...
More>>
Michelle Monaghan Returning for Mission: Impossible 6
6/13/2017 3:59 PM EST
Michelle Monaghan will be returning to the Mission: Impossible franchise.  The actress will, once again, reprise her role of Julia, who married Tom Cruise's character, Ethan Hunt.  Monaghan will star alongside Cruise, Rebecca Ferguson, Henry Cavill, Vanessa Kirby, Alec Baldwin and Angela Bassett. Christopher McQuarrie will write and direct, with McQuarrie, Cruise, Don Granger, J.J. Abrams and Skyd...
More>>
Tom Cruise Confirms Mission: Impossible 6
7/30/2015 10:34 AM EST
Tom Cruise made an appearance on The Daily Show on Tuesday night, and made an announcement that there is a Mission: Impossible 6 in the works, and that production will be starting fairly soon.Cruise told Jon Stewart, "We're starting to work on it now. We'll probably start shooting it next summer".The latest installment of the franchise, Rogue Nation, will be released this week in the U.S., as well...
More>>
Tickets For The First U.S. Showings of "Mission: Impossible - Ro...
3/23/2015 11:08 AM EST
HOLLYWOOD, CA (March 23, 2015) - Paramount Pictures today announced that tickets for the first showings of the highly anticipated film "MISSION: IMPOSSIBLE - ROGUE NATION" are unlocked with today's trailer debut and on sale now - four months before the film's theatrical release.The advance tickets are available for Thursday, July 30th showings at 7:00 p.m. in IMAX® and premium large format theater...
More>>
Mission: Accepted: Christopher McQuarrie To Direct Mission Impos...
8/5/2013 8:19 PM EST
It has been rumoured for a while now that Jack Reacher director Christopher McQuarrie was being lined up to once again team with Tom Cruise for the next installment of the highly popular Mission: Impossible franchise. And today it was confirmed by the director himself via his Twitter feed.Mission: Accepted- ChristopherMcQuarrie (@chrismcquarrie) August 5, 2013McQuarrie has been hotly anticipated t...
More>>
Christopher McQuarrie Top Pick to Direct M:I-5
11/16/2012 1:48 PM EST
Christopher McQuarrie, who directed Tom Cruise in "Jack Reacher", may now be directing him in the next installment of the Mission Impossible franchise."M:I-5" is currently in the beginning stages of production, but it is said that this is the director that both JJ Abrams and Cruise want to work with. McQuarrie has worked with Cruise on several other projects as well; Valkyrie, All You Need Is Kill...
More>>
Paramount Pictures and Coke Zero Present Mission: Impossible - G...
12/12/2011 1:58 PM EST
HOLLYWOOD, CA (December 12, 2011): Paramount Pictures and Coke Zero announced today they will team up to present the live MISSION: IMPOSSIBLE-GHOST PROTOCOL movie premiere in Rio de Janeiro, Brazil on December 14th. The live red carpet event will air online beginning at 7:00 p.m. BRST/ 4:00 p.m. EST / 1:00 p.m. PST and will feature a live performance by Grammy®-nominated DJ & Producer Tiësto, who ...
More>>
Mission Impossible 4 Depending on Knight and Day's Box Office?
6/29/2010 1:44 PM EST
The latest Tom Cruise film, "Knight & Day" could a hidden impact on the actor's career. It's been reported that the future of the "Mission Impossible" franchise will be based on the box office success of the latter film. Apparently, Paramount Pictures may make some major changes to the already written "MI-4" script. They may even go so far as to ditch the project altogether. Tom Cruise's appeal is...
More>>
Mission: Impossible 25th Anniversary Collectors Edition Blu-ray Review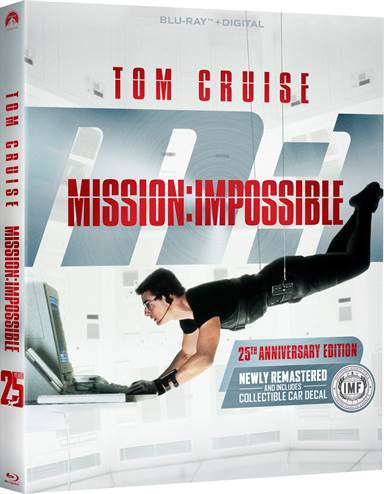 In September of 1966, an action/spy fiction television show first aired on CBS. Mission: Impossible aired for seven seasons (171 episodes) before going off the air and gave us an iconic line, "This message will self-destruct", that many still recognize today. Fifteen years later, the show was revived but only lasted two years. Then, thirty years after the original television series began, a feature film starring Tom Cruise (Top Gun) opened in over three thousand movie theaters in the United States. The movie received a mildly warm reception from critics but made over $457 million worldwide. Since 2021 is the twenty-fifth anniversary of the film, Paramount Pictures has decided to issue a remastered edition Blu-ray combo pack.
Ethan Hunt (Cruise) is the sole survivor of a failed IMF (Impossible Missions Force) mission in Kiev but during his debriefing Hunt realizes the mission was all a set up to expose a mole in the Organization. Since he is the one who survived, Hunt thinks the evidence points at him and escapes to Prague. There he learns the arms dealer, Max (Vanessa Redgrave; Atonement), is in possession of a fake version of the CIA non-official cover list and tells her as much to try and get in her good graces. Hunt eventually agrees to give MAX the true list, but it is all a ploy to smoke out the real mole and uncover him.
The character of Ethan Hunt has always been Cruise's as he embodies the physicality and intelligence to make the IMF agent believable. In this first film in the series of six total (with a seventh on the way), Cruise looks so young being that he was thirty-four at the time and is now almost sixty. Interestingly enough, he is still in very good shape and still playing Ethan Hunt while managing to do most of his own stunts. The legendary Phelps is portrayed by Jon Voight (Deliverance), and he too is well cast. The remaining cast is excellent as well, which serves to enhance the movie as well as making Cruise look good.
This newly remastered version of the Blu-ray offers 1080p resolution with a 2.39:1 aspect ratio. It has beautiful visuals and, while there are certain moments when the picture quality appears somewhat washed out, the blacks are dark and true with details being easily discernable with the naked eye. The DTS- HD Dolby True HD Master audio 5.1 gives the special effects a layered, nuanced sound and it enhances the Danny Elfman penned score that pays homage to the music from the original television show. Sadly, there aren't any new extras on the Blu-ray disc. However, the previously released material is interesting and includes Mission: Impossible – Trailers, Remarkable – 40 Years of Creating the Impossible, Explosive Exploits, Spies Among Us, Catching the Train, International Spy Museum, Agent Dossiers, Excellence in Film: Cruise, Generation: Cruise, Photo Gallery, and Mission: Marketing. The Combo pack also comes with a DIGITAL HD code and an IMF car decal.
Thanks, in part, to Cruise, the Mission: Impossible film franchise has grossed $3.5 billion to date with more to come, as the seventh film is scheduled for release just in time for the Memorial Day holiday weekend in 2022. While the remastered Blu-ray offers a little bit better quality than the 2007 version, there isn't much else to entice audiences to buy this version, other than the decal. To make matters worse, of all the movies in the franchise, this one is mediocre at best. The plot is convoluted, and fans of the original television series tend to be very angry at Phelps' plotline.
If you want to upgrade your collection, or you don't own the 2007 version, then buying this twenty-fifth anniversary release isn't a bad idea.
Grade: C+
For more reviews please visit our film/television review section.
When Ethan Hunt (Tom Cruise), the leader of a crack espionage team whose perilous operation has gone...
SPONSORED LINKS