The Mummy Returns (2001)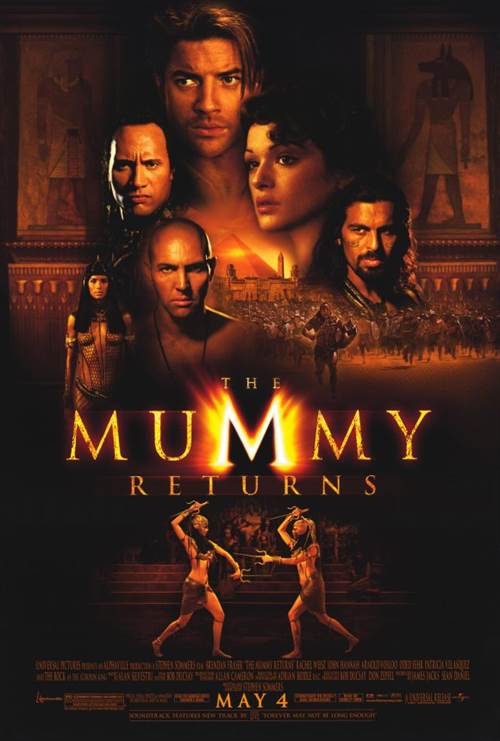 | | |
| --- | --- |
| Director: | |
| Cast: | |
| Released: | Friday, May 4, 2001 |
| Length: | 130 minutes |
| Studio: | Universal Pictures |
| Genre: | Sci-Fi/Fantasy, Action/Adventure |
| Rating: | Some material may be inappropriate for children under 13. |
The Mummy Returns Synopsis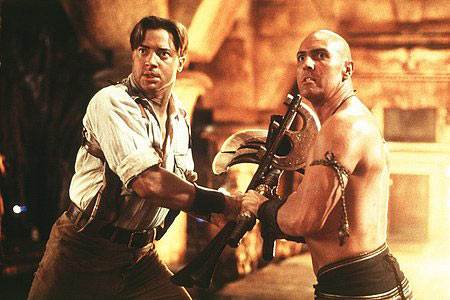 Deep within a shadowy chamber in the British Museum of London, an ancient force of terror is about to be reborn.

It is 1933, the Year of the Scorpion. Eight years have passed since dashing legionnaire Rick O'Connell (Brendan Fraser) and fearless Egyptologist Evelyn (Rachel Weisz) fought for their lives against a 3000-year-old enemy named Imhotep (Arnold Vosloo).

Rick and Evelyn are married now and have settled in London where they are raising their son Alex (Freddie Boath). When a chain of events finds the corpse of Imhotep resurrected in the British Museum, the mummy Imhotep walks the earth once more, determined to fulfill his quest for immortality. But another force has also been set loose in the world ... one born of the darkest rituals of ancient Egyptian mysticism, and even more powerful than Imhotep. When these two forces clash, the fate of the world will hang in the balance, sending the O'Connells on a desperate race to save the world from unspeakable evil and rescue their son before it is too late.

Their quest will take them back to Egypt, into the realm of The Scorpion King (The Rock). This fierce warrior promised his soul to the god Anubis in exchange for military might long ago. He and his army have been frozen in time, suspended between life and death and ready to kill again, through five millenia. The Scorpion King possesses powers, secrets and strengths beyond even the dreaded Imhotep. He is angry, deadly and should not be disturbed.

The Mummy Returns unfurls its spine-tingling adventures against breath-taking landscapes. Hordes of canine-bodied Anubis warriors - literally from hell - bound across the Sahara in attack formation while carnivorous pygmy mummies ambush their prey in the jungles of the Nile. At the fabled desert oasis of Ahm Shere, a mythical pyramid of gold mesmerizes all who behold it, but according to the shadowy desert sage Ardeth Bay (Oded Fehr), no one who has ever laid eyes upon it has returned to tell the tale. Unfortunately, reaching that pyramid is the only way Rick can save his family. But it's not as if London is any safer - the city's streets become a living nightmare when a squadron of skeletal attackers lays seige to a red double-decker bus -with Evelyn's brother Jonathan (John Hannah) behind the wheel.

Universal Pictures and Alphaville Productions have reunited the entire starring cast and creative team of the 1999 blockbuster The Mummy to create the adrenaline-charged adventures of The Mummy Returns. The returning stars include Brendan Fraser, Rachel Weisz, John Hannah, Arnold Vosloo, Oded Fehr and Patricia Velasquez. Joining The Mummy veterans are WWF superstar The Rock as The Scorpion King, screen newcomer Freddie Boath as the O'Connells' son Alex, Adewale as Lock- Nah, Alun Armstrong as the Curator and Shaun Parkes as Izzy, a pilot and former compatriot of Rick's who is reluctantly drawn into the action.

Stephen Sommers is back as both writer and director, sweeping his vision across Egypt, England and several millennia with The Mummy Returns. Also returning are the first film's producers, James Jacks and Sean Daniel, as well as director of photography Adrian Biddle, production designer Allan Cameron, costume designer John Bloomfield, and editor and executive producer Bob Ducsay. The effects wizards at Industrial Light & Magic, once again led by Academy-Award winner John Berton, are also back in full force for The Mummy Returns.
The Mummy Returns images are © Universal Pictures. All Rights Reserved.
Brendan Fraser Open to Returning to Mummy Franchise
10/12/2022 12:58 PM EST
When recently asked about returning to "The Mummy" franchise, Brendan Fraser said that he would be open to the idea. Fraser starred as adventurer Rick O'Connell in the film series, which started back in 1999."I don't know how it would work. But I'd b...
| Full Article
New Mummy Film Could Star Female Lead
10/14/2015 11:53 AM EST
Universal will be launching a new "Mummy" to start their new monsters franchise, but this time, we could see a female lead in the film.Boris Karloff played the Mummy back in 1932, and in 1999, Arnold Vosloo took the lead.  Now, casting is open to eit...
| Full Article
Total Recall Director, Len Wiseman, In Final Talks To Take Over ...
9/25/2012 10:13 AM EST
Len Wiseman has been set by Universal Pictures to direct "The Mummy", a reboot of the franchise which most recently spawned a trilogy earning around $1.25 billion.  The film will be written by Jon Spaihts and produced by Alex Kurtzman and Roberto Orc...
| Full Article
The Mummy To Get A Reboot
4/6/2012 2:36 PM EST
Thirteen years it seems is a long enough wait to reboot a movie these days, according to Universal Pictures any way. That's how long ago Stephen Sommers bought Imhotep back from his then sixty Seven years slumber in the Mummy. A movie that went on to...
| Full Article
Mummy 3 September 2007 Update
9/13/2007 10:57 AM EST
Maria Bello was recently interviewd by Sci Fi Wire at the Toronto Film Festival, where she was promoting her new film, The Jane Austen Book Club.  She spoke of her upcoming role in The Mummy: Tomb of the Dragon Emporor.Bello, who will be replacing Ra...
| Full Article
Scorpion King Sequel In The Works
6/19/2007 2:25 PM EST
There is a sequel for "The Scorpion King" in the works, and it's reported that Russell Mulcahy will be the director. Mulcahy also directed Resident Evil: Extinction and Highlander.The Scorpion King was a spin-off from "The Mummy" movies series, whic...
| Full Article
Mummy Franchise To Be Reinvented With Brendan Fraser in 3rd Film
9/8/2006 10:40 AM EST
Brendan Fraser will reprise the role of Rick O'Connell from the popular "The Mummy" franchise. Details are scarce but the role will re-imagine the character in a "new setting" rumored to be away from the desert and the mummies curse.  Joe Johnston is...
| Full Article
SPONSORED LINKS